"Oh, it's only the best day of the year."
Ya'll – February 13th approaches. Are you ready for Galentine's Day? To be honest, this is the first year I've been a little more pumped for Galentine's than Valentine's Day. Primarily because of the mega-babe who joined me for these photos. Everybody give a round of applause for my goddess-of-a-friend, Kaylyn. She's the blogger behind Modestly Exposed, and has become such a fun gal pal to spend time with. She's gotten me so hype about Galentine's Day – and I guess it doesn't help matters that I'm finally watching Parks and Recreation and loving every second of the Leslie Knope goodness.
(If you didn't already know, Galentine's Day originates from Parks and Recreation. You can read more about it right here).
Needless to say, with this holiday just around the corner, I wanted to share a handful of ideas with you – whether you plan to celebrate solo or with friends. The past few years have been super quiet on 2/13, so I understand if you're not one to host a big get-together. However, if a to-do is your cup of tea, I have an option for that as well!
Keeping reading to see my top five ways to spend this day!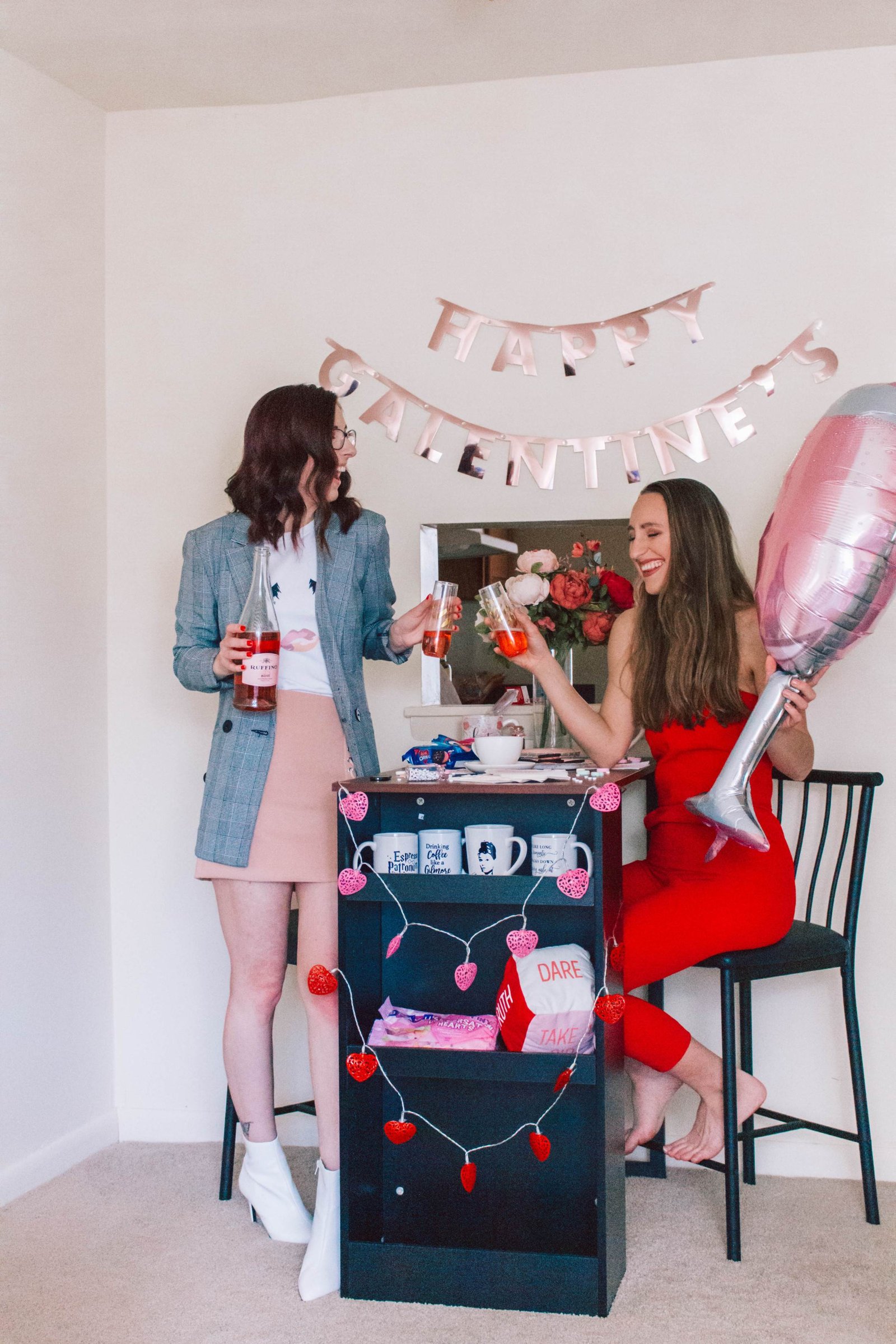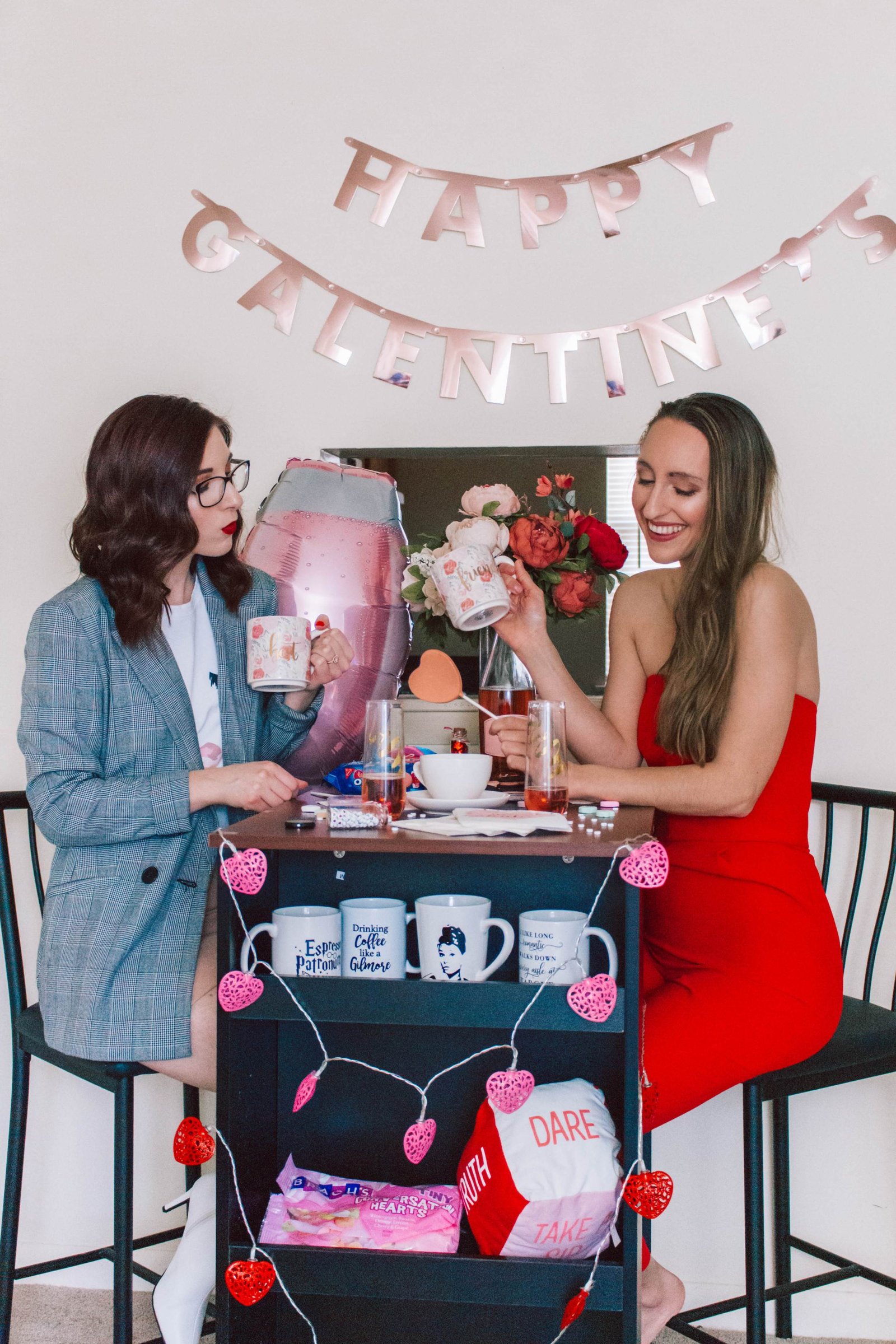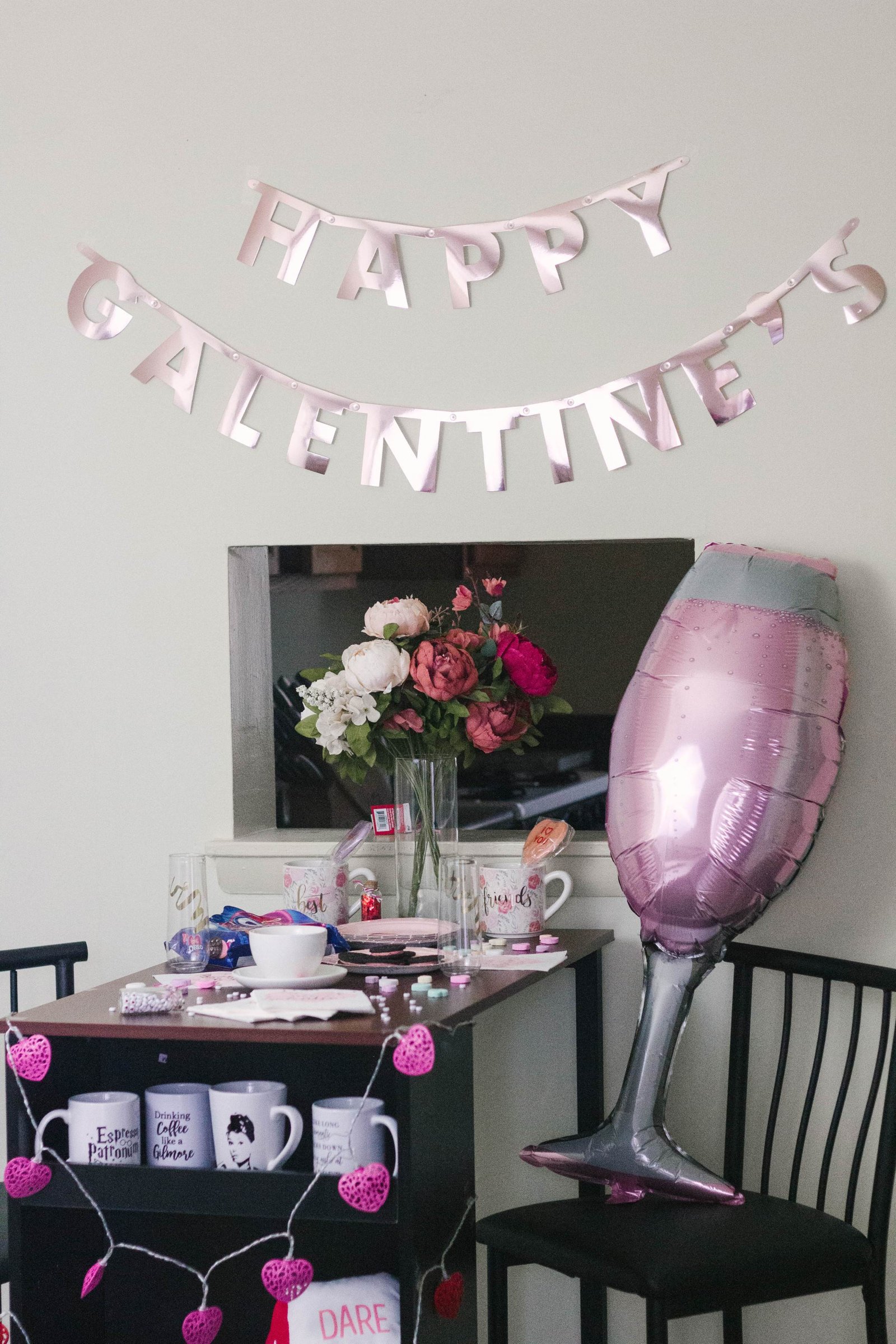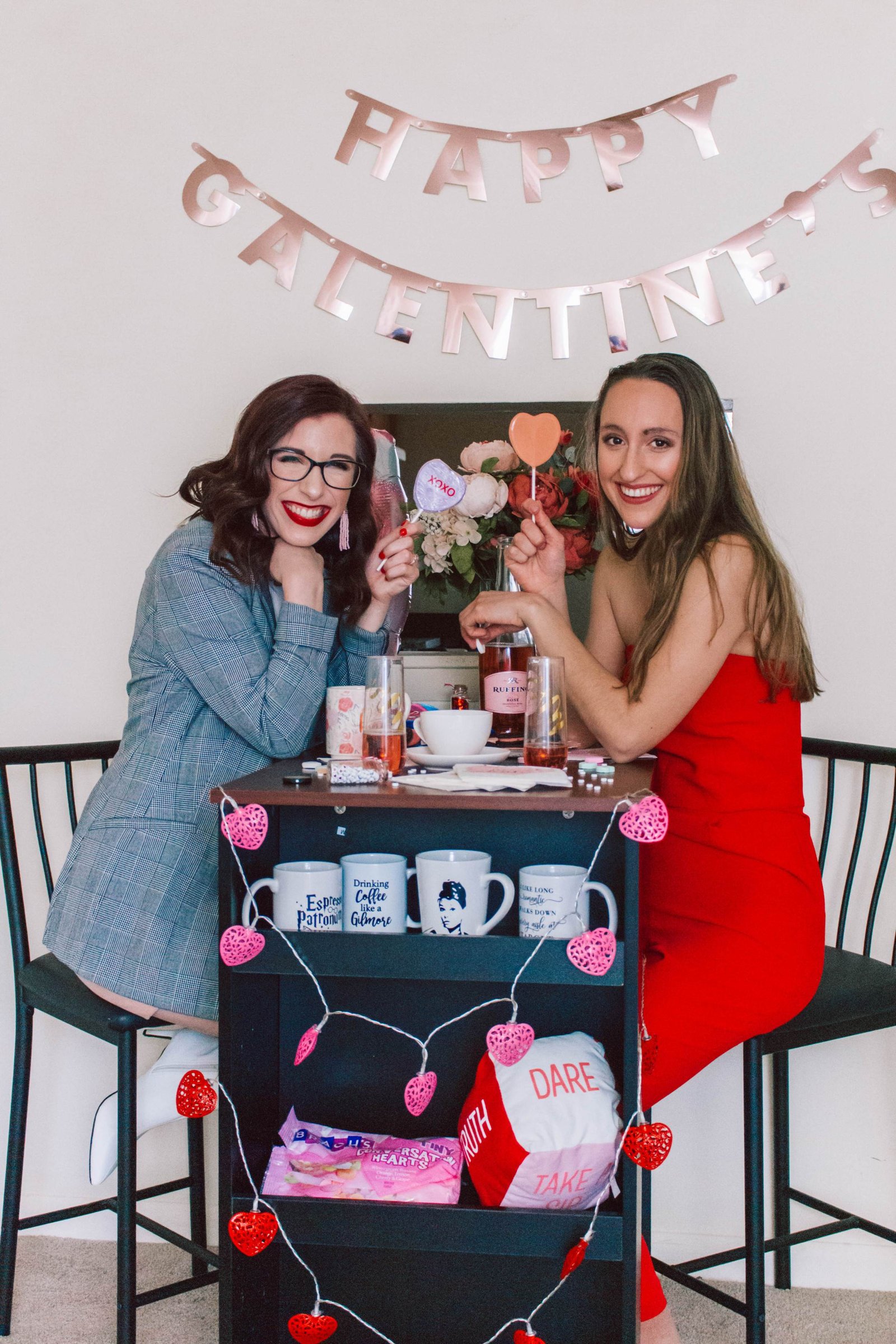 5 Ways to Spend Galentine's Day (Alone or With Friends)
Rosé Soiree
A.K.A. basically what you see throughout these photos. Kaylyn and I completely ransacked the Target dollar section for all the cutest decorations, then headed to the candy aisle! It was hard to not walk out with 90% of the store. We did, however, quite enjoy sipping rosé, snacking on sour gummies, and completely failing at tossing around the "truth or dare" pillow. This is the kind of thing you might enjoy most with friends.
Shop our party decor

Self Care Day
Probably my favorite way to spend this day. Paint your nails, take a bubble bath, do some serious multi-masking, listen to the "Lush Jazz Vibes" playlist on Spotify, pour your favorite drink, eat Nutella straight out of the jar, and just CHILL. 10/10 would recommend doing this alone to just take a break from all the busyness for a bit.
Cheesy Movie Marathon
I'm talking The Notebook, The Fault in Our Stars, or even heading to see the new flick with an all-star cast including Rebel Wilson and Liam Hemsworth, Isn't It Romantic. Eat popcorn and candy to your heart's content, and soak in all the cheesy rom-com or drama goodness. This is a fabulous activity to do alone or with your babes!
Spread the Love
I suggest adding this to your to-do list for days other than just Galentine's Day, but it's a special opportunity when the holiday is literally designed to help women support and empower other women. Spread the love. Like and comment genuinely on your content creator friends' Instagram photos, buy something from your BFF's Etsy store, indulge in a local event hosted by some bada$$ women, and just make every woman you come in contact with feel like the queen she is. You know it's nice when you feel that way, so do it for others as well. This is excellent if you're riding solo or hanging with the girls.
Wine and Dine
Take yourself (or a bestie) to a fancy dinner. I'm talking dress up, do your hair and makeup, and really go all out. Pick a nice wine bar or even a restaurant with an international cuisine and eat small plates with a glass of your favorite wine. Who says we need a guy to treat us to these kinds of "dates"? Obviously this would be fun to do by yourself or with a friend.
---
Related Posts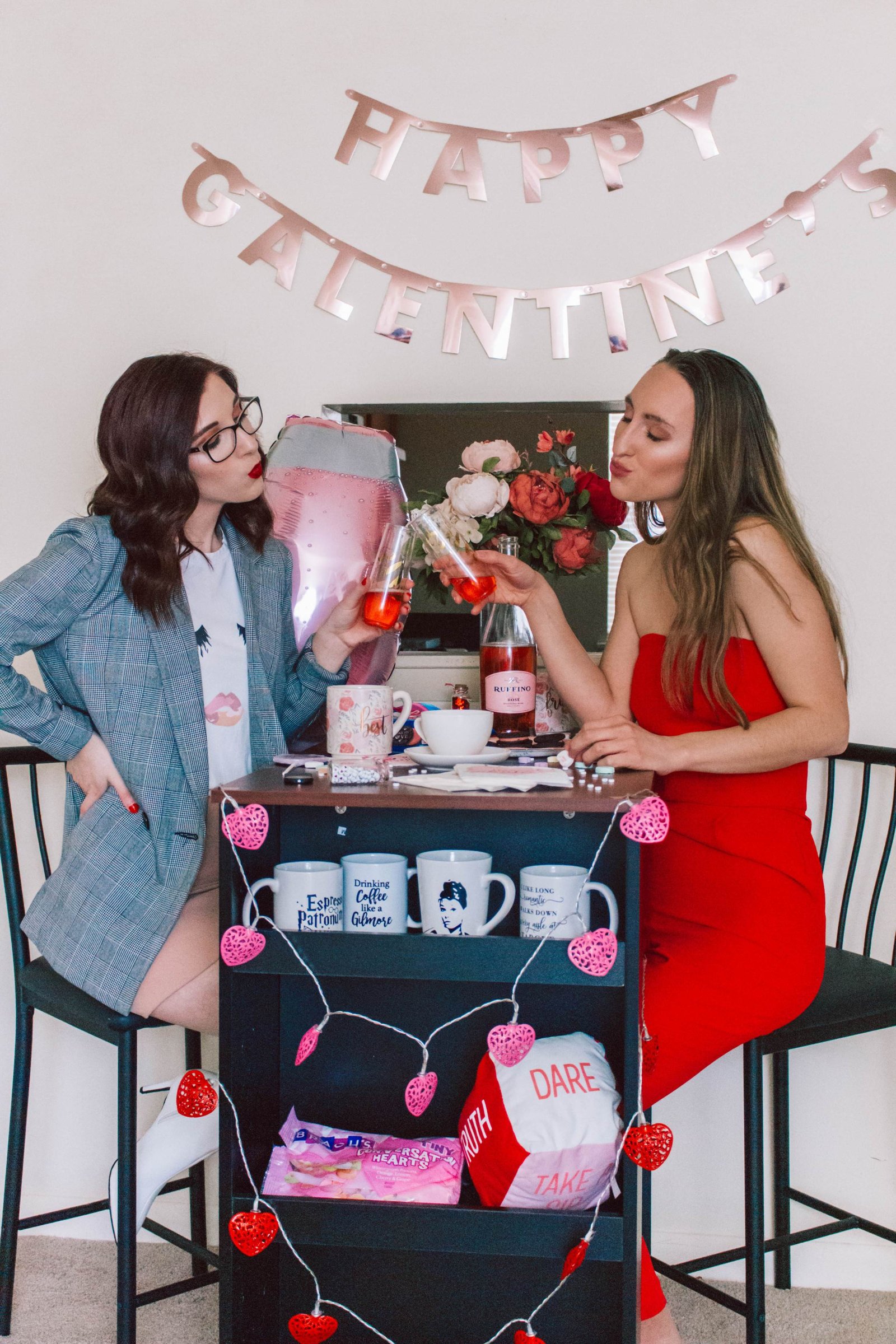 How do you plan to celebrate Galentine's Day?