If you're still searching for the perfect formal ensemble for your Valentine's Day date, then look no further.
I'll be honest, I was pretty surprised when my Instagram readers let me know they were more interested in formal Valentine's Day outfits rather than casual. I guess this means ya'll have some seriously fabulous dates planned – or at least your Galentine's Day is looking like a paaaaarty! One way or another, I was thrilled with the opportunity to get all dolled up and share this stunning dress with you. In fact, I may need to bring this beauty out again in a couple of weeks for my 25th birthday!
---
Outfit Details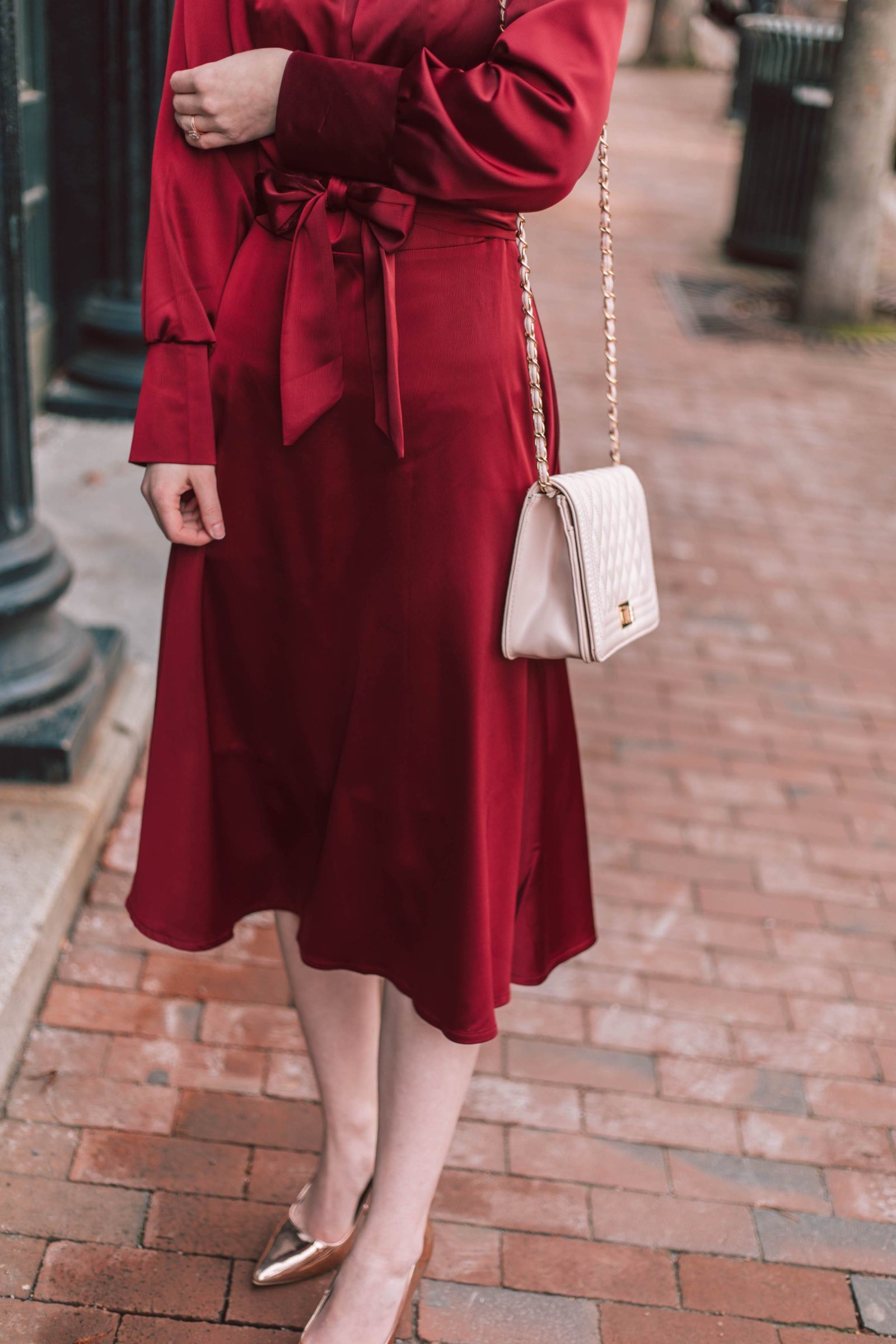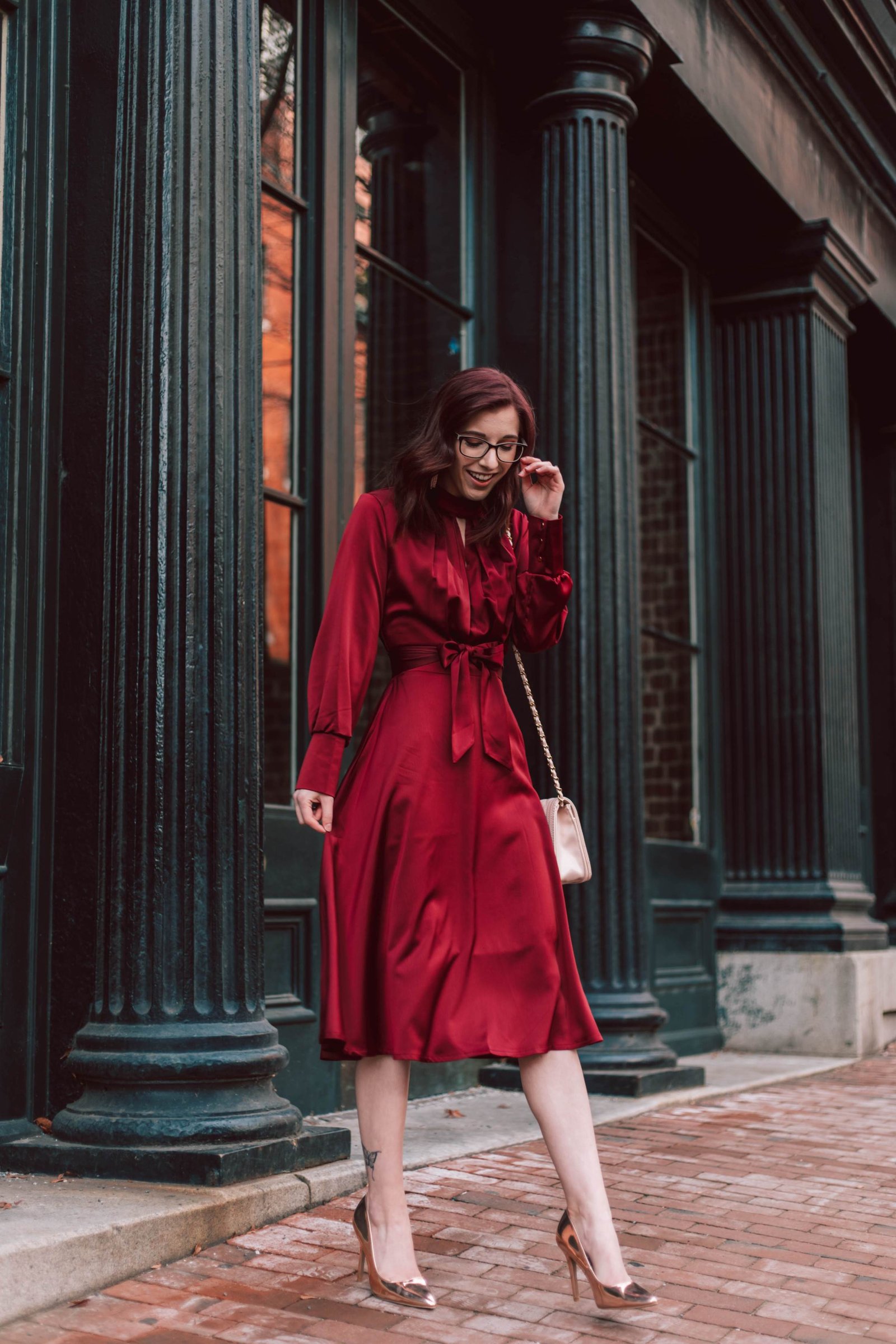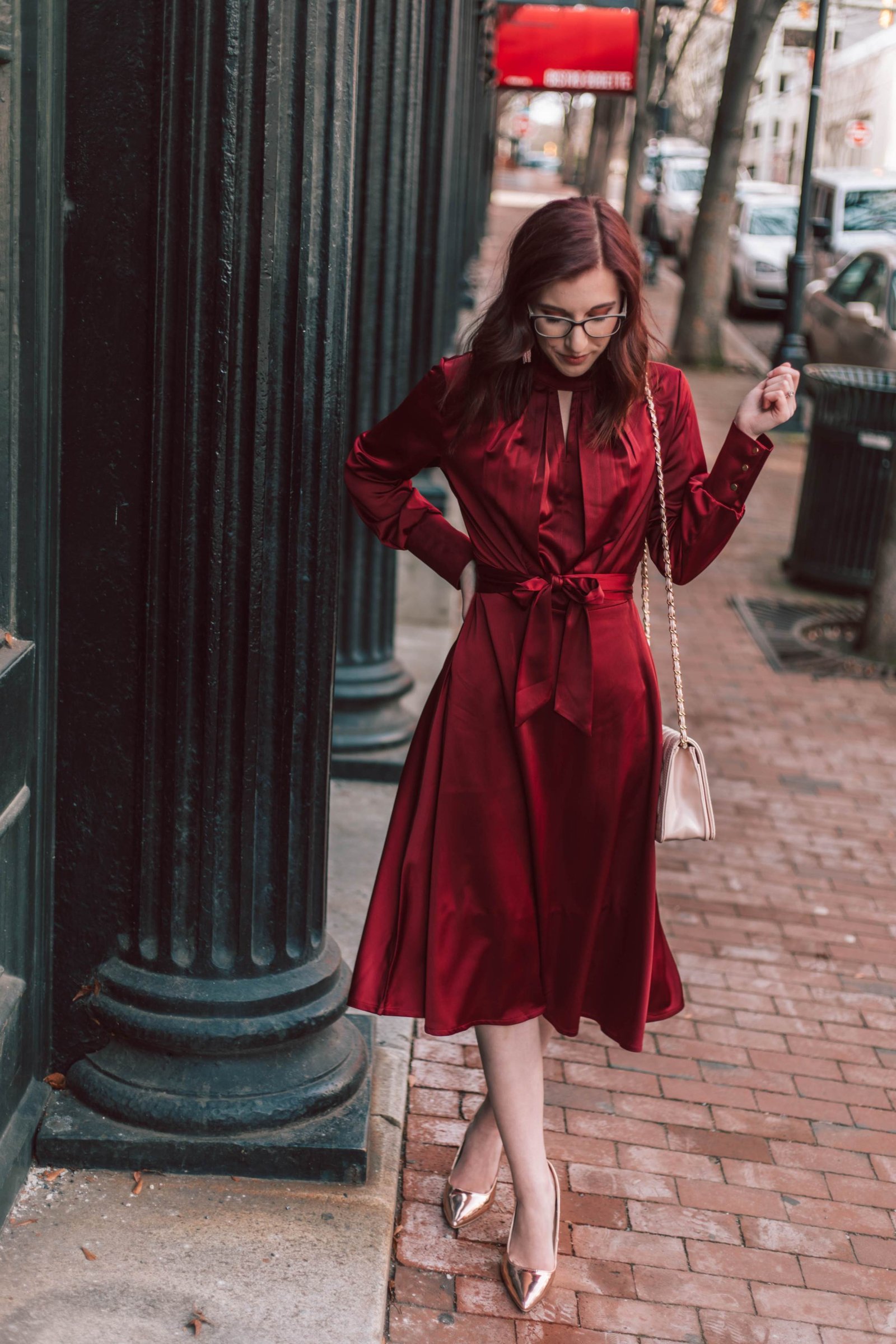 Satin, bows, and deep burgundy for the win!
This has got to be one of the most flattering dresses ever. It's also perfect for numerous occasions, including – but not limited to – winter weddings, work dinners, church, nighttime drinks with friends, and more. It's currently available in sizes XS-L, but runs slightly big. I'm wearing a XS for reference, and I sure did tie the bow pretty tight. However, the length was perfect, the sleeves weren't too long, and the keyhole neckline hit in just the right place. If you're looking for a warmer option, I suggest layering tights beneath, wearing a jacket over it, and adding booties. It would look just as classy and still keep you comfortable in cooler weather.
When you first receive this dress, you'll want to steam it to get the wrinkles out. I was pleasantly surprised that after steaming, it didn't get super wrinkly again – even once I sat down (if you're noticing what seem like wrinkles, it was probably just the wind, which was craaazy the day we shot these photos). The tie waist does not have attachments, but this allows you to create a bow in the back, front, or side. You're also able to go without the bow as well, which is pretty neat. I mostly liked having it for the definition of my waist.
The fit-and-flare silhouette will absolutely never go out of style, and quite frankly, I can see myself wearing it for years to come. It's elegant and charming, comfortable and excellent for date night. If my husband and I made plans to go out for our Valentine's Day date, this would definitely be my outfit of choice. As it were, we've chosen to stay home, have an indoor picnic, and watch a cheesy movie – and I couldn't be more excited about that!
---
related posts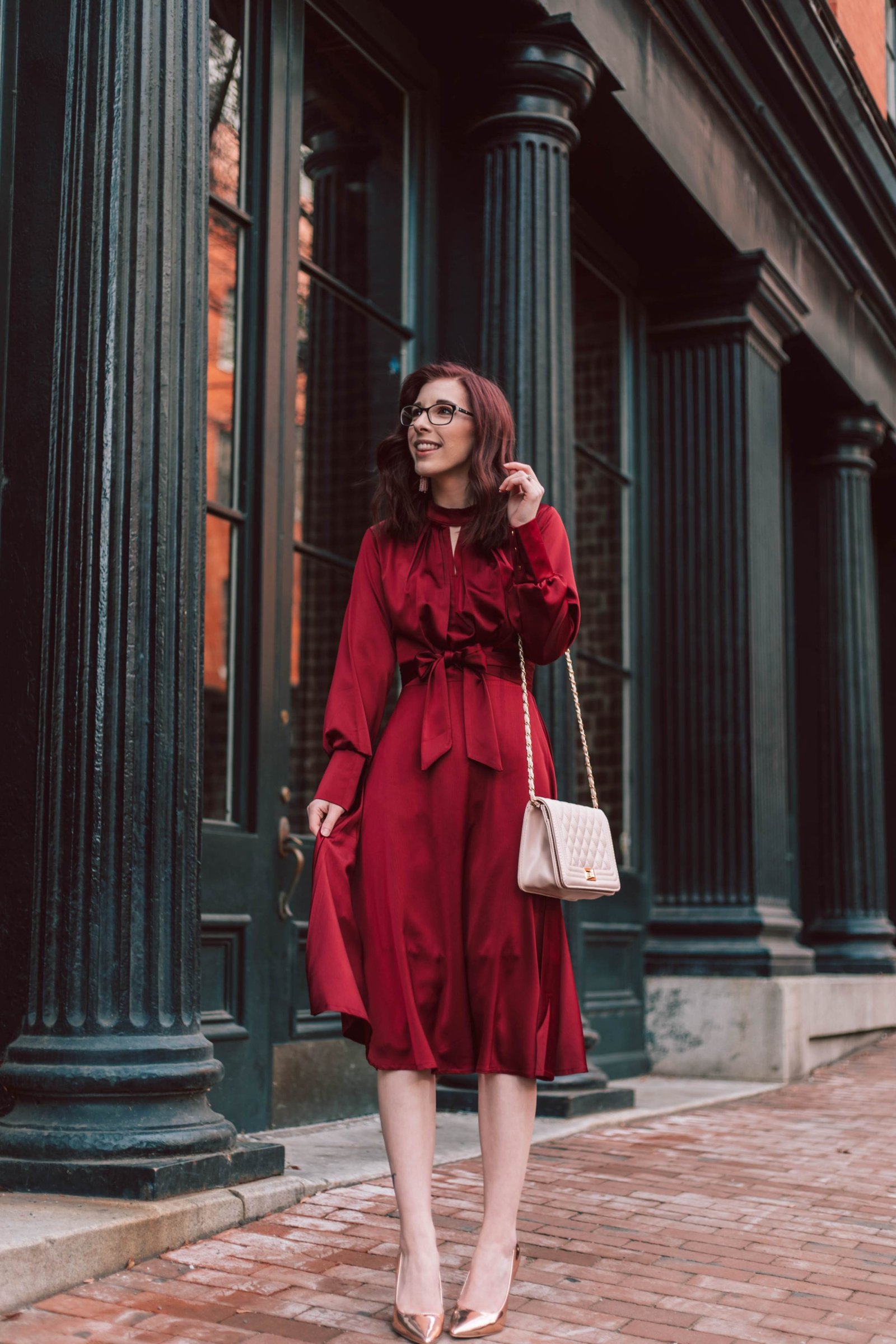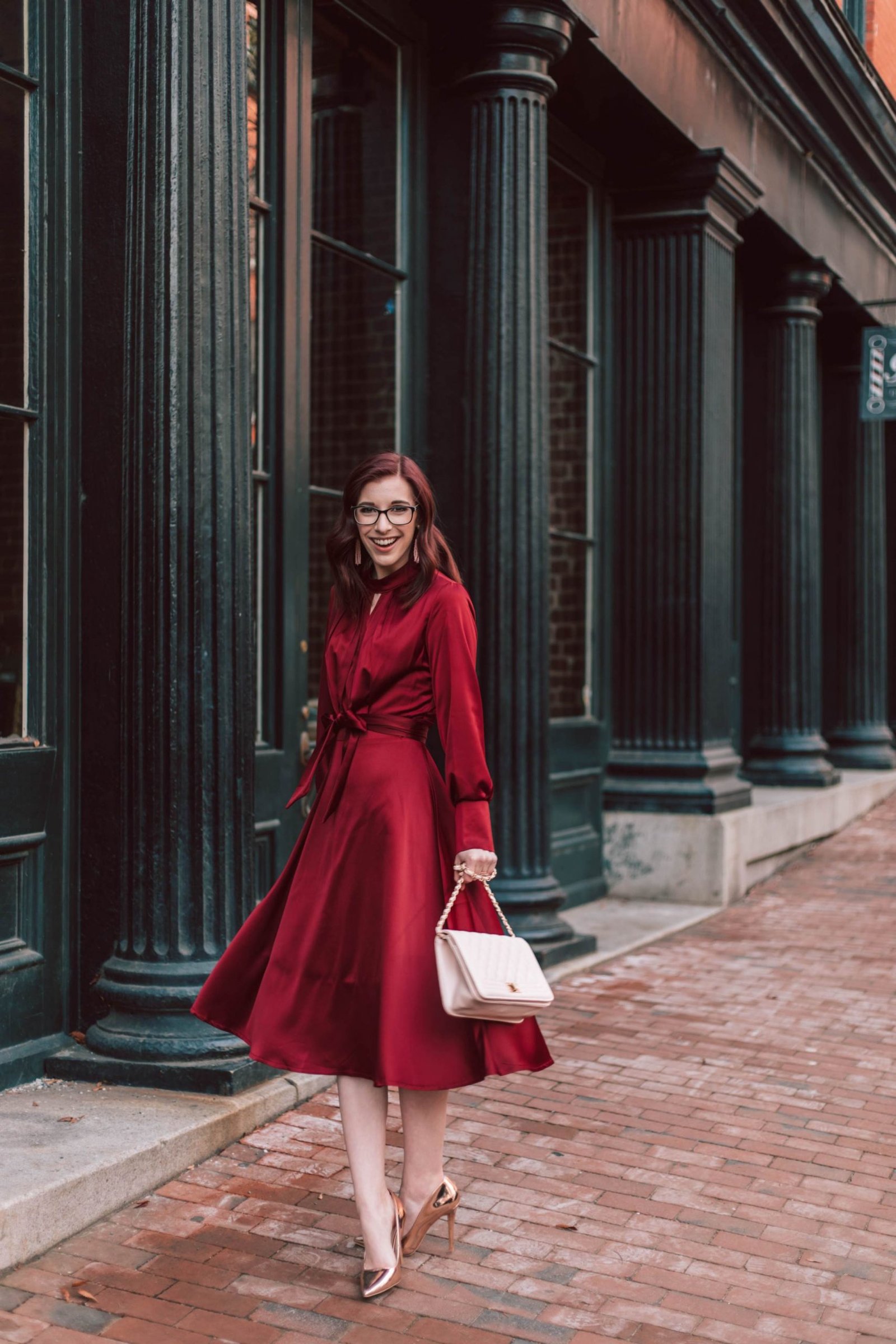 Do you have plans to stay casual or go formal on Valentine's Day?