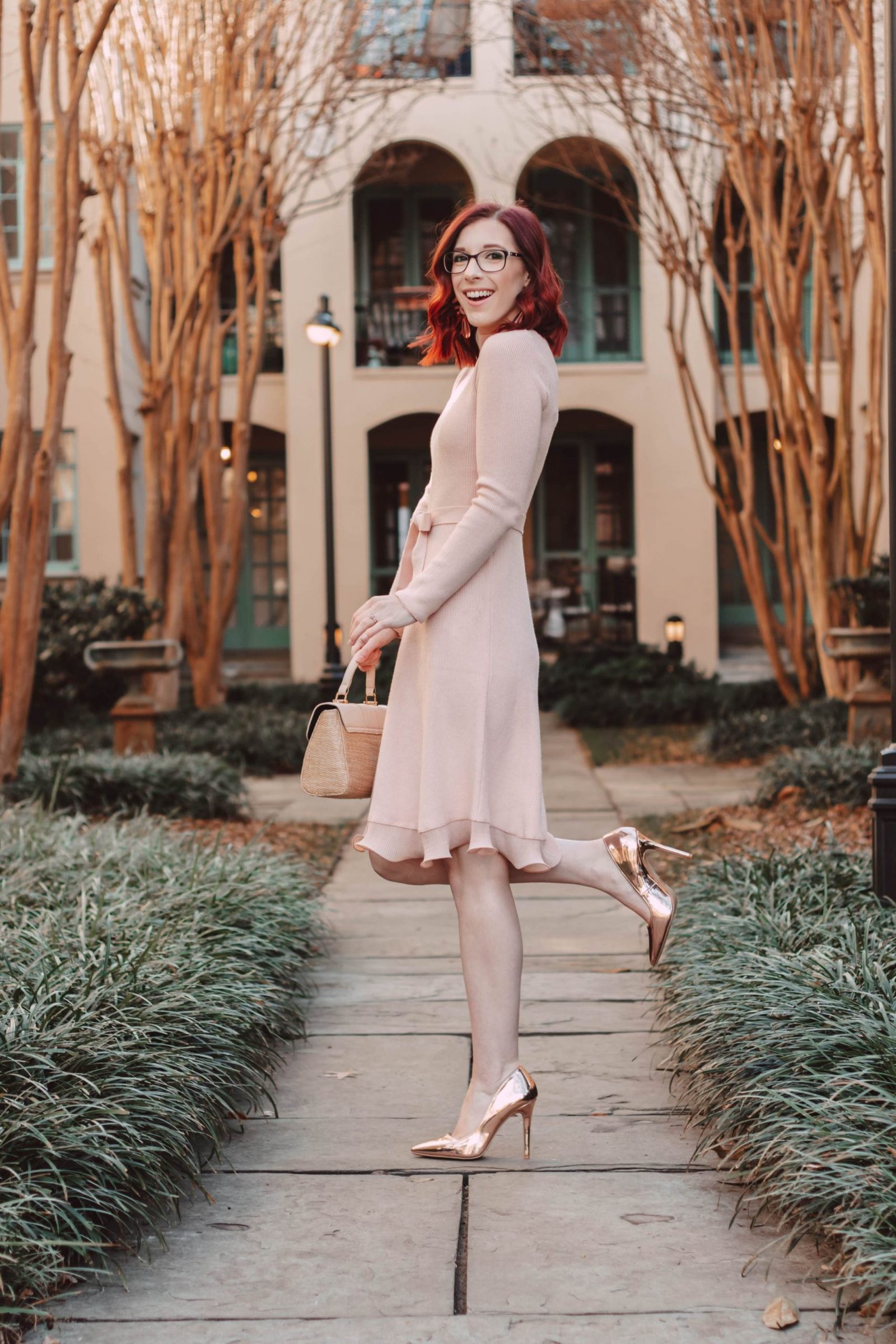 Totally slay Valentine's Day and impress your date when you choose this gorgeous pink dress that's perfect for the occasion.
If you've got a hot date this Valentine's Day, you're probably frantically searching Pinterest for some outfit inspiration. Maybe you'd like to stick with tradition and wear red – or pink! You've come to the right place.
take a deep breath.
grab a glass of wine.
buy this dress.
I'm definitely not the sales-y type. In fact, I quit a retail job in high school because the number one focus was trying to sell the customers on 10x more than what they needed. I love to share style inspiration, and I'll even encourage purchasing from certain retailers, but I don't push product. Until now. This dress is the exception. Everyone needs it.
Let me tell you why.
---
outfit details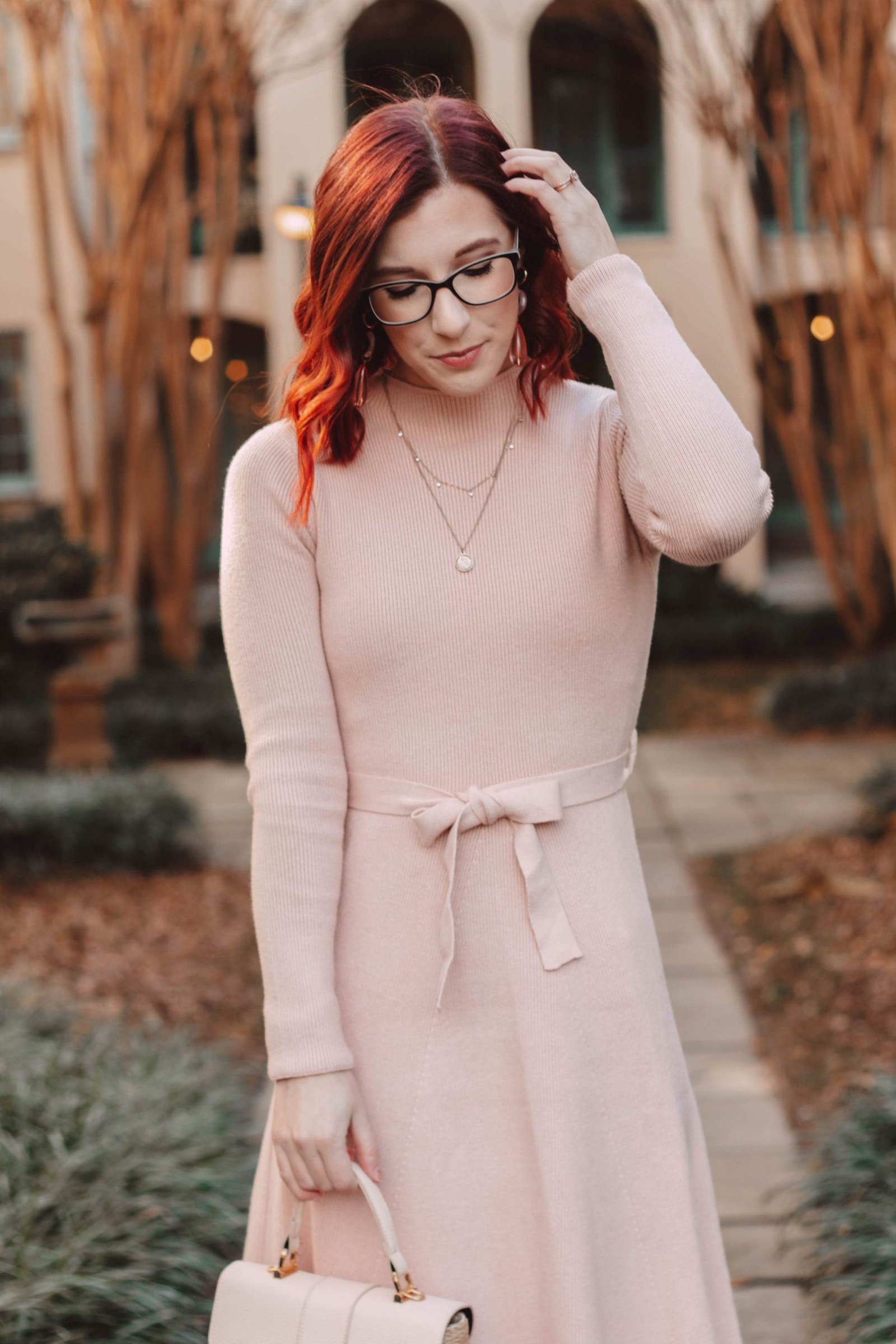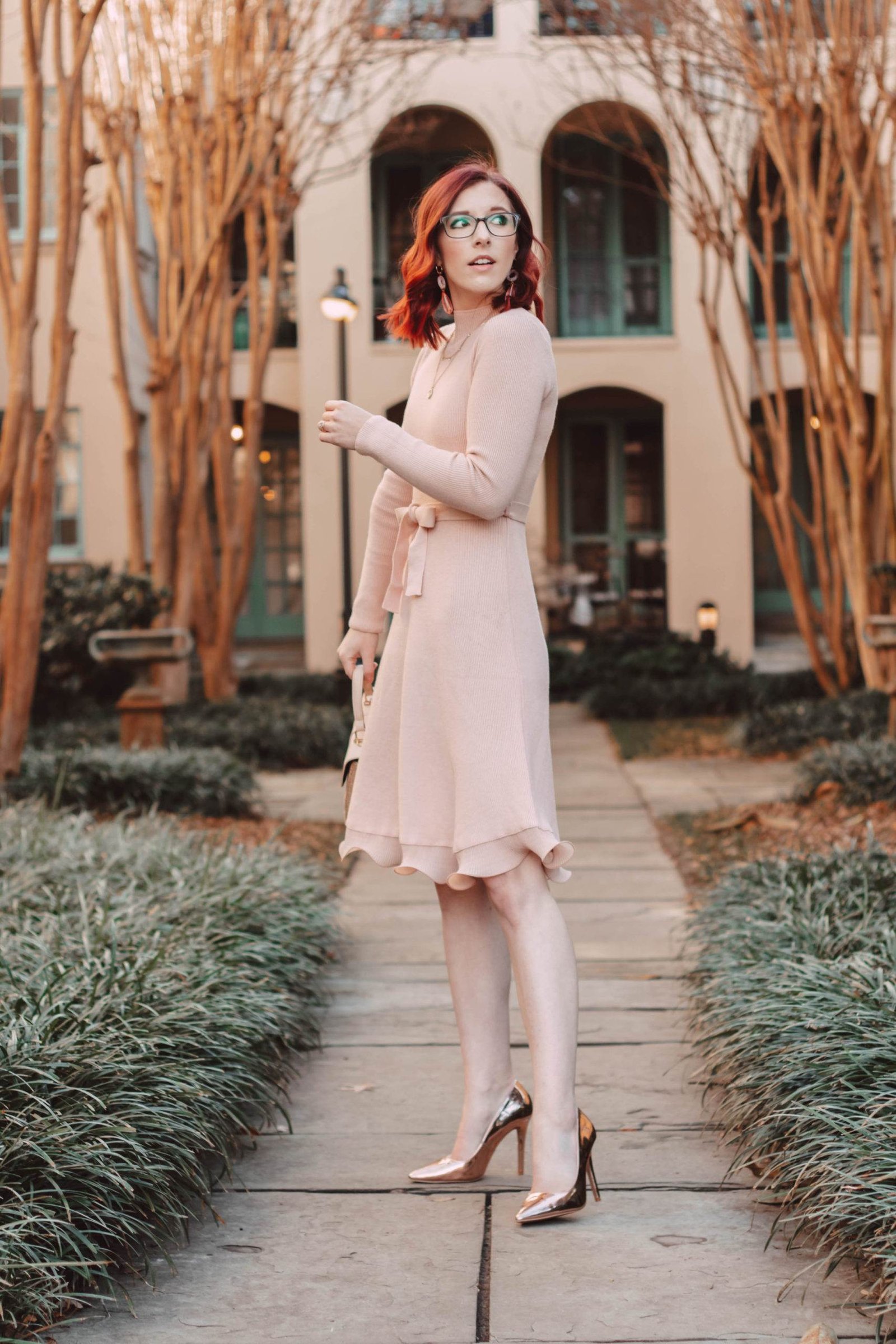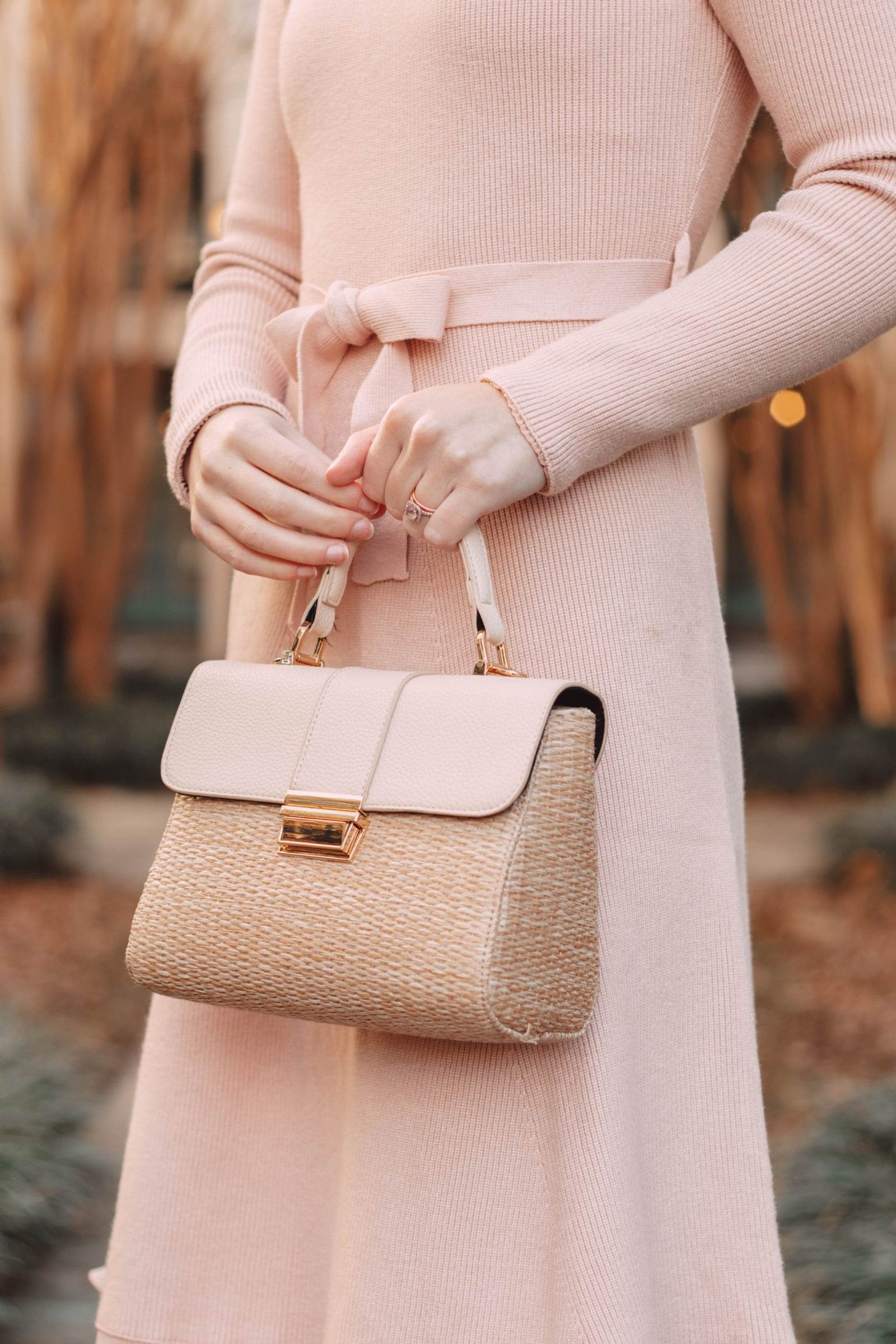 This is the perfect pink dress for Valentine's Day – and the rest of winter and spring!
It's guaranteed to impress your date the moment you arrive. The fit-and-flare style is incredibly flattering, and if you're feeling insecure about any lumps or bumps, this is the shapewear I find most comfortable (and easy to breathe in). I'm wearing the size S-M and it fit my 5'6″ frame perfectly with room to move. The material is similar to a soft wool and has a great deal of stretch, without turning baggy after multiple wears. If it's still chilly where you live, this dress is ideal! It's warm, but not too warm, and could easily be worn with a lightweight jacket or wool trench if the weather allows.
But pink isn't my color!
No worries. This gorgeous dress is also currently available in mustard, cream, black, and brown if you're hoping to go the less traditional route. If your arms aren't long or you're not a fan of ruffles, I suggest tucking the sleeves as I did in these photos. However, you can also totally rock the bell cuffs if you choose! The mock neck isn't suffocating at all, and the length is modest but not prude. The moment I slipped into this lovely little number, my husband said, "wow!" So needless to say, I know for a fact it will impress your date! 😉
---
Related Posts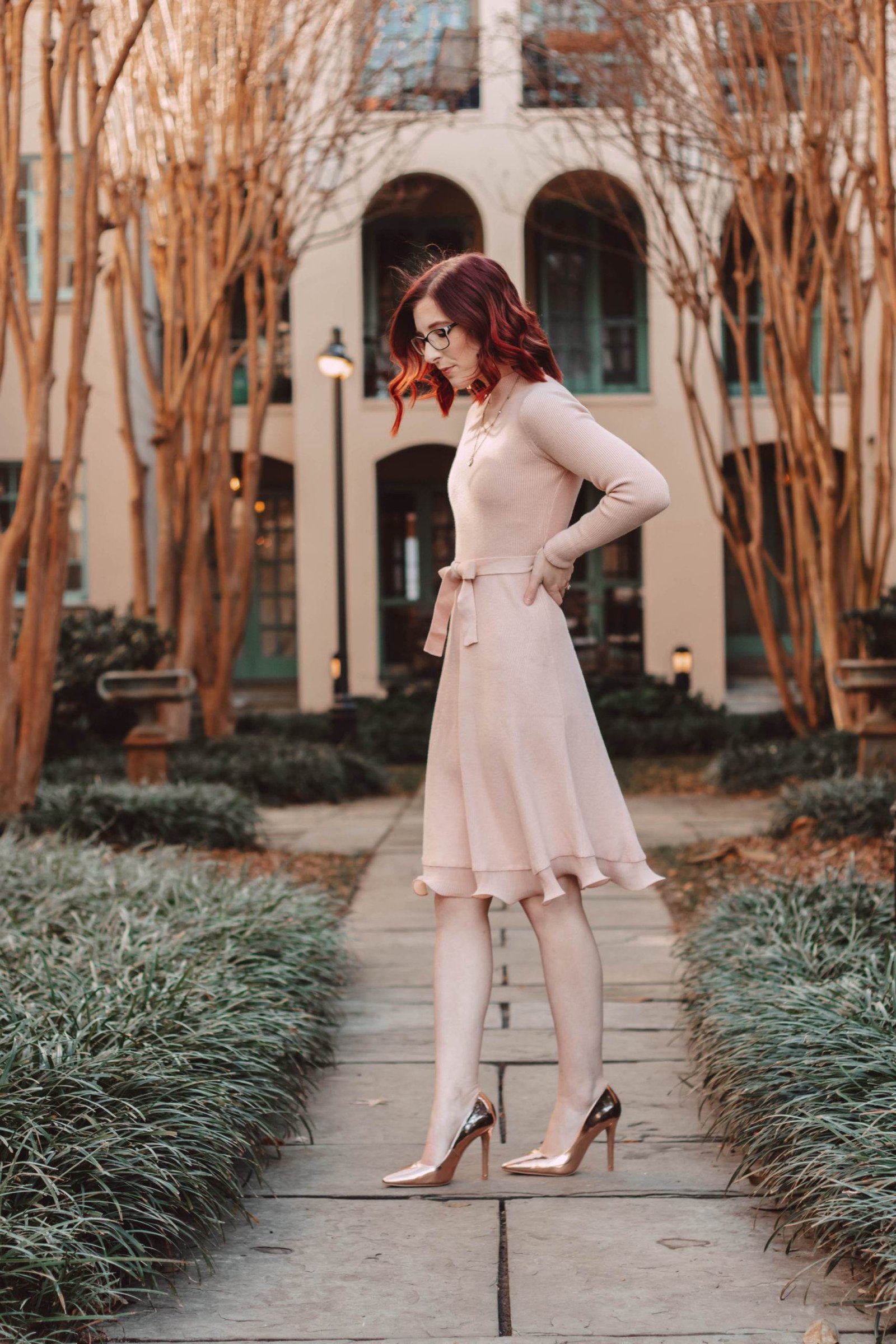 Will you be wearing this dressy date night outfit for Valentine's Day?