A huge thank-you to NetGalley and the publisher for this advanced reader copy of Shot Clock by Justin A. Reynolds and Caron Butler.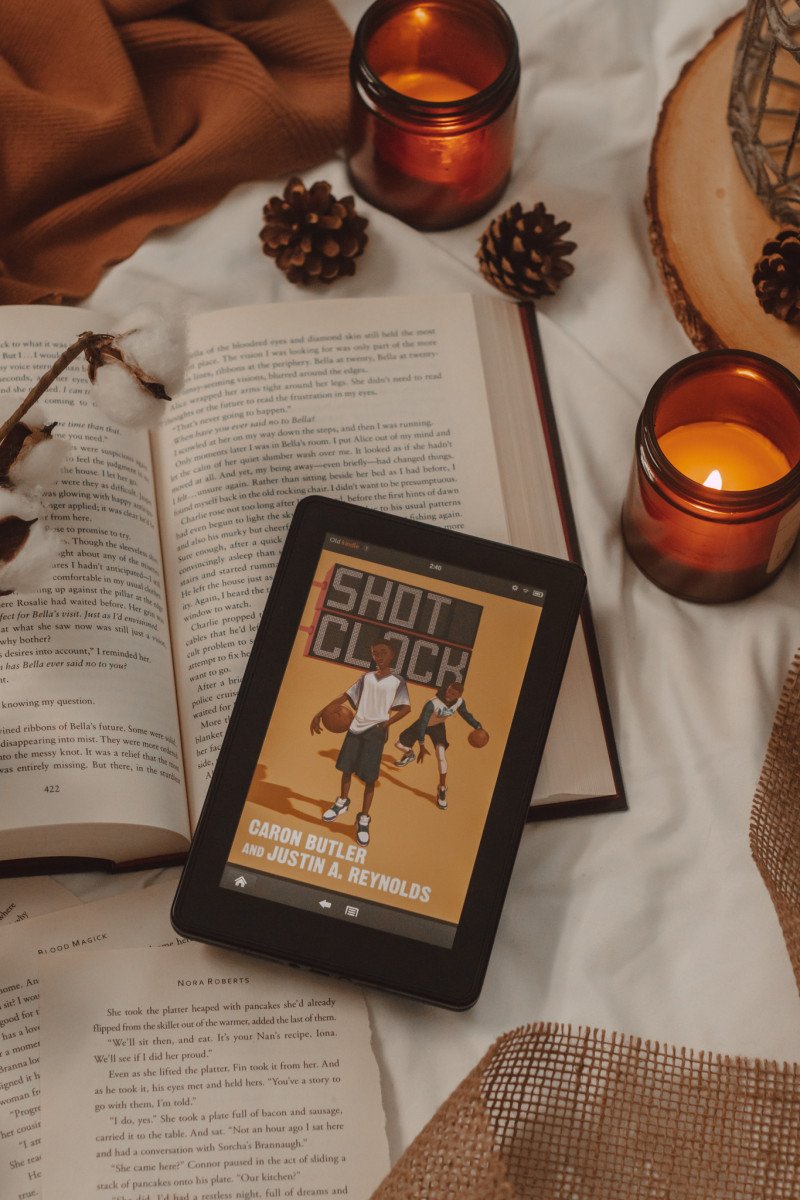 Shot Clock is one of the books that has stood out among the rest this year – and it is completely unlike my usual reads.
A fact about myself that often takes people by surprise is that I absolutely love basketball. Specifically, I enjoy watching the NBA (big thank-you to my husband for getting me into the sport). When basketball season comes to an end, you will literally find me wandering my house without any clue what to do during my evenings. Basically, I moan and groan until the season starts back up again. So, you can understand my excitement when I found out that one of my all-time favorite authors was writing a basketball book!
Justin A. Reynolds is a phenomenal author who has constantly astounded me with his ability to create stories that will make me laugh until my stomach aches and then immediately turn around and sob until my head hurts. It really is an absolute honor to be reviewing yet another one of his stories. While I typically don't read middle-grade, I knew without a shadow of a doubt that I would not only read this book but love it immensely. I wasn't wrong.
If you're a basketball fan, you will love this book. Even if you're not a basketball fan but you adore phenomenally-written depth and emotion, you will love this book. If you enjoy quick wit and the ease of reading middle-grade, you will love this book. Truthfully, I think everyone can find something to love about Shot Clock. Make sure to pick it up when it hits shelves on September 6, 2022 – and keep reading to learn even more about why I loved this outstanding story.
---
LOOKING FOR MORE BOOK REVIEWS?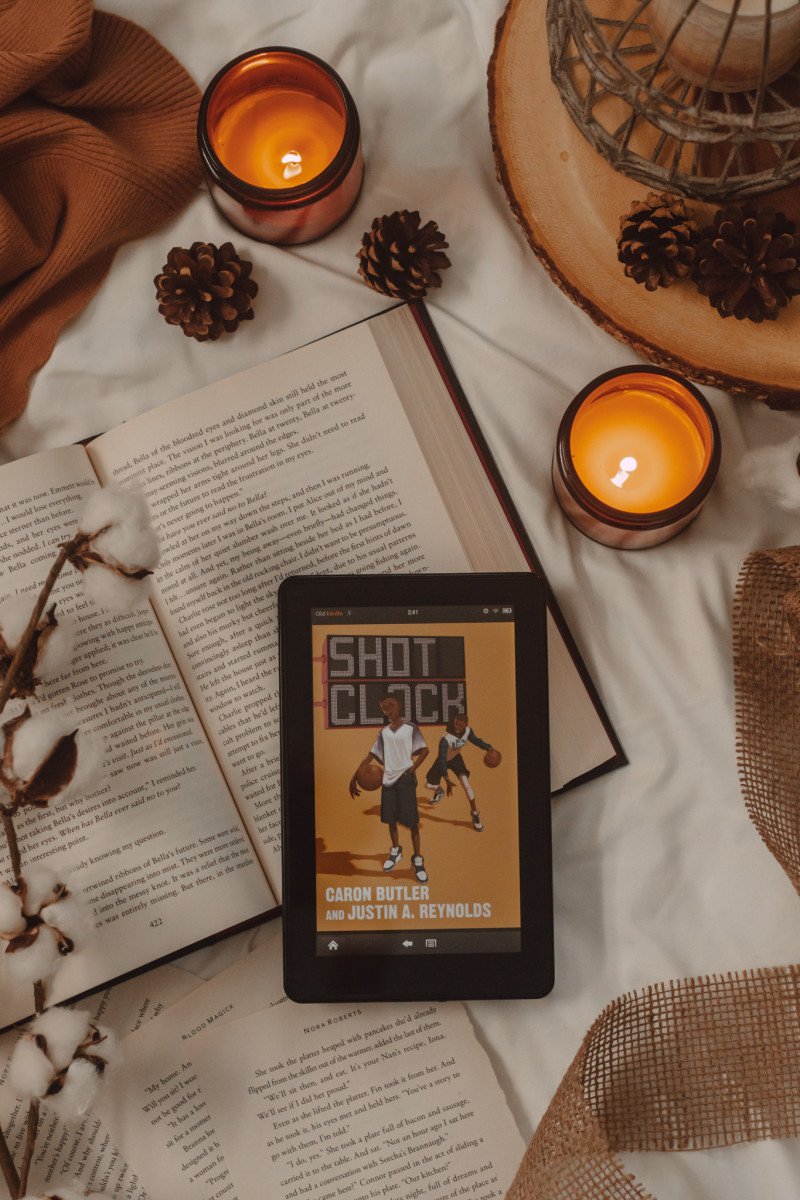 My honest review of Shot Clock by Justin A. Reynolds and Caron Butler.
Synopsis:
Former NBA All-Star Caron Butler and acclaimed author Justin A. Reynolds tip off the first book in a new middle grade series about a young boy trying to make his mark on an AAU basketball team coached by a former NBA star in his hometown. Perfect for fans of The Crossover and the Track series.
Tony loves basketball. But the game changed recently when his best friend, Dante, a hoops phenom, was killed by a police officer. Tony hopes he can carry on Dante's legacy by making the Sabres, the AAU basketball team Dante took to two national championships.
Tony doesn't make the team, but Coach James likes what he sees from Tony at tryouts and offers him another chance: join the team as the statistician. With his community reeling and the team just finding its footing on the court, can Tony find a path to healing while helping to bring the Sabres a championship?
Content Warnings: (major) Gun violence, Police brutality, Murder, Death, and Grief, (moderate) Panic attacks/disorders, Mental illness
Shot Clock is so much more than just a "basketball book."
Shot Clock is so much more than just a "middle-grade book."
Shot Clock is something so special, so needed – and I'm still not over the impact it made in my own life.
I initially wanted to read this book because A) it's by Justin, whose books I have absolutely adored and B) it's about basketball, which is something I'm really passionate about. I was given the opportunity to read an ARC of this book during the NBA playoffs, which just feel like the most perfect timing.
I'm not sure why I wasn't expecting to be emotional while reading Shot Clock. I mean, every other book I've read by Justin has made me choke on my own tears with laughter at some point or another, so why would this be any different? However, there was something about this that touched a different part of my heart, in a way other books rarely have in the past.
(I find it important to state that my review is not OwnVoices). This might be middle-grade, but it didn't pull punches in the slightest. Shot Clock dealt with subjects like police brutality, underage crime and juvenile detention, depression, and other heavy topics that make it stand out among its peers. These are the hard-hitting topics that I've seen more and more in young adult fiction, but haven't noticed much in MG. Every single challenging moment is handled with such finesse and such grace that rather than it feeling harsh or abrupt, it comes across as an opportunity to learn and grow. This is the kind of book that I would have benefitted from so much during my middle and high school years (though let it be known that even adults can still benefit from it. I know I did).
Now, I don't want you reading this review and thinking, "Oh, it's just another sad/hard/challenging book." Trust, it doesn't hold back from the challenging subjects, but it's also filled with Justin's signature humor and family vibes, making it such a well-balanced story! While reading it, I felt as though I was part of Tony's (slightly chaotic) and absolutely precious family. I expected to find myself sitting next to Big Mama or hearing Munka tapping away on her phone. Every moment of heartache or struggle was balanced by a moment of laughter and camaraderie.
Shot Clock is absolutely exceptional when it comes to the basketball moments as well! What, did you think I'd forget to talk about that? Nah, I love the sport far too much to miss my chance to rave about the phenomenally detailed chapters with vivid descriptions of the games. I felt like I was watching it happen, rather than reading it. If you're a basketball fan, you will love this aspect so much. It actually made me learn even more about how the game works and now I can say that I wholly respect the role of the statistician!
My thoughts as I set down this book were twofold:
1) There need to be more books like this.
2) I want to turn back to page one and read it all over again.
Thank you, Justin. Thank you, Caron. Shot Clock is on another level entirely.
---
purchase the book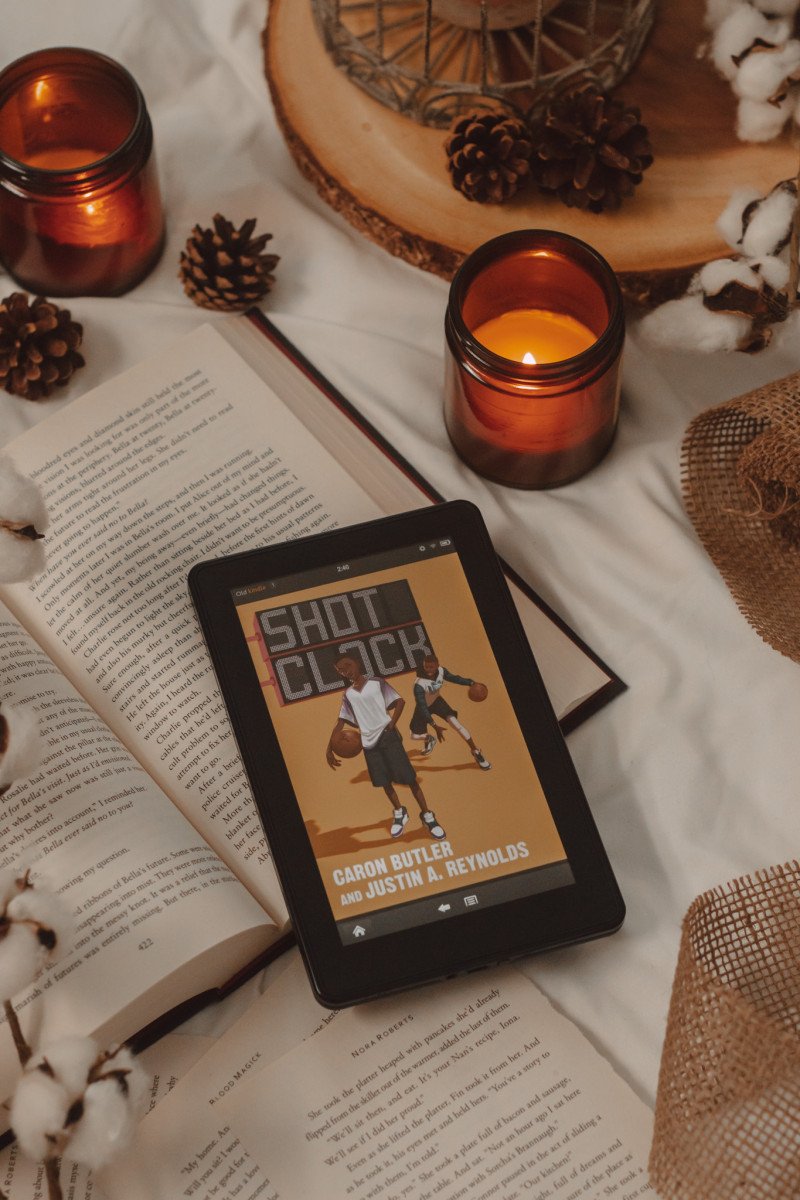 Will you be reading Shot Clock?
---
pin for later