A huge thank-you to NetGalley and the publisher for this advanced reader copy of The Dragon's Promise (Six Crimson Cranes #2) by Elizabeth Lim.
The Dragon's Promise is such a unique ending to the Six Crimson Cranes duology!
This is the first time I've ever had the opportunity to read and review advanced copies of both books in a duology. Talk about a huge privilege! I felt like I'd won the lottery when I received the acceptance email from NetGalley after requesting a copy of The Dragon's Promise. It's one of my most-anticipated sequel releases of the year!
Six Crimson Cranes was a stand-out read for me in 2021 and even made it on my list of 21 favorites at the end of the year! I had high hopes for this sequel (especially since I'd already pre-ordered a signed copy) and it was really exciting to dive into the story and find out what happens to my most-beloved characters.
The Dragon's Promise will be released on August 30, 2022. This is a duology you don't want to skip, so don't forget to snag a copy. If you haven't begun your journey into this incredible world, be sure to read Six Crimson Cranes soon!
---
LOOKING FOR MORE BOOK REVIEWS?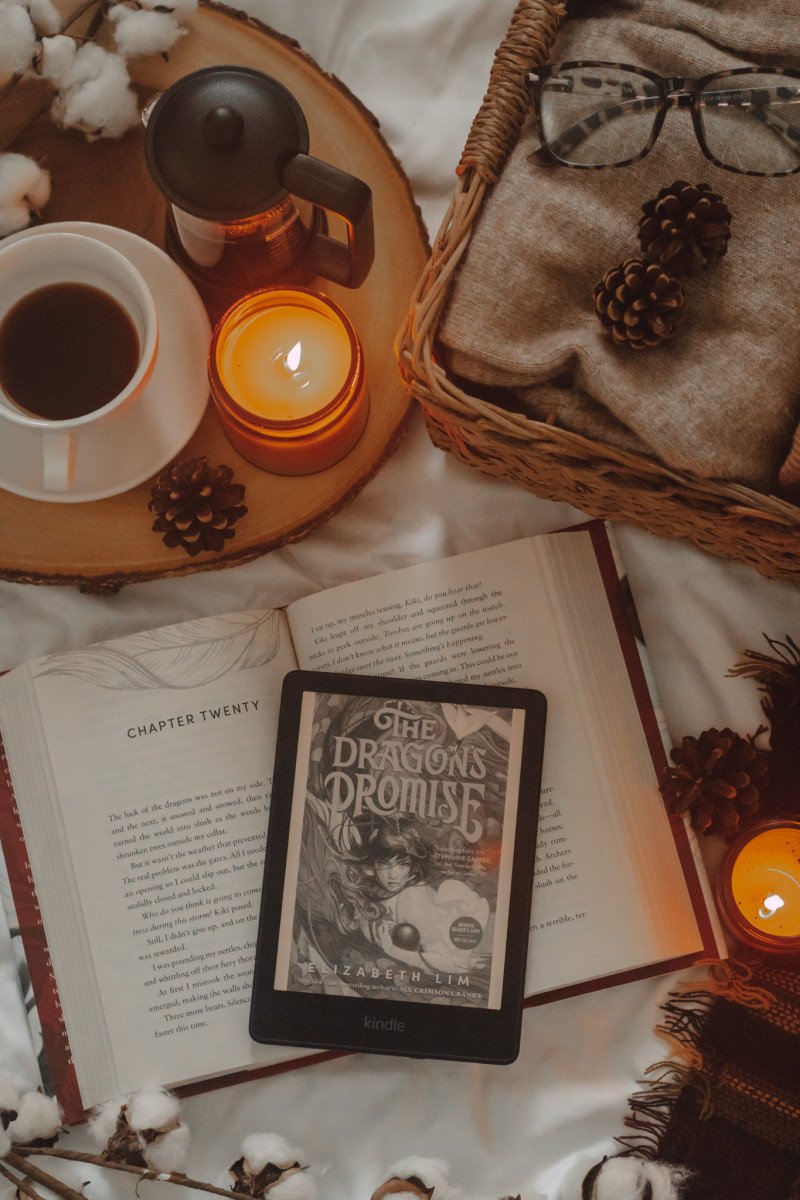 My honest review of The Dragon's Promise by Elizabeth Lim.
Synopsis:
From the New York Times Bestselling author of Six Crimson Cranes comes the thrilling next adventure! A journey to the kingdom of dragons, a star-crossed love, and a cursed pearl with the power to mend the world or break it… Fans of Shadow and Bone will devour this soaring fantasy.
Princess Shiori made a deathbed promise to return the dragon's pearl to its rightful owner, but keeping that promise is more dangerous than she ever imagined.
She must journey to the kingdom of dragons, navigate political intrigue among humans and dragons alike, fend off thieves who covet the pearl for themselves and will go to any lengths to get it, all while cultivating the appearance of a perfect princess to dissuade those who would see her burned at the stake for the magic that runs in her blood.
The pearl itself is no ordinary cargo; it thrums with malevolent power, jumping to Shiori's aid one minute, and betraying her the next—threatening to shatter her family and sever the thread of fate that binds her to her true love. It will take every ounce of strength Shiori can muster to defend the life and the love she's fought so hard to win.

Content Warnings: (major) Grief, Murder, and Blood, (moderate) Torture, Violence, and Death, (minor) Death of parent
The Dragon's Promise is the epic fairytale conclusion to the Six Crimson Cranes duology – an accompaniment to The Blood of Stars duology. It's filled with lots of high-stakes adventure, tons of incredible (dragon and demon) magic, and even a sweeping romance.
One thing to note before reading this review is that it will contain spoilers for all of the books in this collection (Six Crimson Cranes AND The Blood of Stars). I had to do a bit of digging to find out that these were all interconnected, which made some of the character arcs and a bit of the world-building a little more understandable upon finishing the story.
Before learning about the way the duologies connected, I was greatly confused by Bandur's presence in Six Crimson Cranes. Since he was such a huge part of The Blood of Stars, it immediately seemed strange that he was the number one "villain" in The Dragon's Promise. However, what I found to be true was that similar to The Grishaverse and the way each of the three series in that collection come together and share villains and characters, these books by Elizabeth Lim do something very similar. They're not only set in the same world, but you'll regularly see familiar names, magics, and other elements.
This book started out incredibly strong, with Shiori and Seryu getting into lots of trouble in the dragon's realm. There were some great fights, fantastic magic, and character introductions that led me to believe there will be more stories told in this universe over the coming years. Part of me wished that the entire book had taken place in that particular timeline. The dragons are so fascinating and I absolutely loved Seryu from start to finish. I didn't want to "say goodbye," so to speak. It almost felt as though that entire portion of the story could have been its own book.
However, that period of time was very necessary for the remainder of the tale. While I believed that we would have a bit of a love triangle (Shiori/Seryu/Takkan), I was grateful for the fact that our protagonist stayed true to the love she "left back home," returning to Takkan and cultivating a really wonderful relationship through the remainder of the book. There were so many moments where I thought, "you need to TALK with him," and then, rather than a terrible miscommunication trope, she actually did talk with him. I absolutely loved that. It made the romance something really enjoyable and sweet.
There were a few things about this book that really stood out to me and I loved:
– It was beautiful to learn more about Raikama/Channari's life. She's such a fascinating character and despite being the "villain" for the majority of the first book, this book allowed us to understand her so much more.
– KIKI! This paper bird is the love of my life, I swear. She's adorable, sassy, hilarious, and just so much fun. I love the impact she has on Shiori and the way she stepped up to the plate in so many ways throughout this book. She really is a star character.
– Shiori's brothers. We got to know so much more about each of them and I just adored their willingness to sacrifice for their sister and each other. They were so precious and Hasho is my very favorite of the bunch.
– The "I used magic and so my hair turned white" trope. It's niche, but it's a thing, and I kind of love it.
While this didn't necessarily hold the same kind of power the first book did for me, it was a really wonderful story and it had a strong finish. I really look forward to seeing what Elizabeth does next in this world. I think there are so many incredible tales to come from the land of dragons and demons, magic and myths.
---
purchase the book

Will you be reading The Dragon's Promise?
---
pin for later