A huge thank-you to NetGalley and the publisher for this advanced reader copy of Belladonna by Adalyn Grace.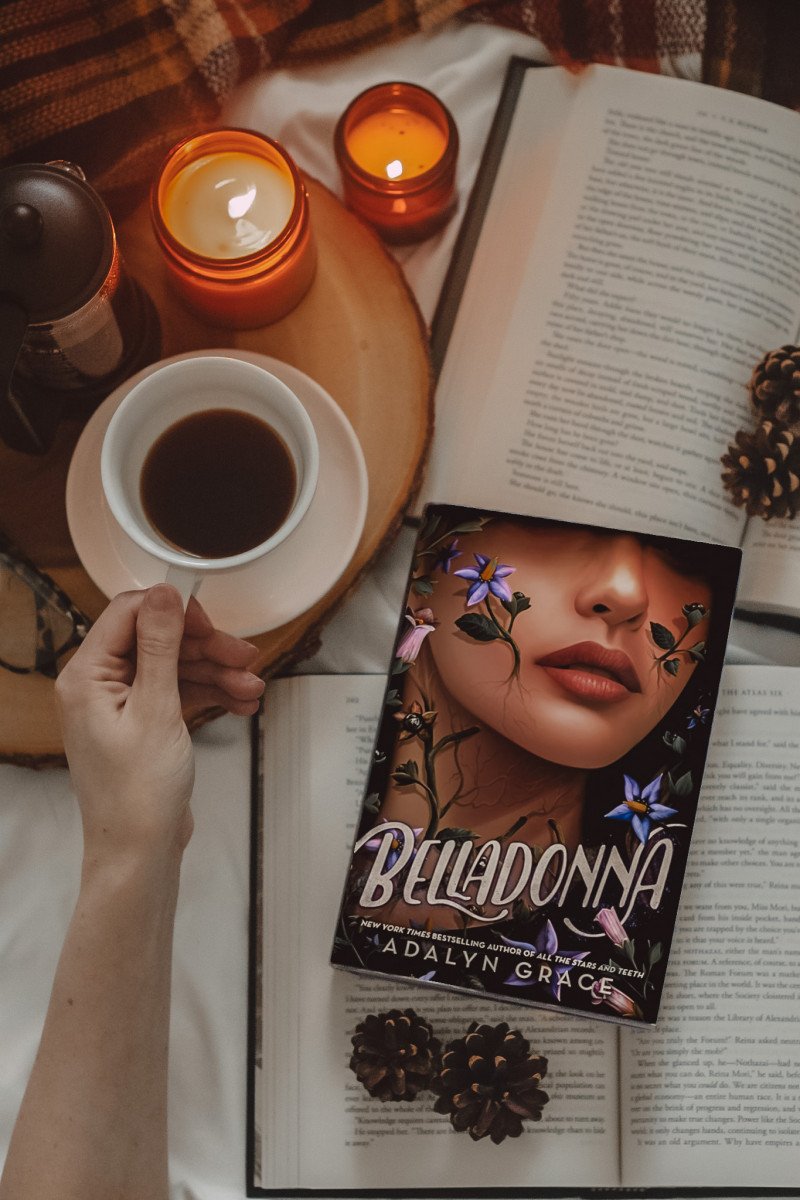 Belladonna by Adalyn Grace is the ultimate gothic fantasy to read this autumn. It's a romantic murder mystery that will blow you away!
For the first half of 2022, each time someone asked me what my favorite book of the year was, I had no clue how to answer. I mean, really, how can I when I rated over ninety books between four and five stars in the first six months of the year? But the time has officially come for me to crown my favorite fantasy book of the year so far and there is no question that it is Belladonna.
Now, I've read sixty-two fantasy books this year. Twelve of them have received five stars. Belladonna honestly deserves a place of its own. If I could give more than five stars to this book, I would in a heartbeat. I read Adalyn's All the Stars and Teeth duology as the books came out and I absolutely adored them, so I was greatly looking forward to whatever she released next. However, when I saw that it was a gothic fantasy, I was a little worried it wouldn't be for me. I'm not big on anything overly spooky, so I went into this with my fingers over my eyes. I didn't need to! It's not a frightening book at all. It's mildly eerie, but the scary factor isn't any higher than 90% of the fantasy books I normally read.
When I finished this book, I immediately wanted to start it again. A week later, when I sat down to write the review, it made me want to read it again. And now, as I'm writing this post – you guessed it – I want to read it again! It truly is that good. Belladonna hits shelves on August 30, 2022, and I hope that this review will convince you to pick it up!
---
LOOKING FOR MORE BOOK REVIEWS?
My honest review of Belladonna by Adalyn Grace.
Synopsis:
A girl confronts Death—and her own deathly powers—in this Gothic-infused, romantic young adult fantasy.
Nineteen-year-old Signa Farrow, orphaned as a baby, has been raised by a string of guardians, each more interested in her wealth than her well-being—and each has met an untimely end. Her last remaining relatives are the Hawthornes, an eccentric family living at the glittering and gloomy estate of Thorn Grove. Thorn Grove's patriarch, Elijah, mourns his late wife, Lillian, through wild parties and drink, while eldest son Percy grapples for control of the family's waning reputation and daughter Blythe suffers from the same mysterious illness that killed her mother. And when Lillian's spirit confronts Signa and claims she was poisoned, Signa realizes that Blythe could be next to die.
Signa's best chance of uncovering the culprit and solving Lillian's murder is an alliance with Death himself—the very man she hates most. And Death, that fascinating, dangerous shadow who has never been far from her side, shows her that their connection may be more powerful than she ever dared imagine.
Content Warnings: (major) Gore, Alcoholism, Death of parent, Death, Grief, and Vomit, (moderate) Suicide attempt*, Addiction, Body horror, Sexism, Blood, and Physical abuse

*the protagonist has the ability to cheat death and tries various methods to test the theory
If I tell you right here and now that I highlighted nearly 50% of the book, will that make you want to read it? Because friends, it was that good!
There are a few reasons why I'm considering Belladonna my favorite fantasy book of 2022:
First and foremost, it is cozy as heck. It primarily takes place during autumn and it exudes autumnal comfort and warmth throughout the entire story. It would be the perfect book to pick up during October for Halloween. It's not scary, but definitely a bit eerie, and the exact kind of book that a more sensitive reader (such as myself) would want to read during that season. I've used the term "cozy creepy" in a few of my reviews and I'd definitely place Belladonna in that category.
It is incredibly descriptive and atmospheric, making you completely forget that you're reading. So many of the pieces that I highlighted throughout the story were just descriptions, moments where the author described Signa's eyes, Death's shadows, Hawthorne House, Lillian's garden, a ballgown, or the way the autumn season presented itself. It was all so beautifully written that I found myself getting lost in it over and over again, forgetting that I was reading and just truly living it. Those are my favorite kinds of books.
It made you think you knew what was happening, only to surprise you later on! Let me describe this a bit better. You know those stories where you're convinced something is predictable, so you tell yourself it can't be that and it's totally something else, but then you've convinced yourself so much that the predictable thing winds up shocking you when it does happen? That's kind of how this felt. Only, it wasn't really predictable. It just felt right when certain moments occurred. I liked those moments of, "ah yes, that makes perfect sense" just as much as the moments of, "OMG WHAT?!?!"
THE CHARACTERS. That's it. That's all I need to really say. The cast was spectacular. Everyone was a little grey. Everyone was a little unlikeable in a way that made them lovable. You feel as though you're rooting for the bad guys, but in a satisfying way. The character dynamics (and even bits of the plot) reminded me of a mash-up of several favorite books: Echo North (Echo and Hal), The Invisible Life of Addie LaRue (Addie and Luc), and The Inheritance Games (Avery and Jameson).
Adalyn Grace has mentioned a couple of her favorite chapters on Instagram and I was pleased to find that the chapters she loved were also some favorites of my own. They held shock, romance, and too many gorgeous quotes for me to even list in this review. Plus, I want you to read the book and experience them yourself!
I never thought I could love anything this author wrote more than I loved All the Stars and Teeth, but Belladonna blew me away. Before I was even a quarter of the way through it, I preordered a signed copy so I could read it again and again. It's absolutely magnificent in every way and I could honestly blather on about it endlessly. If you pick up only one book this year, let it be Belladonna. I promise you won't regret it!
---
purchase the book

Will you be reading Belladonna?
---
pin for later