A huge thank-you to NetGalley and Random House for this e-arc of Six Crimson Cranes by Elizabeth Lim.
Six Crimson Cranes is an incredible fantasy novel by Elizabeth Lim (author of the Spin the Dawn duology). It's filled with adventure, romance, and wisdom.
It's no secret that I just adore fantasy novels. They fuel my imagination and allow me to escape from the mundane. One of the best feelings is when you are so captured by the story that you don't recognize the passage of time and you feel like you're actually living inside the book. That's precisely how I felt while reading Six Crimson Cranes.
I have always had a huge appreciation for Elizabeth Lim's phenomenal storytelling skills. The first novel I read was Reflection – part of the Disney Twisted Tales collection – and I was hooked. Shortly after that, I fell in love with Spin the Dawn. The way she incorporates East Asian lore and legend is incredible, and I believe it brings something special to her writing. Six Crimson Cranes is officially my favorite book by her and I'm already itching for the sequel (even though the first title hasn't even been released yet as I'm typing up this post).
If you're ready for a truly mesmerizing story that will capture your attention from beginning to end, make sure to order Six Crimson Cranes and keep reading for more information about the specific elements that made me fall head-over-heels in love.
---
want to read more reviews?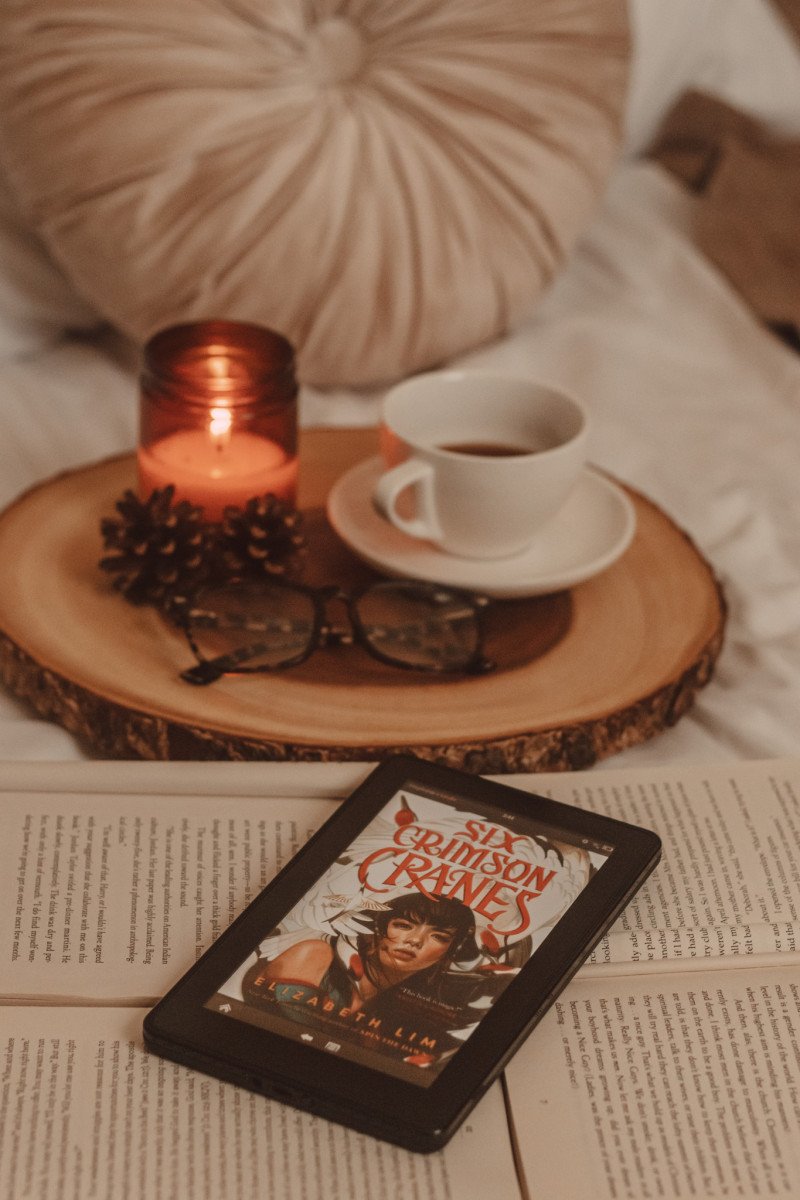 My honest review of Six Crimson Cranes by Elizabeth Lim.
Synopsis:
A princess in exile, the boy she left at the altar, six enchanted cranes, and a dragon from the deepest sea… From the author of Spin the Dawn comes a breathtakingly original fantasy inspired by East Asian folklore and perfect for fans of Leigh Bardugo or Tomi Adeyemi.
Shiori'anma, the only princess of Kiata, has a secret. Forbidden magic runs through her veins. Normally she conceals it well, but on the morning of her betrothal ceremony, Shiori loses control. At first, her mistake seems like a stroke of luck, forestalling the wedding she never wanted, but it also catches the attention of Raikama, her stepmother.
Raikama has dark magic of her own, and she banishes the young princess, turning her brothers into cranes, and warning Shiori that she must speak of it to no one: for with every word that escapes her lips, one of her brothers will die.
Penniless, voiceless, and alone, Shiori searches for her brothers, and, on her journey, uncovers a conspiracy to overtake the throne–a conspiracy more twisted and deceitful, more cunning and complex, than even Raikama's betrayal. Only Shiori can set the kingdom to rights, but to do so she must place her trust in the very boy she fought so hard not to marry. And she must embrace the magic she's been taught all her life to contain–no matter what it costs her.
---
My Rating: ★★★★★
CONTENT WARNINGS: death, demons, poisoning
She's done it again, friends! Elizabeth Lim never ceases to amaze me with her brilliant storytelling and phenomenal imagination. This reimagining of The Wild Swans by Hans Christian Andersen, mixed with Chinese dragon folklore and Japanese legend is a beautiful blend of cultures and fairytales. From the moment I first began reading, I was totally mesmerized. I couldn't stop – and truthfully, I didn't want to! I was hanging on to every word. In this book, you'll find darkness and hope, adventure and romance, and so many jaw-dropping moments.
Shiori is such a strong protagonist who finds true power in her silence (listening and learning from those around her and utilizing her other senses) and ingenuity (coming up with creative ways to accomplish tasks and communicate) – rather than just relying on others. She's the literal definition of a badass leading lady. She doesn't need Takkan or her adorable origami sidekick, Kiki, but they provide excellent supporting roles and bring life and laughter to the story when it's needed most. Shiori wants to see past what other people see and tries to think the best of even the worst characters. She's someone that I could learn a thing or two from, that's for sure.
One of the things that I liked the very most about Six Crimson Cranes was that no one is who they appear to be – but they're also not who you might suspect they are. I kept thinking I had sorted out the truth behind a character and it was honestly thrilling to be proven wrong. As someone who is often disappointed by the predictability of some "plot twists," reading this book was incredibly satisfying.
For those who read the Spin the Dawn duology, you're in for a treat! A few familiar names, places, and items are mentioned throughout this book and it felt like discovering little easter eggs along the way. It also made me want to reread Spin the Dawn… especially when I reached the ending. (Dun dun DUN).
I was so lucky to have the opportunity to receive the ARC of this book and I'm anxiously anticipating its release… along with the announcement for the next book – because I'm impatient and absolutely dying to learn what happens next. What a wild ride! This is a story I will continue to recommend for a long, long time!
---
purchase the book

Will you be reading Six Crimson Cranes?
---
pin for later