When asked my drink of choice, I never have to think twice. It's a classic, mint mojito. Refreshing, simple, and delicious.
A couple years ago, on a hot summer day, I perfected the classic mojito. It doesn't have to be a ton of fuss and a mess of ingredients all over your kitchen. This recipe consists of four ingredients and you'll be earning the title of master mojito maker in no time.
After noticing that National Mojito Day was on July 11th (and coincidentally, the day I wrote up this post), I decided I wanted to share my super simple recipe with you.
This is the perfect drink for everything from entertaining guests to relaxing outside on a warm summer evening.
You'll want to save this recipe for later, because I can promise you'll be enjoying this all season long. I've gone through my fair share of limes in the past couple of years just to make this delicious beverage!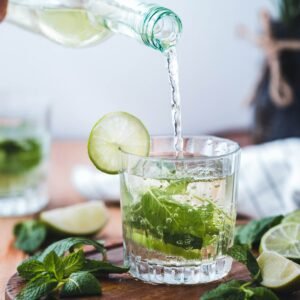 Print Recipe
4-Ingredient Mint Mojito
Instructions
Serve in a 9oz glass over crushed ice or reusable ice cubes
---
related posts
What's your ideal occasion for a classic mint mojito?
---
Pin for Later