This post was originally published in January 2022. It has been updated with new photos and the most current information about The StoryGraph website and app.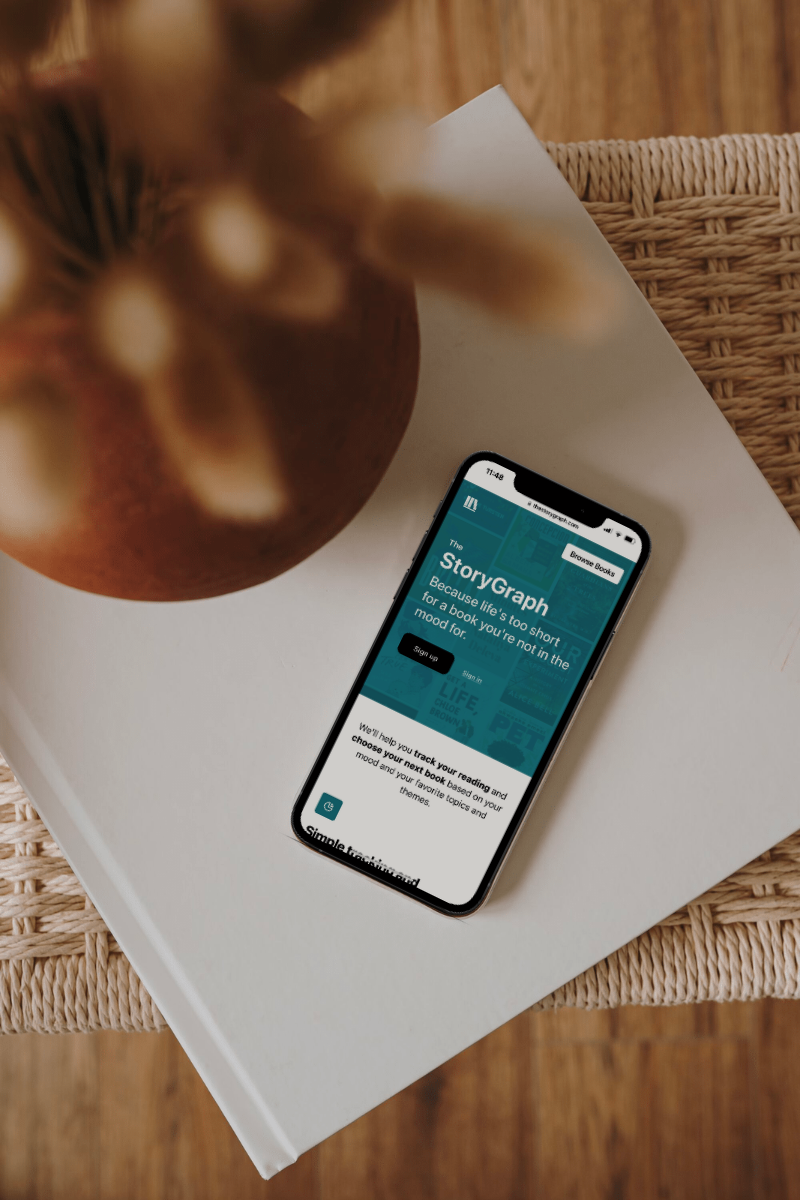 In early 2021, I officially pulled the plug on Goodreads and switched entirely to The StoryGraph. But what is The Storygraph, you might ask? Let me tell you some more about it.
The StoryGraph is a platform created to help you track your reading goals and find new book recommendations based on your mood. It's suitable for every kind of reader and has so many incredible elements that make it an absolute must. It only took me one day of use before I quit Goodreads entirely. I haven't logged into my old account since then, and quite frankly, I plan to never do so again.
If you're fed up with Goodreads and their outdated website, inability to listen to user feedback, and lack of review customization, keep reading to see why you absolutely need to create a free StoryGraph account!
---
related posts
10 Reasons Why I Chose to Switch from Goodreads to The StoryGraph
The StoryGraph allows you to give .5 ratings and you can mark your books as DNF.
You heard me. No more wishing you could give a book a 2.75 but only being allowed a 2 or 3-star option. In addition, you can help other readers understand the book better without posting a review by just selecting a few simple descriptive terms. In other words, the rating system rocks. When you DNF, you can state why you chose to stop reading as well as share how far you got (using pages or percentages). This book will still be part of your library but it won't be constantly pushed on you to read and you don't have to "lie about reading it" like you may have done on Goodreads in the past.
You can easily add trigger and content warnings to your reviews.
I've mentioned it before and I'll mention it again (and again): adding trigger and content warnings to reviews is so important. However, thinking through all of that after you've finished a book can be daunting. The StoryGraph makes it ridiculously easy. They categorize the content by graphic, moderate, and minor and provide a drop-down list to choose from. Now, when you look up a book, you can see the warnings along with the moods, pace, average rating, and so on.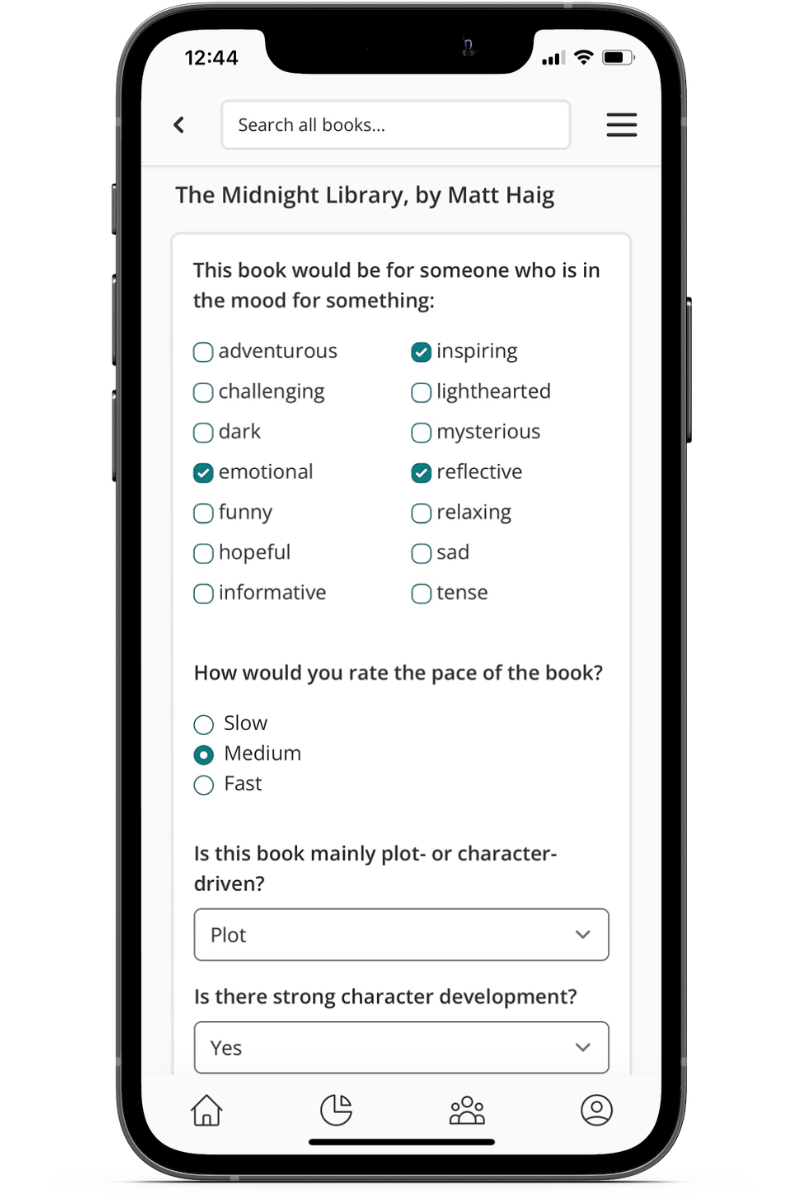 The website and app are modern, user-friendly, and constantly updated with sleek new features.
We all know that Goodreads has a clunky, old-fashioned web and app design and it constantly crashes or just doesn't function properly. Follow The StoryGraph on Twitter and you'll see that they're always updating and adding new features based on user feedback. They do offer an app (available for iPhone and Android) and it is fantastic. I would know since I use it literally every day. I love that it shows all my reading stats in such a unique and fun way! It's a great way to track how I read – and yes, I can add reading notes as I go.
You can participate in a plethora of tailored reading challenges.
Whether you prefer to stick with traditional numerical reading goals or you want to find something brand new, The StoryGraph offers tons of options. You can even create your own unique challenge and share it with friends. This is an excellent option for those who participate in buddy reads or book clubs! And speaking of buddy reads: they have a really fantastic buddy reading feature that allows you to connect with friends and share notes as you read. The best part is that even if one person zooms ahead or falls behind, there aren't any spoilers shown til both readers have reached the same location!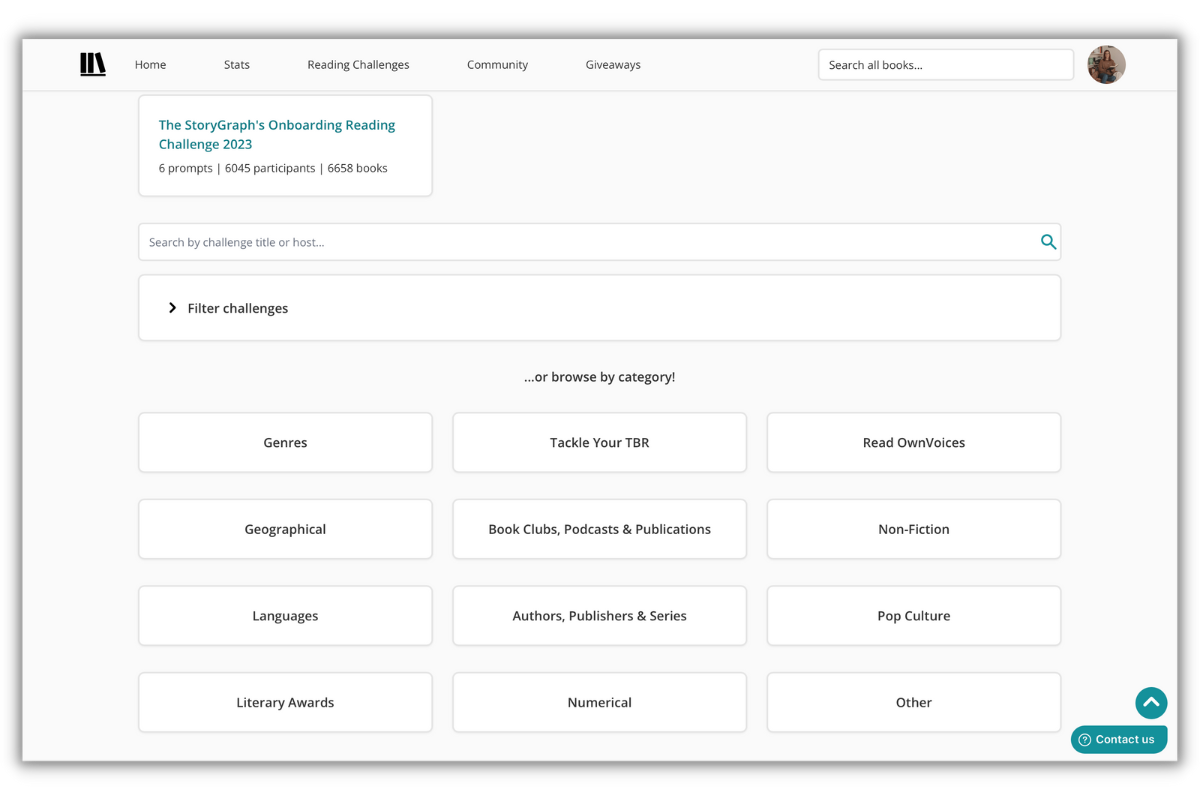 The StoryGraph makes searching for books a breeze.
Have you ever gone to search for a book and then, due to maybe a misspelling or misplaced word, couldn't find it on Goodreads? Yeah, that's not even a thing with The StoryGraph. They make it so easy to search for any book and even the newest indie releases are quick to show up. If you can't find the book you're looking for, you can manually add it to their system! There aren't any ads to clog things up either, which makes the search experience way more efficient.
It's super simple to import your Goodreads data so you won't lose all of your previous reviews and ratings.
This was something I was slightly worried about when I first created my account. I didn't want to manually add the hundreds of books I had added to my Goodreads over time. But it literally took fifteen minutes to click a few buttons and ta-da! The data was seamlessly imported to my new page. All of my ratings, reviews, and even my tags were still intact. Their customer support is fantastic, so if you have any challenges at all with your data import, reach out and they'll be happy to answer any questions!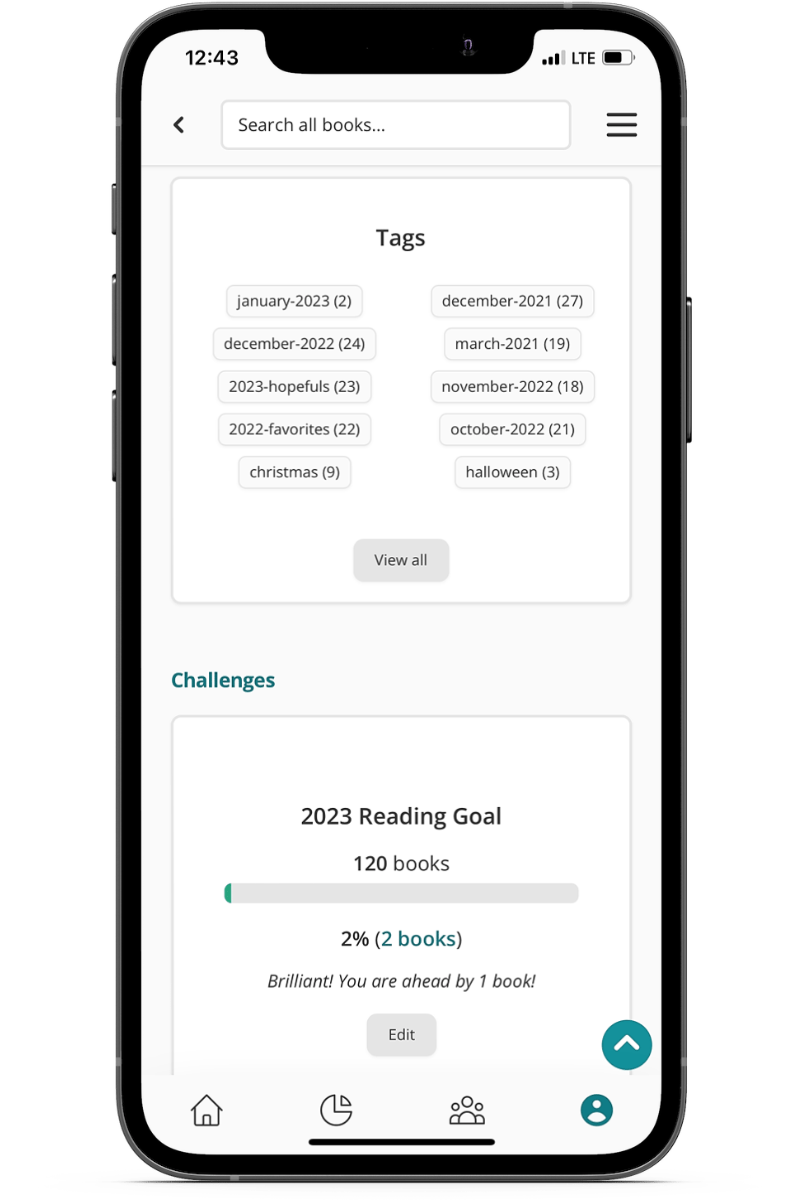 You can choose to be as social as you'd like.
There is a community feature to the platform, but it's less in-your-face than Goodreads. What your friends are reading isn't the first thing you see when you log in, but if you want to find out what they thought about their last read, it's super easy to do so! And you're not inundated with random user information that you don't care about. I can't tell you the number of times I thought, "why do I see that user liking another user's reading status when I don't even follow them?" No more!
The StoryGraph provides personalized reading recommendations that you can tailor to your mood.
Okay, so I'm not at all a mood-reader, but I've heard from a few other users that they love this particular feature more than the rest! It literally prompts you with, "what are you in the mood for?" and you can input your desired pace, number of pages, genre, etc. to receive a list curated just for you!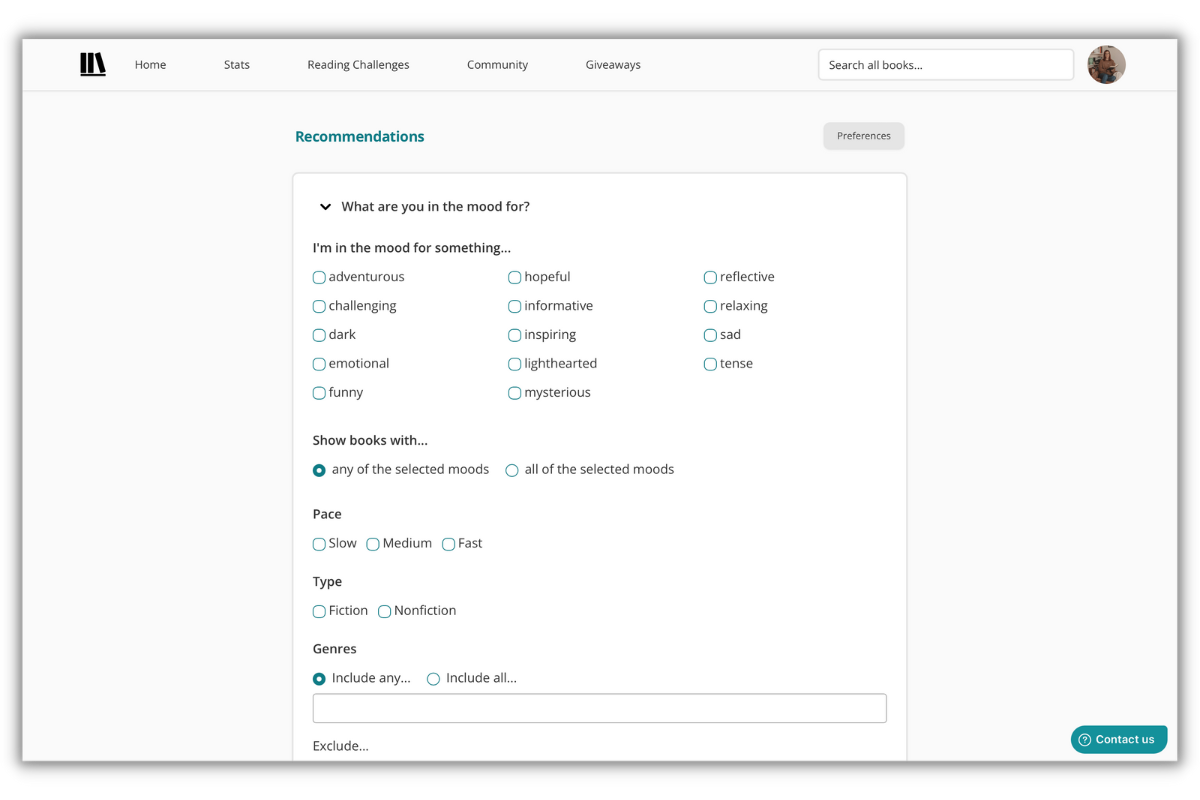 The creators of The StoryGraph value user input!
Over the years, I've read horror stories of authors being bombarded with horrific reviews that contained terribly offensive (racist, homophobic, ableist, etc.) content, and when they begged Goodreads to remove it, they were declined. On the other hand, Goodreads will remove 1-star ratings that aren't hurting anyone, just because a favored author complains. It just doesn't add up. The creators of The StoryGraph listens to their users. They constantly request feedback and encourage user input to make their website and app more accessible, inclusive, and safe (along with just generally making it run better and other things websites and apps should do on a regular basis).
You're supporting a small start-up rather than another Amazon-owned business.
Nadia Odunayo created The StoryGraph with the intention of helping readers find their next book. According to Nadia, the platform isn't meant to be an alternative for what's already out there (though it has become that for me personally). It's meant to give users better tracking tools and one place to consistently find great book recommendations.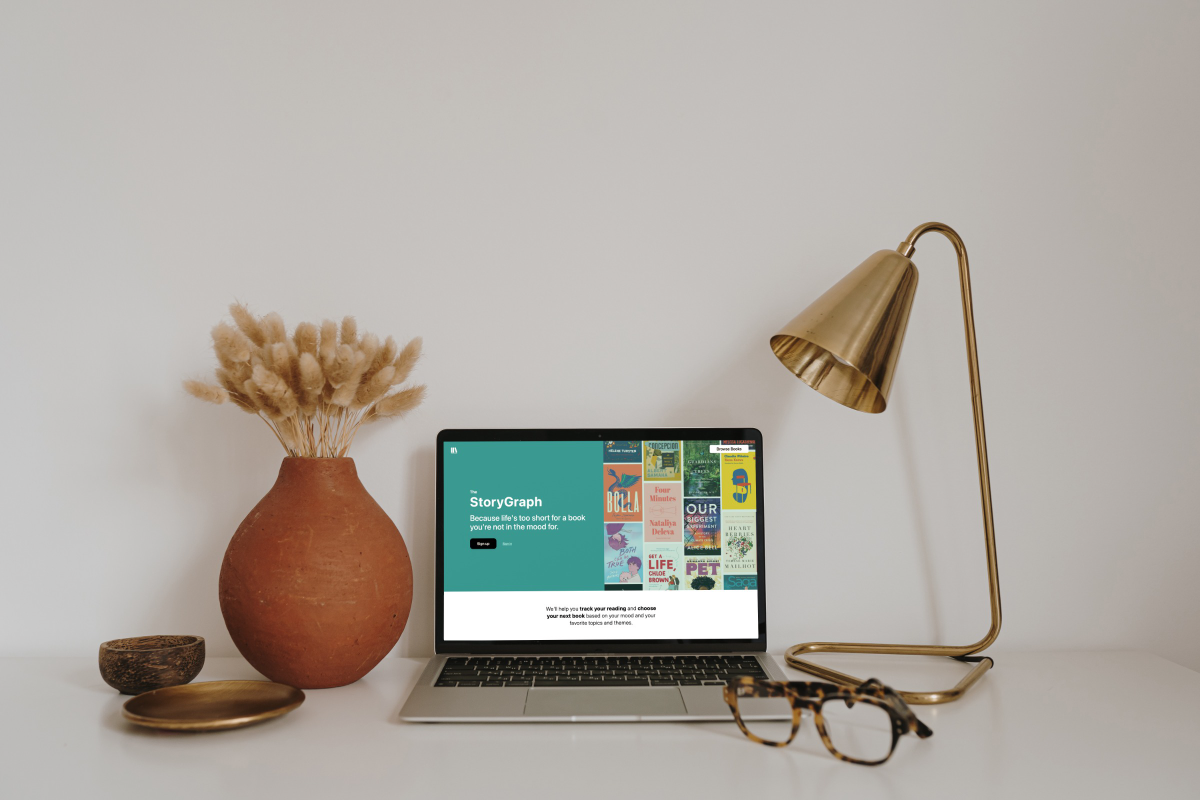 ---
pin for later