And just like that, we've reached the halfway point of the year. Have I managed to reach my 2023 mid-year reading goals? Let's find out.
Reaching the middle of the year is so strange. It simultaneously feels like it's been no time at all and absolutely years since January. At the beginning of 2023, I put together what I called my "Priority 23 TBR." This list contains 23 titles that I wanted to make sure I read during the year, no matter what else I pick up month-to-month. Some of the books are new releases and some of them are backlist books.
A few of my reading goals for this year were less about numbers and more about being purposeful with what I'm reading. I wanted to request less ARCs (unless I was positive I'd be able to write a solid review in a timely fashion), participate in more buddy-reads (which I've done every month), and not push myself to reach a numerical goal each month. Ironically enough, in not trying to reach certain numerical goals, I've somehow managed to exceed my entire yearly goal by over 20 books and I'm averaging double the number of books per month that I was last year. Talk about bizarre!
For the remainder of the year, I really want to focus on not filling every second with a book, but really being picky about what I'm reading. I've begun to fully grasp what I know I'll enjoy (and not enjoy) in a story and I want to prioritize finding joy and comfort in what I read! Keep on scrolling to see how I've reached my 2023 mid-year reading goals and what's next for me.
---
related posts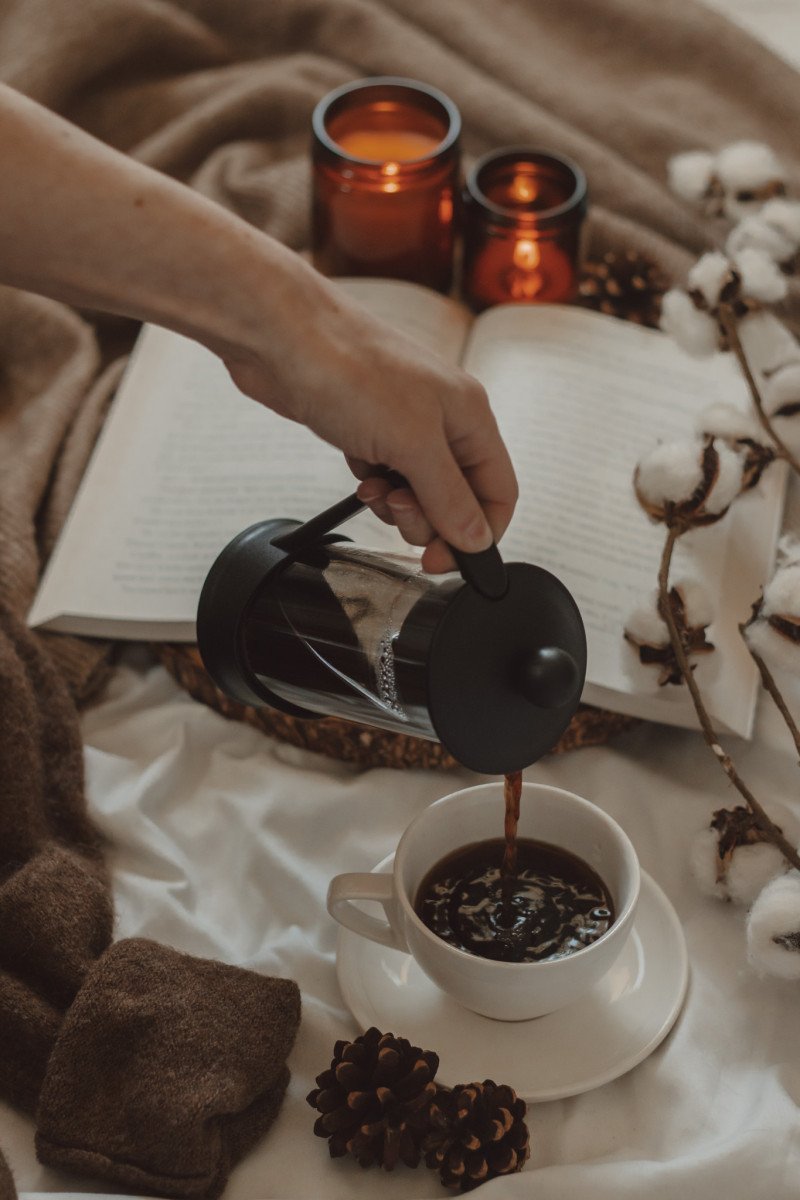 My priority 23 TBR for 2023 was filled with lots of great sequels and several titles from my auto-buy authors. Here's how I'm faring with my original list:
Babel by R.F. Kuang – There's something about this author's books that just really intimidates me. Between the hype surrounding them, their size, the density of the story, and the content itself, I'm definitely nervous about diving in. But I also really want to. I didn't read The Poppy War last year, despite it being on my priority TBR, so I don't want to do the same thing with Babel this year.
The Ballad of Songbirds and Snakes (The Hunger Games #0) by Suzanne Collins – After finishing my reread of the original trilogy–and confirming that it's still just as good as it was 10+ years ago–I decided to give this prequel a go. I wish I hadn't. The adaptation is coming out later this year and I don't even know if I'll go to see it. The story just… wasn't good.
Begin Again by Emma Lord – This made it on my favorites list of the year so far. It's absolutely adorable and definitely my favorite from Emma yet! I genuinely can't recommend it enough. Also, it was super fun to read it at this time in my life, since a couple of years ago I moved close to where the story takes place. So after finishing the book, I went to some of the spots mentioned and it made it extra special!
Bring Me Your Midnight by Rachel Griffin – Hello favorite book of 2023! I absolutely inhaled this magical masterpiece and immediately got to work writing my review. The words just flowed out of me because I wanted nothing more than to rave about it endlessly. It's absolutely phenomenal and I want to scream at everyone to read it!
The Brothers Hawthorne (The Inheritance Games #4) by Jennifer Lynn Barnes – Since this book isn't out yet and I didn't request an ARC of it, I haven't read it yet. However, I did pre-order the gorgeous special edition from Barnes & Noble and I can't wait to add it to my collection!
A Curse for True Love (Once Upon a Broken Heart #3) by Stephanie Garber – I'm so nervous about this book! Caraval is one of my favorite fantasy series, so naturally, I jumped to read the spin-off series. I really loved Once Upon a Broken Heart, buuuuut The Ballad of Never After was a major letdown. So, I'm hoping that this third installment redeems the series for me!
Daughter of the Moon Goddess (The Celestial Kingdom Duology #1) by Sue Lynn Tan – I read this and I'm planning to read the sequel, but I don't exactly understand the hype. The story was really enjoyable for the first quarter of the book and then… everything got really bizarre and jumbled for me. I'm also super confused as to how it even has a sequel in the first place because it felt like the story finished at the end of the first book. I guess I'll find out soon.
Foxglove (Belladonna #2) by Adalyn Grace – I couldn't possibly be more excited to read this book, since Belladonna was my favorite book of 2022. I pre-ordered a signed and personalized copy months ago and in August I might have the opportunity to go to one of the tour stops after the release! It would be absolutely amazing to meet Adalyn in person!
The Foxglove King (The Nightshade Kingdom #1) by Hannah Whitten – Funnily enough, as I'm writing this post, I'm staring at this book in my office because I just purchased a physical copy of it yesterday! I really liked this book even though it was way different than her previous duology. I definitely wanted to own a copy of it to add to my bookshelf!
Happy Place by Emily Henry – It will come as a surprise to absolutely no one that this is my favorite romance of the year. Emily Henry literally never lets me down. I chose to purchase the audiobook since the physical copies were only available in hardcover and the rest of my EmHen collection is paperback. I wasn't disappointed in the slightest since it's performed by my favorite narrator, Julia Whelan! I laughed. I cried. It's an amazing book.
In the Shadow Garden by Liz Parker – I'm saving this book for October since it's a witchy read! I pretty much shove all my witchy books into Halloween month, which is possibly a bad habit. Witchy books are fun all year round! But I'm looking forward to reading this one.
Last of the Talons (Talon #1) by Sophie Kim – I gotta admit that I'm a little bit nervous about reading this one. One of my friends who has very similar book tastes to my own mentioned that she really didn't care for it, so now I've found myself shoving it further and further into the year. However, I do want to prioritize it soon because there's always a chance that it'll surprise me!
The Liar's Crown (Dominions #1) by Abigail Owen – Talk about a surprise! I think I happened to read this at the exact right time because it's not at all the kind of story I'd typically enjoy. However, I'd just finished my rewatch of the first season of Shadow and Bone and despite not being a Darklina fan at all, I'm a huge fan of Ben Barnes as the Darkling. The Liar's Crown has a shadow-wielder who I was definitely fan-casting as Ben in my head and it… wasn't a bad picture (*wink wink*). Needless to say, I enjoyed the fast-paced fantasy and mindlessness of it all.
Painted Devils (Little Thieves #2) by Margaret Owen – It's always a little nerve-wracking going into an anticipated sequel, especially when the first book in the series blew me away. I was shaking in my boots when I began this book… only to literally not be able to put it down for an entire weekend. I was practically Belle in Beauty and the Beast, walking around doing chores with the book in my hands. Yeah, it was that good!
The School for Good and Evil (The School for Good and Evil #1) by Soman Chainani – I'm procrastinating on this one big time. I've read both The Rise of the School for Good and Evil and The Fall of the School for Good and Evil (primarily because the audiobooks are narrated by Kit Young and… I adore Kit Young). They're okay, but they haven't wowed me. I think I'm worried the original series will feel the same. Again, this is one of the ones I definitely need to just dive into!
Someone Just Like You by Meredith Schorr – This was such a cute book! I won an ARC giveaway on Twitter and was thrilled when I reached the acknowledgments and saw that I was mentioned! I had absolutely no clue about that going into it and it maybe made me cry (just a little bit). Talk about a fun surprise! The story was creative and fun and I highly recommend it if you enjoy rivals-to-lovers.
Spellbreaker (Spellbreaker Duology #1) by Charlie N. Holmberg – I discovered after adding this to my priority 23 at the beginning of the year that it isn't available in any format at any of my 5 libraries, which is a major bummer. I do still plan to read it, but I'll probably either borrow a friend's copy or buy it on Kindle when I see a good price for it.
The Stardust Thief (The Sandsea Trilogy #1) by Chelsea Abdullah – Okay, I'm seriously so excited to read this soon. I think it's exactly the kind of fantasy book I need in my life right now. I've just been waiting for a good moment! It sounds absolutely amazing.
Stealing Infinity (Stolen Beauty #1) by Alyson Noël – Eh. This book was okay. It had an interesting concept, but I disliked the characters so dang much that it made it hard to enjoy the plot. I'm still unsure whether or not I'll continue the series.
There Will Come a Darkness (The Age of Darkness #1) by Katy Rose Pool – One of my favorite bookstagram accounts recommended this so many times I just knew I had to pick it up. I'm glad I did! It gave me some Six of Crows vibes, which was fun. I was a little sad to find out that the sequel isn't readily available at any of my libraries (except as an audiobook, which I tried originally for the first book and couldn't get into), so I'm not sure when I'll continue it. However, I do want to!
This Cursed Light (The Last Finestra #2) by Emily Thiede – This Vicious Grace was one of my very favorite books of 2022, and I was thrilled to meet Emily at my favorite local indie in November. I've already preordered a signed copy of this sequel from the same indie and I seriously can't wait to read it soon! I just know I'm gonna love it.
A Wilderness of Stars by Shea Ernshaw – This is another one that I'm waiting until October to read. I've read at least one of Shea's books every autumn for the past few years and I can't wait to add this to that list. It sounds perfectly magical.
The Young Elites (The Young Elites #1) by Marie Lu – This isn't a new series in the slightest, but I somehow missed reading it during the height of its hype. However, I don't feel like I missed much. It's not like I hated it, but I also didn't really like it all that much either. I don't think I'll be continuing the series.
2023 Reading Stats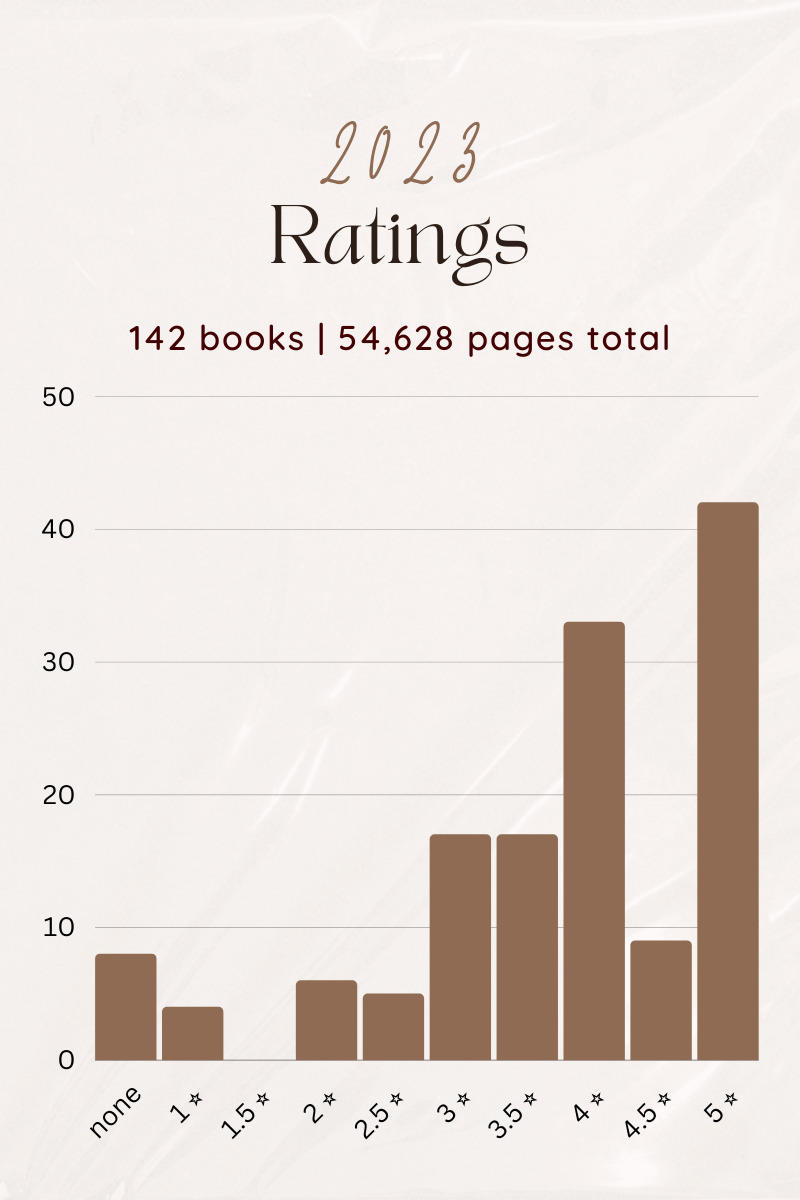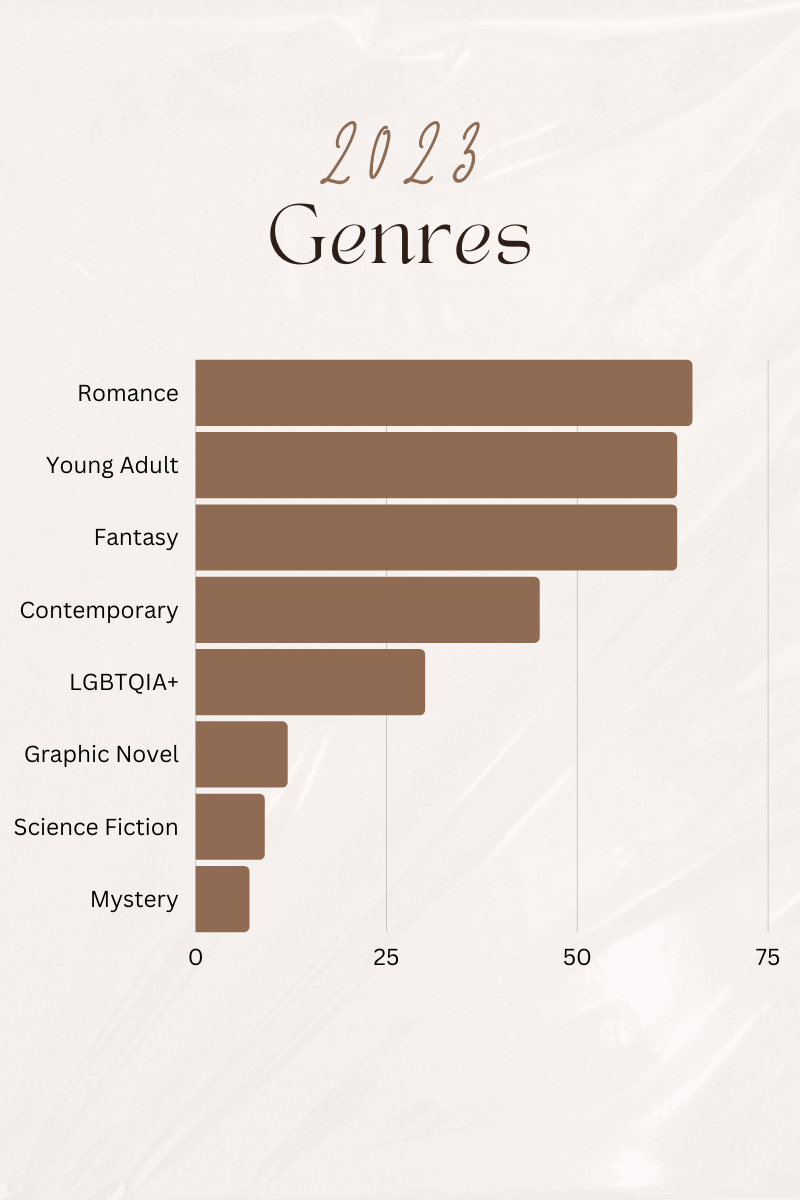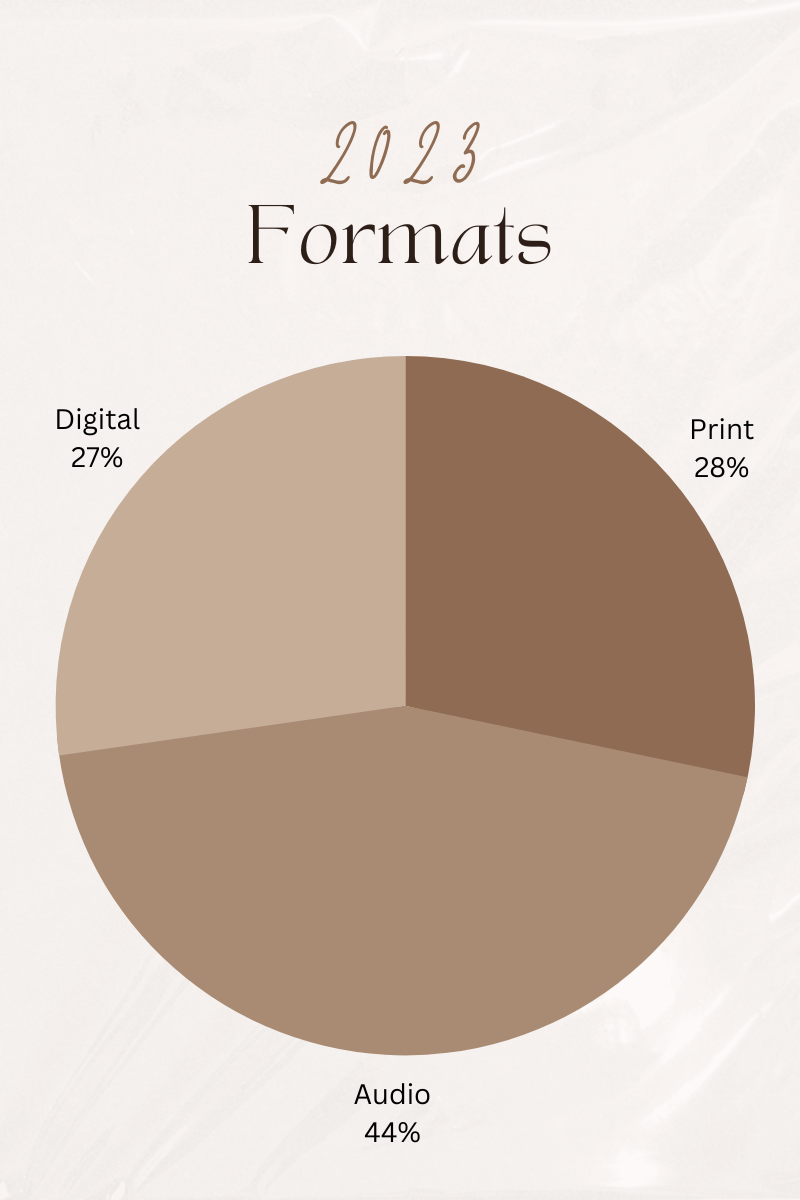 Month-by-Month Breakdown
January – 20 books read: 7 physical copies, 3 ebooks, and 10 audiobooks. 16 of the books I read were rereads, which was so much fun. My favorites (all rereads) were The Invisible Life of Addie LaRue, Shadow and Bone, and A Darker Shade of Magic.
February – 20 books read: 5 physical copies, 5 ebooks, and 10 audiobooks. My favorites were Begin Again, In the Weeds, and We Are All So Good at Smiling.
March – 25 books read: 10 physical copies, 4 ebooks, and 11 audiobooks. My favorites were Legends & Lattes, Funny Feelings, and Concrete Rose.
April – 27 books read: 9 physical copies, 9 ebooks, and 9 audiobooks. My favorites were The Tea Dragon Society, Vera Wong's Unsolicited Advice for Murderers, and Happy Place.
May – 25 books read: 4 physical copies, 10 ebooks, and 11 audiobooks. My favorites were Lessons in Chemistry, Solitaire, and The Box in the Woods.
June – 25 books read: 5 physical copy, 8 ebooks, and 12 audiobooks. My favorites were Bring Me Your Midnight, House Party, and When in Rome.
It's been quite a grand first half of the year. So many amazing books – and so many awesome ones left to read! I'm very proud of how far I've come with my 2023 mid-year reading goals!
---
Shop the Post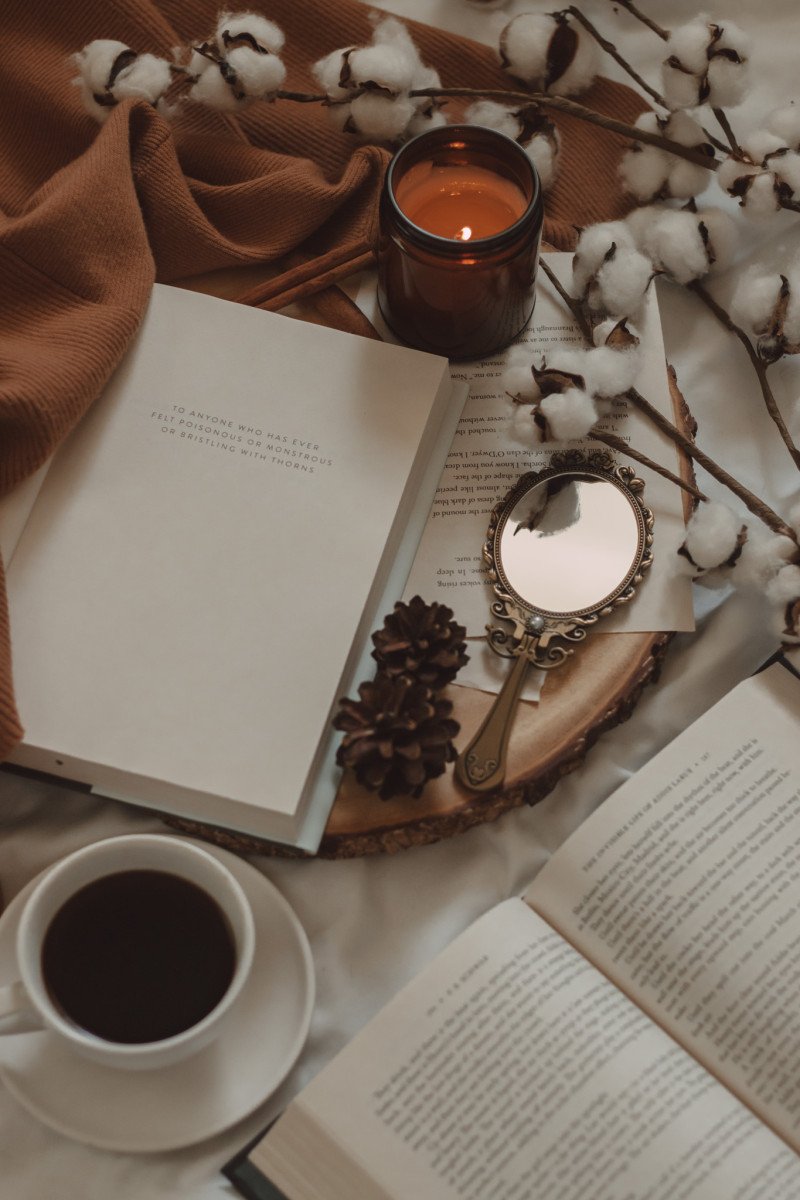 Have you been reaching your reading goals so far in 2023?