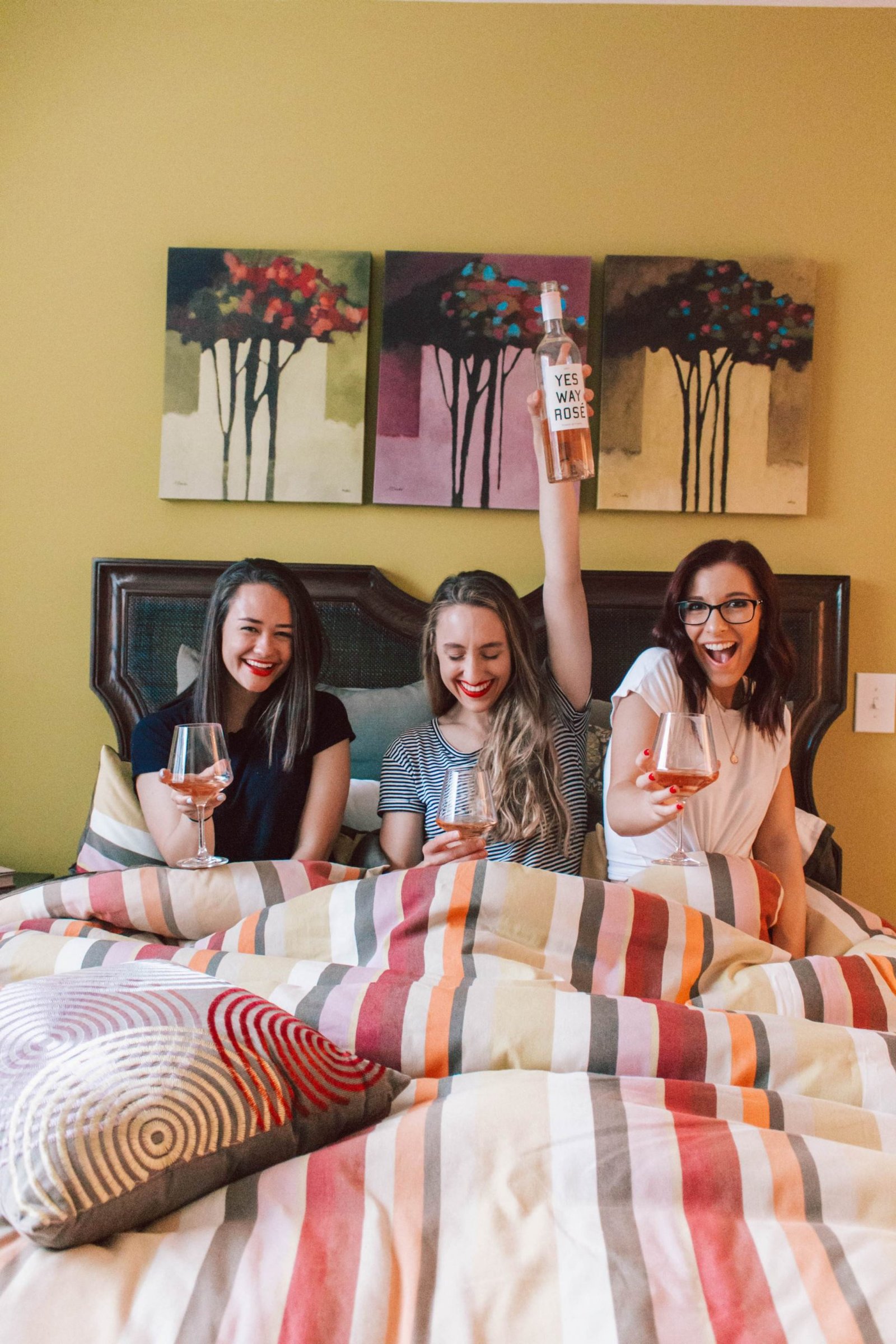 Ah, girls night. The mystical and magical, somewhat illusive event of romantic comedies and the hopes and dreams of a little girl all grown up.
They seem so challenging to achieve as an adult, yet when they happen, they can be the best thing for the heart and soul of a woman. Girls night is when secrets are spilled, friendships are deepened, and wine is consumed in abundance. It's also so incredibly important for women of all ages. As kids, we crave laughter and time together, goofing off with nail polish and face masks. As adults, we laugh at the idea of a slumber party, thinking it was an event best left in our childhood.
What we sometimes forget is how vital these girls nights can be. They're empowering and a wonderful way to explore outside of our comfort zone. That's why I am bringing back the not-so subtle art of the girls night and sharing the ultimate guide to the best time you've ever experienced with your girlfriends.
*Special thank-you to my friends, Kaylyn and Joanna, for joining me to take these fun girls night photos. Our awkwardness made for the most insanely fun evening I've had in a long, long time!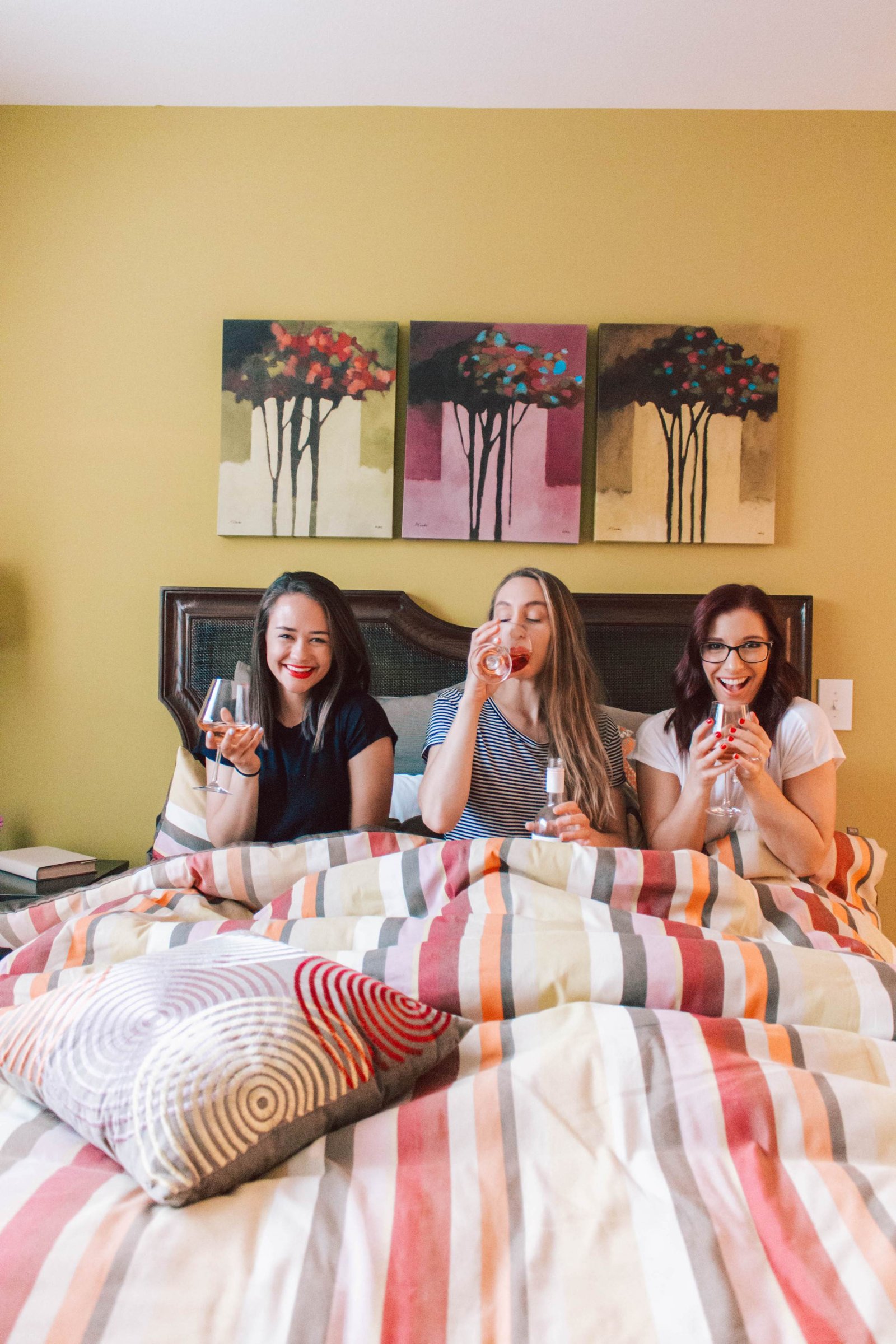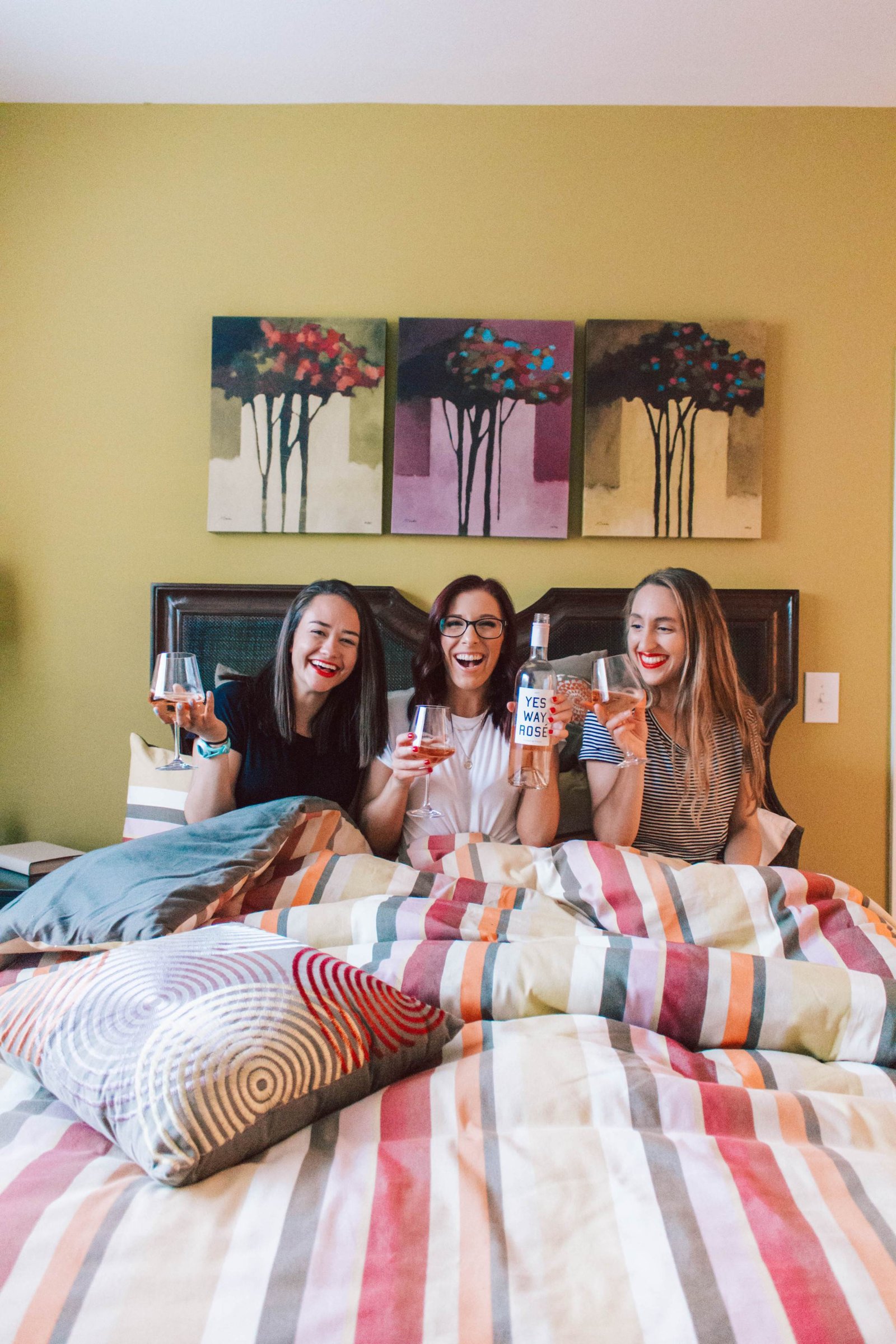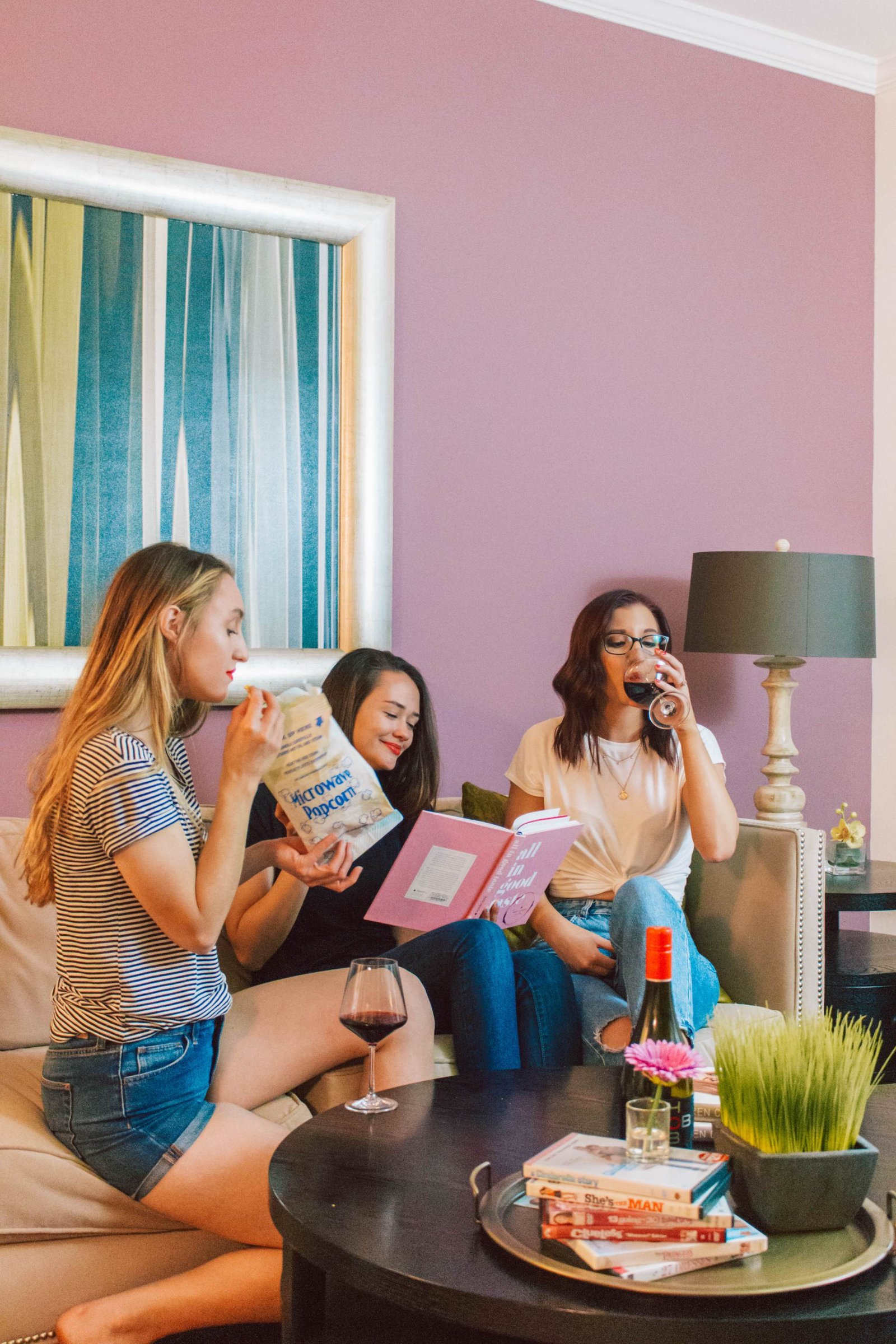 How to make the most of girls night:
Plan in advance – but not too far in advance. So often we tend to fall into the vicious cycle of "let's get coffee!" and four months later, you still haven't gotten coffee. Girls night is way more important, so track down your key group of ladies, and find the best night for the majority, then MAKE IT HAPPEN.
Have lots of wine – Dr. Pepper and root beer may have been the drinks of choice as a child, but wine is where it's at for adults. Depending on how many gals may be attending, you'll want at least one bottle of red, one of white, and of course a rosé is necessary. Also keep sparkling waters or a lemonade on hand in case there's anyone who doesn't drink alcohol.
Along with alcohol, make sure there are snacks – some nice options would be good cheeses and crackers, popcorn, pita chips and hummus, and Oreos. Also having a food delivery app readily available on your phone is pretty necessary. You never know when someone will have an emergency craving for Chipotle or Chick-fil-a.
Icebreakers are awesome – but not the cheesy kind. If there are babes within the group who don't know each other very well (or at all), you might hope that they'll bond. Wine is certainly helpful, but having something in common to giggle over is really important. When I hosted my last girls night, I had us do a goofy photoshoot. It was awkward at first, but then the laughter from the awkwardness immediately broke the ice and we were all making plans for next time by the end of the evening.
Revolve around a movie – sometimes a theme isn't a bad idea. Having the entire night's focus be on "Clueless," "13 Going on 30," or "Bridesmaids" could create a really fun and unique atmosphere. Make snacks from the film, wear your pajamas, and watch the movie together with your girls. It's almost inevitable that there will be little watching and more chatting about the film – but it's an awesome way to bond.
Revert to childhood – face masks, manicures, and icing each other's bras. Okay, maybe not that last part! 😂 Taking it back to being 10 years old can be a blast, and you get to escape the reality of adulthood for a little bit. Gossip about boys, wear a Jonas Brothers t-shirt, and just have fun!
Know that no matter whether there's two ladies there or fifteen, it'll still be one of the most special nights of your life – you'll create memories you'll never forget, new friendships will be made, and the laughter will be so good for you!
---
Related Posts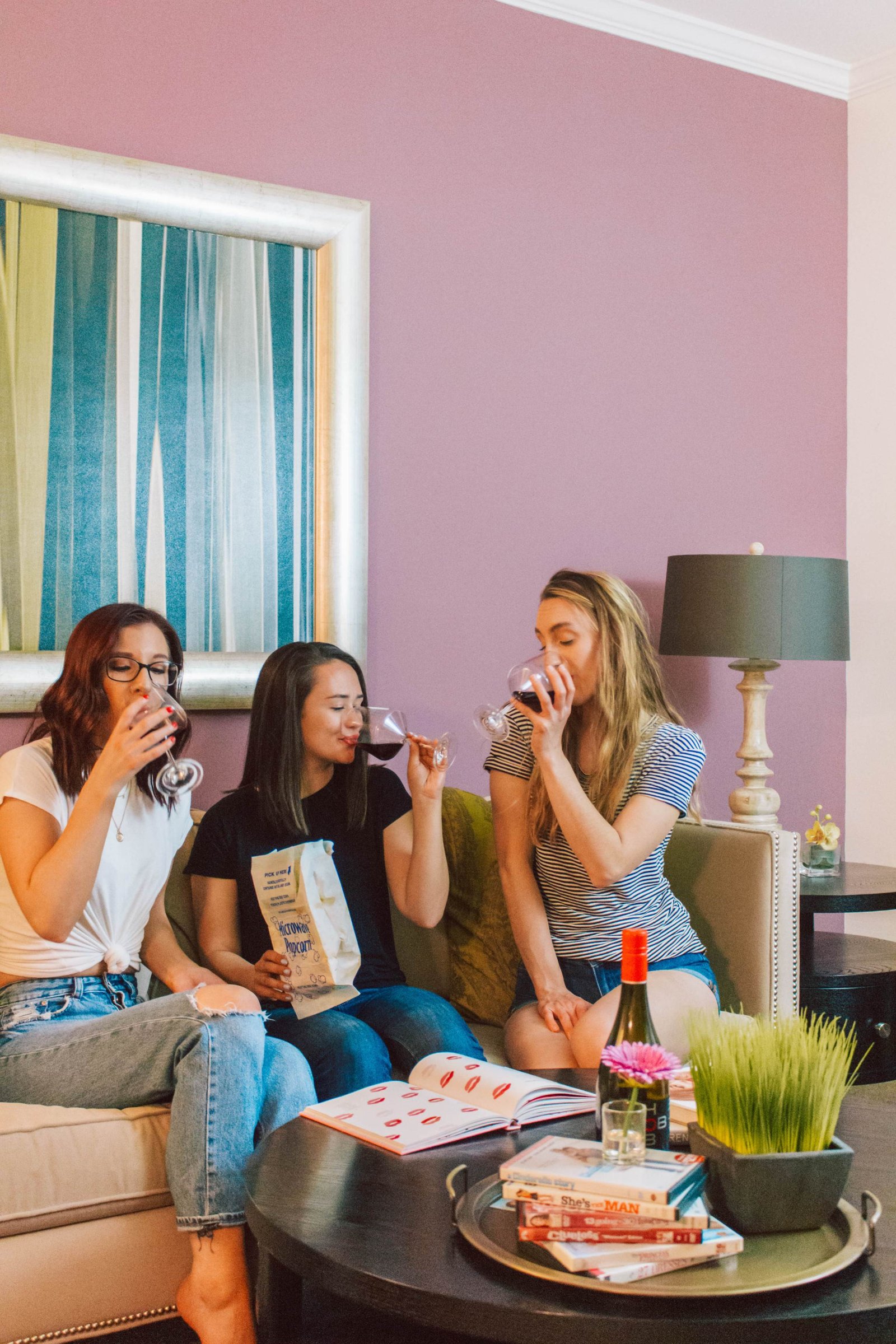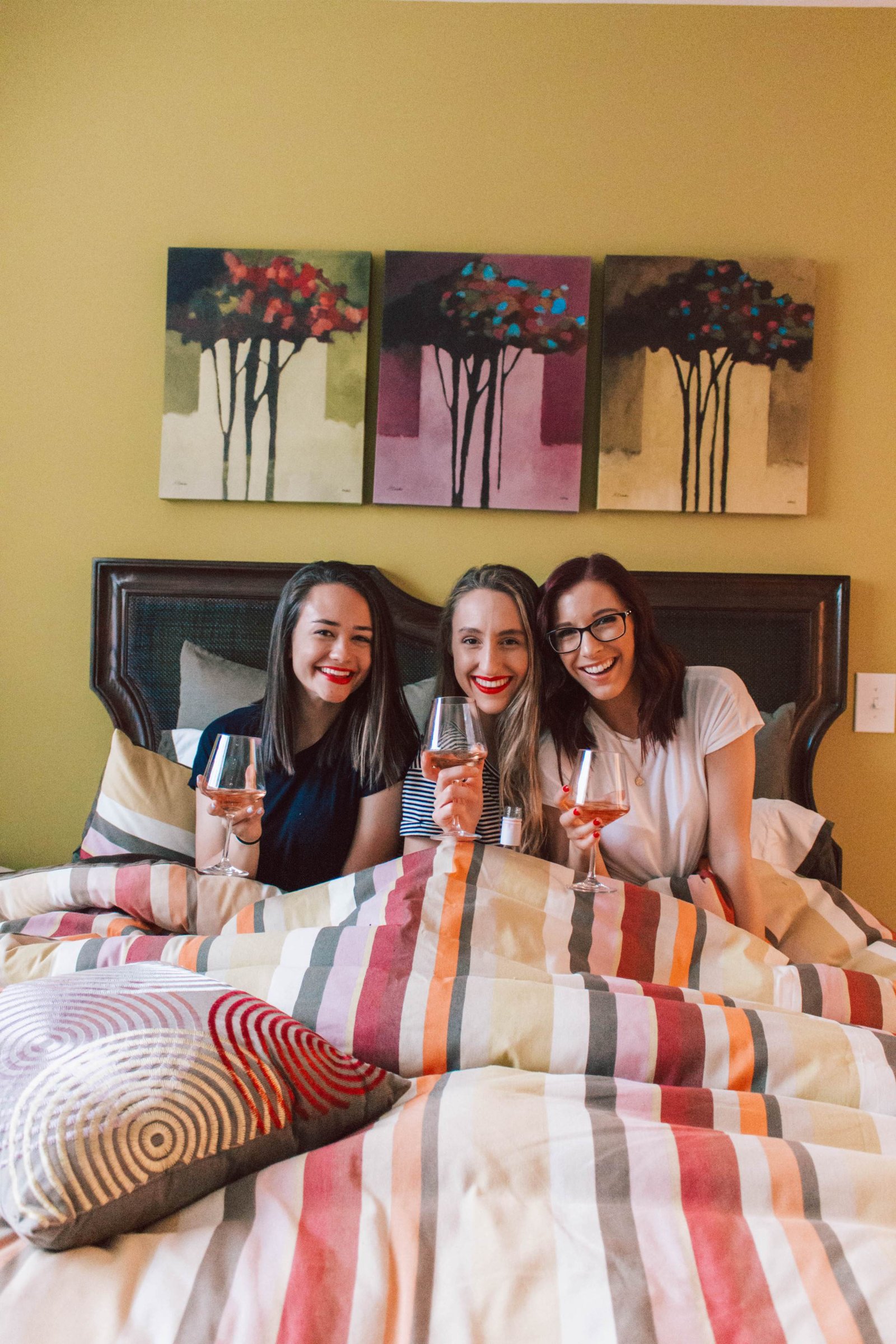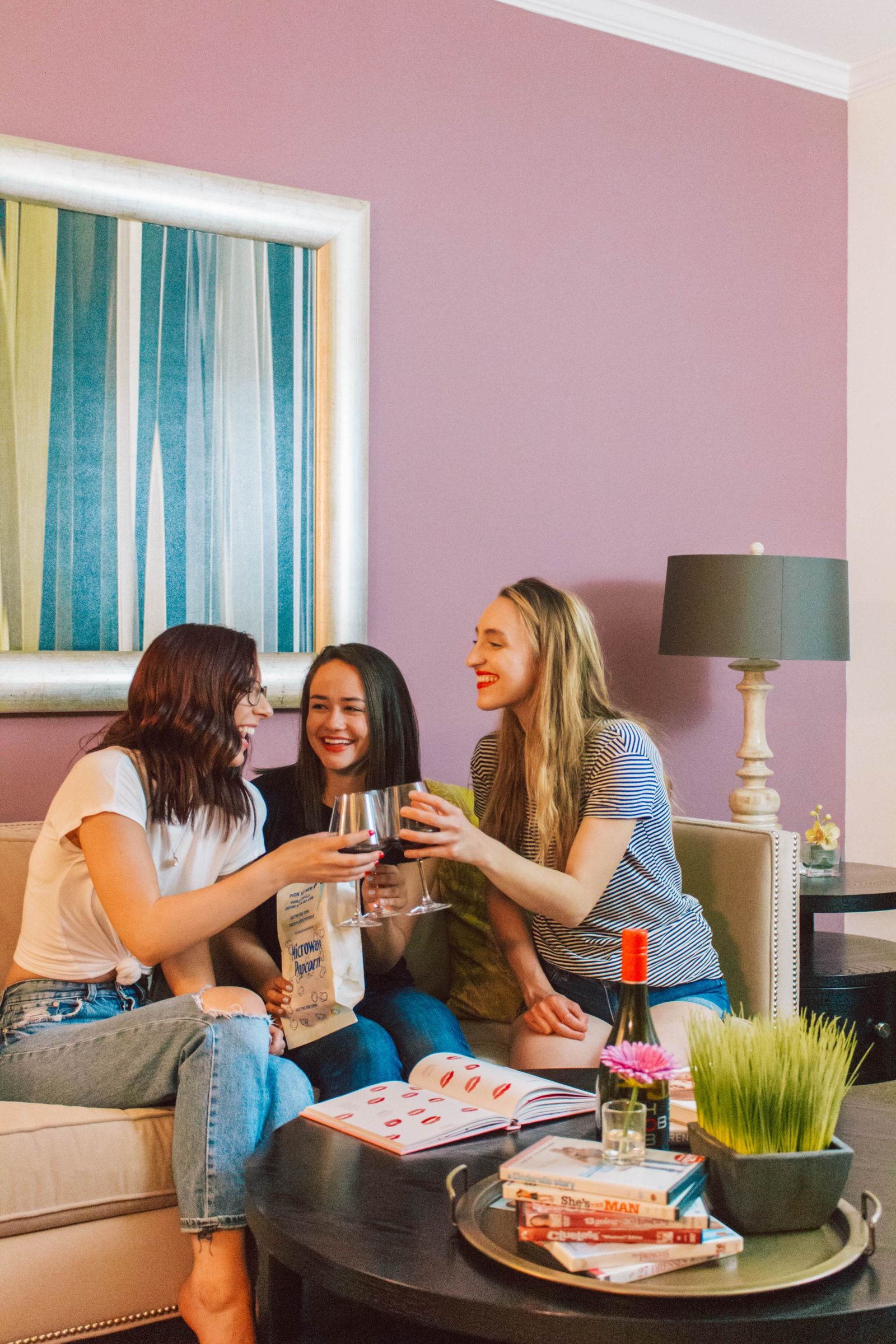 What does your dream girls night look like?