It's taken nearly three years, but I've finally found my groove in front of the camera.
Yep, that's right – three years. Sure, in the first year of blogging, it wasn't awful – but I constantly felt the stares of every person around me like they were boring into my skull, and it was incredibly awkward. I've gotten to a place where those stares barely phase me and I can confidently be as quirky or silly as I want! This topic pairs particularly well with these photos because during this photoshoot, my friend, Lindsey, and I experienced some unusual (and uncomfortable) gawking as we posed. In the onlookers' defense, we were in a hotel lobby. However, this specific lobby is one of the most popular in my city, and there are bloggers aplenty who grace its pink, velvet couches for their photos. It truly wasn't so abnormal for us to be there … and we had to ignore their gaze and act natural.
It's easier than it sounds once you've had some practice, but I constantly receive questions asking how I look so natural in my photos. Someone recently told me that my photos actually look candid, and that was a massive compliment. It made me think about it a little further, and I wanted to share some of my best tips for feeling confident in front of the camera – whether that's a video or a photo!
---
Outfit Details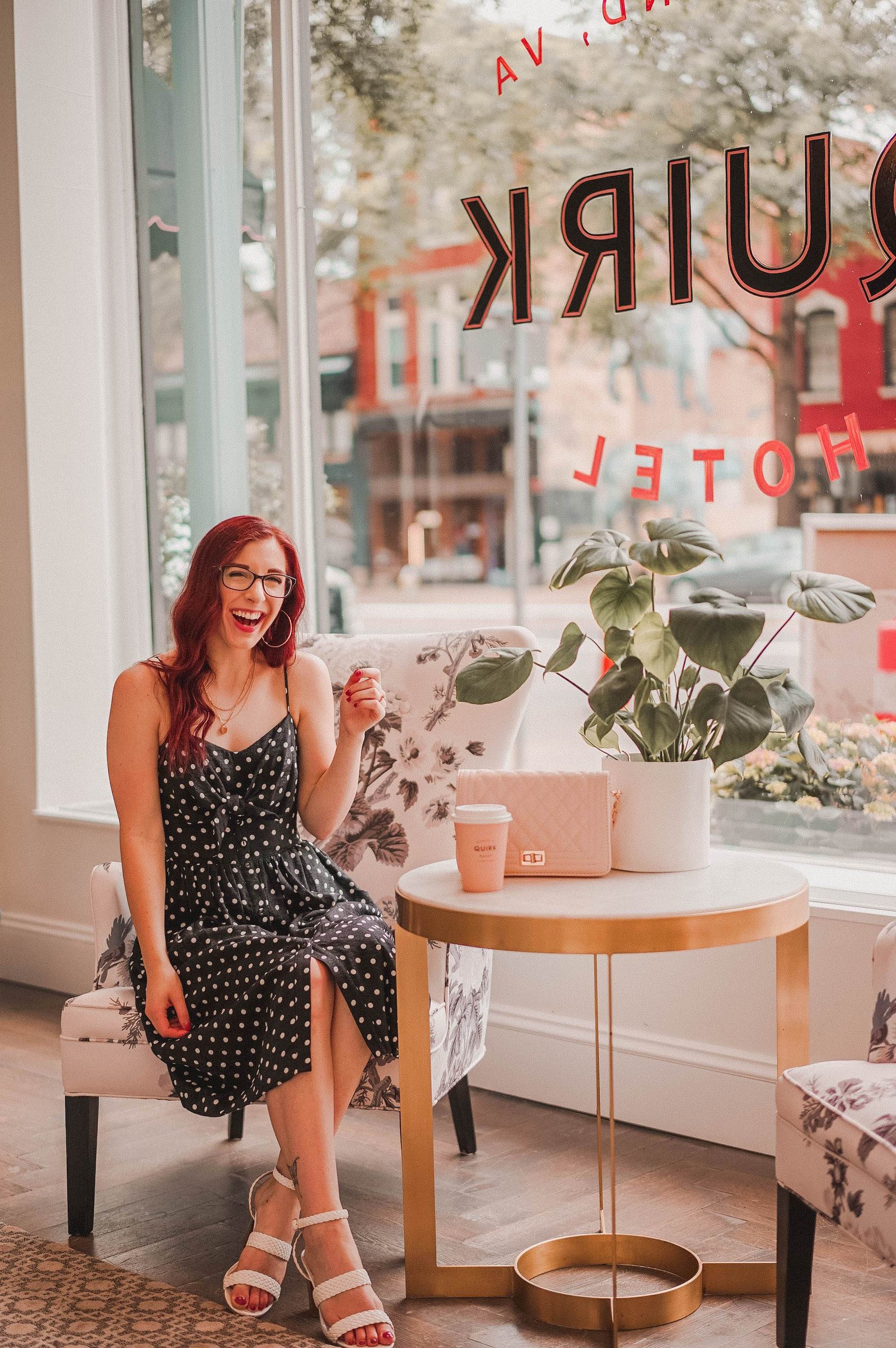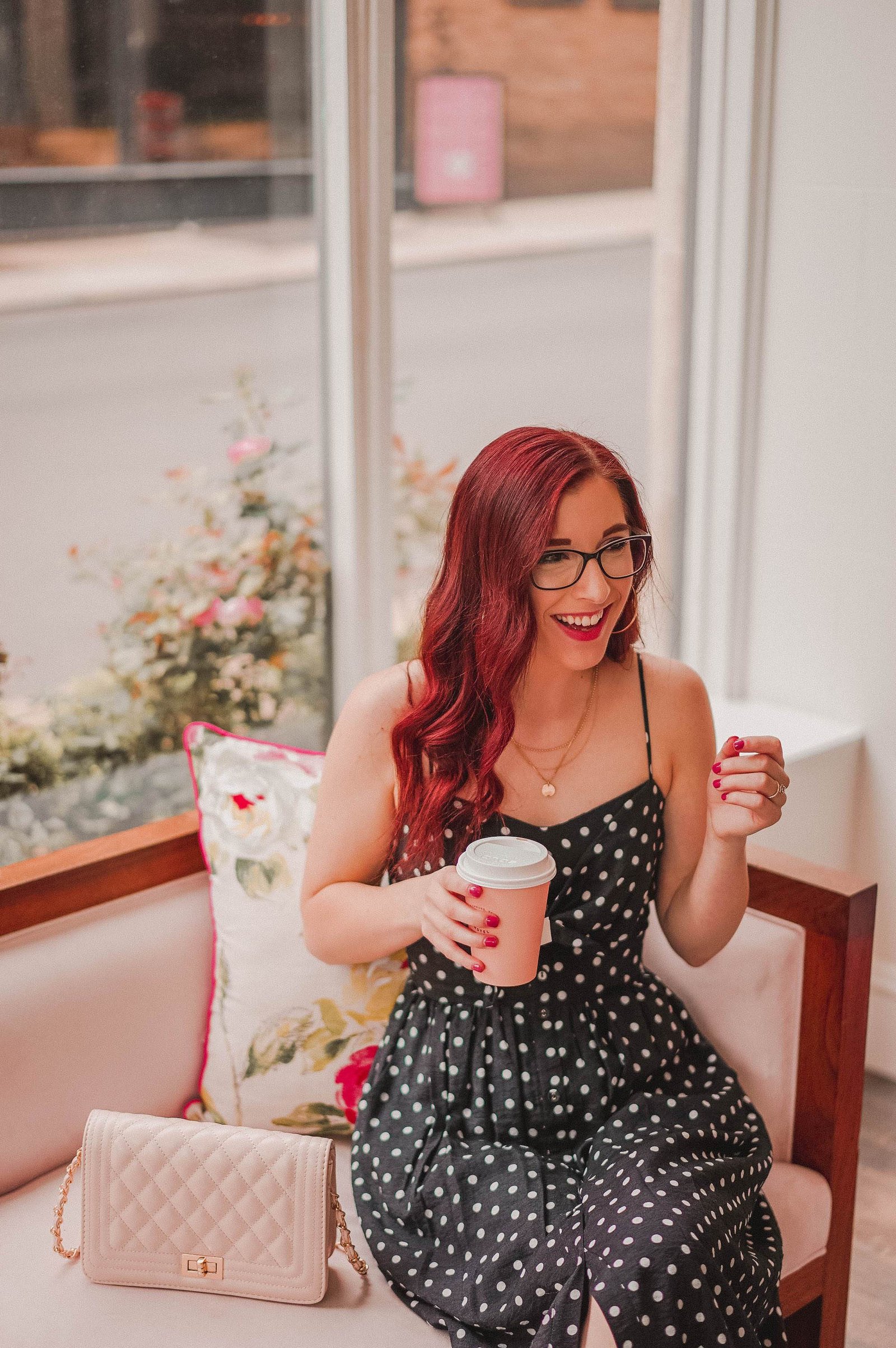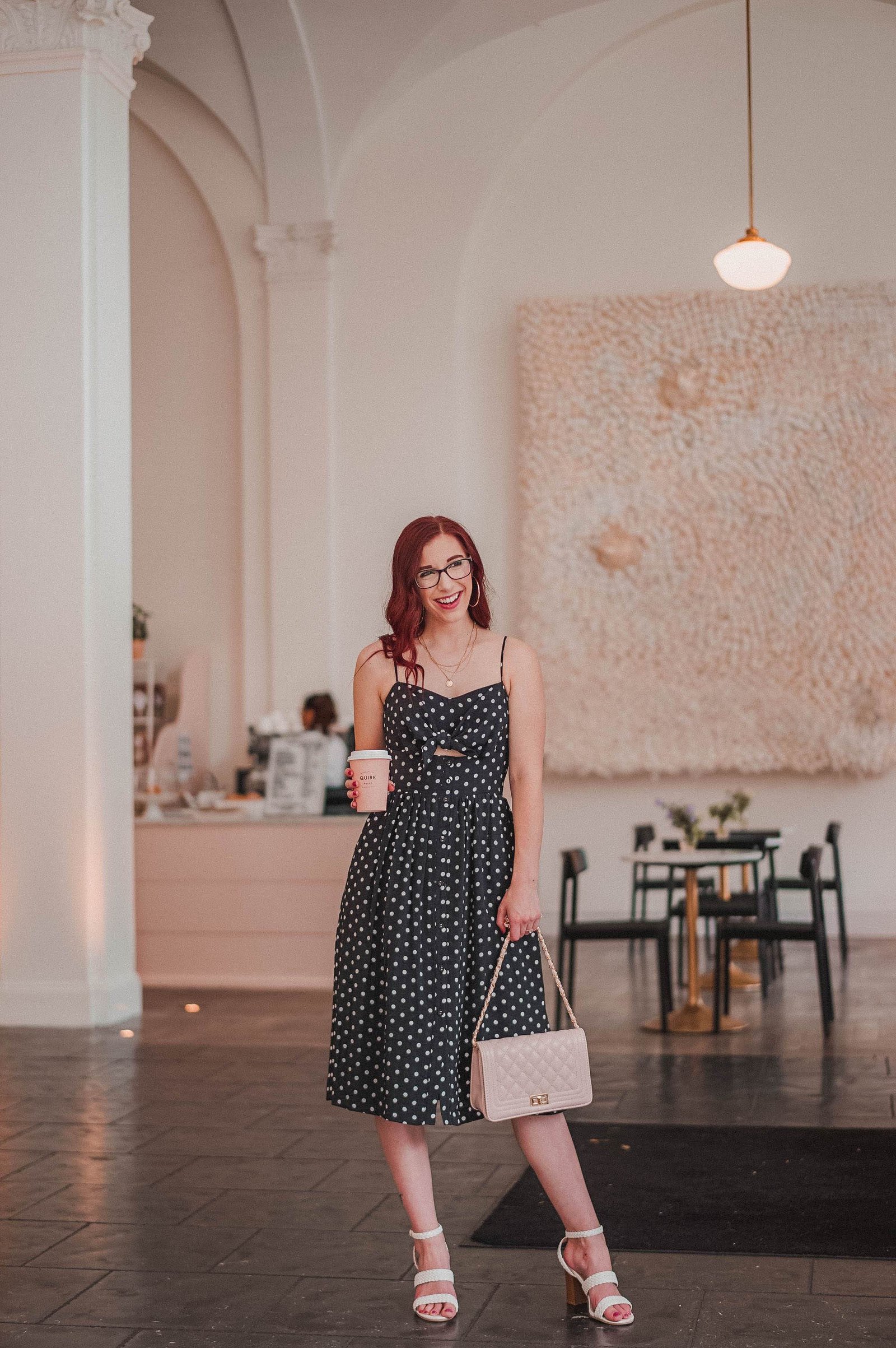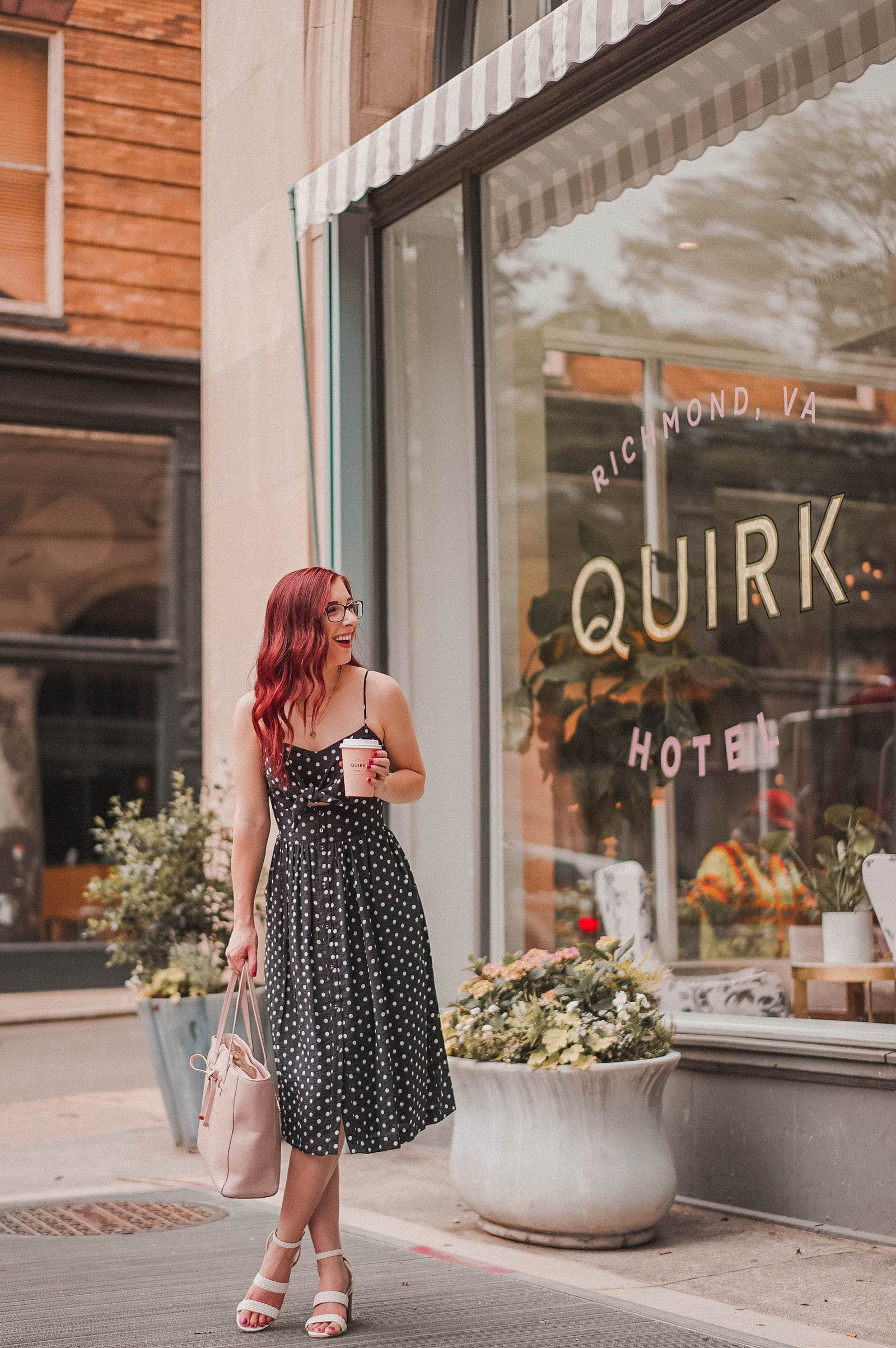 Make sure to wear something comfortable.
When it comes to being a fashion blogger, I never want to share items of clothing that I wouldn't comfortably wear in person. Take this dress, for instance: the midi length is my jam. I appreciate the adjustable strap. Mostly, the tie front doesn't completely expose my chest, so I can wear a bra (which is what I prefer). I felt 100% comfortable, so I was at ease in front of the camera, not worried about pulling my top up or my skirt down or thinking about being too cold or too hot or anything else!
Have a friend there for the awkward moments.
If Lindsey hadn't been with me, I would not have had anyone to laugh with over the awkwardness of the situation. Since I wasn't alone, the focus wasn't entirely on me. Plus, when you're laughing, the photos look way more natural!
On that note, make sure you're comfortable with the photographer.
One of the worst experiences for me was when I took photos with someone who didn't make me feel comfortable in my own skin. If I can't be me then I don't want to be around you. I typically take photos with other blogger friends or photographers I'm already friends with. It helps when you can be relaxed, rather than feeling the need to be someone you're not in order to impress a stranger.
Forget about the stares.
Most likely, the people staring will never see you again. If they do – you'll already have a rocking photoshoot or video under your belt to help you feel more confident in front of them. "You can be the ripest, juiciest peach in the world, and there's still going to be somebody who hates peaches." – Dita Von Teese. Truly, people will always find a reason to hate, but just keep in mind that in the long run, holding your head high and being confident will take you further.
Smile until your cheeks hurt.
I smile so much that I have a permanent wrinkle by my mouth and every day my makeup sinks into it, no matter what I do. I guess that's not a bad thing though because it means I'm trying to be cheerful all the time. It shows in my photos. I think about something funny and make myself laugh, or I have a friend to giggle with. Once you're smiling, a lot of the other insecurities melt away!
Remember why you do it.
Personally, my blog and my social media channels are why I take photos and videos. My readers and followers mean everything to me, and I wouldn't have those friendships if I didn't stand in front of a camera 90% of my time. So when I'm feeling nervous about being the center of attention, I think about what killer content I'm creating and who I'm creating it for. It puts everything in perspective!
Be yourself.
Cliché, but totally true. I think this one speaks for itself. I have never tried to be anything other than myself online. The best part about that? When I finally meet someone in person, and they tell me that I am The Espresso Edition. There's nothing that's hiding in the shadows because I'm just me! It's such a great feeling knowing that I'm staying true to myself and always being authentic and real!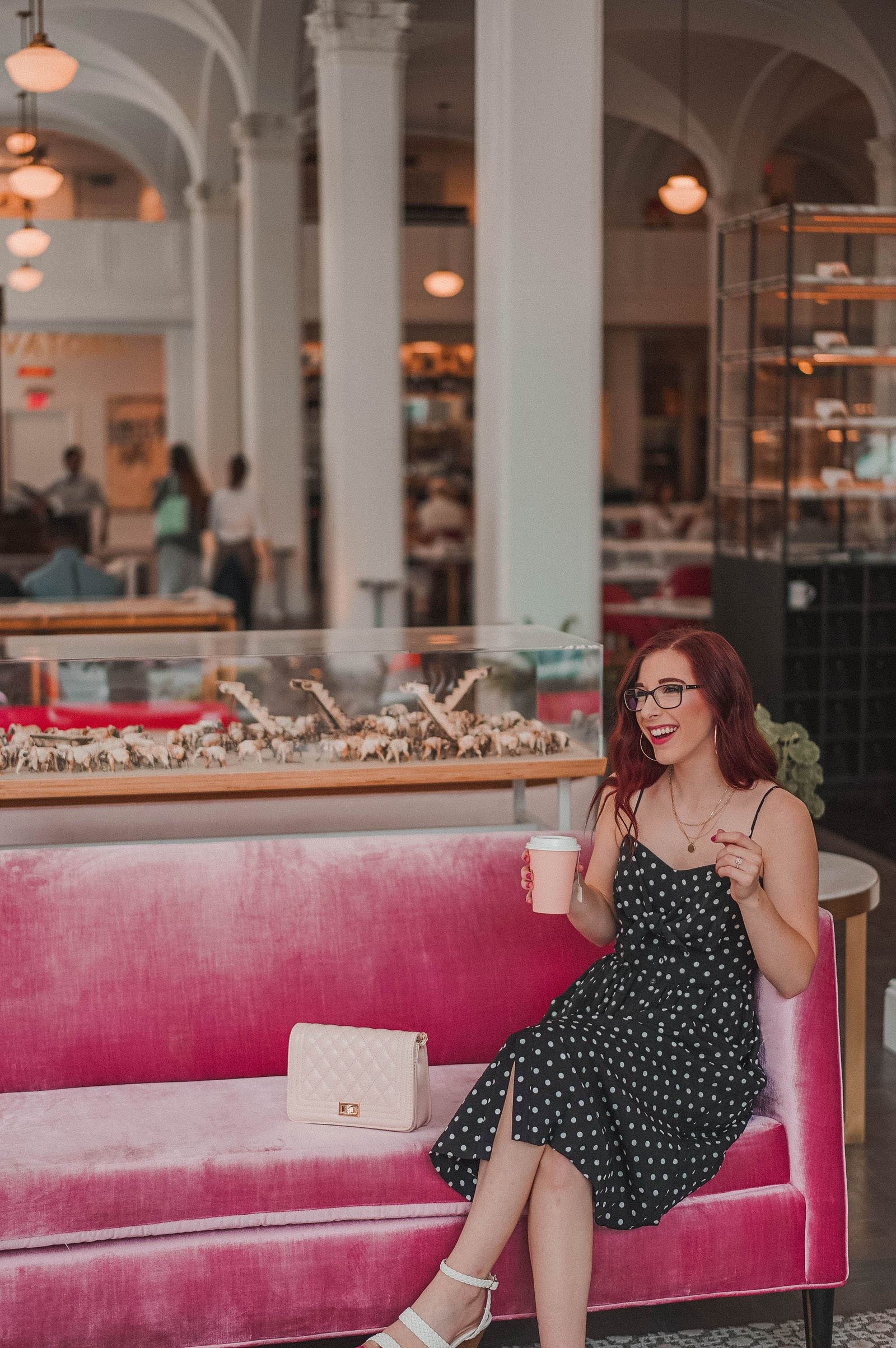 If you're a content creator, do you have any tips for camera confidence?