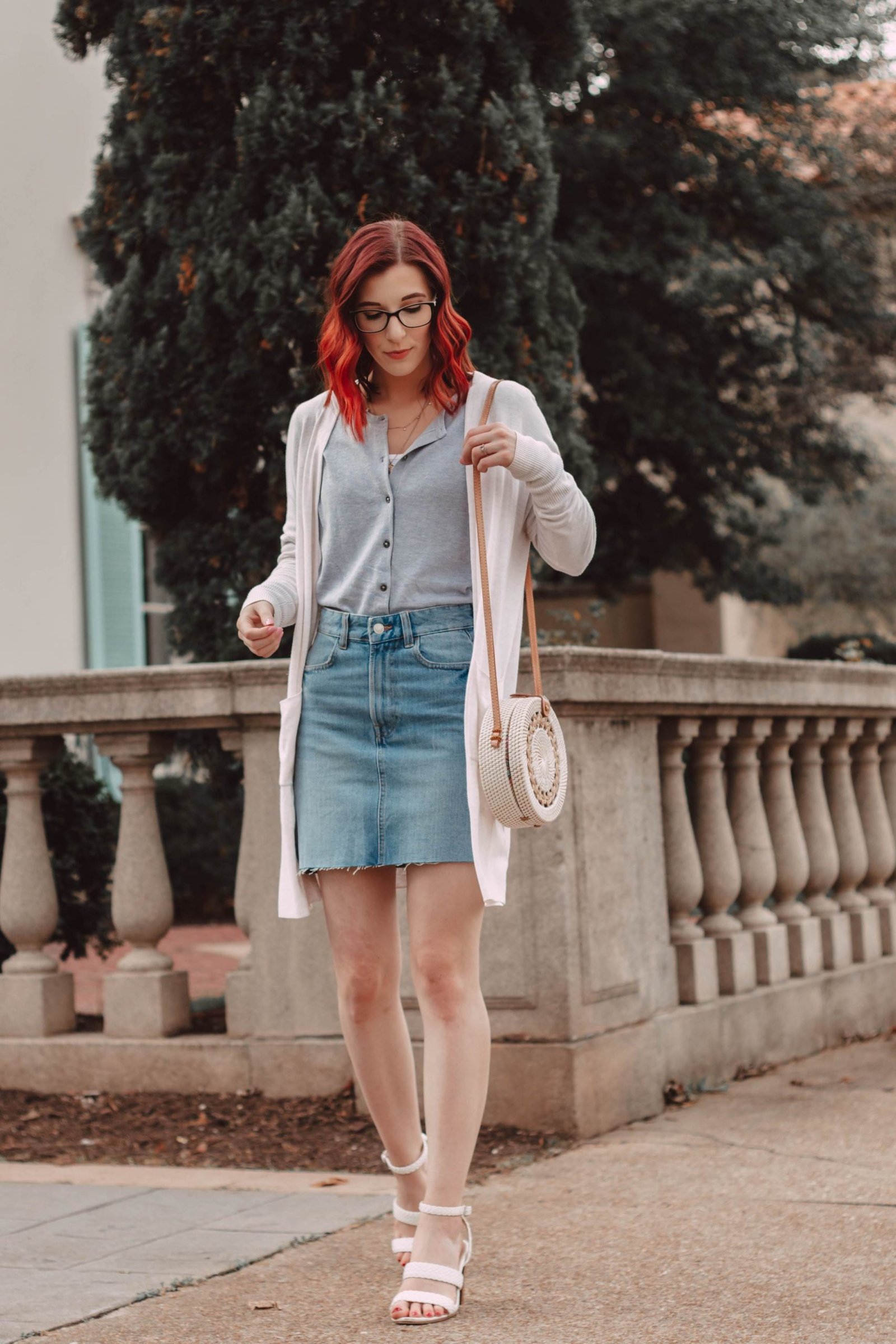 The calendar may say spring, but the weather doesn't always agree.
I've found that once we reach March, I begin to lose interest in my closet. The temperature never seems to make up its mind. While one day is warm and sunny, the next is rainy and cool. Finding the right pieces to wear during this in-between time can be a challenge – but it's one I've accepted (and conquered). Just like the denim jacket, a quality denim skirt is a must in any woman's closet. Denim really is one of the most versatile materials that exists.
While some ladies may opt for true mini skirts, I prefer a longer length, especially since denim doesn't have much stretch, so I can't exactly tug it down if I'm feeling uncomfortably exposed at any point. I chose a not-quite-mini (but also not-quite-knee-length) number that I believe is a much classier option. It still has a raw hem, allowing it to be dressed down. However, it looks equally wonderful when styled in a more elegant manner.
---
outfit details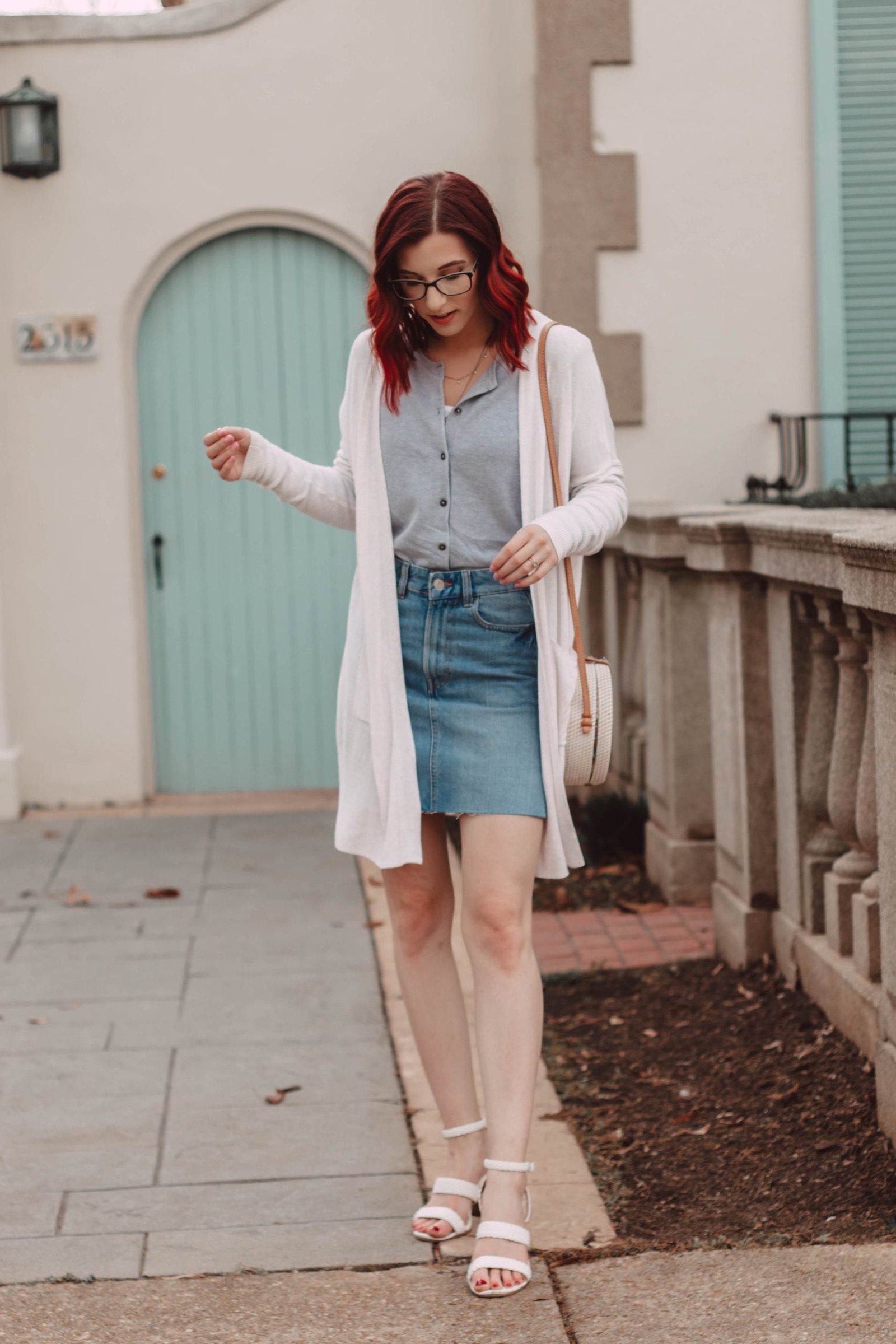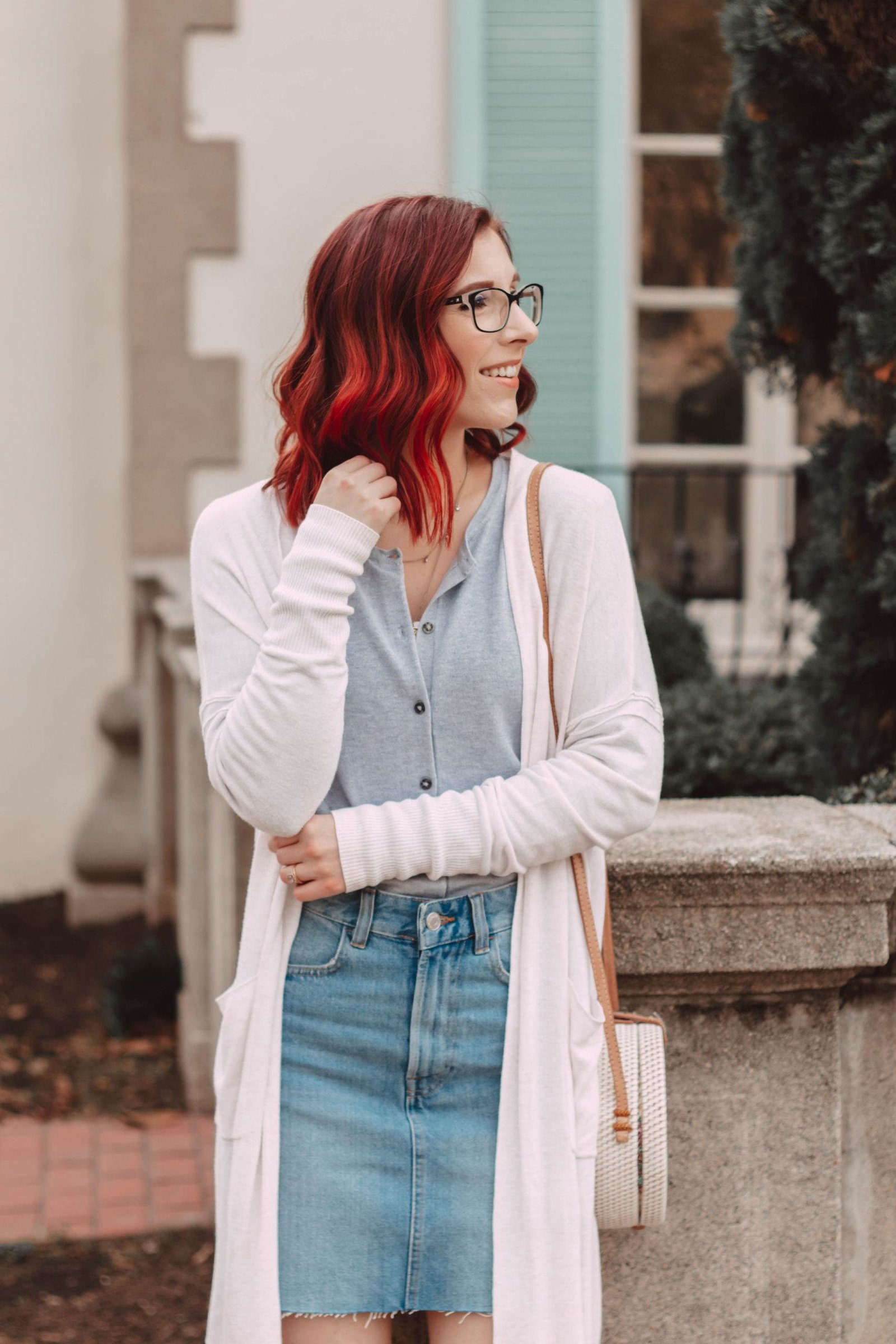 My key to wearing denim skirts when it's still cool outside is to layer up on top!
I chose to layer cardigans – which is something I've never tried, and I absolutely love how it turned out! The longer, thinner, open cardigan over the fitted, shorter, button-up created a really lovely and unique silhouette. When I tucked the cardigan into my skirt, I was able to enhance my natural waistline, despite the straight lines of the denim and the flowy design of the outerwear.
I can see myself wearing this outfit just as easily with a colorful mini backpack and sneakers, if I'm running errands. For this outfit, however, I chose block heels and a pretty straw bag. I added some delicate jewelry, and called it a day. This outfit would've been an excellent option for Easter Sunday (had the goings-on not prevented me from heading to church). I hope to have an excuse to wear it soon!
---
Related Posts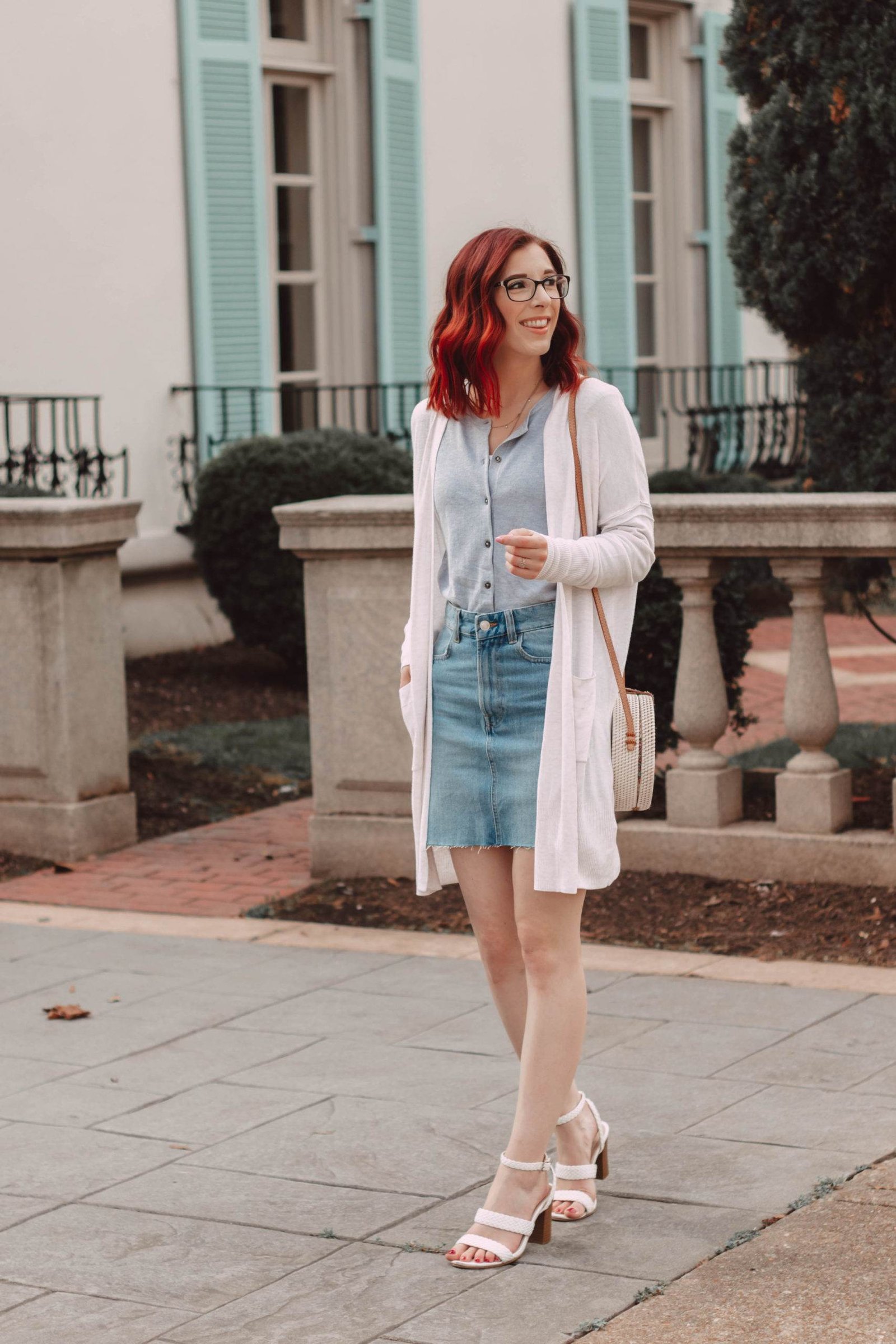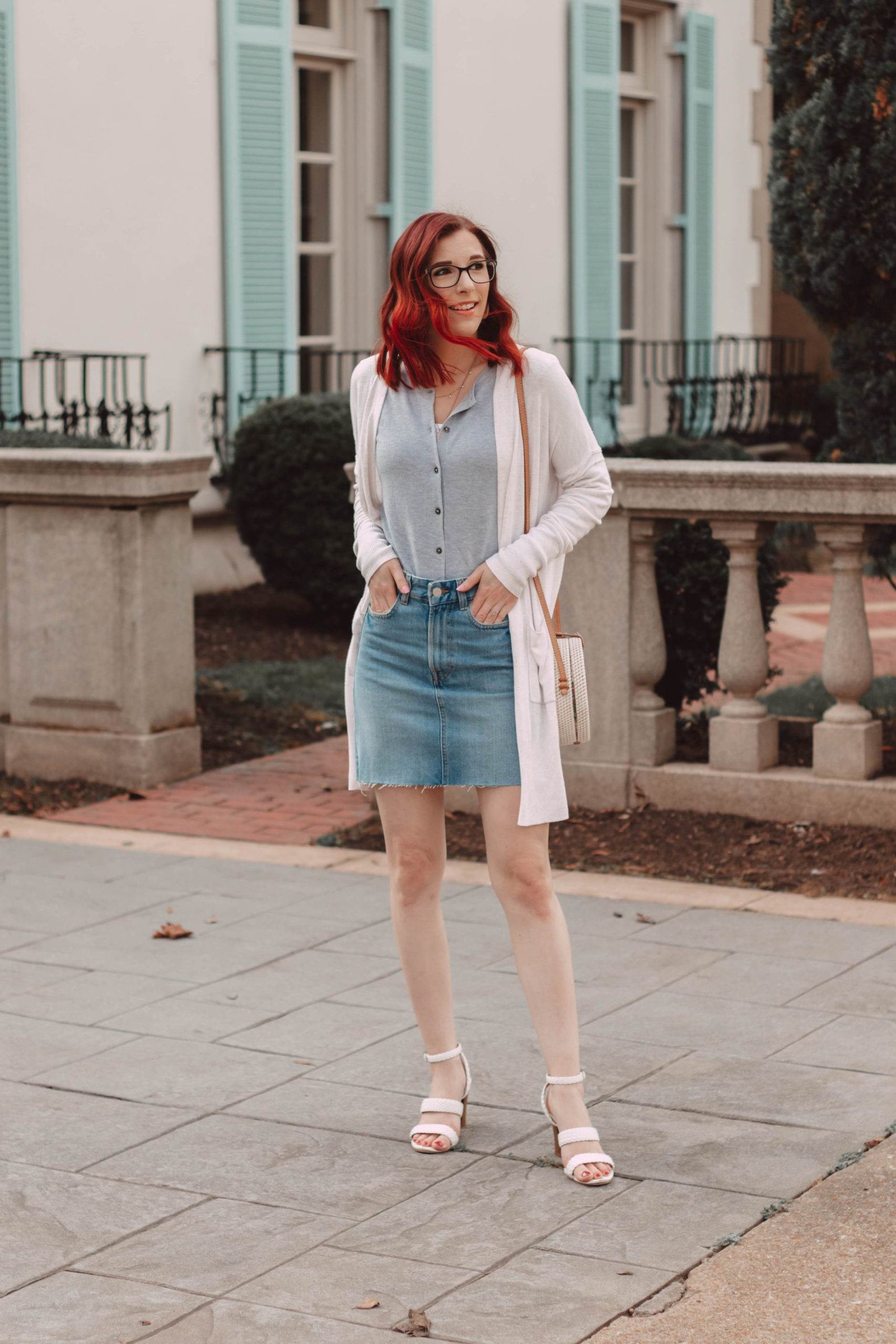 Have you ever dressed up a denim skirt?
---
Pin for Later