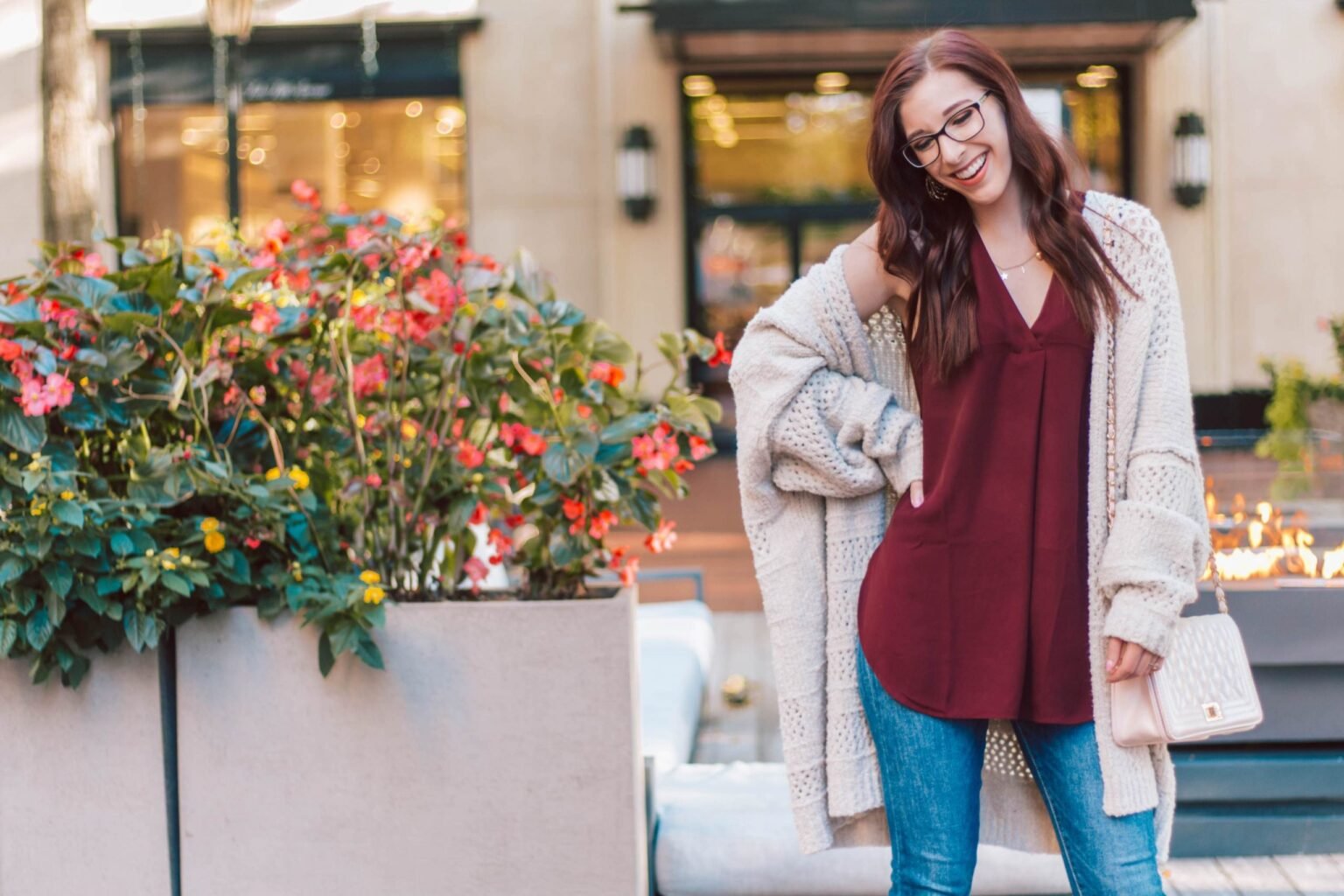 Someone show me a rule book that says you have to dress up for all the holidays. Gimme a totally cozy and casual Valentine's Day outfit and I'm a happy gal.
I mean, really – where did we get the idea that all holidays mean fancy ensembles with glitter and matching colors? I broke the mold on Christmas by wearing leopard print with black, and I'm going to switch things up for Valentine's Day by taking the casual approach. I'm also choosing a sister color of red and pink and wearing burgundy instead. #REBEL. Okay, not really a rebel – I did add in some pink accessories – but I'm just trying to make a point here. Here's to throwing away the "fashion manual" and just keeping things practical and cute for everyday wear.
Speaking of "everyday" – Valentine's Day falls on a Thursday this year, which means it's just another day. You heard me. Most likely, you'll be spending it like me – working and then maybe going out to dinner (if you're lucky/that's what you want to do). This outfit is a way to keep it slightly festive, without going too overboard. It's also incredibly simple to switch out a few pieces to dress it up, given the opportunity.
---
Outfit Details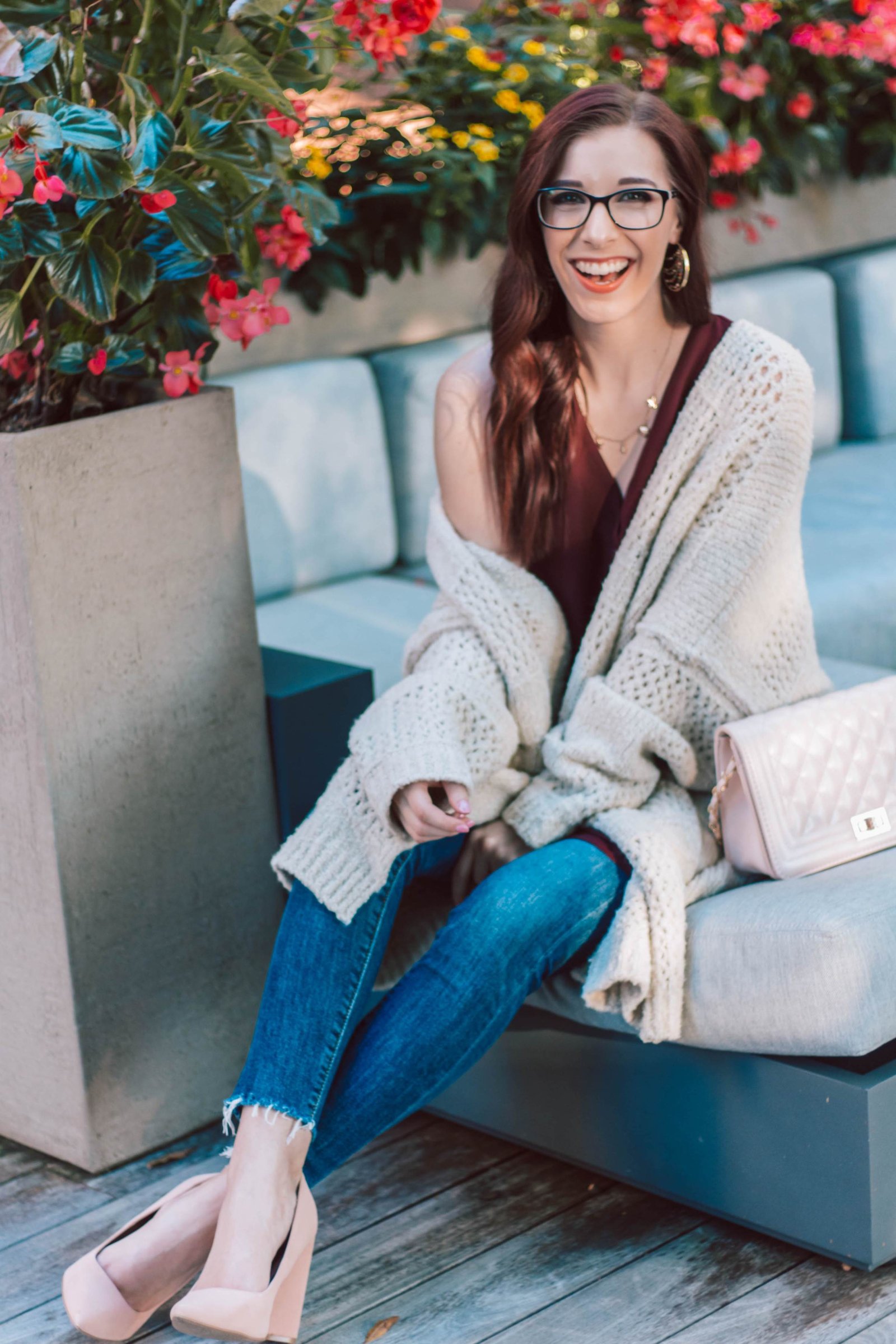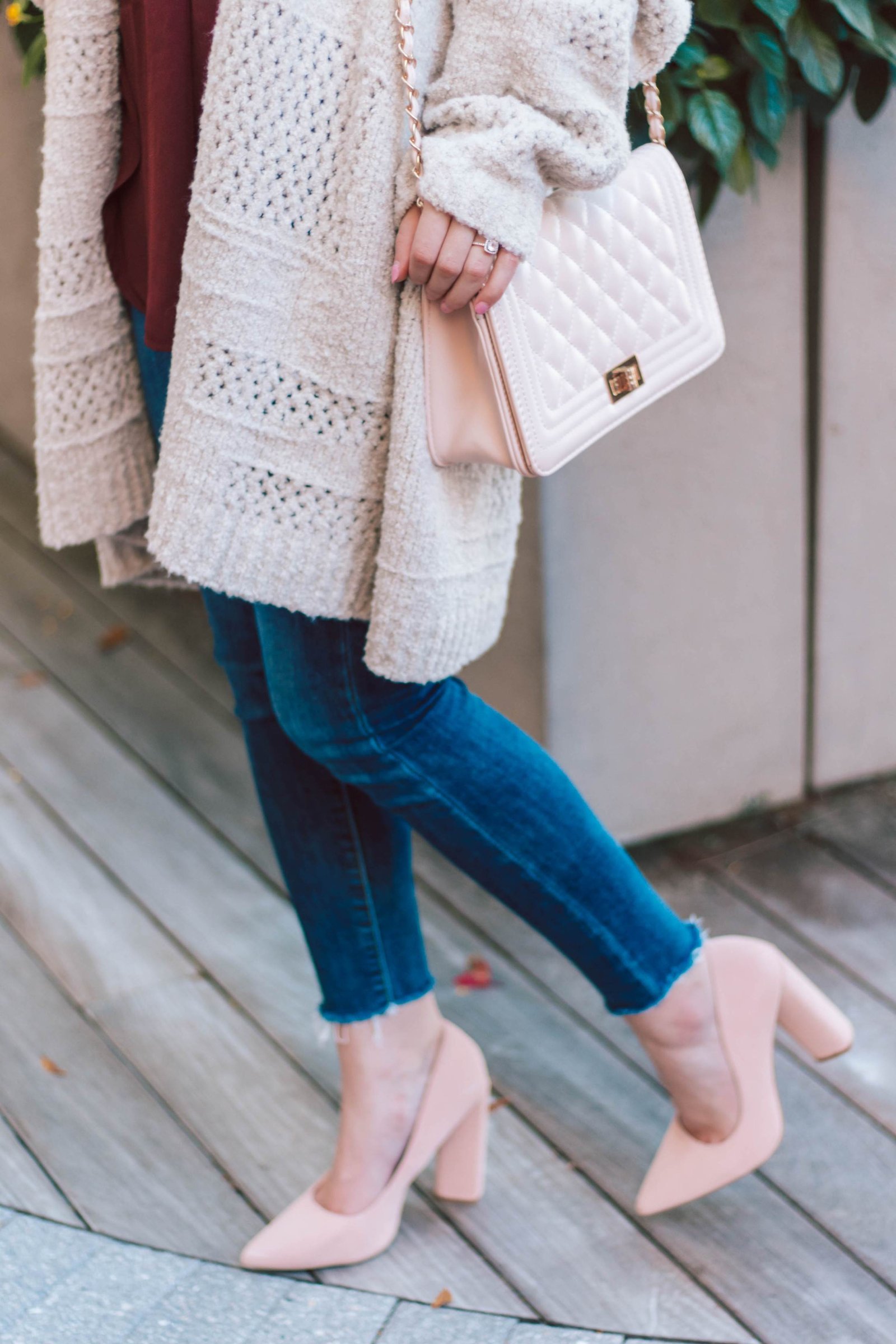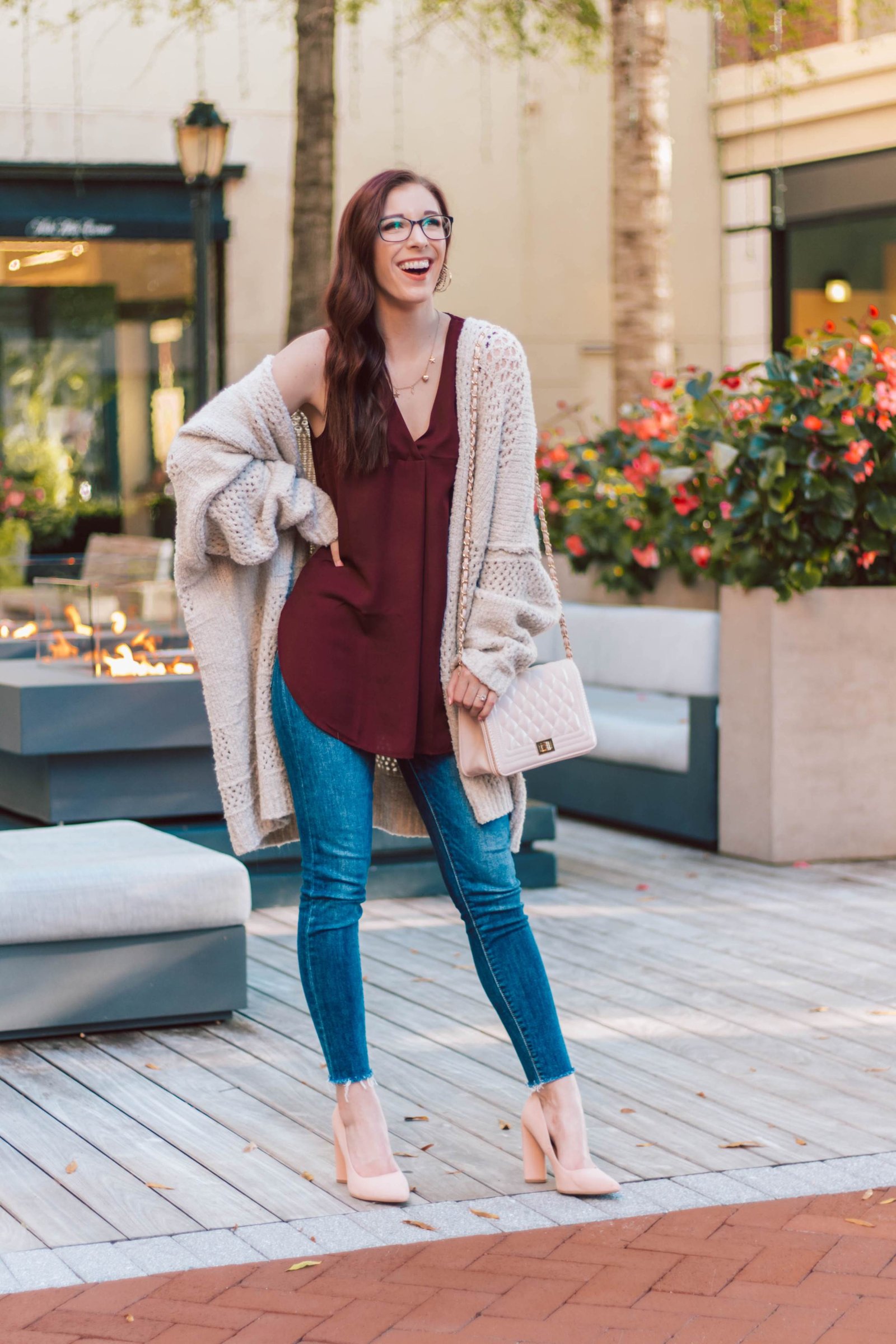 Here's some exciting news: this outfit is incredibly practical.
Maybe that doesn't seem exciting to you, but to me – that sells me on the look entirely. I love that this v-neck blouse is sleeveless so I can wear it with either a cardigan, leather moto, or denim jacket. I could also wear it alone if the wonky winter weather decides to be a not-so-surprising 65°. If you're not a heels person, don't fret: sneakers or flats could work just as well. However, something you must know about this particular pair of heels is that they are delightfully comfortable. Truly, the block heel makes a world of difference, and I love them so much I own them in two different colors! Lastly, I reached for denim pants – sans holes or major distressing. So if you work at an office that's even slightly more casual than the usual, you're business-ready in this look.
This outfit is also 100% significant other-approved. My husband loves this blouse and the skinny jeans + heels combo. It's a winner no matter what your plans entail. If you celebrate Galentine's Day rather than Valentine's Day – you could wear this for brunch or drinks with your besties. It's basically the most practical outfit for any occasion – and super easy to throw together for the upcoming holidays!
---
Related Posts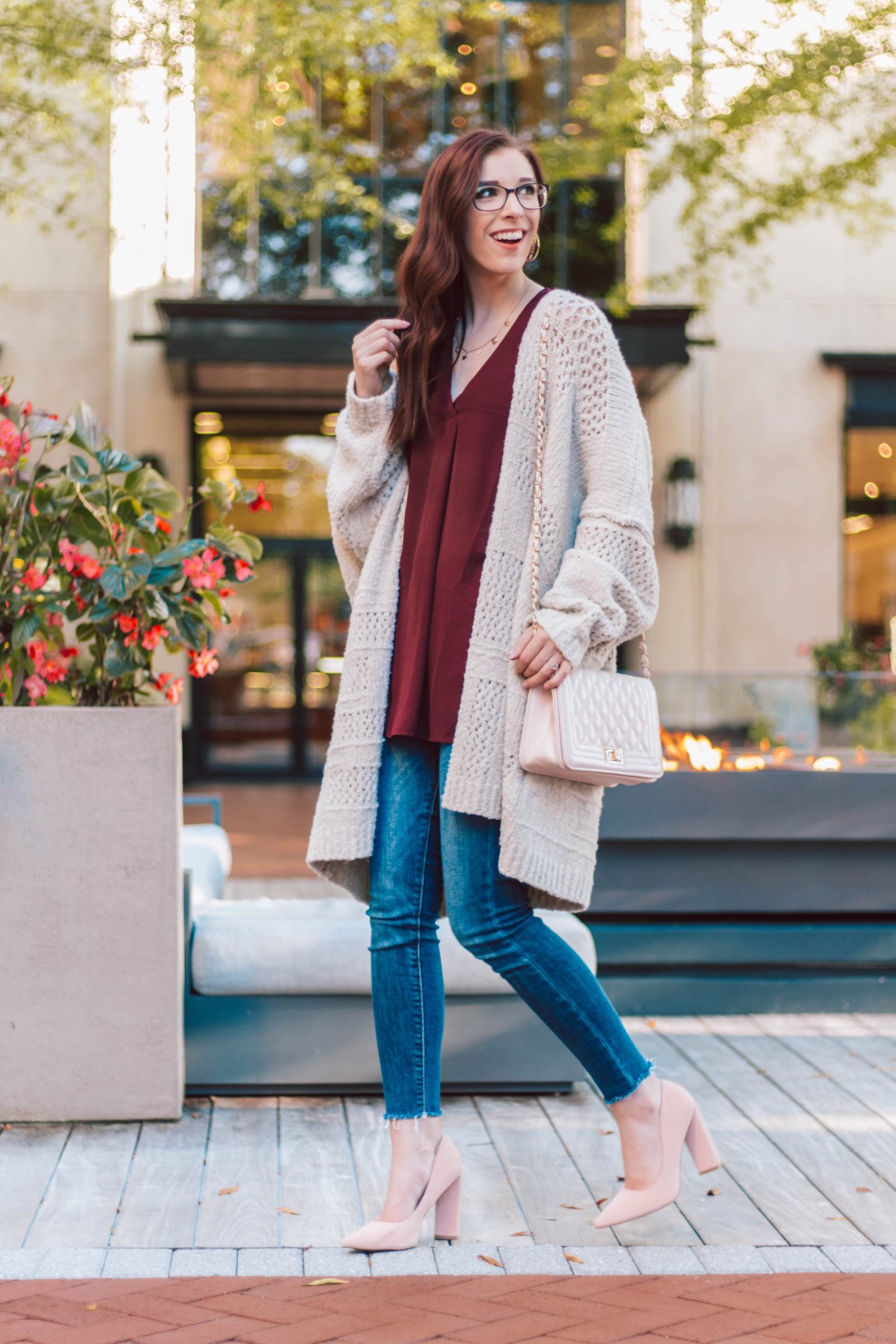 Do you typically dress up or down for Valentine's Day?