We're finally settled into our new house and I'm really thrilled to begin sharing all of the home content! I wanted to begin by sharing how to transform an old kitchen, because seeing the difference between where we started and where we wound up just makes me so happy!
Whew, this 1970's-turned-modern-farmhouse kitchen was a labor of love, that's for sure. Before I decided to tackle it, there were at least three different shades of warm/orange wood between the faux wood paneling, faux wood floor, and the cabinets. There were peach-toned bi-fold doors on the utility room, dark and ugly countertops, and let's not forget the major eyesore that was the breaker box in the kitchen (like – who thought that was a good idea?).
I really didn't think that I would wind up loving my kitchen as much as I do now. I spend nearly all day in this room, starting by making a hot cup of coffee in the morning sunshine, then I do all of my work at the dining table (since I still have yet to add a small desk to my library), and I love pouring a glass of wine and dancing while making dinner in the evenings with my husband. It has become such a bright and inviting space!
Take a peek at what it looked like before I began to work a little DIY magic!
It was kind of a tragic kitchen – a little dull and definitely showing its age – but I just knew it had so much potential!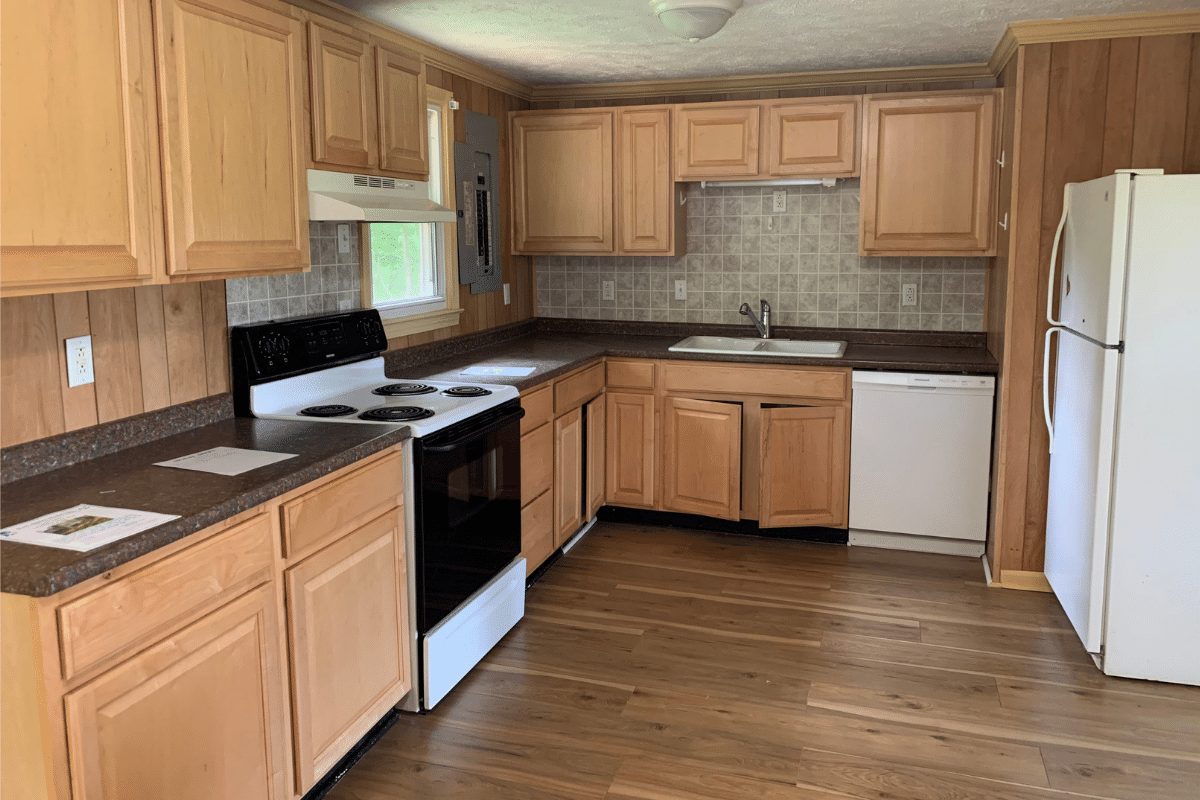 Now you can fully appreciate the total transformation!
It took me about twelve days to give this room a total makeover (and that's not including building the dining table, microwave cart, etc. and decorating). We knew we wanted to change the cabinets and countertops, but we weren't sure if we could do that on a budget. I did a ton of research (aka, I spent several days on Pinterest) and found articles about chalk-painting cabinets and using appliance epoxy on counters! After picking the cabinet color (Quiet Mint by Krylon), I decided to go with a palette of soft greens, white, black, and dark wood for the entire kitchen.
There were really just three simple steps to transform this old kitchen into something brand new. They were just somewhat time-consuming tasks. The first step was painting the whole room. It took one day of priming all of the walls and trim, four days giving the paneling three coats of white paint, and three days covering the trim two coats of white paint. The second step was painting the cabinets. I spent three days prepping, applying two coats of chalk paint, and wax-sealing the cabinets. The third and final step was painting the countertops. It took me one day to apply three coats of appliance epoxy to the countertops. I plan to write up separate posts on how I chalk-painted the cabinets and how I applied the epoxy to the counters.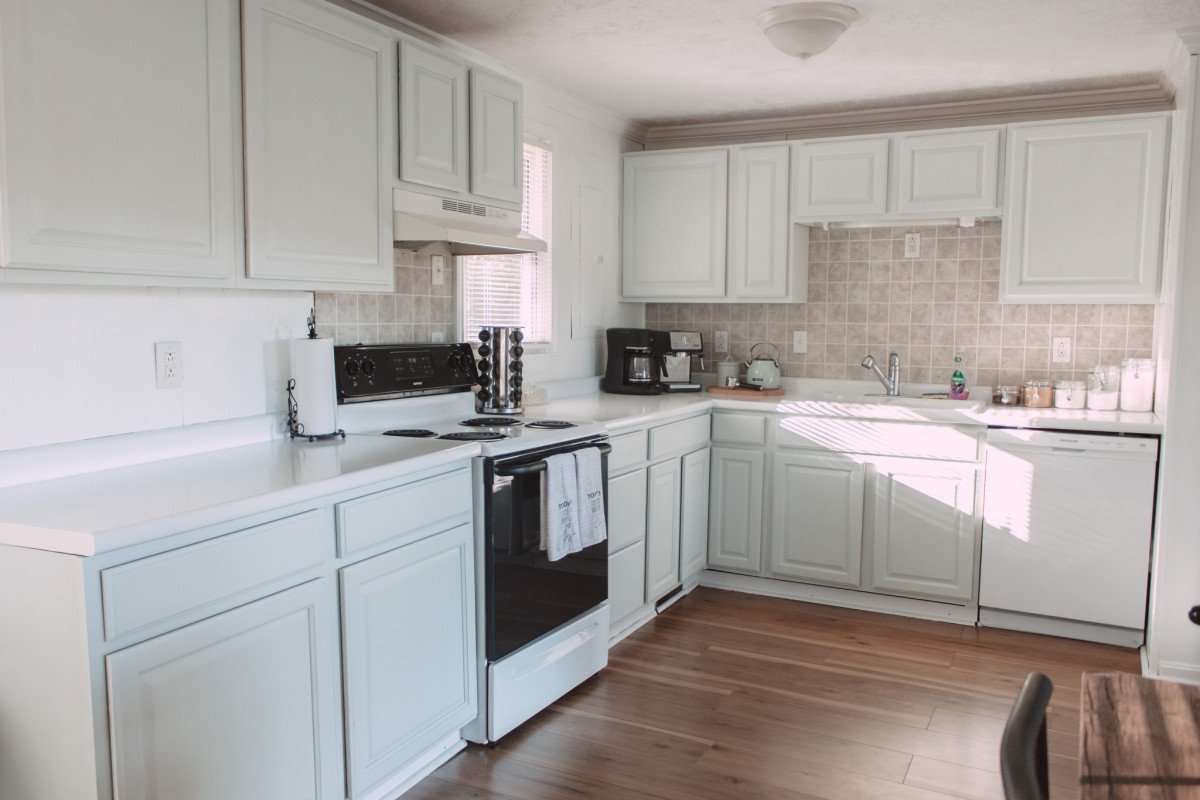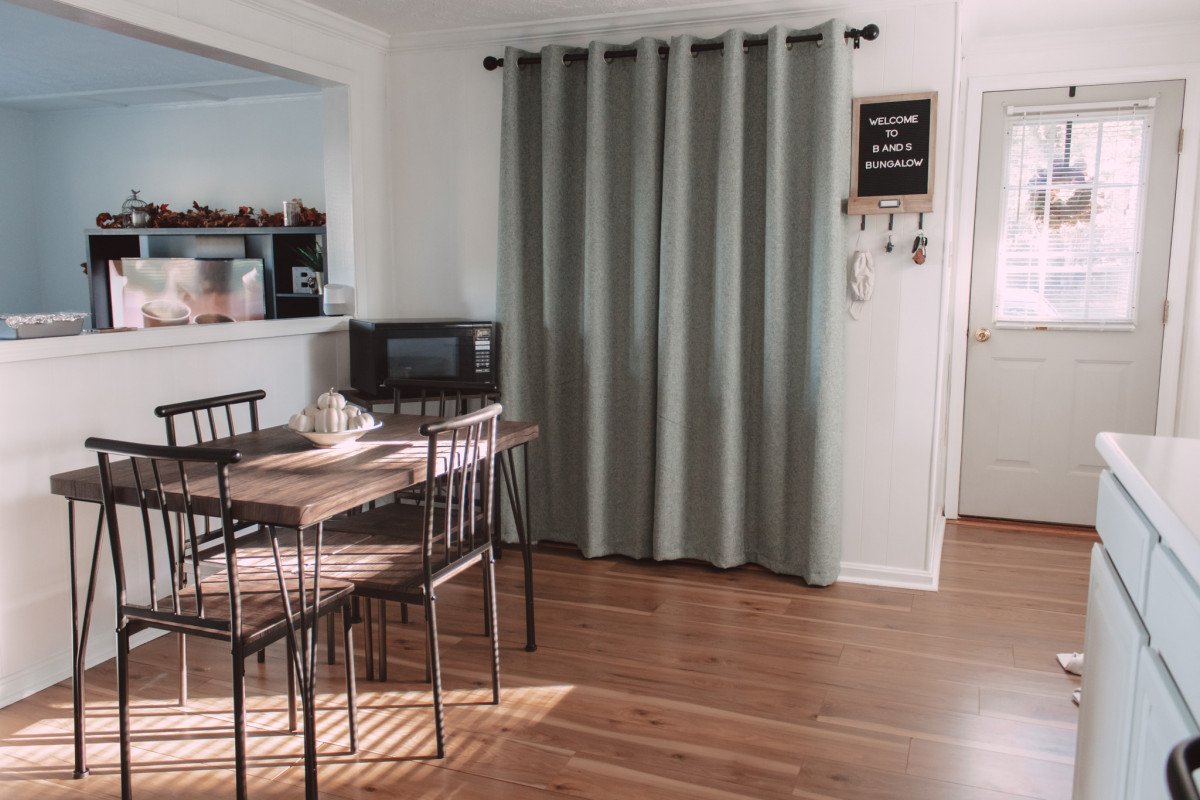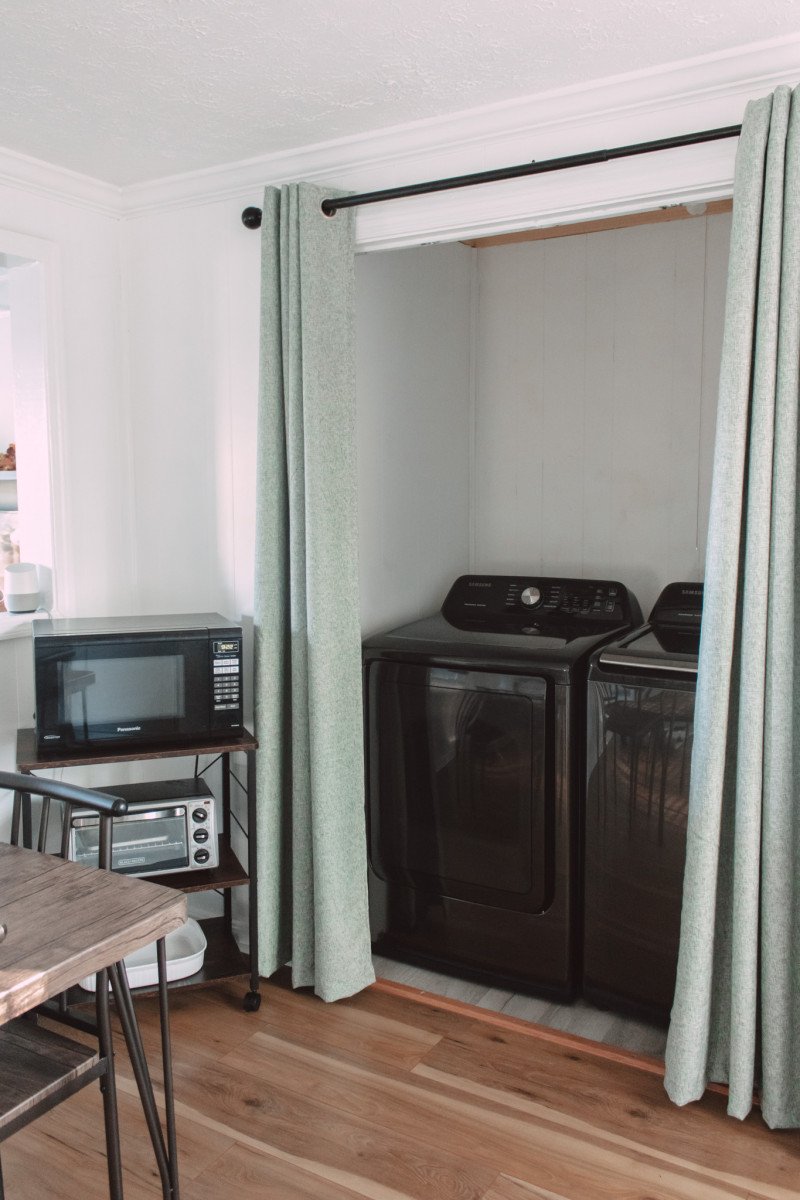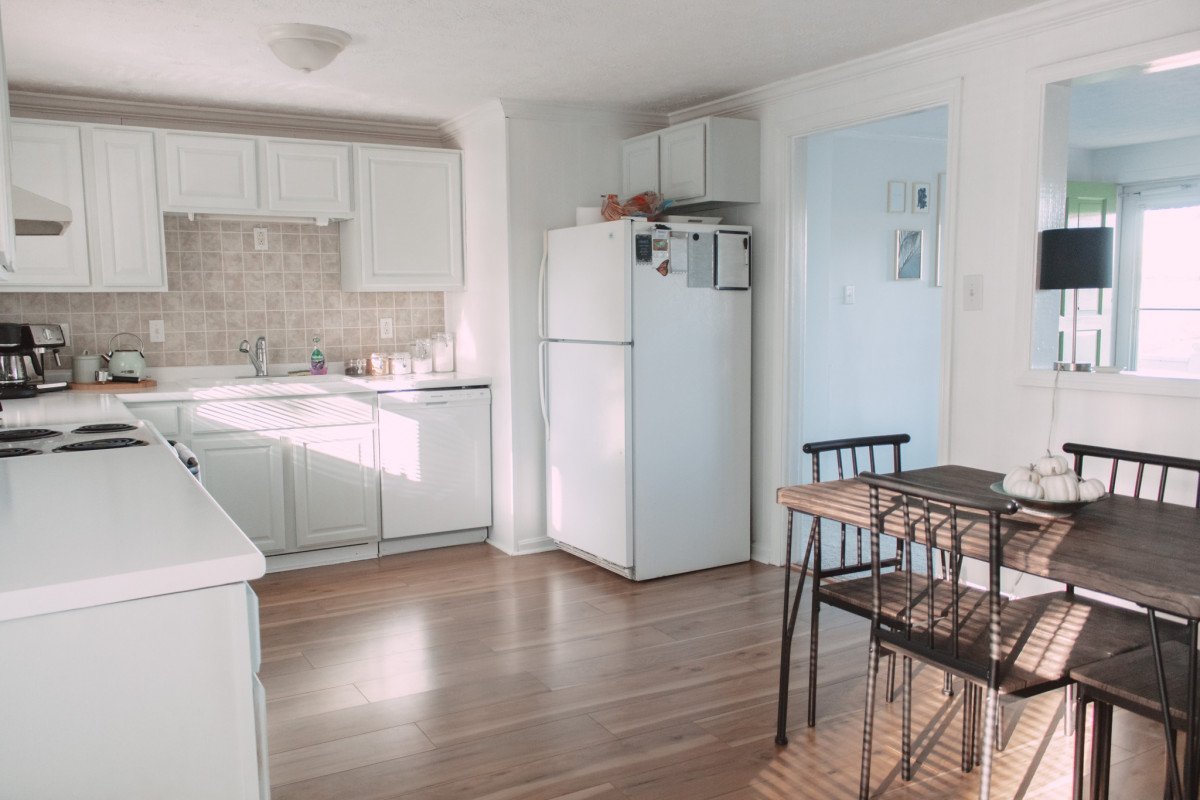 Our laundry closet has very strange dimensions and I went back-and-forth about a trillion times about how to cover the doorway. Originally, I wanted sliding barn doors, but the doorframe and size of the wall just didn't work with them at all. I also considered French doors, but those got in the way of the dining table and just took up a lot of space. Finally, my husband suggested curtains. I wasn't excited about them at first, but then I found these gorgeous sage-colored linen curtains and they just matched so perfectly with our cabinets! At first, I thought they would be a temporary fix until we thought of something else, but now I love them!
There are a few things we'd still like to add or change in the future. An entryway rug by the door, a farmhouse sink, nicer overhead lights, and newer appliances are on our wishlist! However, I'm beyond satisfied with the way everything is right now. I wanted a bright and modern farmhouse kitchen and that's exactly what I got, while still somehow adhering to a pretty tight budget!
---
shop the post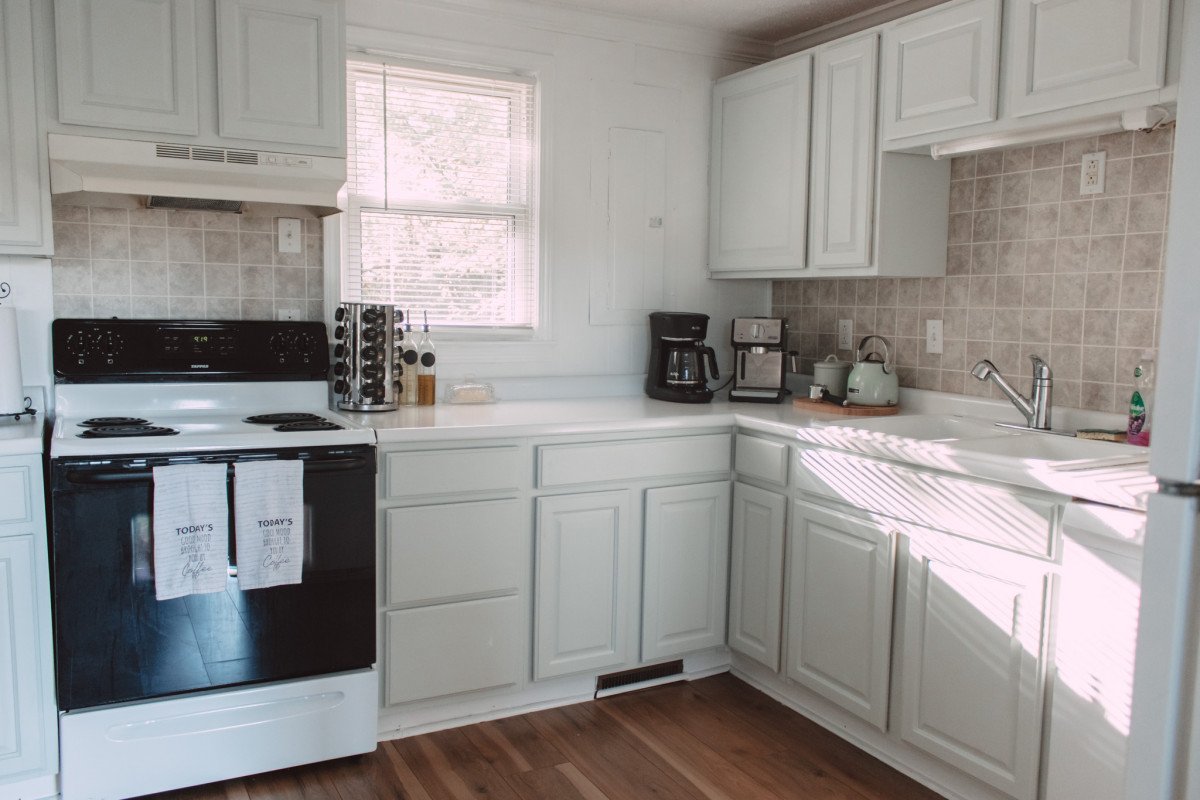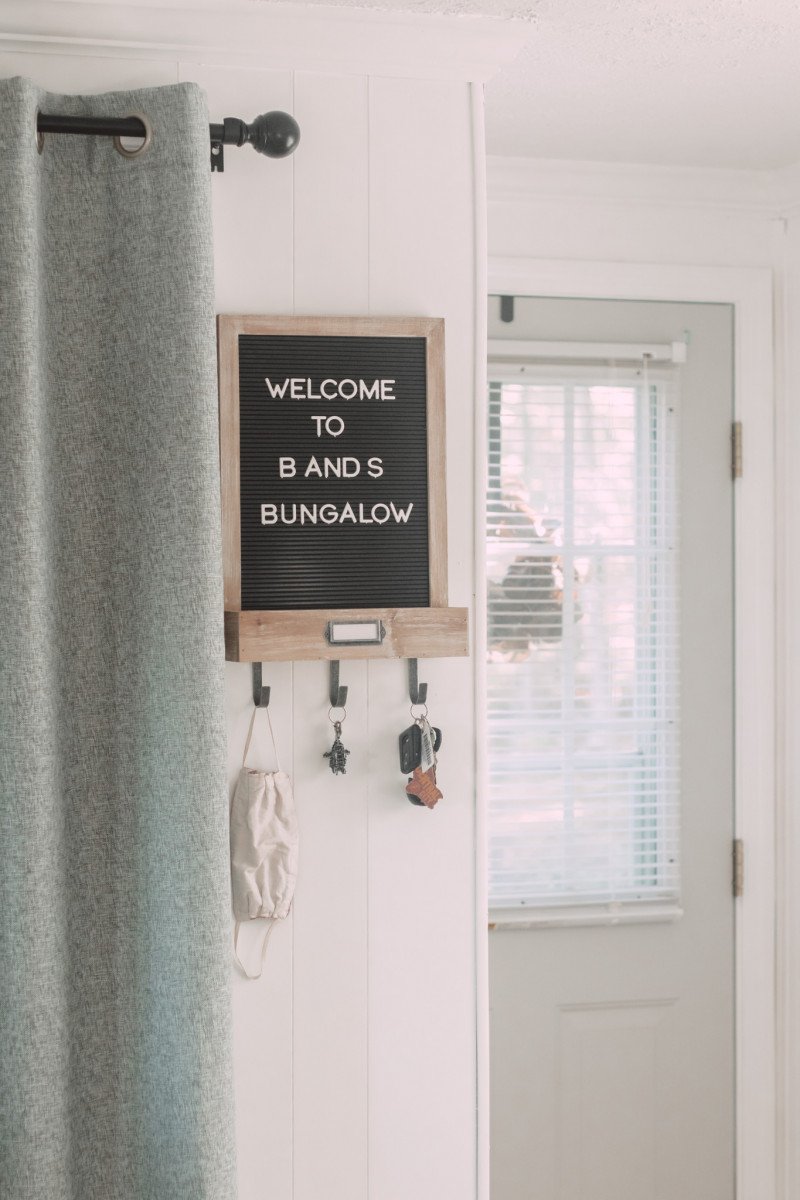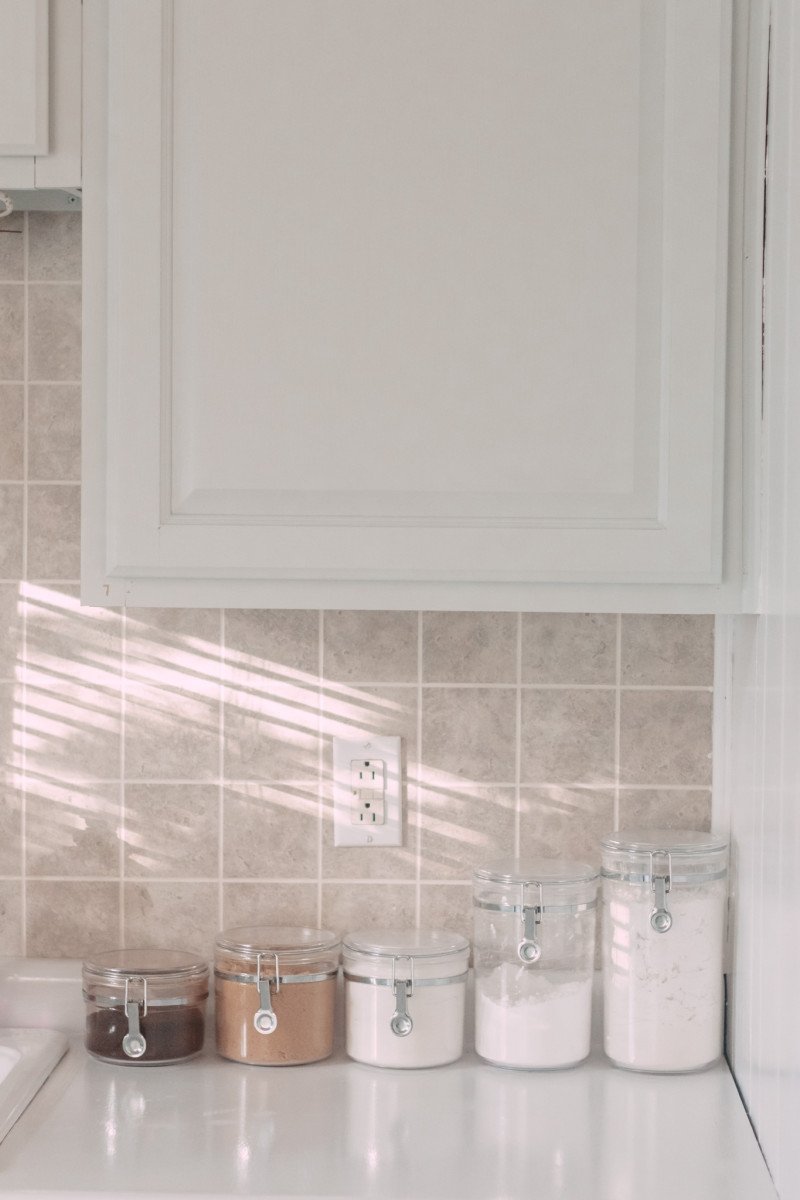 What do you like most about our kitchen makeover?
---
pin for later