The Grishaverse books, written by Leigh Bardugo, are some of the best YA fantasy series ever. Wondering how to read them in the correct order? Look no further.
Let me start by saying that in this article, I'm sharing the correct order in which I think you should read the Grishaverse books. Obviously, you are welcome to read them in whichever order you prefer. This is entirely based on my personal experience. I wish I had "grown up" with the Grishaverse, but sadly, I didn't read them all until just a short time before the Netflix adaptation premiered. That being said, I really didn't know where to begin when I started my Grisha journey. I had seen everyone on bookstagram raving about Six of Crows, so that's where I began, thinking it was a prequel of some sort.
I was so wrong. Starting with Six of Crows was confusing, to say the least. In fact, I struggled to finish it and initially only gave it three stars, considering it a very so-so book. When someone told me that wasn't where the Grishaverse began, I was relieved. This meant I was missing vital backstory. So I started my trek into the world with a fresh perspective and not only has Shadow and Bone become my favorite series ever, but I would consider the Grishaverse my favorite bookish fandom of all time as well! Now, I'm going to provide you with the information I wish I'd had when I ventured into this book universe.
---
related posts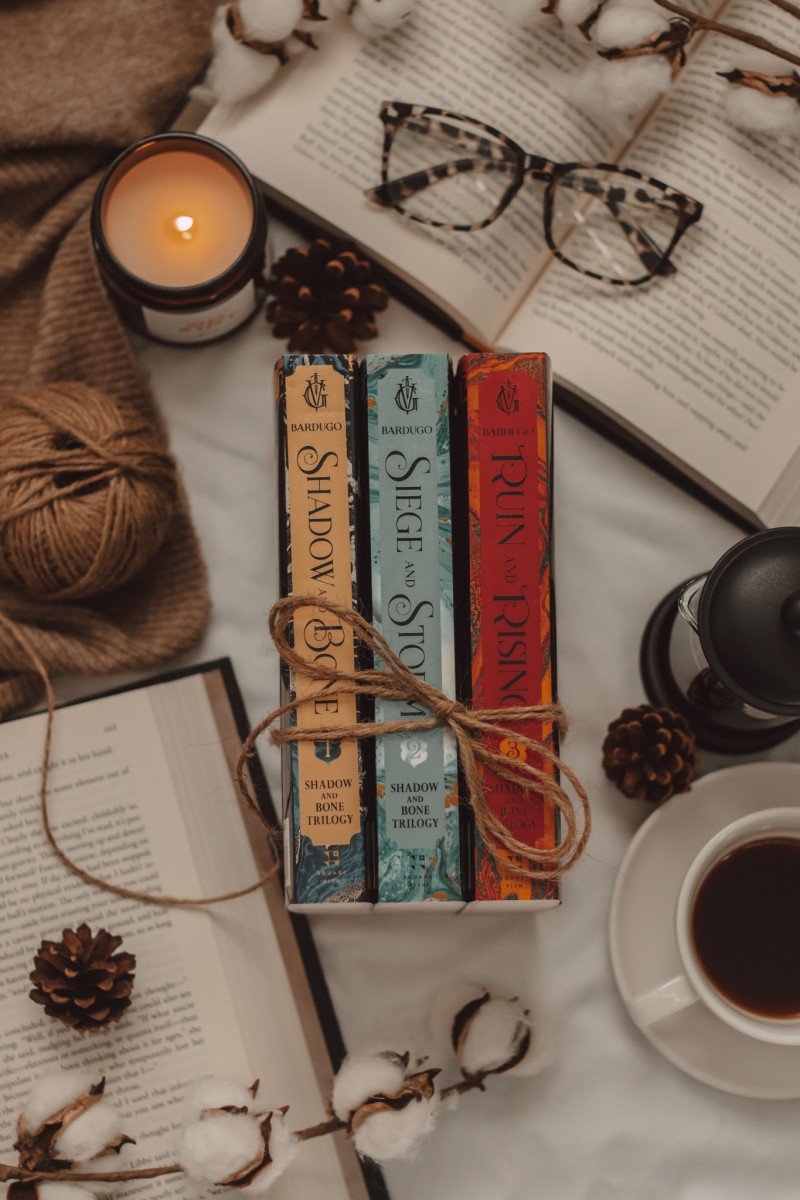 Your Ultimate Guide to Reading The Grishaverse Books
Below, you'll find the suggested order for reading the Grishaverse books. This isn't in order of publication, but the full story makes the most sense if you read it like this. I've included the StoryGraph pages for each book, along with links to purchase from your favorite retailer. Enjoy your exploration of the Grishaverse!
Shadow and Bone
Shadow and Bone is the initial trilogy in the Grishaverse, and for good reason. It provides the backstory needed to understand the characters, the politics, and the "magic" system. Starting your reading journey with Shadow and Bone is vital in order to fully comprehend what takes place in the following duologies. This is the primary storyline the adaptation follows, so it's the most helpful series to read if you're planning to watch the show (or if you've watched the show and want to understand it a little better).
Buy the trilogy: Amazon | Book Depository | Bookshop | Barnes & Noble
Demon in the Wood
Originally published as a short story in 2015, this gorgeous graphic novel gives an inside peek into the life of the Darkling as a child. It is very much a prequel to Shadow and Bone, but without reading the trilogy (especially Ruin and Rising, where you learn much more about his character), there could be a great deal of confusion. I highly recommend an immersive reading of this book, which includes listening to the audiobook (narrated by Ben Barnes and a full cast) while visually reading the graphic novel.
Buy the book: Amazon | Book Depository | Bookshop | Barnes & Noble
Six of Crows
The Six of Crows duology takes place two years following the events of the Shadow and Bone trilogy. It's much more character-oriented and while yes, it can be read without the initial series, there is a lot of information you'll be missing, especially regarding Grisha power and the political history. When I finally came back to these after completing S&B, they received an easy five stars – it just took understanding the world to really enjoy the story.
Buy the duology: Amazon | Book Depository | Bookshop | Barnes & Noble
King of Scars
The events in this duology take place one year after the Six of Crows books and they bring us back to Ravka, where Shadow and Bone was set. These two books fully meld the worlds and characters of the former series. You will not want to read these without first reading the others or you will genuinely have zero clue what is transpiring. According to Leigh Bardugo, they're the conclusion of the Grishaverse, though I'm holding out hope that she'll continue to expand it one day.
Buy King of Scars: Amazon | Book Depository | Bookshop | Barnes & Noble
Buy Rule of Wolves: Amazon | Book Depository | Bookshop | Barnes & Noble
The Lives of Saints
Okay, so truthfully, this could be read immediately after the Shadow and Bone trilogy. It's almost like a manual of sorts. Referenced many times throughout the Grishaverse, it contains the history of powerful Grisha and how they affected the world. I once again recommend immersive reading for this book. Listening to the audiobook (narrated by Ben Barnes and Lauren Fortgang) while visually reading the book creates an entirely new experience.
Buy the book: Amazon | Book Depository | Bookshop | Barnes & Noble
The Language of Thorns
This book is for the Grishaverse geeks. At least, that's how I felt while reading it. Each story is from a different nation and let me tell you, reading these tales (so many of them dark and gruesome) helped me understand the world so much more. It was even fun for me to think of certain characters telling these stories to their friends or family.
Buy the book: Amazon | Book Depository | Bookshop | Barnes & Noble
---
shop the post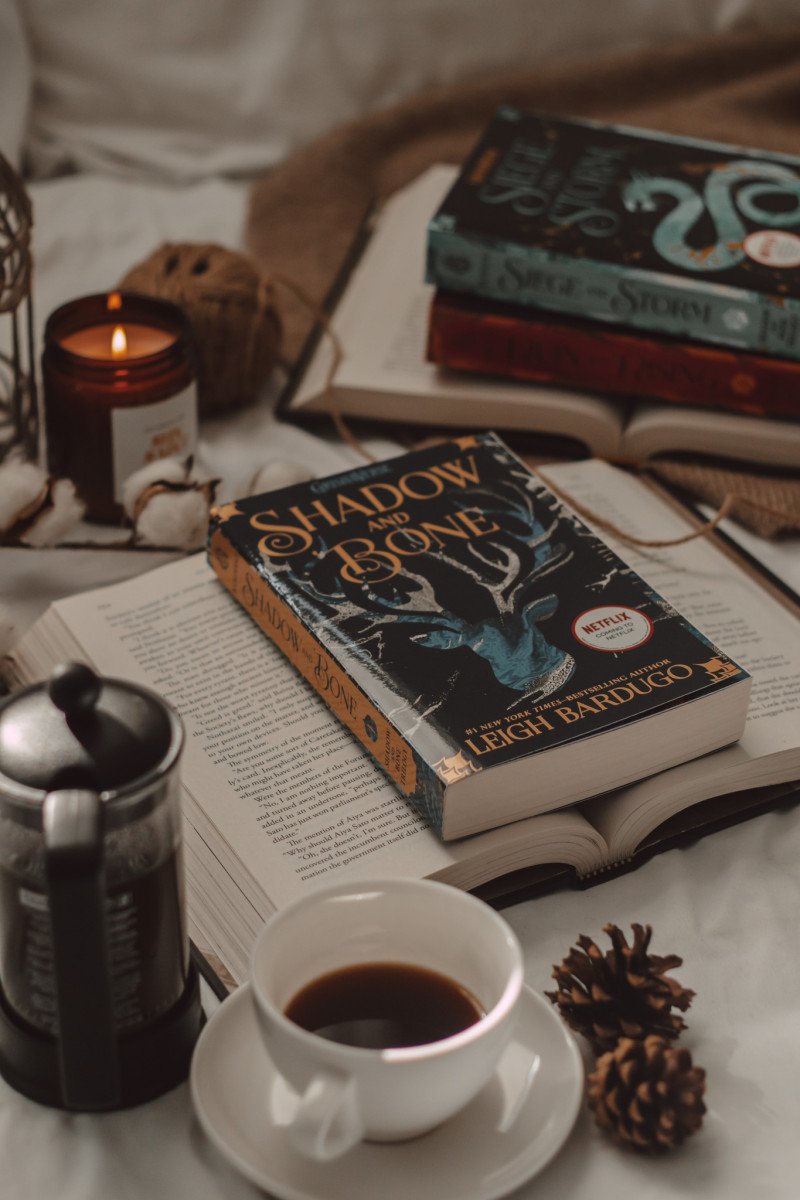 Have you read The Grishaverse books? Which is your favorite?
---
pin for later