You've seen them for LA, NYC, and Miami, but I wanted to break the mold a little and share the most Insta-worthy spots in RVA!
I'm a proud Richmonder, as I was born and raised here, and I love that my city has some beautiful hidden (and not-so-hidden) gems that make for the best photo ops. So if you're ever traveling through Richmond, make sure to stop at a couple of these spots to get the best Insta shot! You've seen them on my feed, and now I'm sharing where they're at!
Happy travels!
---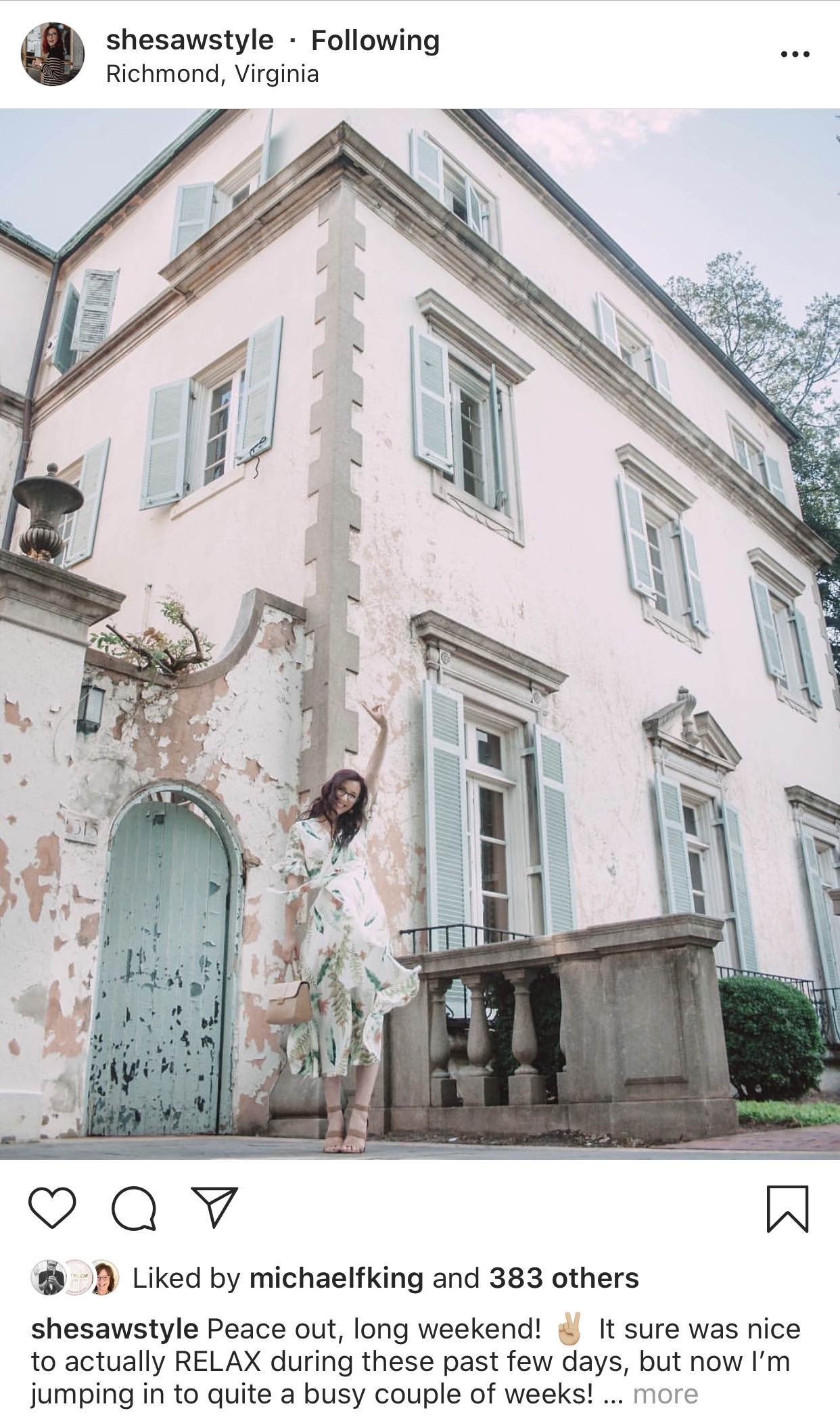 The "Tuscan" Home on Monument Ave
2315 Monument Avenue West
I've taken photos here three times for myself and several times for others. It's a beautiful place that doesn't even look like it belongs in Richmond. The home is no longer occupied and is used primarily as a spot for wedding photos!
Quirk Hotel (and rooftop bar)
201 W Broad Street
While this may be a hotel, it's also one of the most picturesque places in Richmond. They do charge a fee and ask you to sign a consent form to take photos there now, but if you want a heavy dose of pink, it's a great spot.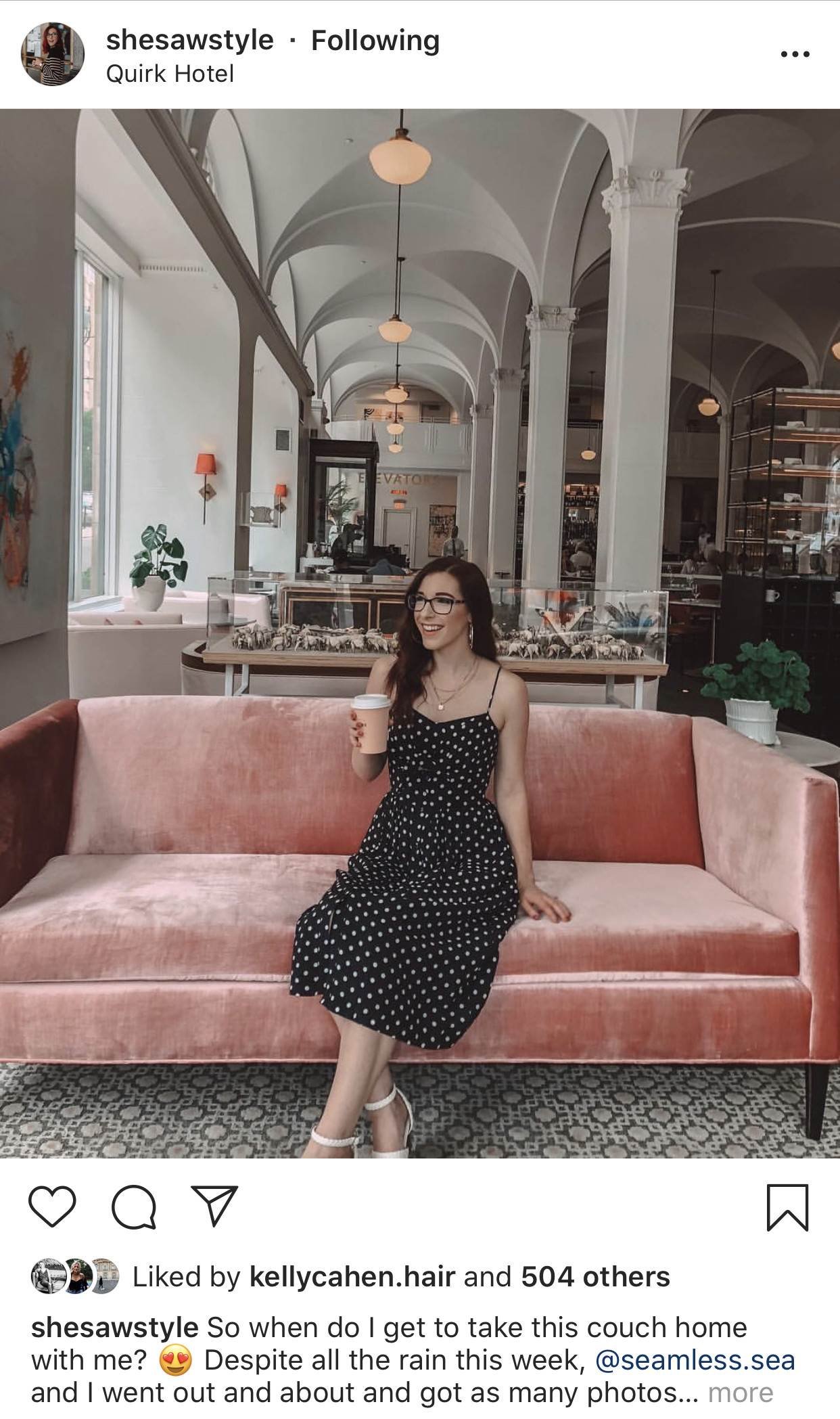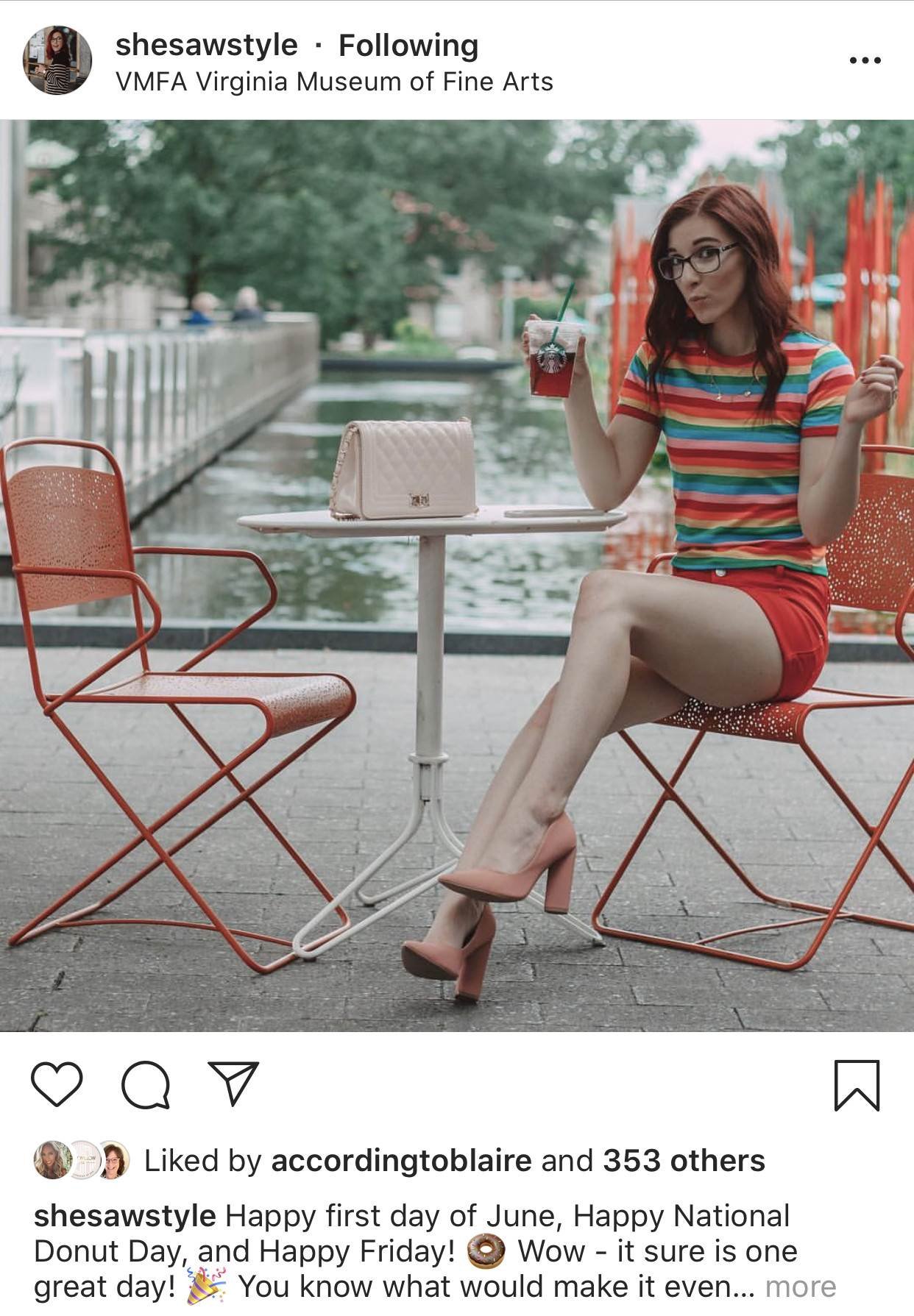 The VMFA (Virginia Museum of Fine Arts)
200 N Boulevard Ave
Inside or out, the VMFA is a gorgeous place to visit and take pictures. Just keep in mind that if you're indoors, you need to keep your flash turned off.
Ironclad Coffee Roasters
1805 E Grace Street
Like good coffee? Want a wonderfully urban, cozy place to hang out and take photos? This is the perfect place for you. Be polite of the customers around you. Some may be working or studying, so you can even call ahead to find out if they're busy.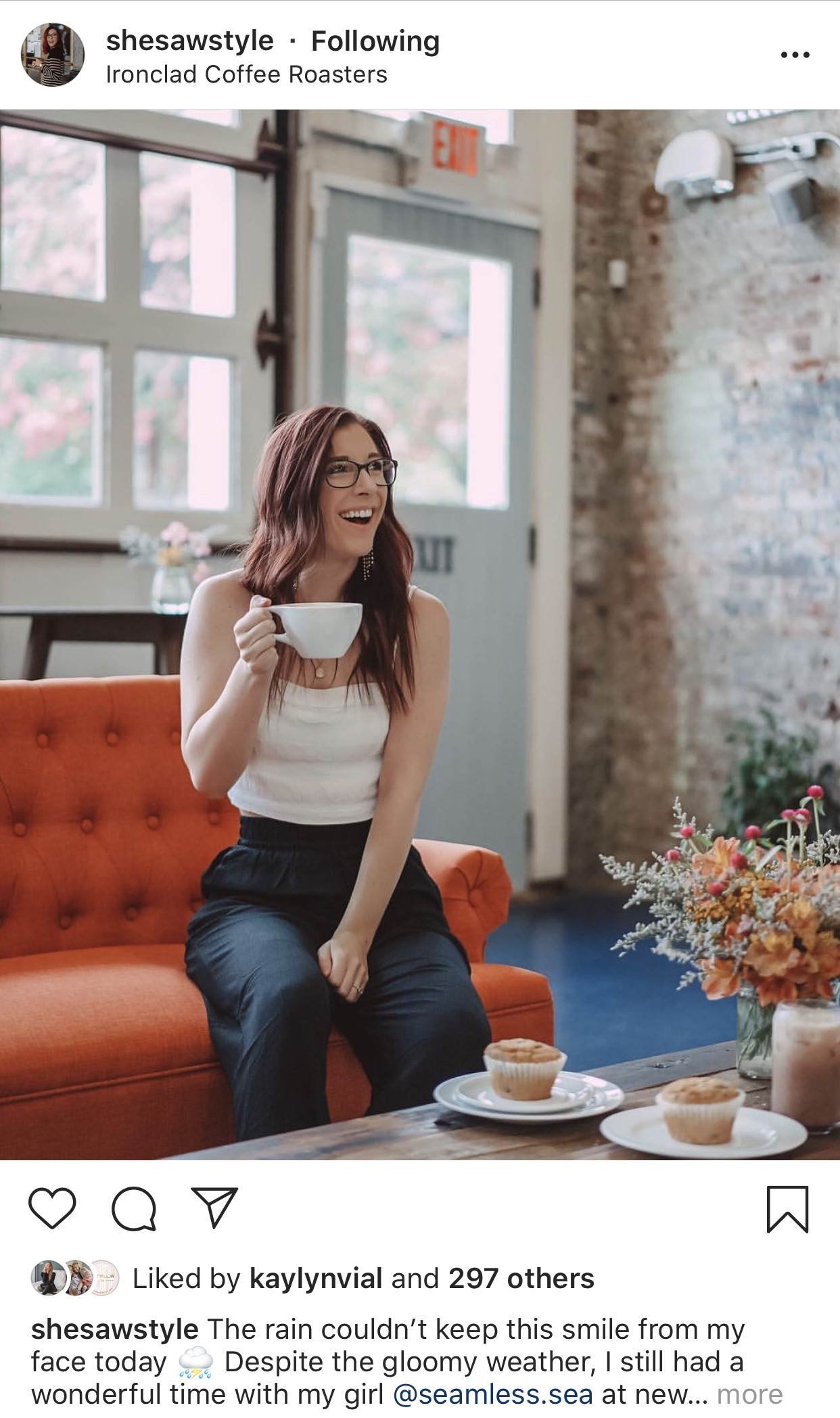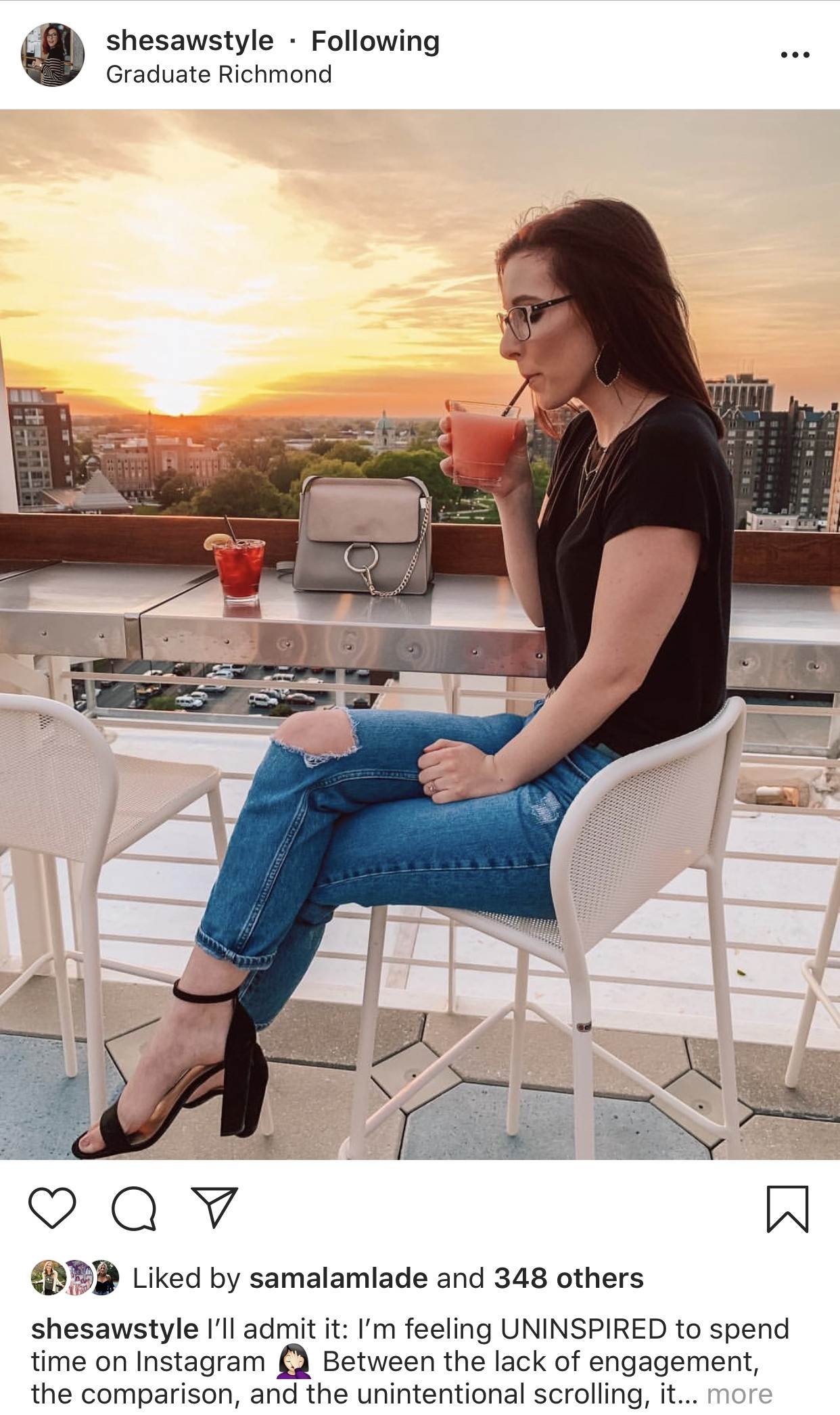 The Graduate (and their rooftop bar)
301 W Franklin Street
Hands down my favorite hotel in Richmond, as well as my favorite rooftop bar. During the spring and summer, you'll find me here nonstop, drinking frosé and taking a million photos!
Gather
920 Mt Hermon Road
My mom surprised me with a trip out to this gorgeous gift shop. The grounds are stunning, the bright red truck in the front is an ideal photo op, and there are so many fabulous gifts to get your hands on.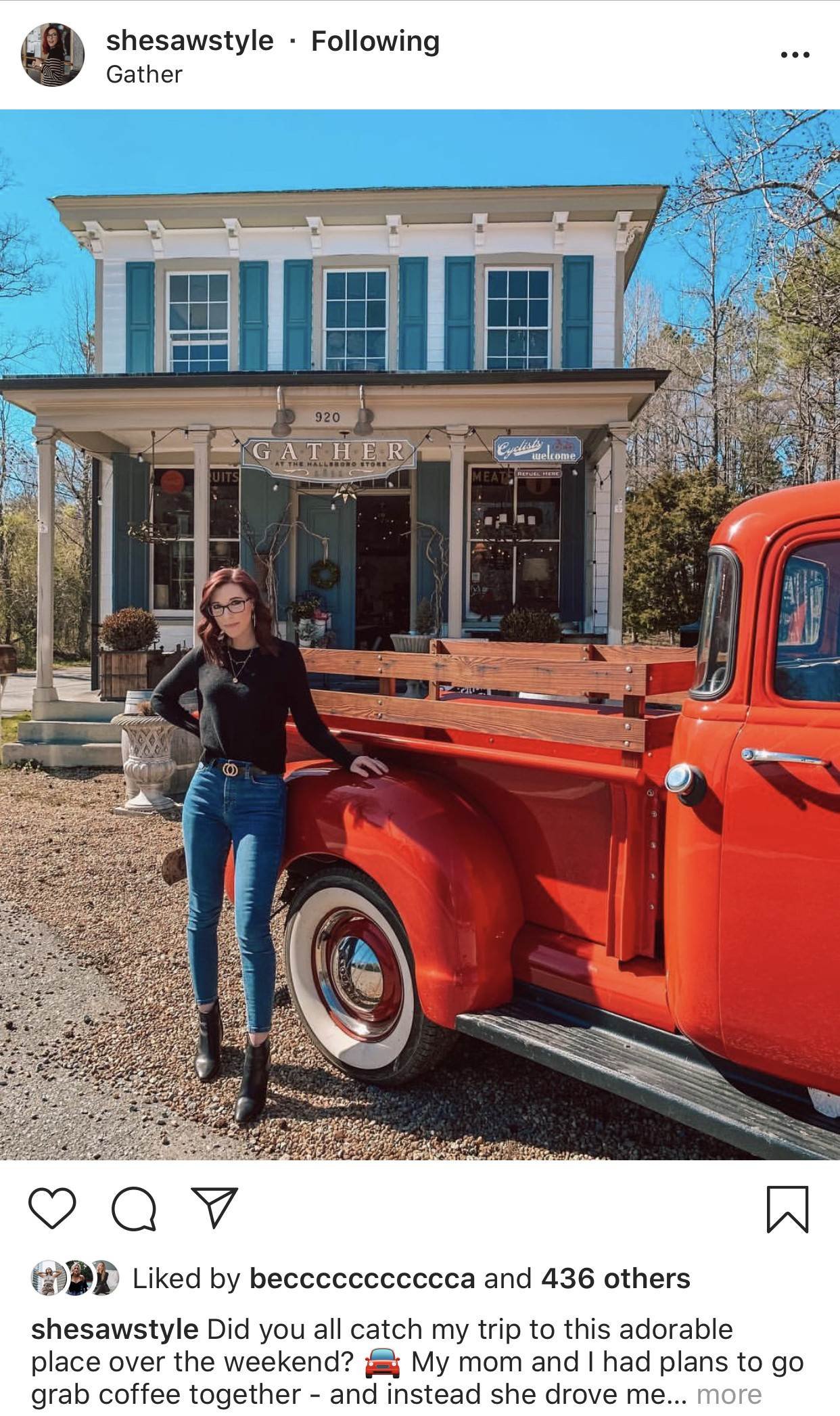 Hot Diggity Donuts
1213 Hull Street
I absolutely love this fantastic donut shop. There's a neon sign, gingham wallpaper, and even the bathroom is perfect for a selfie. Just take my advice and head here for yummy treats and a photo.
Mon Chou
312 E Grace Street
I didn't even know this place would be cute the first time I visited. I just wanted some yummy tea and a macaron. When I walked inside, I was thrilled with the plant paradise and gorgeous aesthetic that's picture perfect around every corner.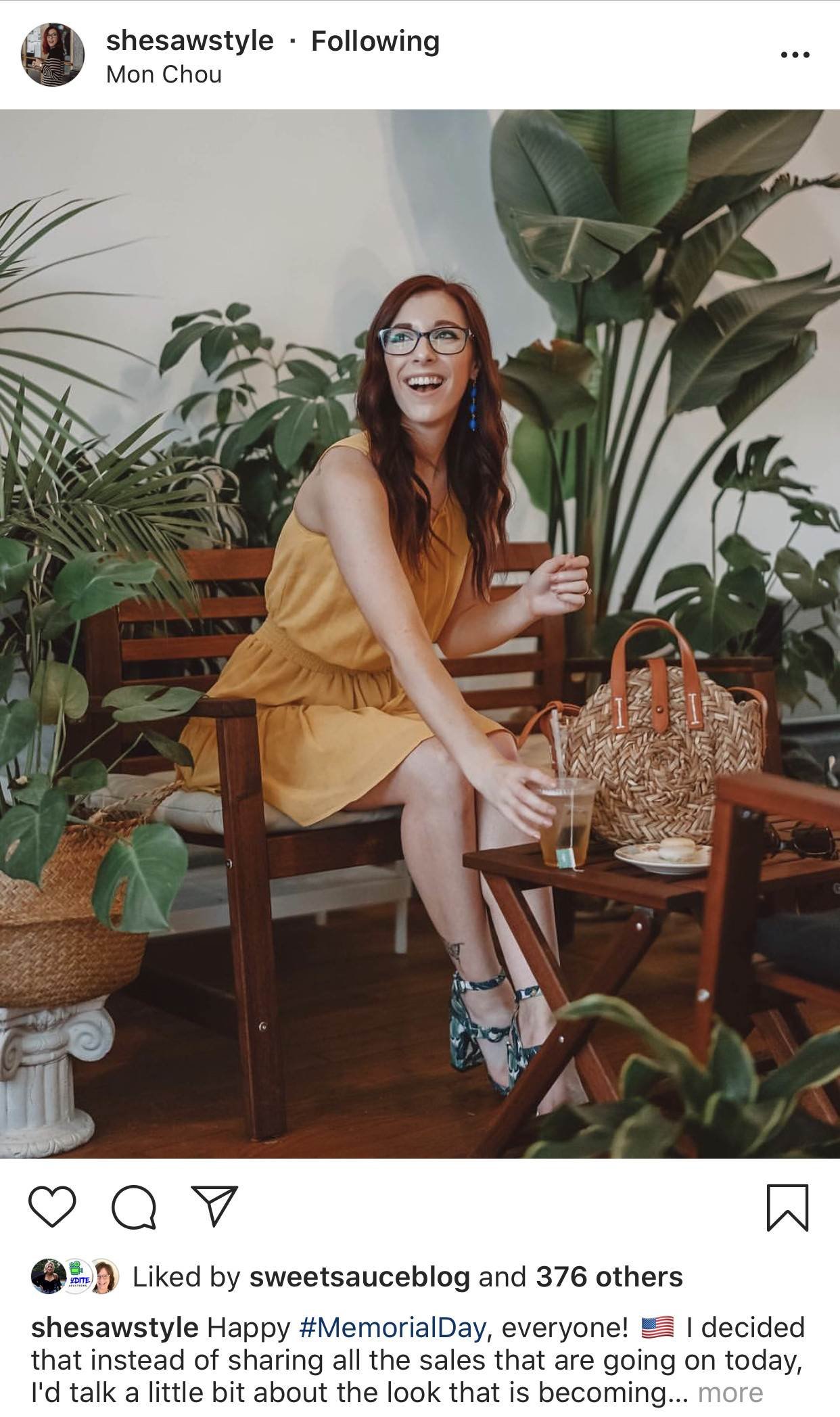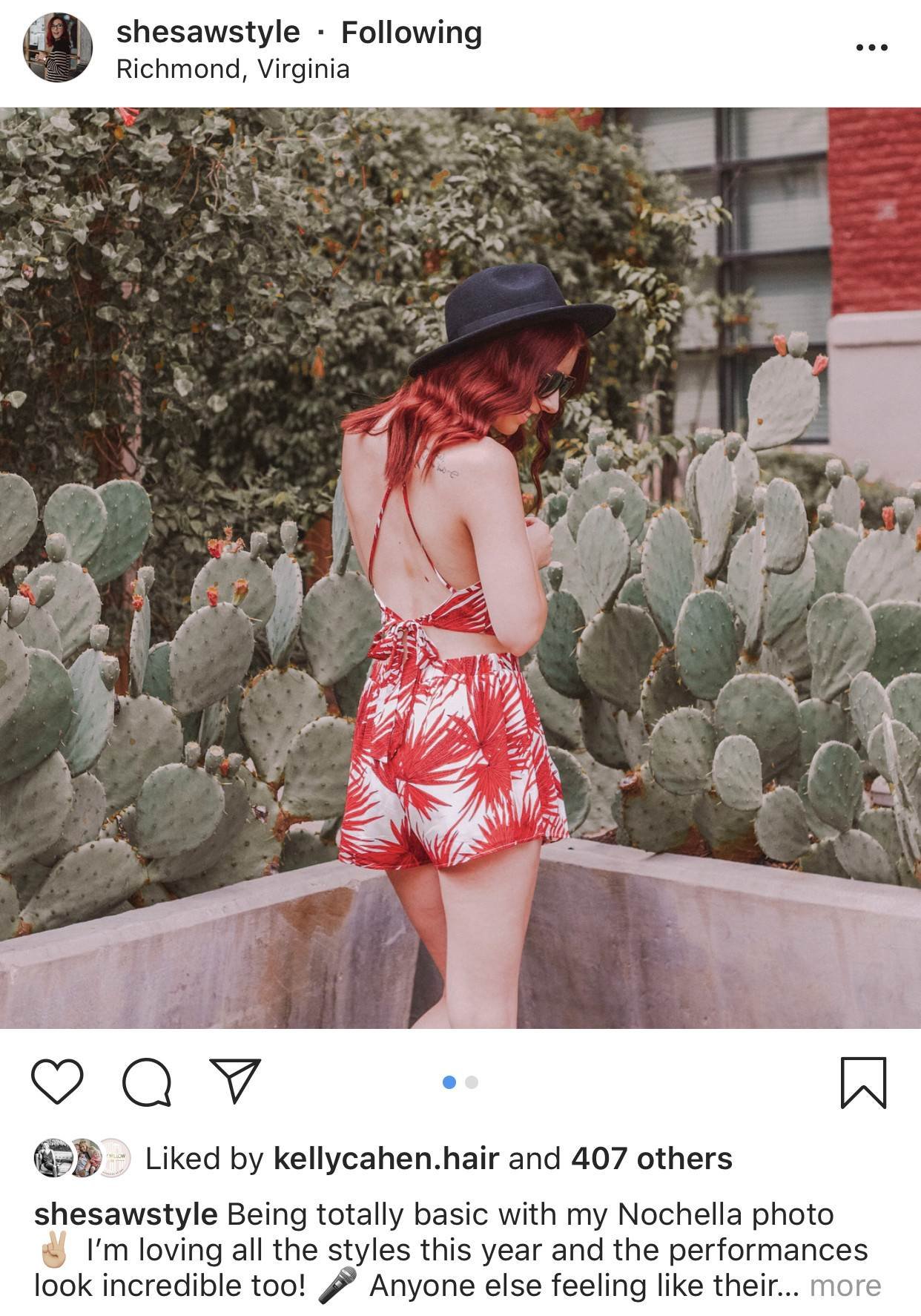 The Canal Walk
1201 Haxall Point
Street art, river views, canal boat tours, and cute cacti that give off some Arizona vibes in the middle of RVA. So much color, and a beautiful place to take a walk during golden hour.
Miller and Rhoads
230 N 6th Street
It may just be a mural in front of an apartment building, but my gosh it's an adorable mural. Totally stylish and perfect for a fashion shoot.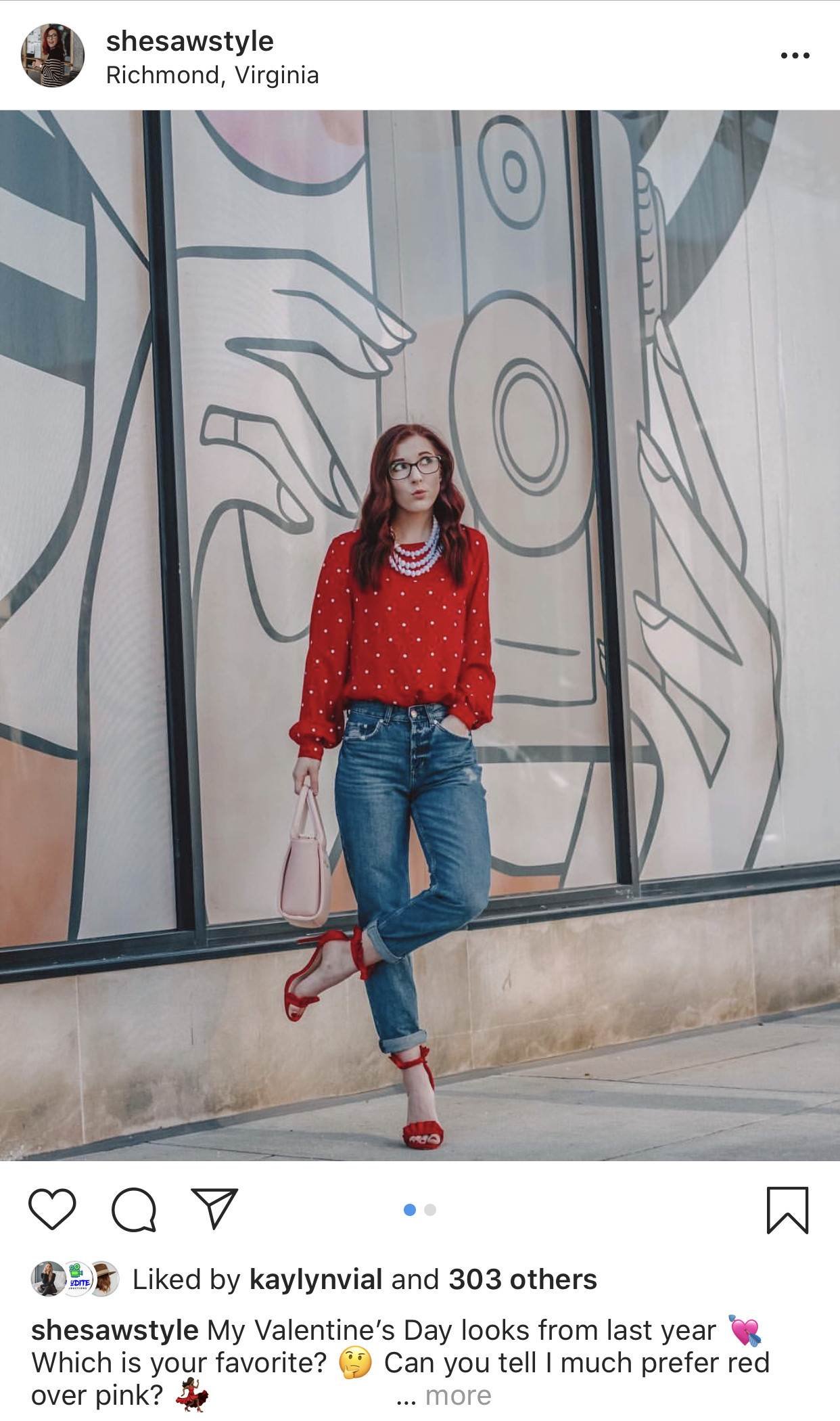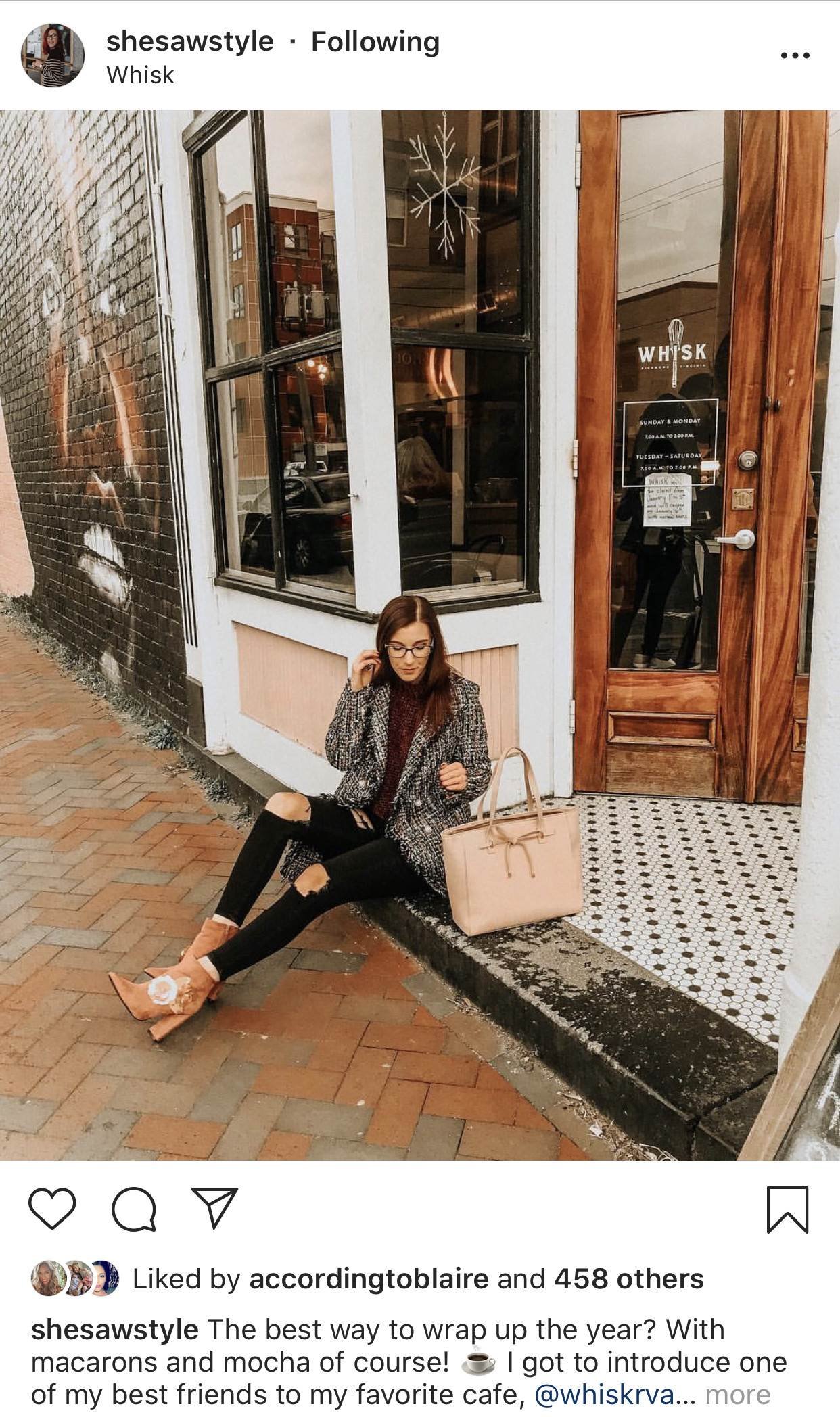 Whisk
2100 E Main Street
I used to frequent this café so often I had my own hashtag for the photos I took there. I don't get to visit as often anymore, but I still love getting a quick snap each time I swing by. They've got delectable pastries, delicious mocha lattes, and both indoor and out have great photo spots.
Collette Miller Wings at LIFT Coffee Shop & Café
218 W Broad Street
I remember seeing these wings all over Instagram, and had no clue that there was a pair in RVA. It's on the back patio of a café, and every time I've visited, I've had to take a photo. The wings are too gorgeous to pass up.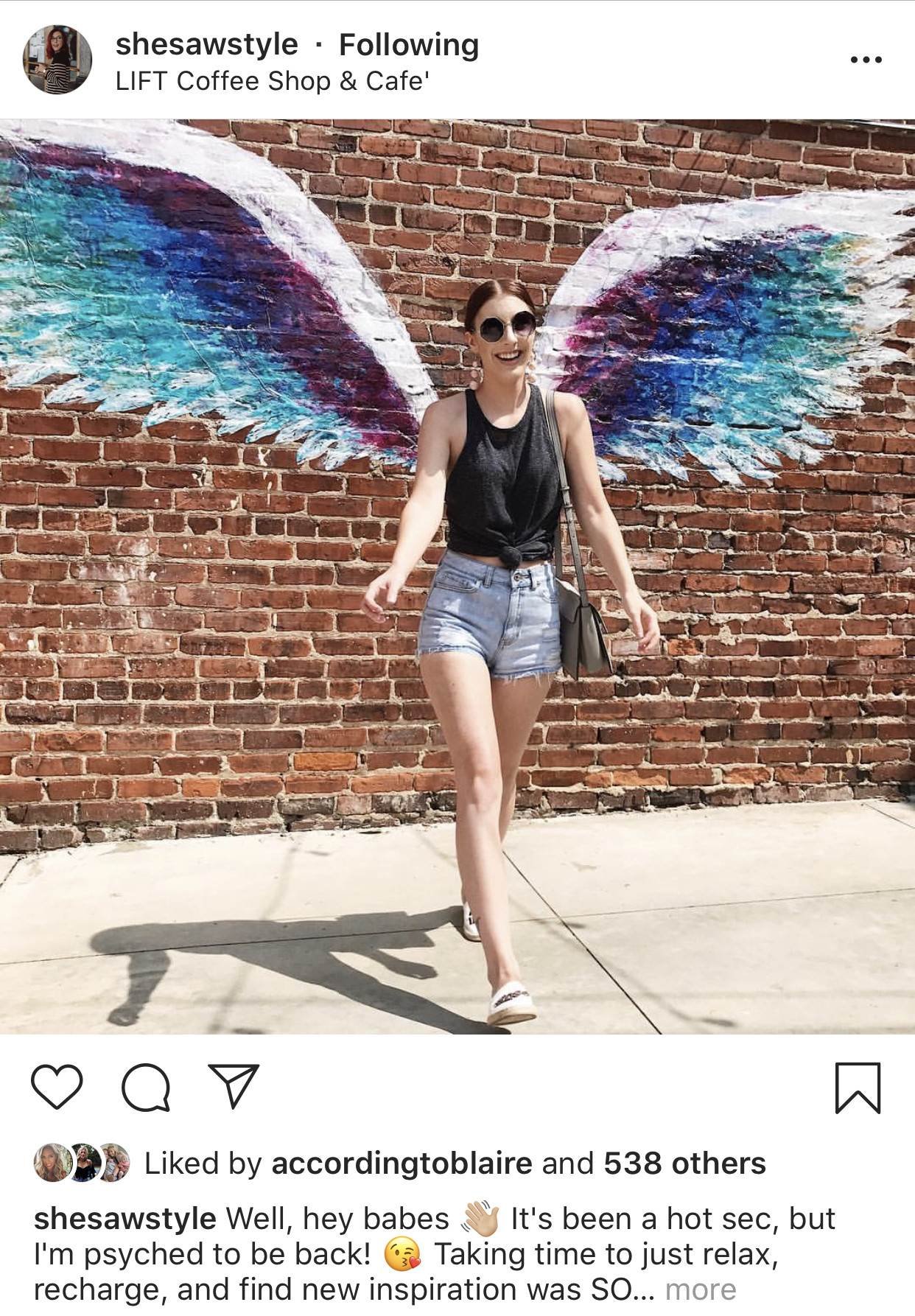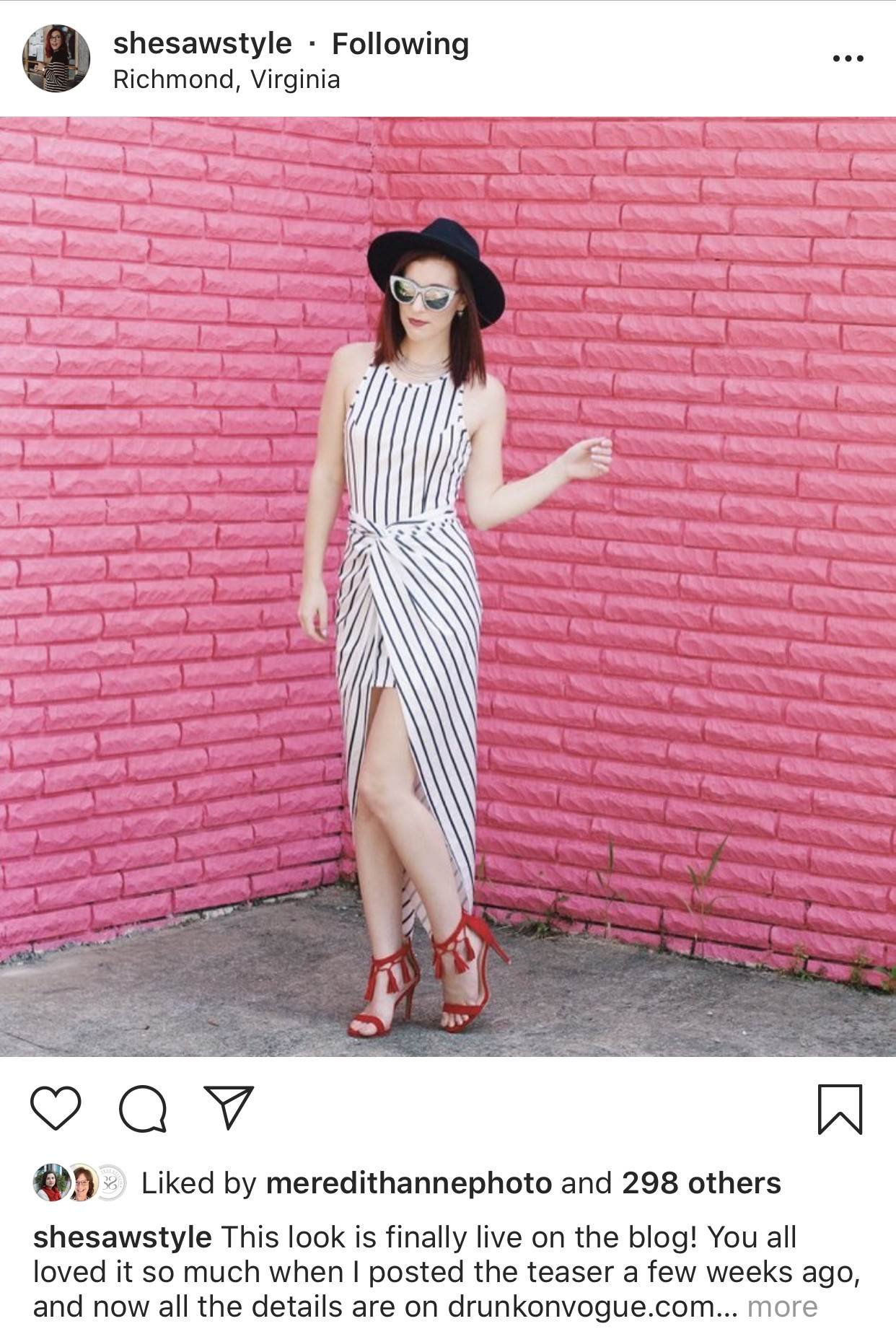 Pink Brick at Andres Day Spa & Unique Gifts
449 Forest Ave, Henrico
This hot pink brick wall is way too fun to not visit for a photoshoot. In fact, this photo ended up getting turned into a fashion illustration that I now have in my office. It's so bright and cheery, and I've even taken photos for others here as well.
RVA's "Painted Ladies" on Main St
1201-1309 W Main Street
You know the Painted Ladies in San Francisco, right? Well, we have our own version of them right here in Richmond. These pastel-colored buildings are all in a row, and if you're looking for a specific color as your background, you'll probably find it here!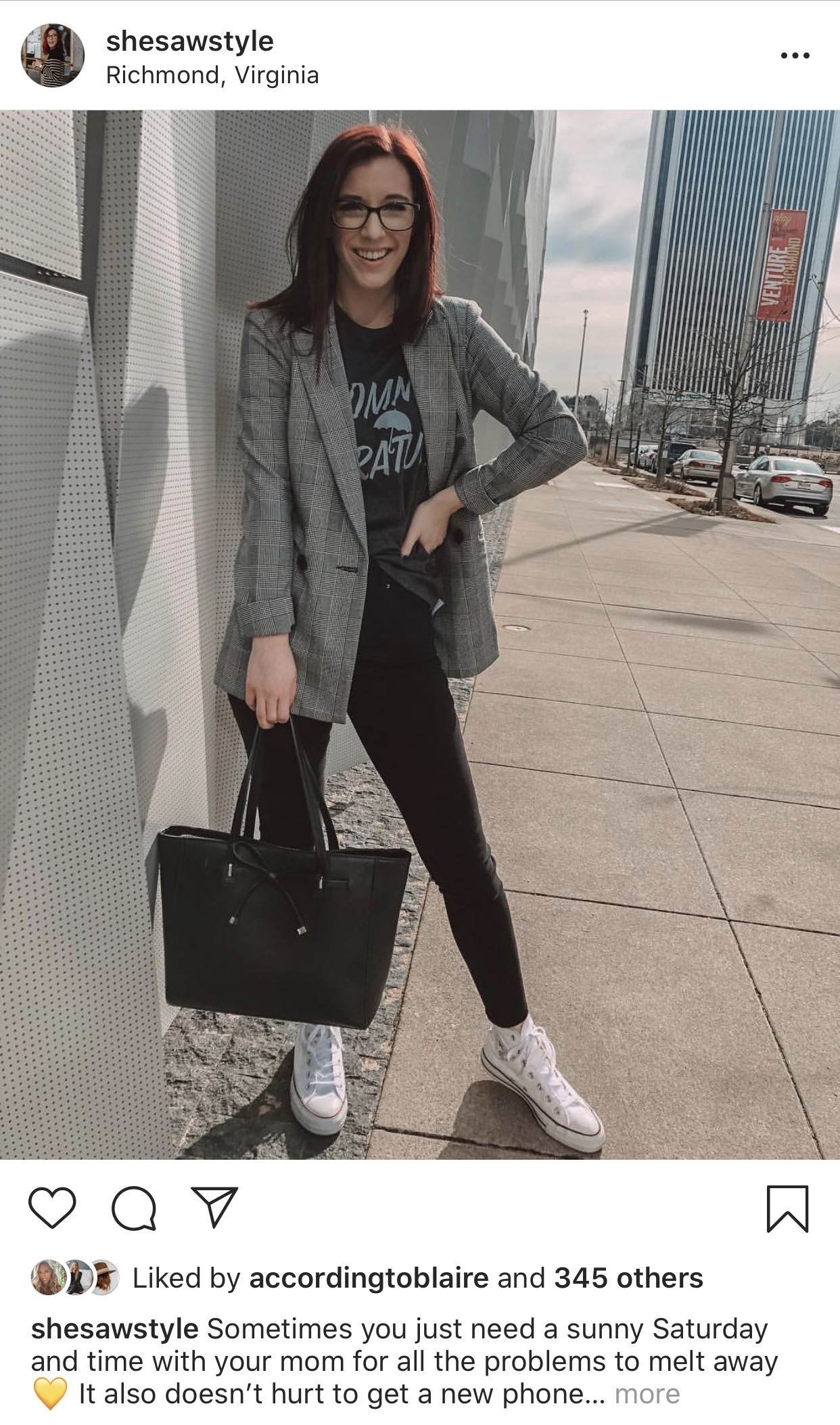 The "Wavy Building" – McGuire Woods
800 E Canal Street
I've taken more photos here than I can count. Of myself, my husband, other bloggers, and sometimes just the building itself. It's such cool architecture and there's parking right in front of it, which makes it the perfect spot for a quick and easy photoshoot.
Pretty Pink Wall at Broad Street Vet
3320 W Broad Street
What kind of blogger would I be if I didn't include this iconic pink wall in Richmond? Crazy enough, it's the outside of a veterinary clinic, but it's just so cute. I suggest visiting on a cloudy day, because otherwise the sun pours down right on the building, making it tricky to shoot.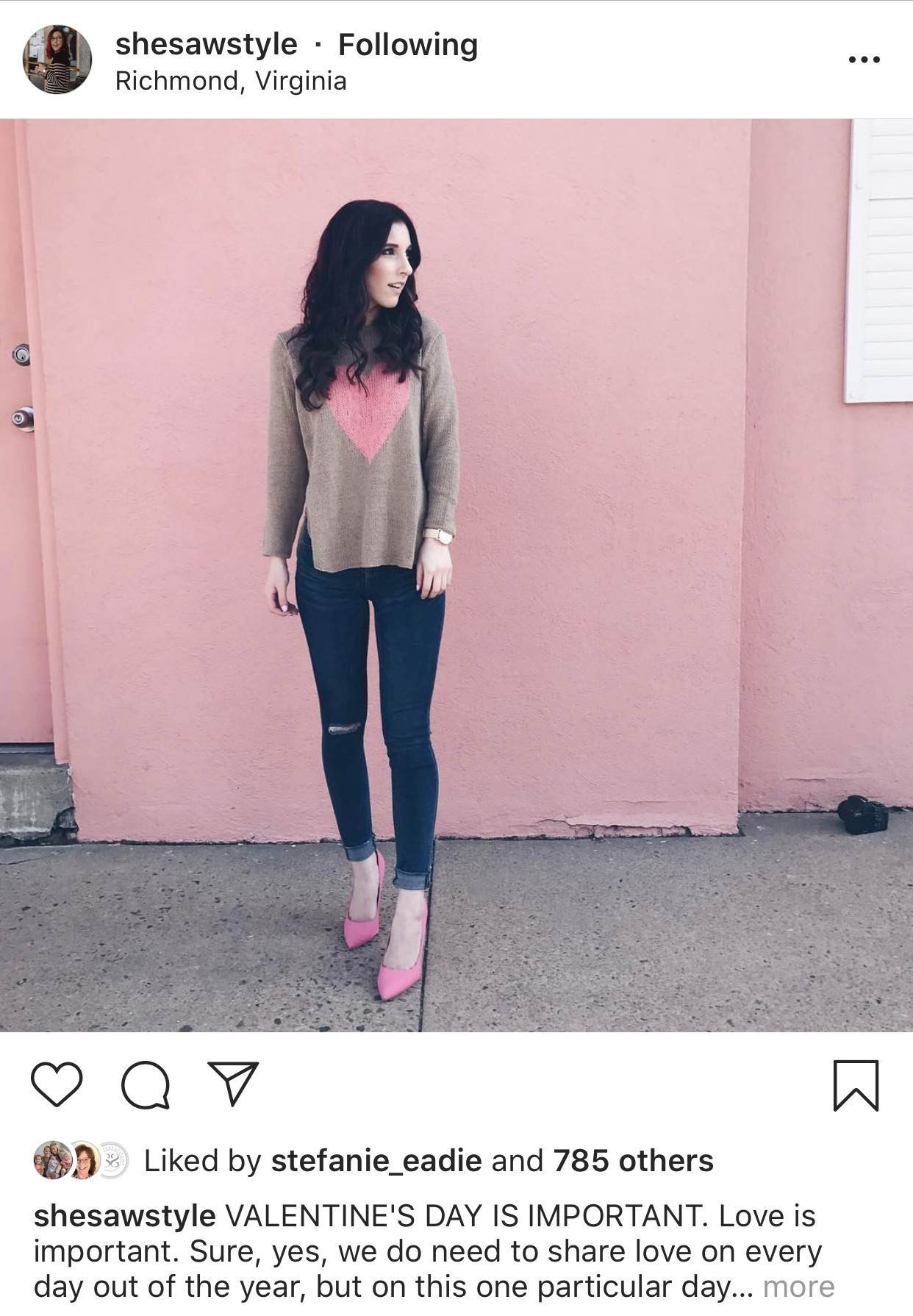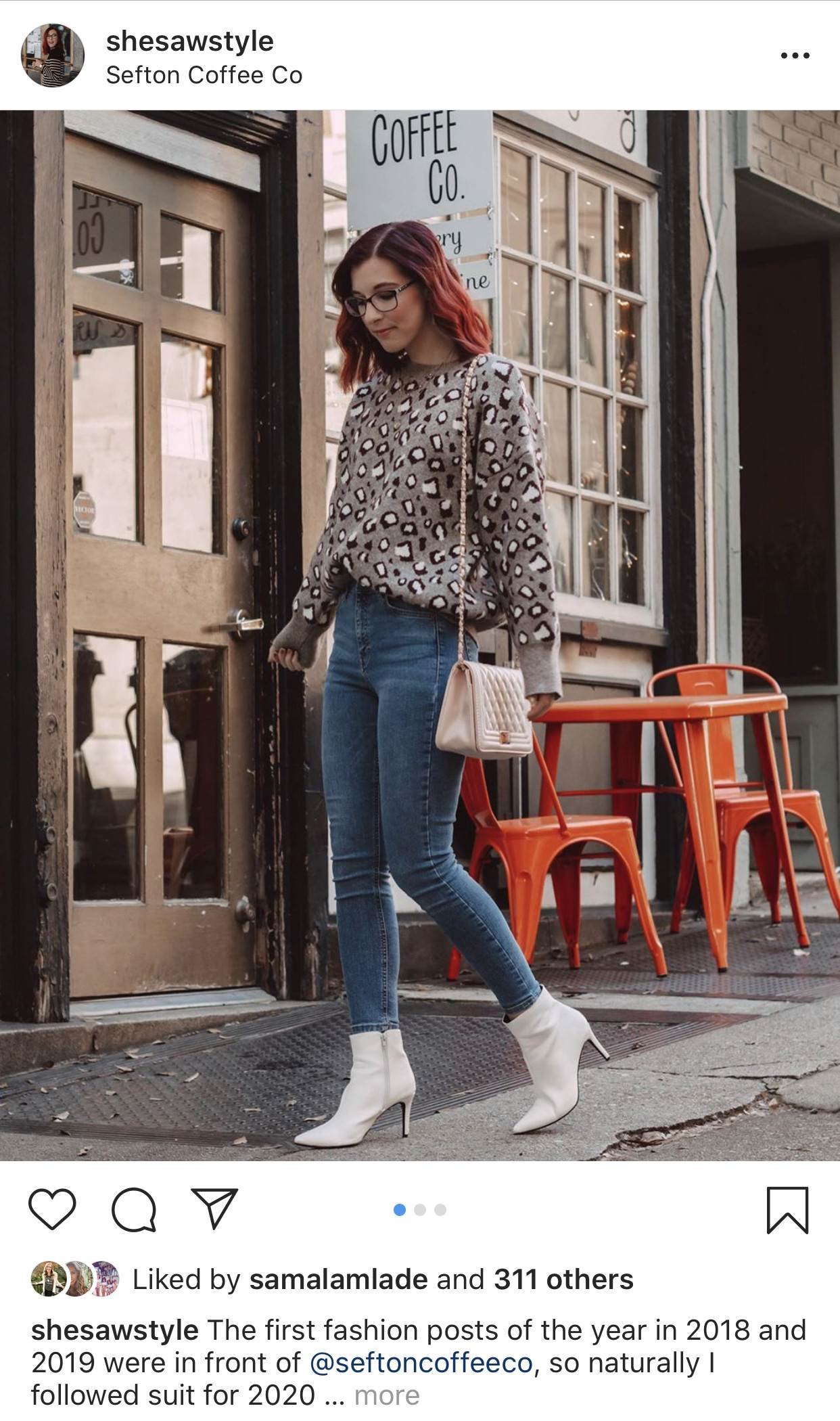 Sefton Coffee Co
24 N 8th Street
I couldn't end this post without sharing the coffee shop that I take a photo in front of at the beginning of every year. Of course, I visit way more often than once a year, because in addition to their cute shop, they make the yummiest chai lattes!
If you've visited or you're a native, let me know your favorite Insta-worthy spots in RVA.