In Omnia Paratus means "ready for all things" – and I can tell you right now I'm ready to curl up with some #coffeecoffeecoffee and binge-watch Gilmore Girls.
Okay, so the truth is I'm always ready to watch Gilmore Girls, considering it's my favorite show of all time. If you haven't gotten a chance to go through this series yet, now is the best time to begin. There's something about autumn that makes the storyline even more appealing. It's just so … cozy. In fact, there may be some Gilmore Girls elements at my upcoming bachelorette party! I jumped at the opportunity to include Chinese take-out, Founders Day punch, and coffee-related drinking games.
The whole point behind my ramblings over this show is because the graphic tee in this outfit displays the phrase "In Omnia Paratus" – which, if you know anything about the series, is quite the exclamation! It's also brought about by my least-favorite of Rory's boyfriends, but what can you do? 😂 Major thank-you to Thread Tank for sending me this $25 relaxed t-shirt. I may even need to wear it to my bachelorette!
---
outfit details
top c/o Thread Tank | pants | similar jacket | shoes | similar purse | canvas bag c/o West Elm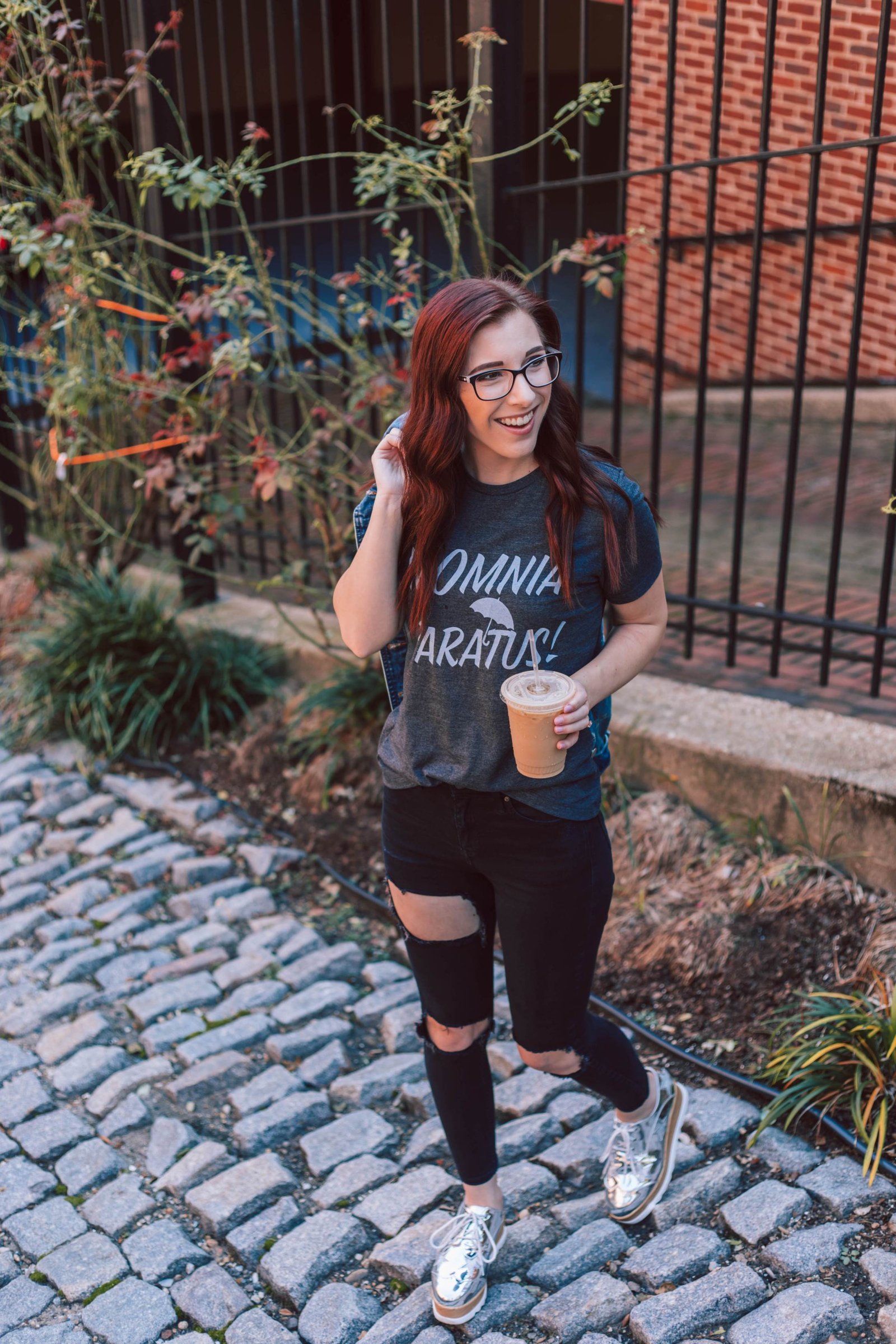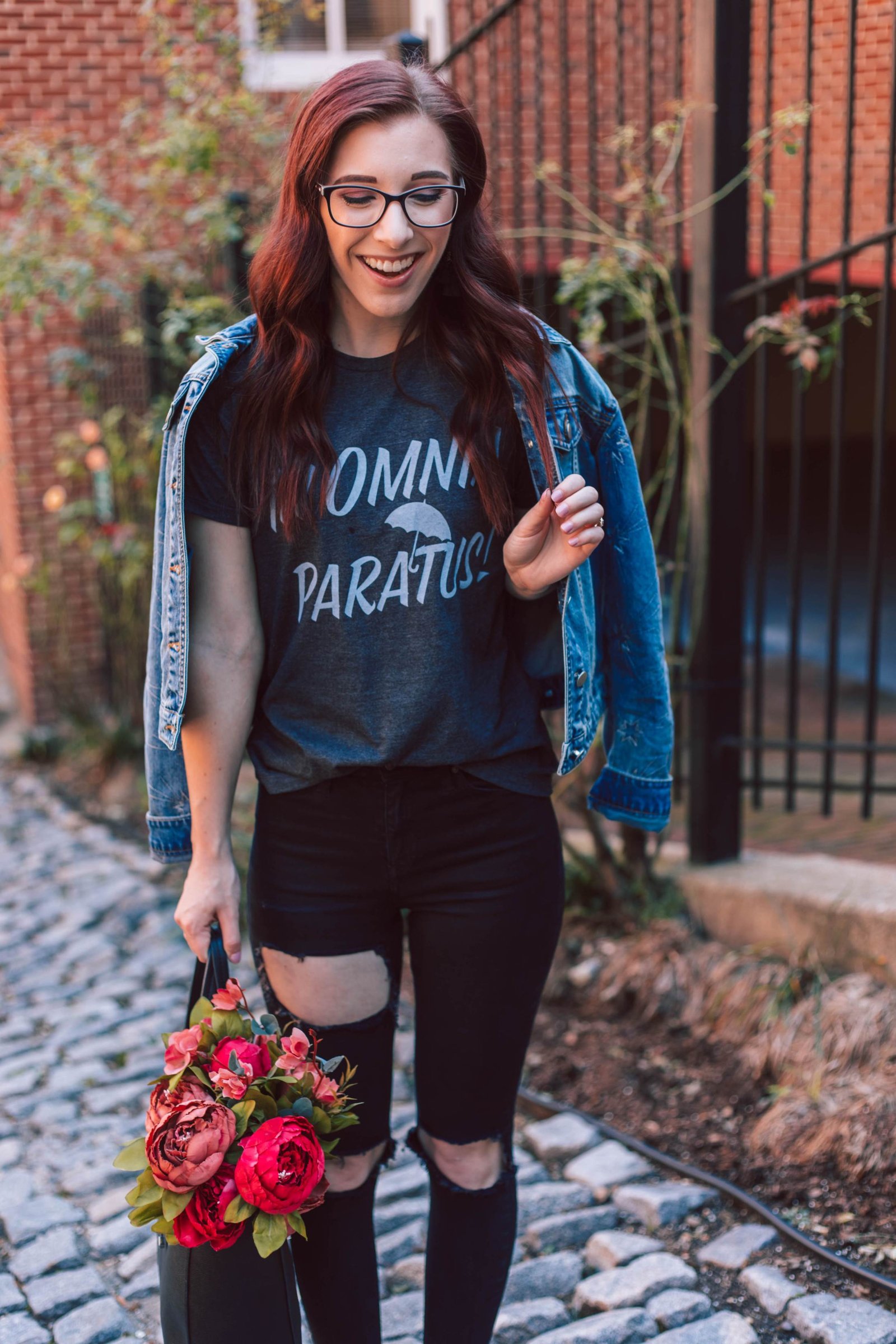 One thing all the Gilmore Girls had in common was that they enjoyed being comfortable!
Alright, maybe not Emily (Lorelai's mother), but we can disregard her high standards for fashion – and everything else. I'm certainly a combination of Rory and Lorelai in personality and style, so I wanted to incorporate a bit of them both in this outfit. My practical denim jacket and spacious tote bag are options I could see Rory sporting for a day of classes at Yale. Lorelai would be slightly unpractical (yet forward-thinking) with her cutting-edge fashion choices, and that may include my incredibly distressed denim and platform sneakers. The entire outfit from head-to-toe is the best of both worlds, and still comfy! Plus, no matter where you go, if you're carrying coffee, you're an honorary Gilmore Girl!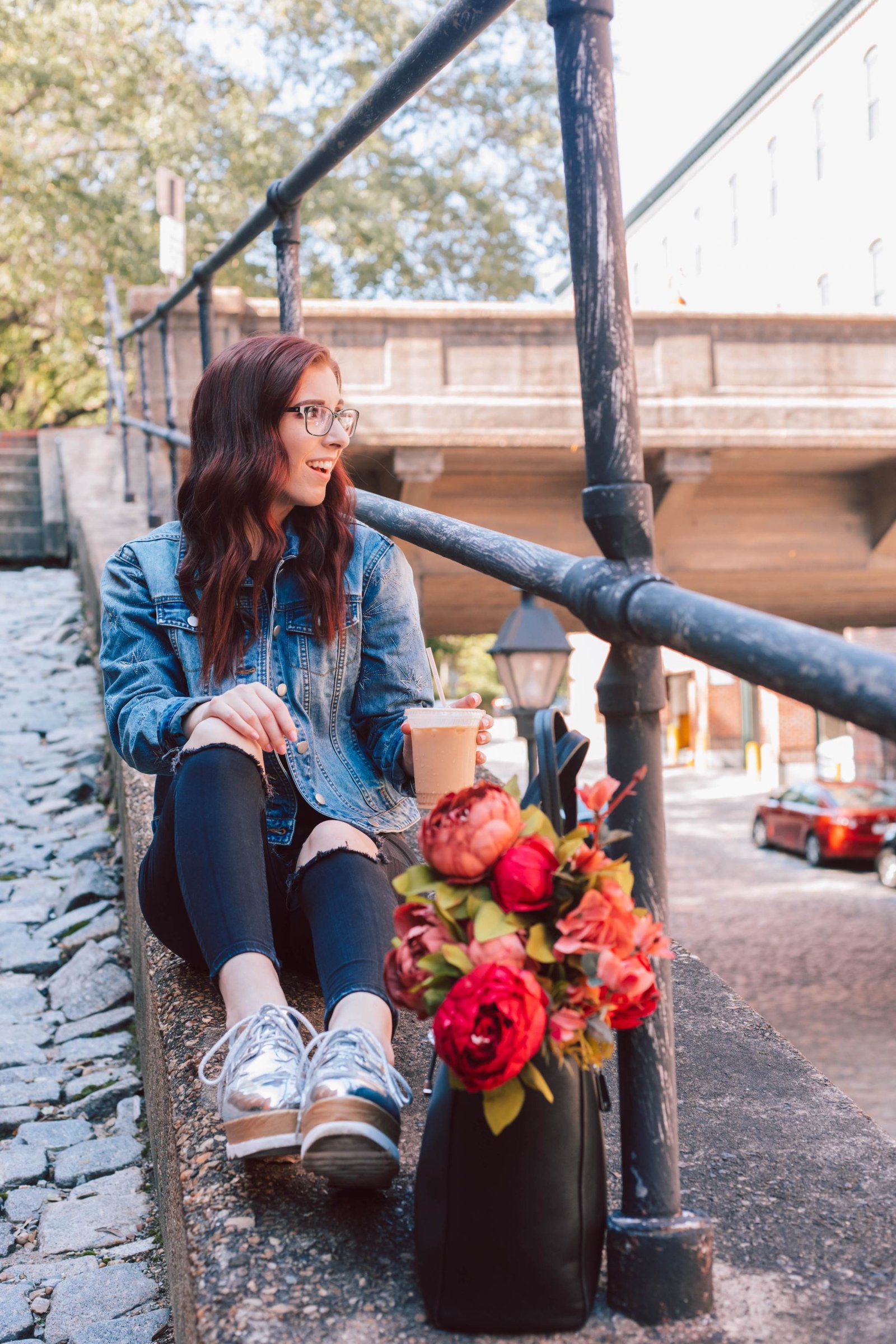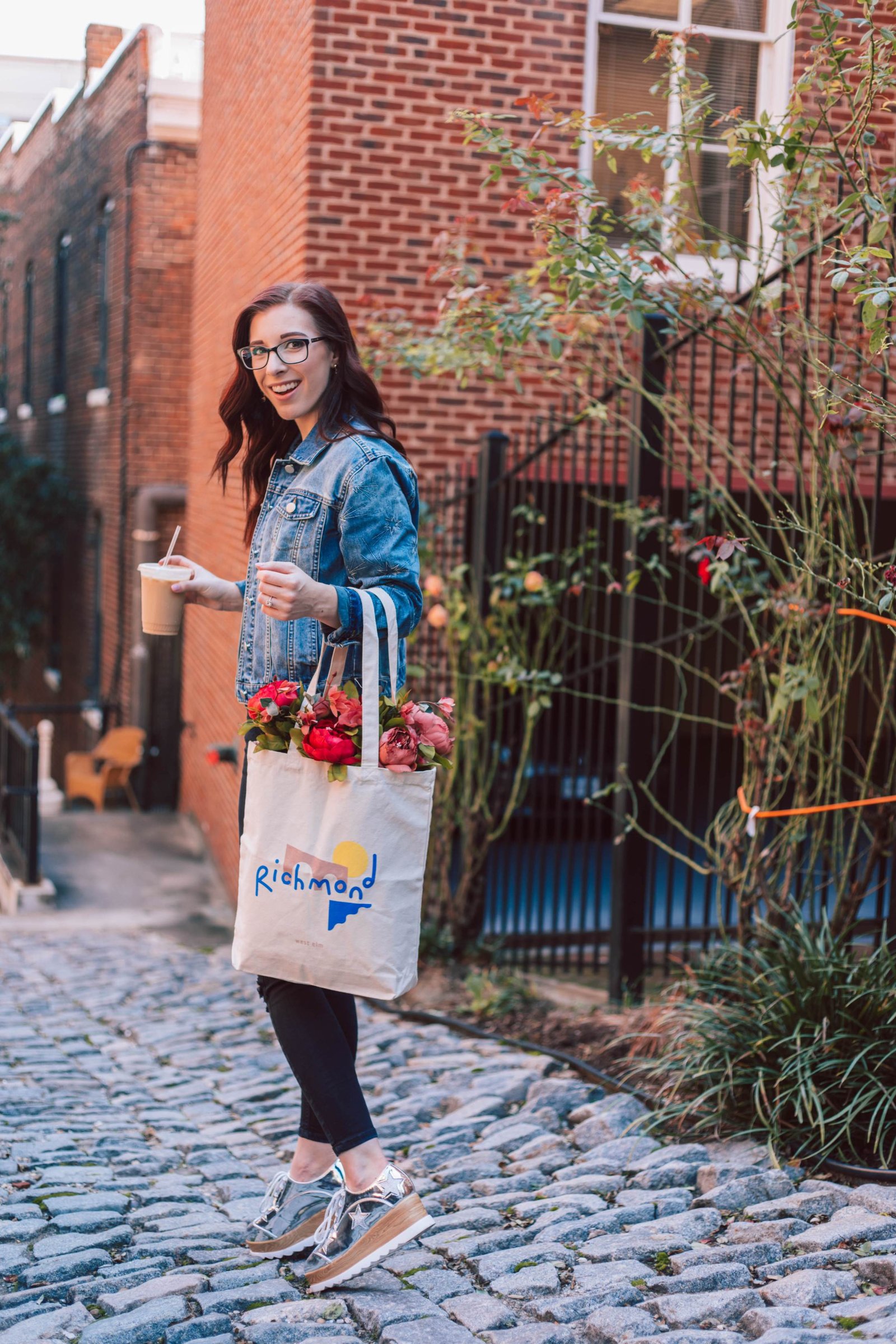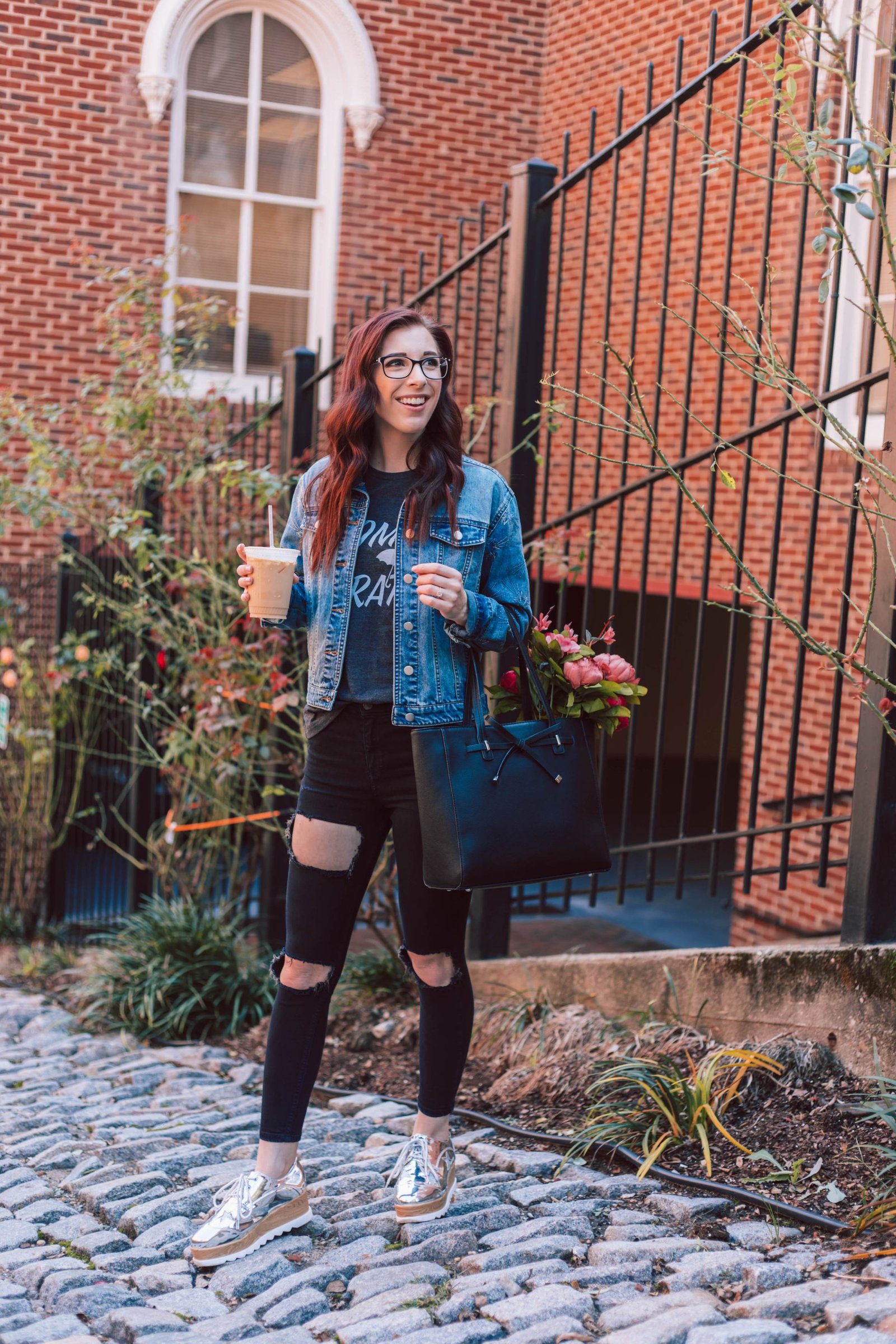 So the most important Gilmore Girls question yet: are you Team Dean, Jess, Logan … or Wookiee? 😉
---
↓ Pin for Later ↓