I promise this post isn't clickbait. I am actually talking about houndstooth, not cupcakes (but I will say these cupcakes were pretty dang tasty)!
I was scrolling through Instagram today when I read someone's caption, which said, "if Walmart can start pulling out the pecan pie fall flavored M&Ms, that means it's socially acceptable for me to pull out the cardigans." I had to smile because that's exactly the way my mind operates! In my case, if the Halloween pop-up stores are beginning to tack up their signs, I'm completely free to wear sweaters and booties and autumnal garb without shame – though I can't promise it'll be without sweat! 😂
Fall is my favorite season. When I was a little girl, I had a habit of choosing every season as my favorite season. As I've gotten older, I realized I really dislike summer. Heat and bugs and no respite is unpleasant (especially when your car's AC doesn't function properly). I'm not opposed to spring, but the allergies are killer – and it seems to never make up its mind of whether it's actually hot or cold! Winter brings bitter chills and snow that keeps me inside for days. I'm too much of a busy-body for all that! Autumn has the most wonderful weather, the prettiest colors, and it means transitioning into the holiday season.
I'm all about it! It's been fun sharing how I'm styling some of my new Forever 21 pieces for the end of summer and into fall. This sweater is one of those pieces, but unfortunately it's already sold out on the website. I'm on the waiting list for when it comes back, and you all will be the first ones alerted, I guarantee it! For now, you can also read my first and second post in this mini-series! Now let's chat about houndstooth, baby!
---
Outfit Details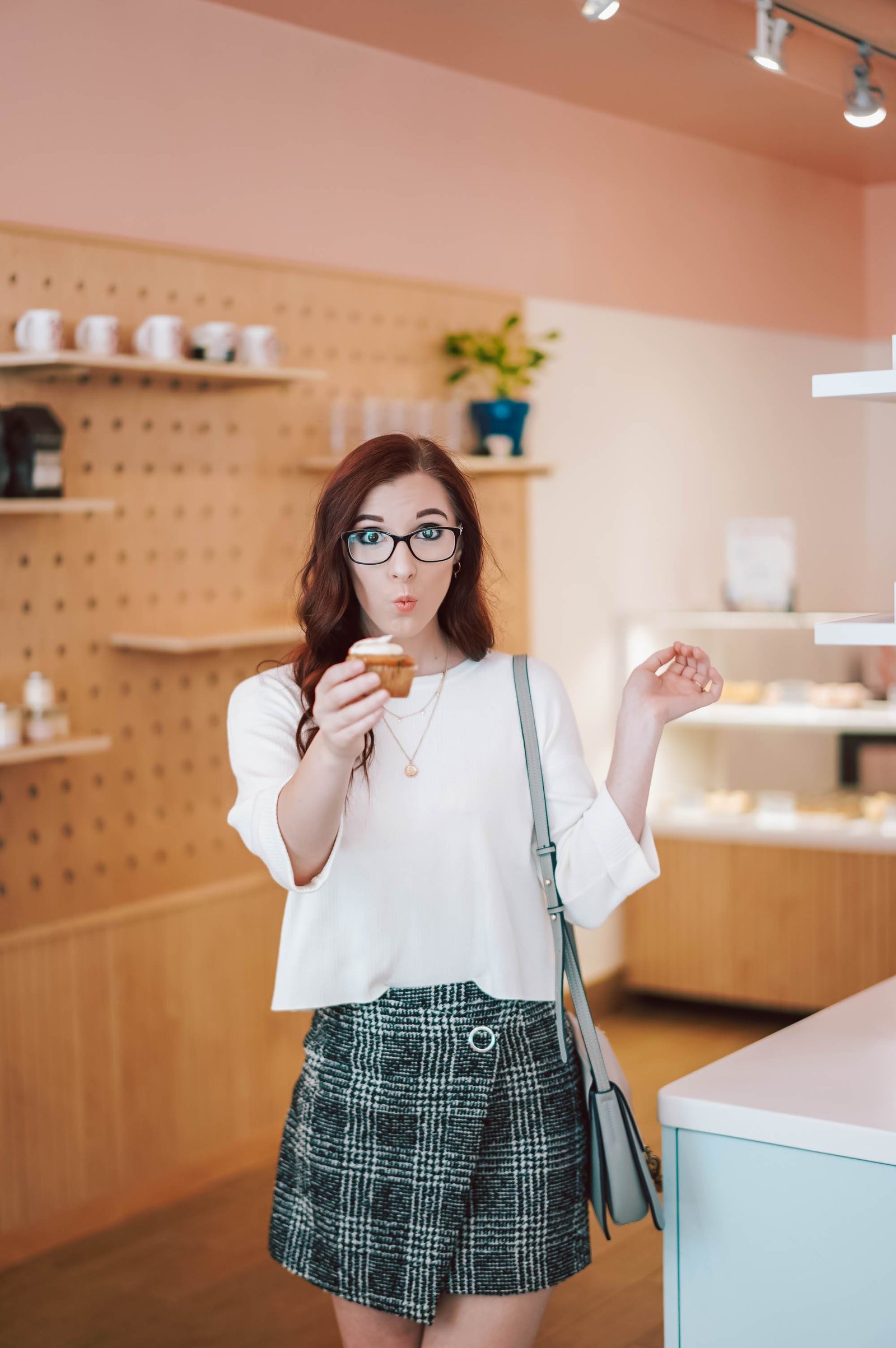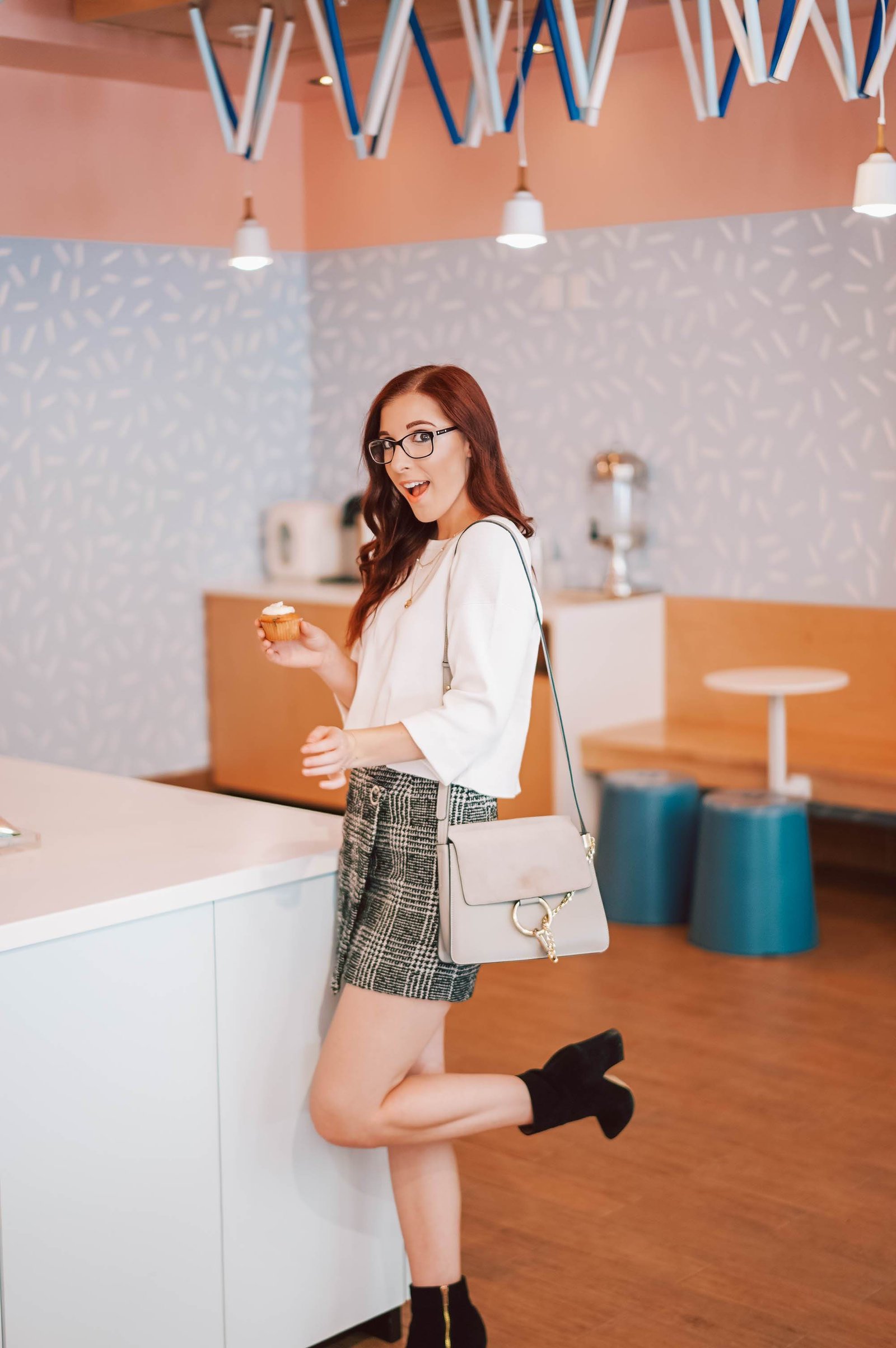 I used to believe houndstooth was only for the Blair Waldorfs of the world.
You know, the ones who went to prep school and brunched every weekend, sipping on bellinis and getting their nails done (no wait – that's just the girls in Gossip Girl). Not sure why that was my perception of this particular print, but it's long since been demolished, and a new perception has taken its place: houndstooth is for everyone! It's a truly classic print. Sure, it has its place in the preppy community, but it also finds itself in a variety of other genres!
As someone who doesn't like to nail themselves into a particular style class, I've found that houndstooth can be worn so many ways. For my own wardrobe, the best way to ease it in was this mini skirt. I purchased it last year at H&M, but here is a very similar option. The print isn't overwhelming. If anything, it's so subtle you almost believe it's checked rather than houndstooth until you look closely. The first time I wore it was with a mustard sweater, and rather than Blair Waldorf, I was giving off some seriously Cher from Clueless vibes! That's my way of indicating that it truly can be styled endlessly!
Take a look below at some of my favorite houndstooth options!