During the autumn season, I feel the intense desire to curl up with cozy books nearly every day.
There's something about blustery afternoons, chilly rain showers, and the rapid cool-down that makes me want to dive into old favorites. I don't often find myself re-reading. However, I do enjoy a comfort read, and these books and series are the epitome of comfort.
I'm not one for scary stories – yes, even during spooky season. So rather than picking out truly terrifying reads, I went with cozy options and a couple of high fantasy series that are sure to indulge that need for an intense adventure.
---
related posts
Here are the standalone books and series that I love to read (and read again) during the fall.
Jessica and Emily Burnstein have very different ideas of how this college tour should go.
For Emily, it's a preview of freedom, exploring the possibility of her new and more exciting future. Not that she's sure she even wants to go to college, but let's ignore that for now. And maybe the other kids on the tour will like her more than the ones at school. . . . They have to, right?
For Jessica, it's a chance to bond with the daughter she seems to have lost. They used to be so close, but then Goldfish crackers and Play-Doh were no longer enough of a draw. She isn't even sure if Emily likes her anymore. To be honest, Jessica isn't sure she likes herself.
Together with a dozen strangers–and two familiar enemies–Jessica and Emily travel the East Coast, meeting up with family and old friends along the way. Surprises and secrets threaten their relationship and, in the end, change it forever.
Lydia and Freddie. Freddie and Lydia. They'd been together for more than a decade, and Lydia thought their love was indestructible.
But she was wrong. On her twenty-eighth birthday, Freddie died in a car accident.
So now it's just Lydia, and all she wants to do is hide indoors and sob until her eyes fall out. But Lydia knows that Freddie would want her to try to live fully, happily, even without him. So, enlisting the help of his best friend, Jonah, and her sister, Elle, she takes her first tentative steps into the world, open to life–and perhaps even love–again.
But then something inexplicable happens that gives her another chance at her old life with Freddie. A life where none of the tragic events of the past few months have happened.
Lydia is pulled again and again across the doorway of her past, living two lives, impossibly, at once. But there's an emotional toll to returning to a world where Freddie, alive, still owns her heart. Because there's someone in her new life, her real life, who wants her to stay.
Written with Josie Silver's trademark warmth and wit, The Two Lives of Lydia Bird is a powerful and thrilling love story about the what-ifs that arise at life's crossroads, and what happens when one woman is given a miraculous chance to answer them.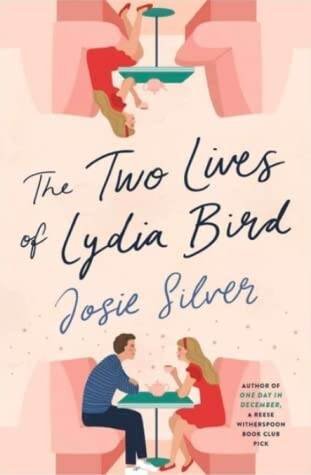 In my opinion, you can't read the first and not read them all. This series is autumn in a nutshell and such a comfort read.
Harry Potter's life is miserable. His parents are dead and he's stuck with his heartless relatives, who force him to live in a tiny closet under the stairs. But his fortune changes when he receives a letter that tells him the truth about himself: he's a wizard. A mysterious visitor rescues him from his relatives and takes him to his new home, Hogwarts School of Witchcraft and Wizardry.
After a lifetime of bottling up his magical powers, Harry finally feels like a normal kid. But even within the Wizarding community, he is special. He is the boy who lived: the only person to have ever survived a killing curse inflicted by the evil Lord Voldemort, who launched a brutal takeover of the Wizarding world, only to vanish after failing to kill Harry.
Though Harry's first year at Hogwarts is the best of his life, not everything is perfect. There is a dangerous secret object hidden within the castle walls, and Harry believes it's his responsibility to prevent it from falling into evil hands. But doing so will bring him into contact with forces more terrifying than he ever could have imagined.
Full of sympathetic characters, wildly imaginative situations, and countless exciting details, the first installment in the series assembles an unforgettable magical world and sets the stage for many high-stakes adventures to come.
This steam punk faerie fantasy is emotional and adventurous. It's excellent for cozy autumn nights.
One girl's nightmare is this girl's faery tale.
She's a stunner. Edinburgh, 1844. Eighteen-year-old Lady Aileana Kameron, the only daughter of the Marquess of Douglas, has everything a girl could dream of: brains, charm, wealth, a title—and drop-dead beauty.
She's a liar. But Aileana only looks the part of an aristocratic young lady. she's leading a double life: She has a rare ability to sense the sìthíchean—the faery race obsessed with slaughtering humans—and, with the aid of a mysterious mentor, has spent the year since her mother died learning how to kill them.
She's a murderer. Now Aileana is dedicated to slaying the fae before they take innocent lives. With her knack for inventing ingenious tools and weapons—from flying machines to detonators to lightning pistols—ruthless Aileana has one goal: Destroy the faery who destroyed her mother.
She's a Falconer. The last in a line of female warriors born with a gift for hunting and killing the fae, Aileana is the sole hope of preventing a powerful faery population from massacring all of humanity. Suddenly, her quest is a lot more complicated. She still longs to avenge her mother's murder—but she'll have to save the world first.
The first volume of a trilogy from an exciting new voice in young adult fantasy, this electrifying thriller combines romance and action, steampunk technology and Scottish lore in a deliciously addictive read.
After losing her fiancé in the Vietnam War, nineteen-year-old Laurel Haley takes a job in England, hoping the distance will mend her shattered heart. Laurel expects the pain might lessen but does not foresee the beguiling man she meets or that they'll go to Paris, where the city's magic will take over and alter everything Laurel believes about love.
Thirty years later, Laurel's daughter Annie is newly engaged and an old question resurfaces: who is Annie's father and what happened to him? Laurel has always been vague about the details and Annie's told herself it doesn't matter. But with her impending marriage, Annie has to know everything. Why won't Laurel tell her the truth?
The key to unlocking Laurel's secrets starts with a mysterious book about an infamous woman known as the Duchess of Marlborough. Annie's quest to understand the Duchess, and therefore her own history, takes her from a charming hamlet in the English countryside, to a decaying estate kept behind barbed wire, and ultimately to Paris where answers will be found at last.
A full-hearted novel about a big-city baker who discovers the true meaning of home–and that sometimes the best things are found when you didn't even know you were looking
When Olivia Rawlings–pastry chef extraordinaire for an exclusive Boston dinner club–sets not just her flambeed dessert but the entire building alight, she escapes to the most comforting place she can think of–the idyllic town of Guthrie, Vermont, home of Bag Balm, the country's longest-running contra dance, and her best friend Hannah. But the getaway turns into something more lasting when Margaret Hurley, the cantankerous, sweater-set-wearing owner of the Sugar Maple Inn, offers Livvy a job. Broke and knowing that her days at the club are numbered, Livvy accepts.
Livvy moves with her larger-than-life, uberenthusiastic dog, Salty, into a sugarhouse on the inn's property and begins creating her mouthwatering desserts for the residents of Guthrie. She soon uncovers the real reason she has been hired–to help Margaret reclaim the inn's blue ribbon status at the annual county fair apple pie contest.
With the joys of a fragrant kitchen, the sound of banjos and fiddles being tuned in a barn, and the crisp scent of the orchard just outside the front door, Livvy soon finds herself immersed in small town life. And when she meets Martin McCracken, the Guthrie native who has returned from Seattle to tend his ailing father, Livvy comes to understand that she may not be as alone in this world as she once thought.
But then another new arrival takes the community by surprise, and Livvy must decide whether to do what she does best and flee–or stay and finally discover what it means to belong. Olivia Rawlings may finally find out that the life you want may not be the one you expected–it could be even better.
Nadia gets the 7.30 train every morning without fail. Well, except if she oversleeps or wakes up at her friend Emma's after too much wine.
Daniel really does get the 7.30 train every morning, which is easy because he hasn't been able to sleep properly since his dad died.
One morning, Nadia's eye catches sight of a post in the daily paper:
To the cute girl with the coffee stains on her dress. I'm the guy who's always standing near the doors… Drink sometime?
So begins a not-quite-romance of near-misses, true love, and the power of the written word.
Far beneath the surface of the earth, upon the shores of the Starless Sea, there is a labyrinthine collection of tunnels and rooms filled with stories. The entryways that lead to this sanctuary are often hidden, sometimes on forest floors, sometimes in private homes, sometimes in plain sight. But those who seek will find. Their doors have been waiting for them.
Zachary Ezra Rawlins is searching for his door, though he does not know it. He follows a silent siren song, an inexplicable knowledge that he is meant for another place. When he discovers a mysterious book in the stacks of his campus library he begins to read, entranced by tales of lovelorn prisoners, lost cities, and nameless acolytes. Suddenly a turn of the page brings Zachary to a story from his own childhood impossibly written in this book that is older than he is.
A bee, a key, and a sword emblazoned on the book lead Zachary to two people who will change the course of his life: Mirabel, a fierce, pink-haired painter, and Dorian, a handsome, barefoot man with shifting alliances. These strangers guide Zachary through masquerade party dances and whispered back room stories to the headquarters of a secret society where doorknobs hang from ribbons, and finally through a door conjured from paint to the place he has always yearned for. Amid twisting tunnels filled with books, gilded ballrooms, and wine-dark shores Zachary falls into an intoxicating world soaked in romance and mystery. But a battle is raging over the fate of this place and though there are those who would willingly sacrifice everything to protect it, there are just as many intent on its destruction. As Zachary, Mirabel, and Dorian venture deeper into the space and its histories and myths, searching for answers and each other, a timeless love story unspools, casting a spell of pirates, painters, lovers, liars, and ships that sail upon a Starless Sea.
A charming and laugh-out-loud novel by Lauren Graham, beloved star of Parenthood and Gilmore Girls, about an aspiring actress trying to make it in mid-nineties New York City.
Franny Banks is a struggling actress in New York City, with just six months left of the three-year deadline she gave herself to succeed. But so far, all she has to show for her efforts is a single line in an ad for ugly Christmas sweaters and a degrading waitressing job. She lives in Brooklyn with two roommates – Jane, her best friend from college, and Dan, a sci-fi writer, who is very definitely not boyfriend material – and is struggling with her feelings for a suspiciously charming guy in her acting class, all while trying to find a hair-product cocktail that actually works.
Meanwhile, she dreams of doing "important" work, but only ever seems to get auditions for dishwashing liquid and peanut butter commercials. It's hard to tell if she'll run out of time or money first, but either way, failure would mean facing the fact that she has absolutely no skills to make it in the real world. Her father wants her to come home and teach, her agent won't call her back, and her classmate Penelope, who seems supportive, might just turn out to be her toughest competition yet.
Someday, Someday, Maybe is a funny and charming debut about finding yourself, finding love, and, most difficult of all, finding an acting job.
This was the first fantasy series I ever read (at 6 years old) and I highly recommend starting with The Magician's Nephew and going from there. If you want the biggest bite of Narnia, however, go ahead and read The Lion, The Witch, and the Wardrobe. It's a great starting point.
Narnia…the land beyond the wardrobe door, a secret place frozen in eternal winter, a magical country waiting to be set free.
Lucy is the first to find the secret of the wardrobe in the professor's mysterious old house. At first her brothers and sister don't believe her when she tells of her visit to the land of Narnia. But soon Edmund, then Peter and Susan step through the wardrobe themselves. In Narnia they find a country buried under the evil enchantment of the White Witch. When they meet the Lion Aslan, they realize they've been called to a great adventure and bravely join the battle to free Narnia from the Witch's sinister spell.
Tiffy and Leon share a flat
Tiffy and Leon share a bed
Tiffy and Leon have never met…
Tiffy Moore needs a cheap flat, and fast. Leon Twomey works nights and needs cash. Their friends think they're crazy, but it's the perfect solution: Leon occupies the one-bed flat while Tiffy's at work in the day, and she has the run of the place the rest of the time.
But with obsessive ex-boyfriends, demanding clients at work, wrongly imprisoned brothers and, of course, the fact that they still haven't met yet, they're about to discover that if you want the perfect home you need to throw the rulebook out the window…
Where do you see yourself in five years?
When Type-A Manhattan lawyer Dannie Cohan is asked this question at the most important interview of her career, she has a meticulously crafted answer at the ready. Later, after nailing her interview and accepting her boyfriend's marriage proposal, Dannie goes to sleep knowing she is right on track to achieve her five-year plan.
But when she wakes up, she's suddenly in a different apartment, with a different ring on her finger, and beside a very different man. The television news is on in the background, and she can just make out the scrolling date. It's the same night—December 15—but 2025, five years in the future.
After a very intense, shocking hour, Dannie wakes again, at the brink of midnight, back in 2020. She can't shake what has happened. It certainly felt much more than merely a dream, but she isn't the kind of person who believes in visions. That nonsense is only charming coming from free-spirited types, like her lifelong best friend, Bella. Determined to ignore the odd experience, she files it away in the back of her mind.
That is, until four-and-a-half years later, when by chance Dannie meets the very same man from her long-ago vision.
Brimming with joy and heartbreak, In Five Years is an unforgettable love story that reminds us of the power of loyalty, friendship, and the unpredictable nature of destiny.
This trilogy is the perfect magical escape for autumn. You won't want to put it down once you've begun! You may have noticed my "Kell London" custom mug in the photos above. You can purchase one of your own from Wicked Whimsy Boutique.
Kell is one of the last Antari—magicians with a rare, coveted ability to travel between parallel Londons; Red, Grey, White, and, once upon a time, Black.
Kell was raised in Arnes—Red London—and officially serves the Maresh Empire as an ambassador, traveling between the frequent bloody regime changes in White London and the court of George III in the dullest of Londons, the one without any magic left to see.
Unofficially, Kell is a smuggler, servicing people willing to pay for even the smallest glimpses of a world they'll never see. It's a defiant hobby with dangerous consequences, which Kell is now seeing firsthand.
After an exchange goes awry, Kell escapes to Grey London and runs into Delilah Bard, a cut-purse with lofty aspirations. She first robs him, then saves him from a deadly enemy, and finally forces Kell to spirit her to another world for a proper adventure.
Now perilous magic is afoot, and treachery lurks at every turn. To save all of the worlds, they'll first need to stay alive.
I recommend this entire saga. Then read Midnight Sun, a retelling of Twilight from Edward's perspective (and in my opinion, the superior Twilight)!
About three things I was absolutely positive.
First, Edward was a vampire.
Second, there was a part of him—and I didn't know how dominant that part might be—that thirsted for my blood.
And third, I was unconditionally and irrevocably in love with him.
Deeply seductive and extraordinarily suspenseful, Twilight is a love story with bite.
Eileen is sick of being 79.
Leena's tired of life in her twenties.
Maybe it's time they swapped places…
When overachiever Leena Cotton is ordered to take a two-month sabbatical after blowing a big presentation at work, she escapes to her grandmother Eileen's house for some overdue rest. Eileen is newly single and about to turn eighty. She'd like a second chance at love, but her tiny Yorkshire village doesn't offer many eligible gentlemen.
Once Leena learns of Eileen's romantic predicament, she proposes a solution: a two-month swap. Eileen can live in London and look for love. Meanwhile Leena will look after everything in rural Yorkshire. But with gossiping neighbours and difficult family dynamics to navigate up north, and trendy London flatmates and online dating to contend with in the city, stepping into one another's shoes proves more difficult than either of them expected.
Leena learns that a long-distance relationship isn't as romantic as she hoped it would be, and then there is the annoyingly perfect – and distractingly handsome – school teacher, who keeps showing up to outdo her efforts to impress the local villagers. Back in London, Eileen is a huge hit with her new neighbours, but is her perfect match nearer home than she first thought?
A sweeping, multi-layered romance with a divine twist, by the Printz Honor-winning author of The Passion of Dolssa, set in the perilous days of World Wars I and II.
It's 1917, and World War I is at its zenith when Hazel and James first catch sight of each other at a London party. She's a shy and talented pianist; he's a newly minted soldier with dreams of becoming an architect. When they fall in love, it's immediate and deep–and cut short when James is shipped off to the killing fields.
Aubrey Edwards is also headed toward the trenches. A gifted musician who's played Carnegie Hall, he's a member of the 15th New York Infantry, an all-African-American regiment being sent to Europe to help end the Great War. Love is the last thing on his mind. But that's before he meets Colette Fournier, a Belgian chanteuse who's already survived unspeakable tragedy at the hands of the Germans.
Thirty years after these four lovers' fates collide, the Greek goddess Aphrodite tells their stories to her husband, Hephaestus, and her lover, Ares, in a luxe Manhattan hotel room at the height of World War II. She seeks to answer the age-old question: Why are Love and War eternally drawn to one another? But her quest for a conclusion that will satisfy her jealous husband uncovers a multi-threaded tale of prejudice, trauma, and music and reveals that War is no match for the power of Love.
---
shop the books

Which cozy books do you enjoy reading when autumn rolls around?
---
pin for later