A huge thank-you to the publisher for this review copy of Half a Soul (Regency Faerie Tales #1) by Olivia Atwater.
Regency faerie tales are such a niche book category and I've recently discovered that I'm a huge fan, after reading Half a Soul by Olivia Atwater.
When I was a kid, I was a huge fan of historical fiction – whether that included fantasy or not. As I got older, that interest faded to practically nonexistent. In the last few years, I've avoided anything historical because it seemed each time I read something that took place in another era, I was bored stiff. This was not the case with Half a Soul. While the regency era is typically one of my least favorites, this book absolutely blew me away and I truly had a tough time putting it down, reading it almost entirely in one sitting!
Another thing I'm incredibly picky about when it comes to my fantasy books is how faeries are represented. Yes, as I'm reading that sentence, I realize how nerdy I sound and I don't even care. After several experiences with faerie books that I absolutely loathed (*cough*ACOTAR*cough*), I became super wary of any paranormal fantasy novels with these creatures. However, Half a Soul did a magnificent job with them. It was truly everything I wanted from this kind of novel and now… I think I might be hooked on regency faerie tales?
If you're looking for something entirely out of the ordinary, perfect for fall, and filled with excellent writing, humor, and sweet romance, you'll absolutely love Half a Soul. Keep reading to see my full, five-star review!
---
LOOKING FOR MORE BOOK REVIEWS?
My honest review of Half a Soul by Olivia Atwater.
Synopsis:
It's difficult to find a husband in Regency England when you're a young lady with only half a soul.
Ever since she was cursed by a faerie, Dora Ettings has had no sense of fear or embarrassment – a condition which makes her prone to accidental scandal. When Elias Wilder, the handsome, strange and utterly uncouth Lord Sorcier of England discovers Dora's condition, she finds herself drawn ever more deeply into the peculiar, and dangerous, faerie world.
If Dora's reputation can survive both her curse and her sudden connection with the least-liked man in all of high society, then she may yet reclaim her normal place in the world. . . but the longer Dora spends with Elias Wilder, the more she begins to suspect that one may indeed fall in love, even with only half a soul.
Bridgerton meets Howl's Moving Castle in this enchanting historical fantasy romance with a delightful Regency setting, where the only thing more meddlesome than faeries is a marriage-minded mother.
Content Warnings: (major) Abandonment and Bullying, (moderate) Blood, Death, Child abuse, and Murder, (minor) Death of parent
Can someone please tell me why we aren't talking about this book more? It is spectacular! My only complaint is that I didn't read it sooner. I'm truly not one for regency-era novels and I'm always wary of faerie tales (after being completely put off by several over-hyped fantasy series), but Half a Soul blew me away!
The characters are wonderfully well-rounded. From the very beginning of the book, you have a soft spot for Dora, whose soul was severed by a wicked faerie when she was a child. Her emotions are dulled and therefore she doesn't have the proper reactions in social settings and is frowned upon by most of society. It's easy to take pity on her at first and as the story moves forward, it's a thrill to find yourself feeling empowered by her lack of fear and determination to help those around her. She's the epitome of a badass female character and I loved her for it.
Elias is a grump in every sense of the word, but he also has a surprisingly big heart. While he has magic at his fingertips, he doesn't use it frivolously. Instead, he's an incredibly intelligent person who has worked hard to achieve his goals and uses his powers only for good. Having Albert as a friend gave great perspective because it's easy to think Elias is just a stuck-up prick, but you realize as you read that he's actually quite tender and good. His quotes were my favorite in the entire book. One, in particular, stood out to me:
"There is such a thing as eveil in this world," Elias told her quietly. "It does not help to look away from it. It does not even help necessarily to look at it." His fingers brushed through her hair, and she shivered. "But sometimes, when you cannot force the world to come to its senses, you must settle only for wiping away some of the small evils in front of you."
As I read, I fell in love. I fell in love with the characters – however major or minor their role was. I fell in love with the sweeping dialogue. I fell in love with the mystery behind Dora's split soul. I fell in love with the romance and the way that it was subtle and sweet and everything I needed. I had a tough time putting the book down, which is an indicator of how much I enjoyed reading it. The moment I had finished it, I proceeded to add the next two novels in the series to my TBR. I can only hope they live up to how magnificent this one was!
If you're looking for a fantasy novel that doesn't feel like every other fantasy novel out there right now (in particular, the faerie ones), you'll want to read Half a Soul. It landed itself on my favorites list for the year without any questions asked!
---
purchase the book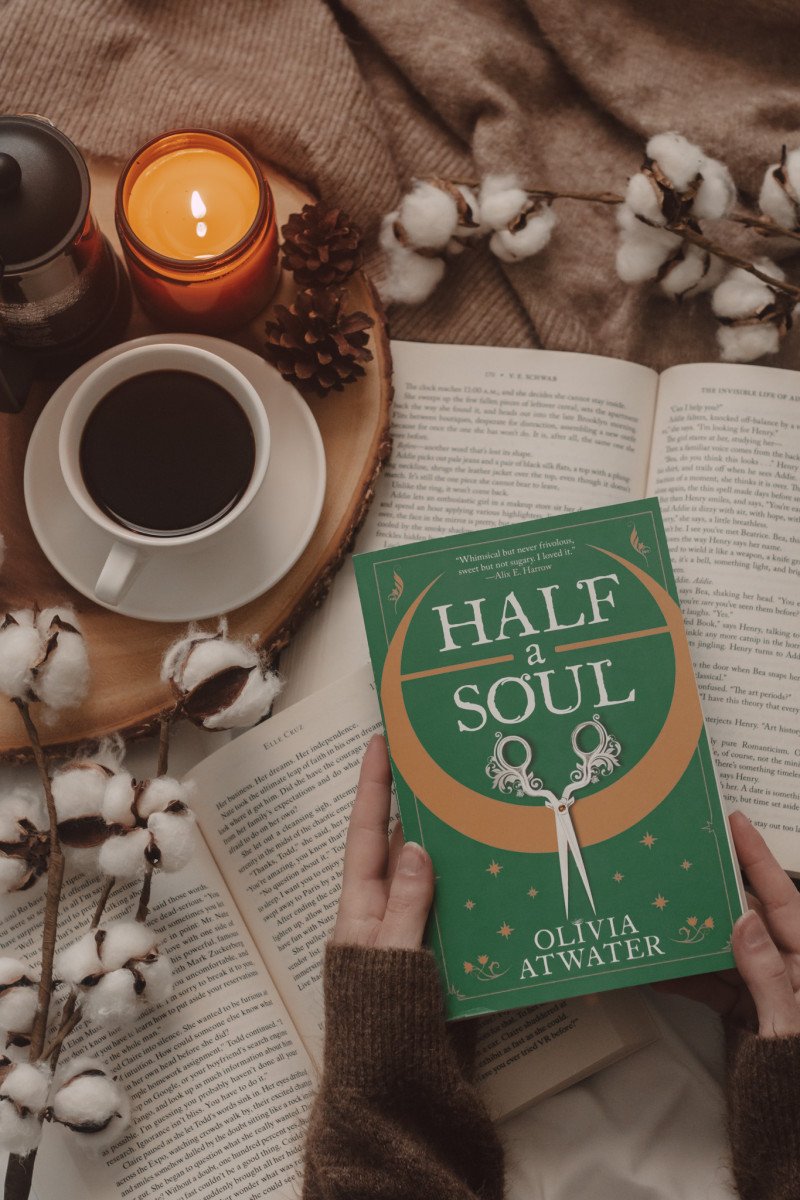 Will you be reading Half a Soul?
---
pin for later