This post was originally written in November 2020. It has been updated to share the 12 best Christmas books to read this holiday season!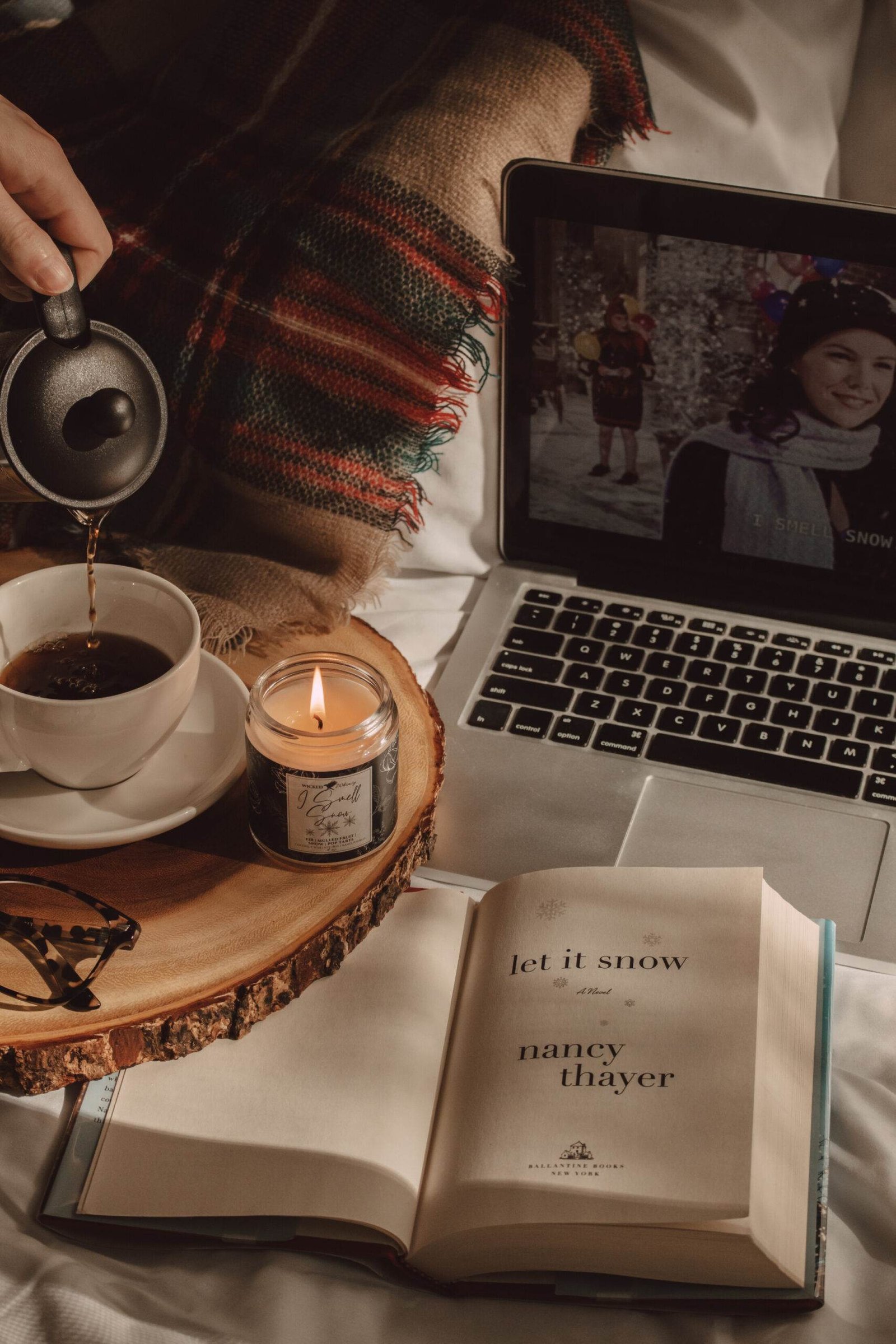 In my home, the most wonderful time of the year is also the longest. I'm getting a head start on my list of cozy Christmas books and sharing them with you!
Cheesy holiday movies are excellent and so are adorably festive books! Each Christmas season, I have a jam-packed TBR list during the month of December. Every year, updating this post inevitably makes me want to reread all of my favorite titles. I can almost guarantee that several of them will wind up in my hands at some point or another during this season. They're just so sweet and festive!
You'll notice the name Karen Schaler a few times on this list. That's because she's my absolute favorite Christmas author. If you loved A Christmas Prince (the holiday movie trilogy on Netflix), you'll have to check out her novels. She's the screenwriter for the movies and does an excellent job bringing holiday cheer into her work! If you have any favorite cozy Christmas books, please share them with me as well, because I know I'll want to keep discovering new titles each year!
---
shop the post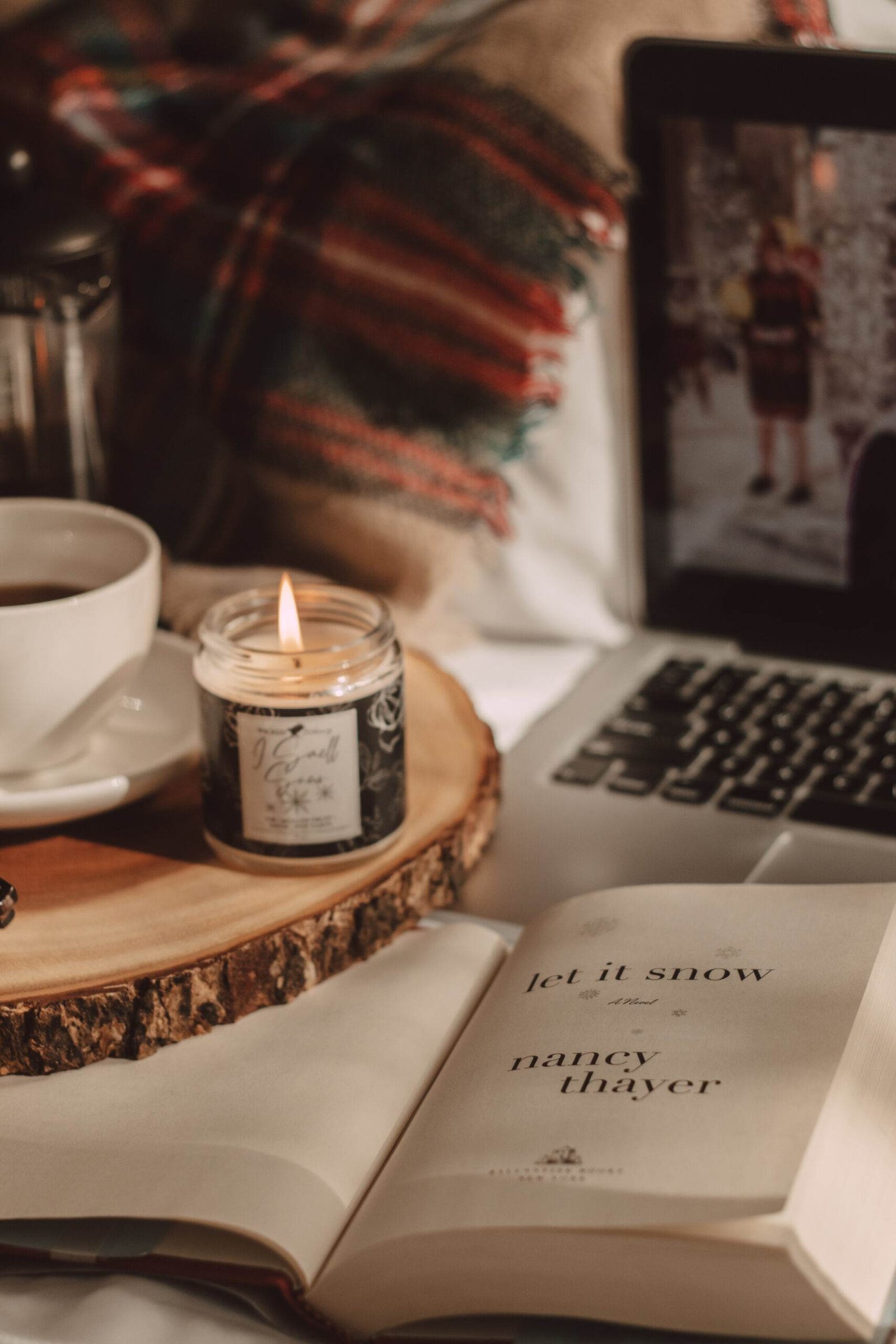 12 Cozy Christmas Books to Curl Up With This Winter
If you're interested in reading my reviews of these books as I read them, follow my StoryGraph account and take a look at my bookstagram for more aesthetic book photography.
by Karen Schaler
Synopsis
From the writer of the Netflix sensation, A Christmas Prince, and Christmas Camp, the Hallmark movie and novel, comes a heartwarming new Christmas story, Finding Christmas, showing how sometimes the detour in your journey is the path to true love.
With all the glittering decorations, twinkling lights, snow angels, gingerbread men and mistletoe, Christmas is Emmie's first love.
This year, she can't wait to share her favorite Christmas traditions with her boyfriend, Grant. She thinks he's "the one." So when Grant's hectic work schedule has him more "Bah Humbug" than "Ho, Ho, Ho," Emmie creates a holiday-themed scavenger hunt to help him find his Christmas spirit. At the end of the journey, Grant will arrive at the charming town of Christmas Point where she's planned a romantic weekend filled with holiday activities.
But Emmie's plan backfires when a mix-up has the wrong guy following her clues Sam, a best-selling mystery writer, thinks Emmie's clever Christmas riddles are from his agent, who is trying to help him get over his epic writer's block.
When he arrives at Christmas Point and finds the stunned Emmie, he immediately feels she's someone special, but she can't see beyond the fact that the wrong guy has shown up. Inspired by the small, charming town, Sam decides to stay and convinces Emmie to join him in a little holiday fun while she waits for Grant.
When Grant finally shows up, Emmie is disappointed to discover he's not enjoying the activities she planned and can't help wonder if he's really the one for her. She also can't get Sam out of her mind and all the great times they had together. With Christmas coming fast, Emmie will need the magic of the season to help steer her in the direction of true love…
by Cynthia Hand
Synopsis
On Christmas Eve five years ago, seventeen-year-old Holly Chase was visited by three Ghosts who showed her how selfish and spoiled she'd become. They tried to convince her to mend her ways. She didn't. And then she died.
Now she's stuck working for the top-secret company Project Scrooge—as their latest Ghost of Christmas Past. So far, Holly's afterlife has been miserable. But this year's Scrooge is different. This year's Scrooge might change everything…
The Afterlife of Holly Chase is a witty, poignant, and insightful novel about life, love, and seizing second (or third) chances, perfect for listeners who loved Before I Fall or Dash & Lily's Book of Dares.
by Jenny Bayliss
Synopsis
'Tis the season for finding romance in this hilarious and uplifting holiday read.
When it comes to relationships, thirty-four-year-old Kate Turner is ready to say Bah, humbug. The sleepy town of Blexford, England, isn't exactly brimming with prospects, and anyway, Kate's found fulfillment in her career as a designer, and in her delicious side job baking for her old friend Matt's neighborhood cafe. But then her best friend signs her up for a dating agency that promises to help singles find love before the holidays. Twenty-three days until Christmas. Twelve dates with twelve different men. The odds must finally be in her favor . . . right?
Yet with each new date more disastrous than the one before–and the whole town keeping tabs on her misadventures–Kate must remind herself that sometimes love, like mistletoe, shows up where it's least expected. And maybe, just maybe, it's been right under her nose all along. . . .
by Karen Schaler
Synopsis
Now a Hallmark Original Movie
From the screenwriter of the smash Netflix hit, A CHRISTMAS PRINCE, comes her debut novel about a woman who discovers the true meaning of Christmas, with the help of a unique camp and a very special someone. Now with the Bonus Short Story CHRISTMAS CAMP WEDDING
Haley Hanson's idea of the perfect Christmas is escaping to the Caribbean to work so she can avoid all the traditional Christmas distractions. Over the years, she's sacrificed her personal life to climb the corporate ladder at a prestigious Boston advertising agency. Now she just needs to land a coveted Christmas toy company account to make partner. But first her boss thinks she needs a holiday attitude adjustment and ships her off to a Christmas Camp at Holly Peak Inn to help her find her Christmas spirit.
Arriving at the charming mountainside inn, Haley meets the owner's handsome son, Jeff, and feels an instant spark, but resists the attraction, refusing to be distracted from her goal of doing all the required Christmas tasks as fast as possible so she can get back to work.
At first Haley struggles with all the traditional Christmas Camp activities. It's not until she finally allows herself to slow down, live in the moment, and let Christmas back into her heart, that she begins to grow closer to Jeff. But when he finds out Haley's come up with a plan to help his dad save the struggling inn while he's been trying to convince his dad to sell it, their relationship takes a serious holiday hit. Now it will take the magic of the season to bring these two hearts together.
by Matt Haig
Synopsis
Before there was Santa Claus, there was a young boy who believed in the impossible. . . . Lemony Snicket meets Klaus in this cheeky, Christmas classic-in-the-making that sparkles with wit and warmth
Eleven-year-old Nikolas-nicknamed Christmas-has received only one toy in his life: a doll carved out of a turnip. But he's happy with his turnip doll, because it came from his parents, who love him. Then one day his father goes missing, and Nikolas must travel to the North Pole to save him.
Along the way, Nikolas befriends a surly reindeer, bests a troublesome troll, and discovers a hidden world of enchantment in the frozen village of Elfhelm. But the elves of Elfhelm have troubles of their own: Christmas spirit and goodwill are at an all-time low, and Nikolas may be the only person who can fix things-if only he can reach his father before it's too late. . . .
by Karen Schaler
Synopsis
This feel-good, humorous, and heartwarming new Christmas romance, about the power of believing in yourself to find your happily ever after, is from the Emmy Award-winning writer of the Netflix sensation A Christmas Prince and Hallmark's beloved Christmas Camp, the movie and novel. This enchanting escape is just what your heart needs this holiday season…

A charming Christmas village, a storybook castle, a royal ball, and a gorgeous prince are the last things New York City reporter Kaylie Karlyle expects to find on her holiday freelance assignment to Europe. But when the family she's interviewing turns out to be the royal family of Tolvania, Kaylie has a meltdown when the quirky queen wants her to write a Christmas fairy tale for the spunky, young princess. Kaylie must battle the princess's father, who doesn't trust the media, and her own insecurities about writing anything beyond the news.
To spark inspiration for the fairy tale, the queen recruits the prickly Prince Alexander to show Kaylie the family's most spectacular royal holiday traditions. And sparks definitely fly when the only thing Kaylie and the prince agree on is that they're both more "bah humbug" than "ho, ho, ho."
But somewhere between sleigh rides and snow angels, merrymaking and mistletoe, upside-down Christmas trees, and a legendary Christmas crown, Kaylie and the prince open their hearts to Christmas and start believing in themselves and each other. It's a real-life fairy tale in the making until Kaylie discovers a secret about a royal Christmas heirloom that jeopardizes everyone's happily ever after. Can the magic of the season save this holiday happy ending?
by Kara McDowell
Synopsis
Sliding Doors meets To All the Boys I've Loved Before in a sweet, smart holiday romance about a girl who decides to stop letting her anxiety stand in the way of true love.
The average person makes 35,000 decisions every single day. That's about 34,999 too many for Paige Collins, who lives in debilitating fear of making the wrong choice. The simple act of picking an art elective is enough to send her into a spiral of what-ifs. What if she's destined to be a famous ceramicist but wastes her talent in drama club? What if there's a carbon monoxide leak in the ceramics studio and everyone drops dead? (Grim, but possible )
That's why when Paige is presented with two last-minute options for Christmas vacation, she's paralyzed by indecision. Should she go with her best friend (and longtime crush) Fitz to his family's romantic mountain cabin? Or should she accompany her mom to New York, a city Paige has spent her whole life dreaming about?
Just when it seems like Paige will crack from the pressure of choosing, fate steps in — in the form of a slippery grocery store floor — and Paige's life splits into two very different parallel paths. One path leads to New York where Paige falls for the city . . . and the charms of her unexpected tour guide. The other leads to the mountains where Paige might finally get her chance with Fitz . . . until her anxiety threatens to ruin everything.
However, before Paige gets her happy ending in either destiny, she'll have to face the truth about her struggle with anxiety — and learn that you don't have to be perfect to deserve true love.
by Alison Cochrun
Synopsis
The author of the "swoon-worthy debut" (Harper's Bazaar) The Charm Offensive returns with a festive romantic comedy about a woman who fakes an engagement with her landlord…only to fall for his sister.
One year ago, recent Portland transplant Ellie Oliver had her dream job in animation and a Christmas Eve meet-cute with a woman at a bookstore that led her to fall in love over the course of a single night. But after a betrayal the next morning and the loss of her job soon after, she finds herself adrift, alone, and desperate for money.
Finding work at a local coffee shop, she's just getting through the days—until Andrew, the shop's landlord, proposes a shocking, drunken plan: a marriage of convenience that will give him his recent inheritance and alleviate Ellie's financial woes and isolation. They make a plan to spend the holidays together at his family cabin to keep up the ruse. But when Andrew introduces his new fiancée to his sister, Ellie is shocked to discover it's Jack—the mysterious woman she fell for over the course of one magical Christmas Eve the year before. Now, Ellie must choose between the safety of a fake relationship and the risk of something real.
Perfect for fans of Written in the Stars and One Day in December, Kiss Her Once for Me is the queer holiday rom-com that you'll want to cozy up with next to the fire.
by Christina Lauren
Synopsis
One Christmas wish, two brothers, and a lifetime of hope are on the line for hapless Maelyn Jones in In a Holidaze, the quintessential holiday romantic novel by Christina Lauren, the New York Times bestselling author of The Unhoneymooners.
It's the most wonderful time of the year…but not for Maelyn Jones. She's living with her parents, hates her going-nowhere job, and has just made a romantic error of epic proportions.
But perhaps worst of all, this is the last Christmas Mae will be at her favorite place in the world—the snowy Utah cabin where she and her family have spent every holiday since she was born, along with two other beloved families. Mentally melting down as she drives away from the cabin for the final time, Mae throws out what she thinks is a simple plea to the universe: Please. Show me what will make me happy.
The next thing she knows, tires screech and metal collides, everything goes black. But when Mae gasps awake…she's on an airplane bound for Utah, where she begins the same holiday all over again. With one hilarious disaster after another sending her back to the plane, Mae must figure out how to break free of the strange time loop—and finally get her true love under the mistletoe.
by Karen Schaler
Synopsis
From Karen Schaler, the writer of the Netflix phenomenon A Christmas Prince and Hallmark's Christmas Camp comes this new heartwarming holiday romance. Mamma Mia meets The Bachelorette in Christmas Ever After…
While promoting her next novel, a Christmas love story, author Riley Reynolds is caught off guard when she's asked during a live national television interview how she can write about romance when she still hasn't found "the one" herself. Scrambling for an answer, she quickly answers that she has had great love in her past and that love inspired her novels.
Little does she know that this one offhanded remark will turn her world upside down. Three of her ex-boyfriends see the interview, and each, believing she's talking about him, shows up for her Christmas Camp book event at the Christmas Lake Lodge, determined to rewrite his happily-ever-after with her!
Over the festive weekend, Riley's old boyfriends compete to win her heart, pulling out all the stops while planning the most romantic Christmas dates on the planet. Despite herself, Riley starts falling for each guy— again—but for different reasons. As Riley revisits each relationship and discovers more about herself, she embraces the magic of Christmas and finally finds true love and her own Christmas ever after…
by Nancy Thayer
Synopsis
A Nantucket shopkeeper discovers that Christmas is the perfect occasion to make unexpected friendships . . . to warm the coldest of hearts–and maybe even find love.
Christina Antonioni is preparing for the holidays at her Nantucket toy shop, unpacking last-minute shipments and decorating for her loyal Christmas shoppers. But when her Scrooge of a landlord, Oscar Bittlesman, raises her rent, it seems nearly impossible for Christina to continue business on the wharf.
Even so, Christina hopes there is a warm heart underneath Oscar's steely exterior. When she bonds with Wink, his sweet, young granddaughter who frequents the shop, it becomes clear that perhaps he isn't so cold after all. And with the help of Wink's uncle, who happens to be a charming and very handsome bachelor, this may be the best Christmas any of them could have ever imagined. Nancy Thayer's enchanting Nantucket setting provides the perfect backdrop for this holiday love story.
by Sarah Morgenthaler
Synopsis
How the moose (almost) stole Christmas.
Lana Montgomery is everything the quirky small town of Moose Springs, Alaska can't stand: a rich socialite with dreams of changing things for the better. But Lana's determined to prove that she belongs…even if it means trading her stilettos for snow boots and tracking one of the town's hairiest Christmas mysteries: the Santa Moose, an antlered Grinch hell-bent on destroying every bit of holiday cheer (and tinsel) it can sink its teeth into.
And really…how hard could it be?
The last few years have been tough on Rick Harding, and it's not getting any easier now that his dream girl's back in town. When Lana accidentally tranquilizes him instead of the Santa Moose, it's clear she needs help, fast…and this could be his chance to finally catch her eye. It's an all-out Christmas war, but if they can nab that darn moose before it destroys the town, Rick and Lana might finally find a place where they both belong…together.
---
related posts
Will you be reading any festive Christmas books this holiday season?
---
pin for later