This post is in partnership with Graduate Richmond.  As always, all opinions are my own.  Thank you for supporting the companies that support The Espresso Edition.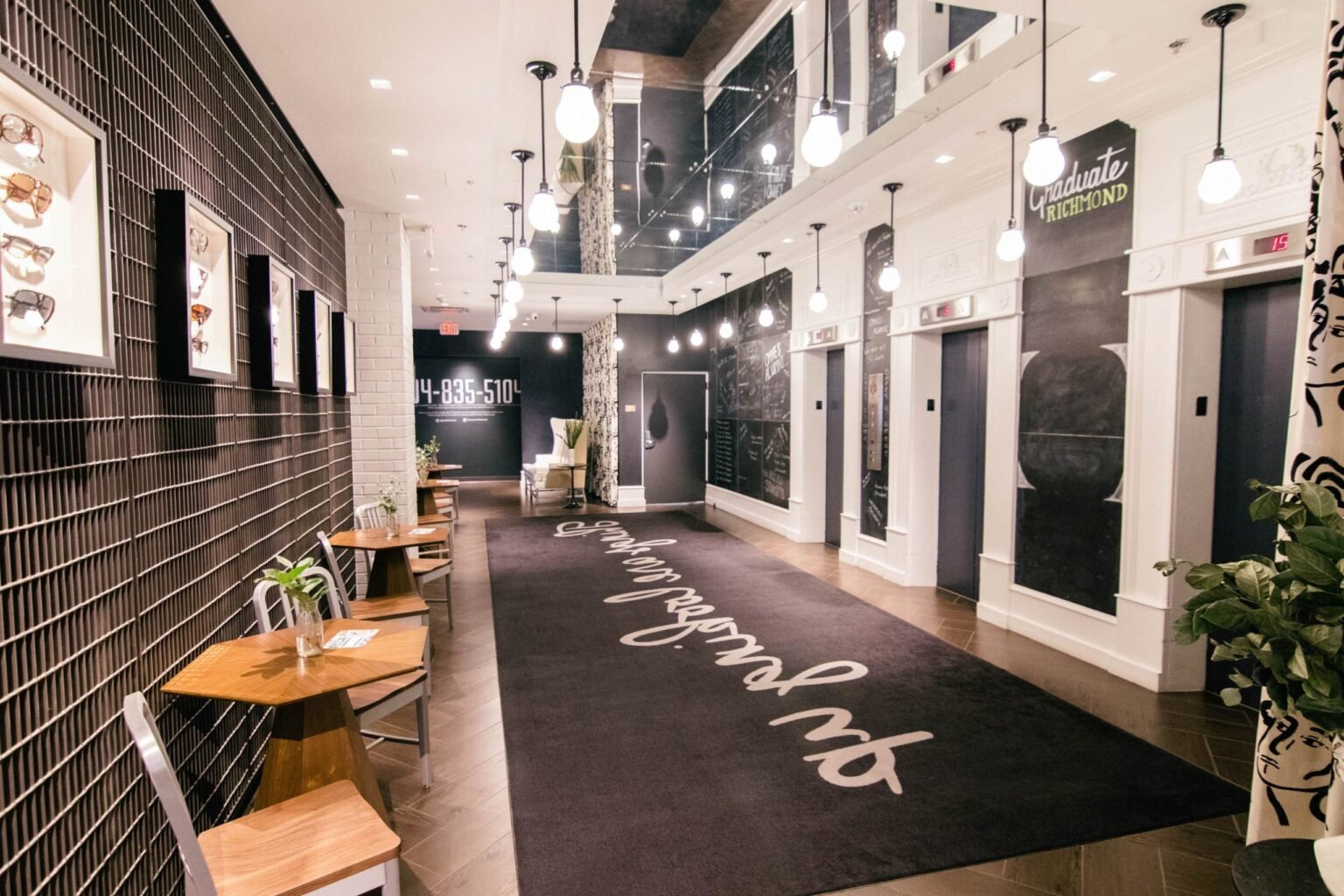 Over my birthday, I had the immense pleasure of staycationing at the Graduate Richmond.
This hotel is located within the heart of Richmond, in the VCU district – close to … well, everything.  When we pulled up, valet kindly parked our car so we didn't have to navigate city street parking.  We were given (the cutest) set of keys to our room – with Wesley Schultz on them (for anyone who doesn't know, that's the lead singer of The Lumineers, and he went to school in Richmond)!  The lobby greeted us with plush gingham chairs, velvet couches, and the best pattern mixing I've ever seen in my life. In fact, I could learn a thing or two from their decor!
Fun shadow boxes with spectacles and sunglasses hung above the tables by the elevator.  Chalkboard art kept your attention while waiting for the elevator bell to ding, and my personal favorite decoration? The rug that confused the daylights out of me with its backwards lettering, until I realized that the mirror on the ceiling decoded the phrase, "Things are looking up."  So creative!
Upon entering our room, the first thing I noticed was the pleasant aroma.  Not sure if there was a wall plugin somewhere I couldn't see or if they just clean with really great-smelling products, but it was incredibly comforting and homey.  We were given the "Graduate Corner King" room, with an inviting king-sized bed, velvet sleeper sofa, and a roomy working station (which I certainly took advantage of).
From punk rock band posters, to art of the American Foxhound (Virginia's state dog), a sketch of Arthur Ashe, a rotary phone, and even a vibrant orange lounge chair, the decor was once again on point – just like the lobby.
We were kindly given access to Byrd House, the rooftop which seasonally provides a pool and bar to enjoy in comfortable weather.  While it's not opened to the public until April, we got the opportunity to experience the view and a mini tour, and we cannot wait to come back for sunset drinks in the late spring!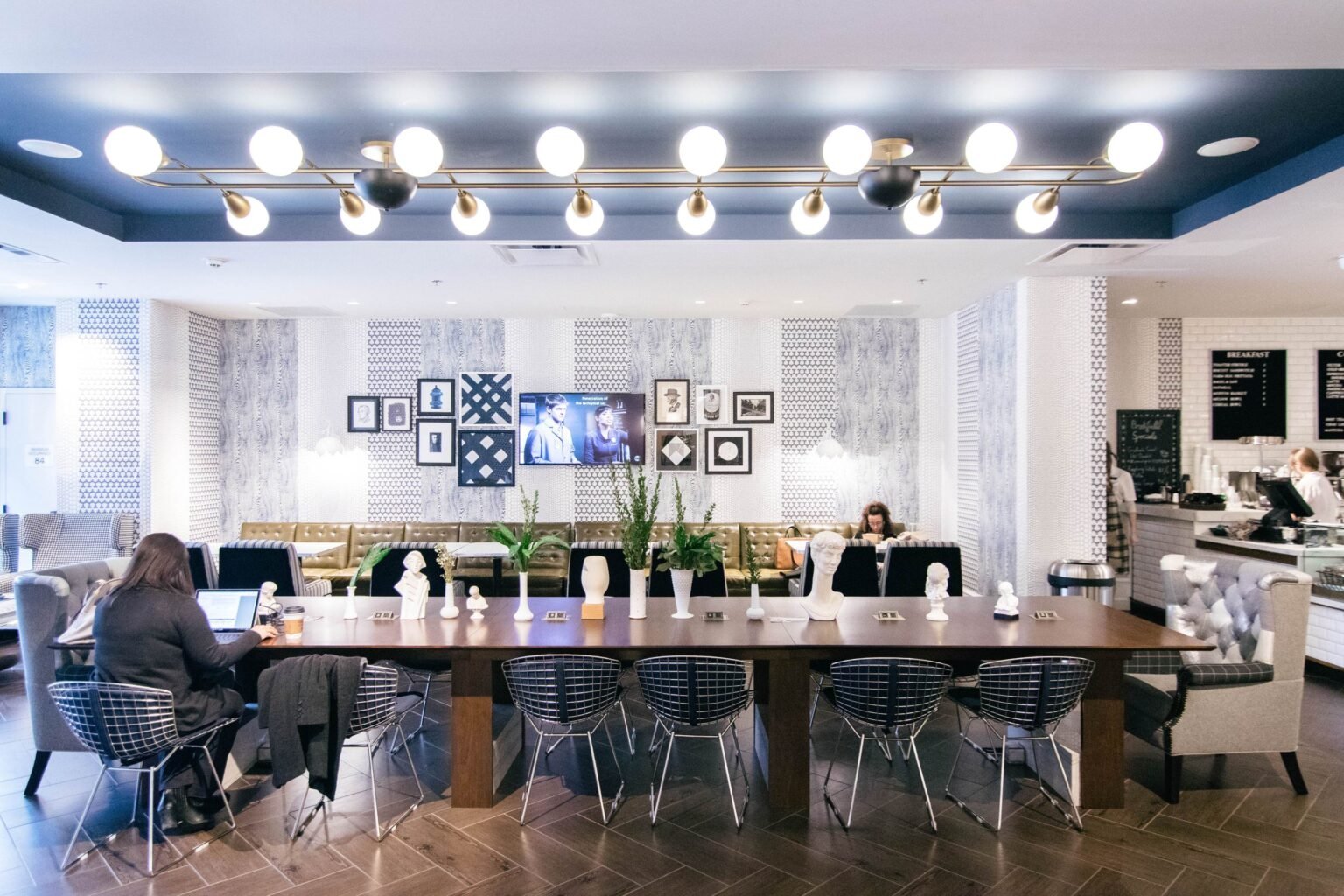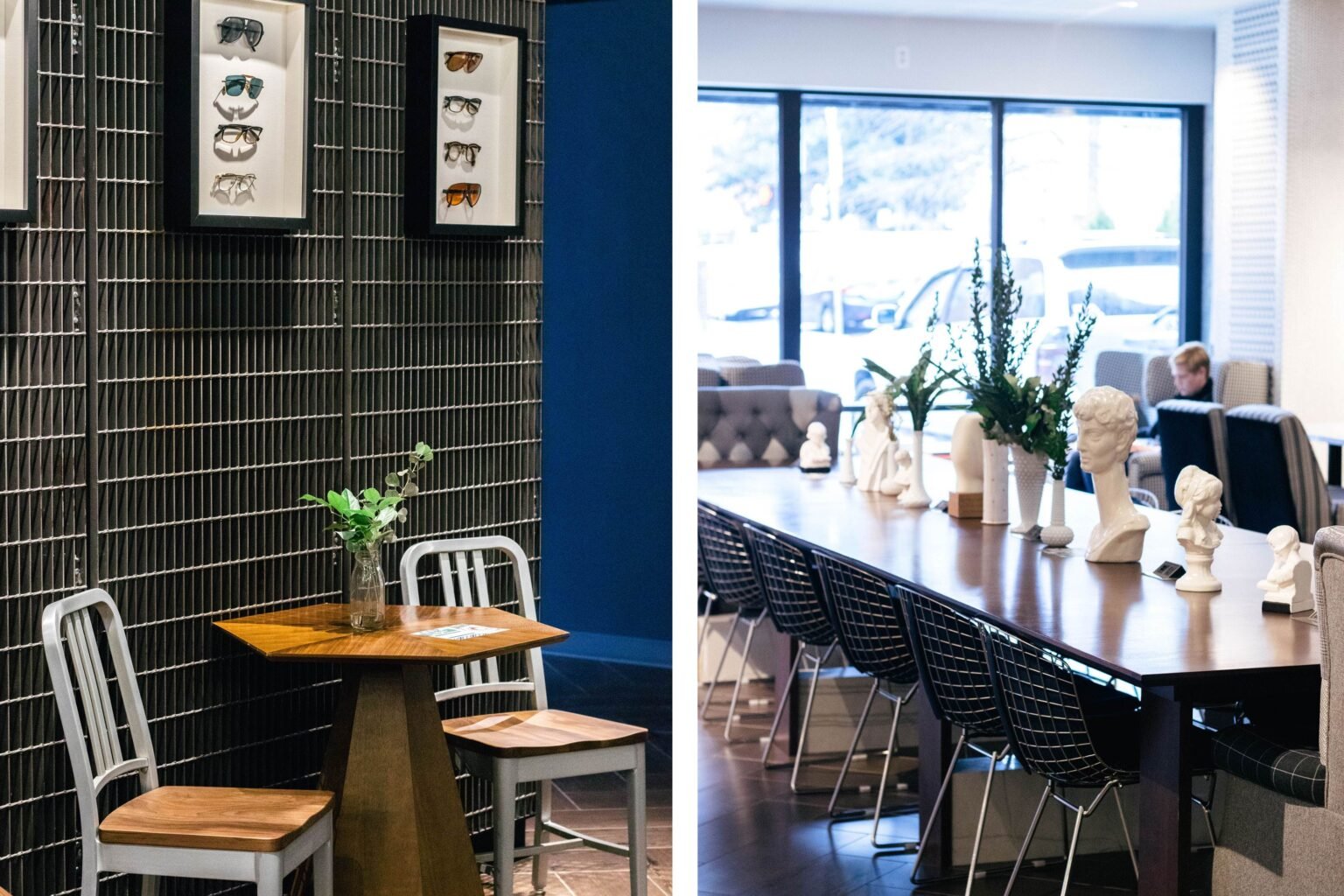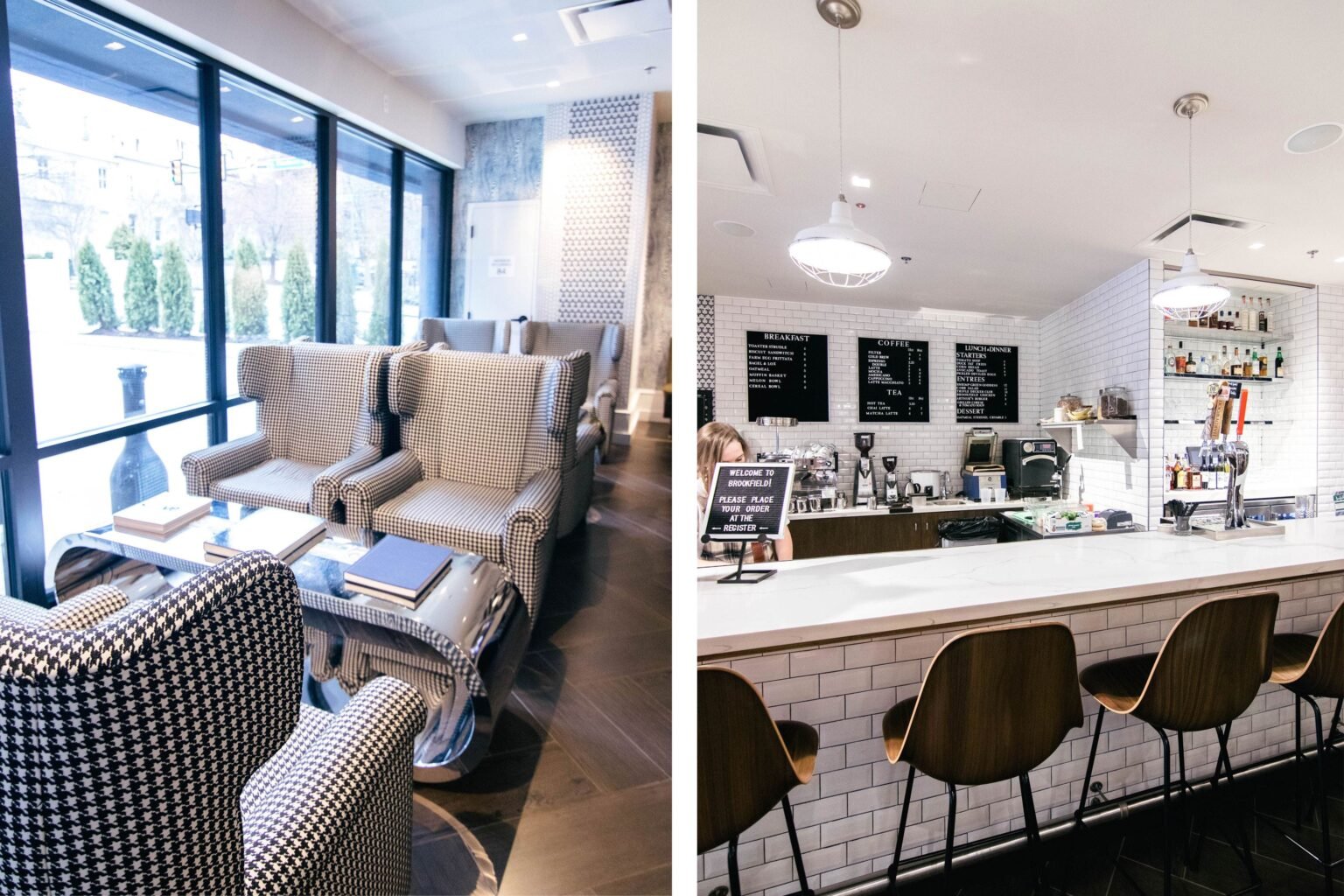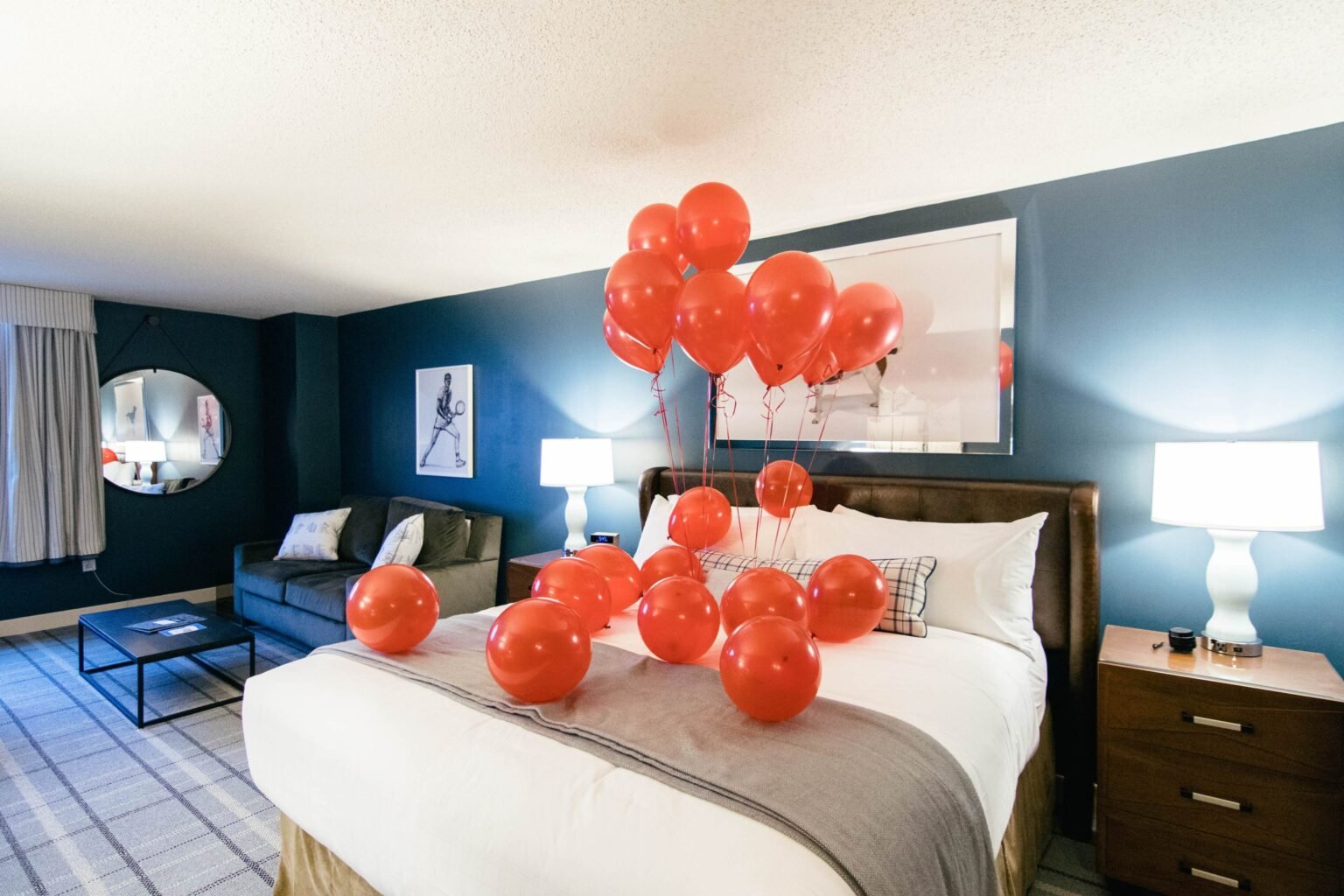 After a couple of photoshoots (read: a tornado of clothing throughout our room), we tiredly stumbled down to Brookfield, the lobby cafe, for a bite to eat and some coffee to bring us energy again.  I'll admit, we weren't expecting large portions, but when our fried chicken sandwiches came out, my goodness, we were impressed.  A direct quote from my fiancé: "It's honestly the best fried chicken sandwich I've ever had."  Coming from a foodie like Brandon, that's a massive compliment.
Once we wrapped up our photoshoots and changed into comfortable clothing, we traipsed back down to Brookfield for "second supper."  This consisted of a grilled cheese sandwich and tomato soup + a couple of drinks (the Long Island Iced Tea for Brandon and an Old-Fashioned for myself).  We were once again impressed with the serving size and the quality of the food.  We're counting down our next date night when we can go back for more!
Back to our room we went, with some snacks in hand, to wind down and watch TV before being lulled off to sleep in our cozy bed.  In the morning, I took advantage of the full-sized shower products (you read that right: FULL. SIZED).  They smelled amazing and I felt like I was practically sparkling when I hopped out.  I had forgotten my hairdryer at home, but no worries – they had me covered with one right there under the bathroom sink.
While I got ready, Brandon went down to Brookfield again to bring us some breakfast.  I devoured my buttermilk biscuit sandwich, cheese danish the size of my head, and the best cold brew I've ever had.  This prepared me quite well for the rest of my day!  We checked out at 11am, and valet brought our car back around.  Not only was I impressed with the hotel itself, but from start to finish, I was floored by the staff and the incredible customer service.  Graduate Richmond is definitely a place where we will staycation again – soon!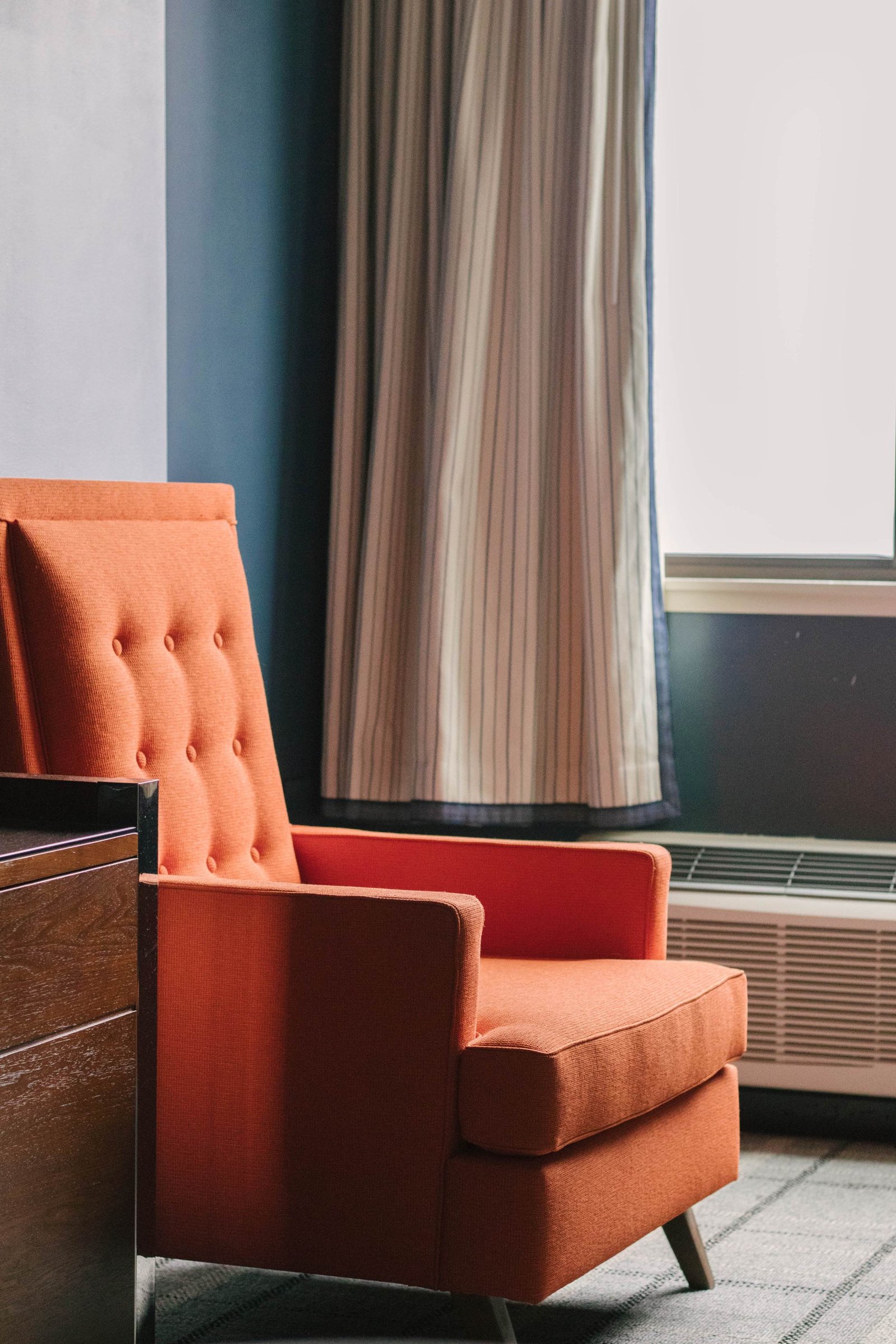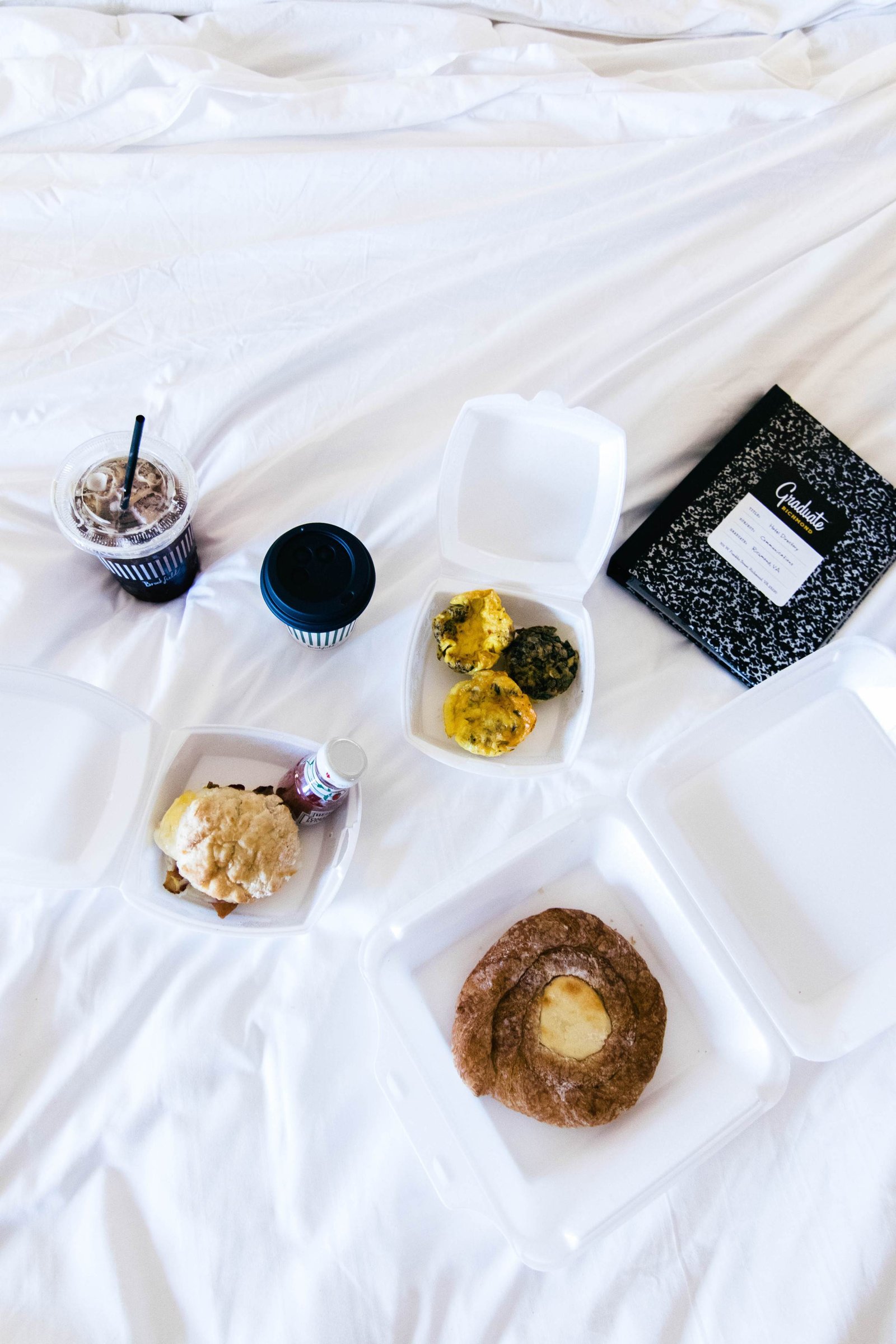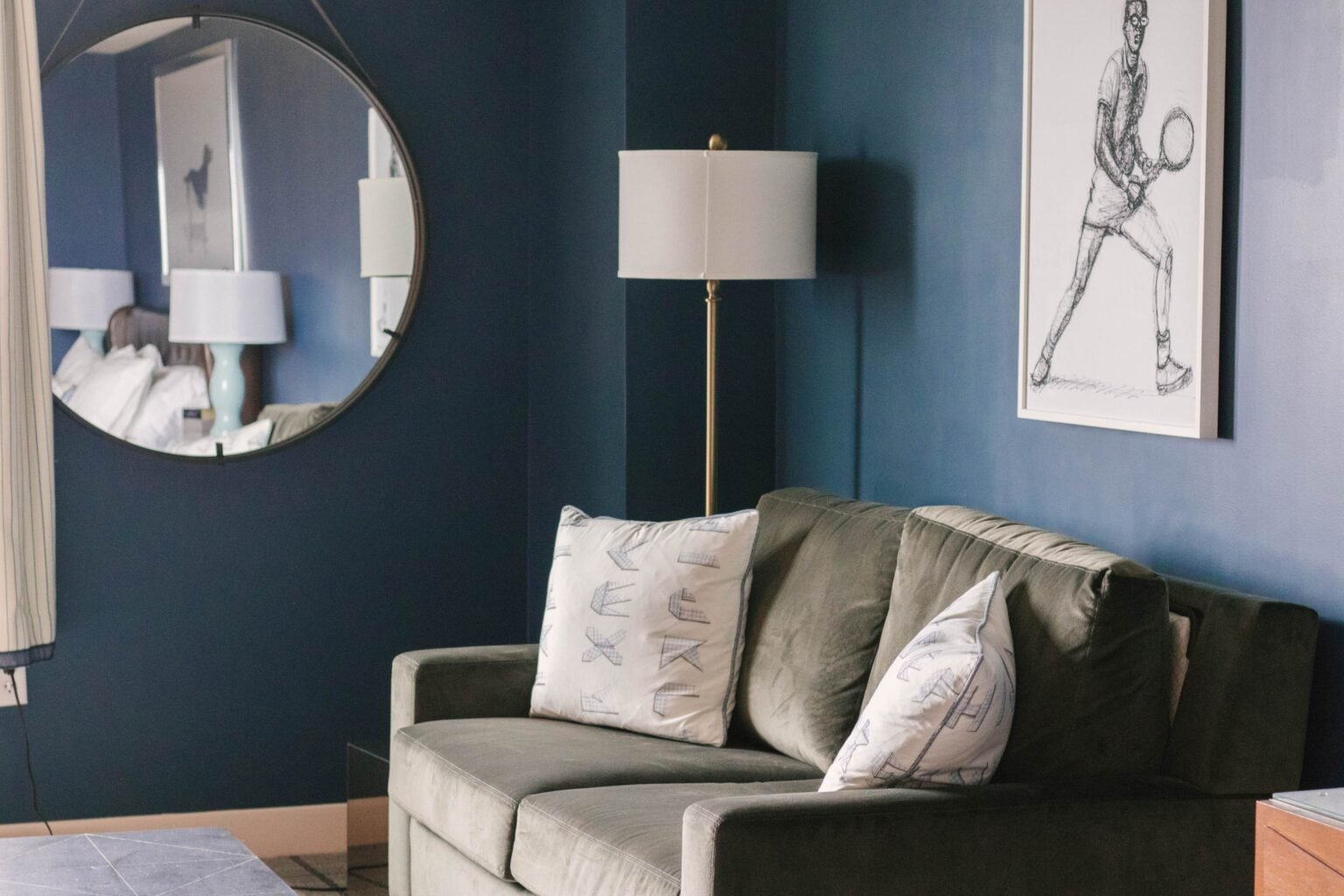 5 Reasons You Should Book a Staycation
A staycation allows you to experience your city from a whole new perspective. I had never appreciated Richmond as much as I did the moment I saw it during sunset from our bedroom window at the Graduate.
You're not truly all that far from home, so if you forget something – you can just go get it. One of the most stressful things about a vacation is the worry that I'll leave something important at home and be unable to retrieve it. A staycation takes away that stress!
There's no real "travel" involved, so you can skip the overwhelming plane, bus, train, or car experience. I love flying, but airports, security, Ubering from one place to the next, etc. – it can all get a bit overwhelming. Forget that with a staycation.
Don't worry about getting lost, since you're in your hometown! We went out late at night to get cookies, and I knew exactly where to go and where each street led.  So comforting!
You can be spontaneous! You won't be spending as much or needing to use public transportation, so just pack a weekender bag and pop on over to the hotel to escape "reality" for a bit.