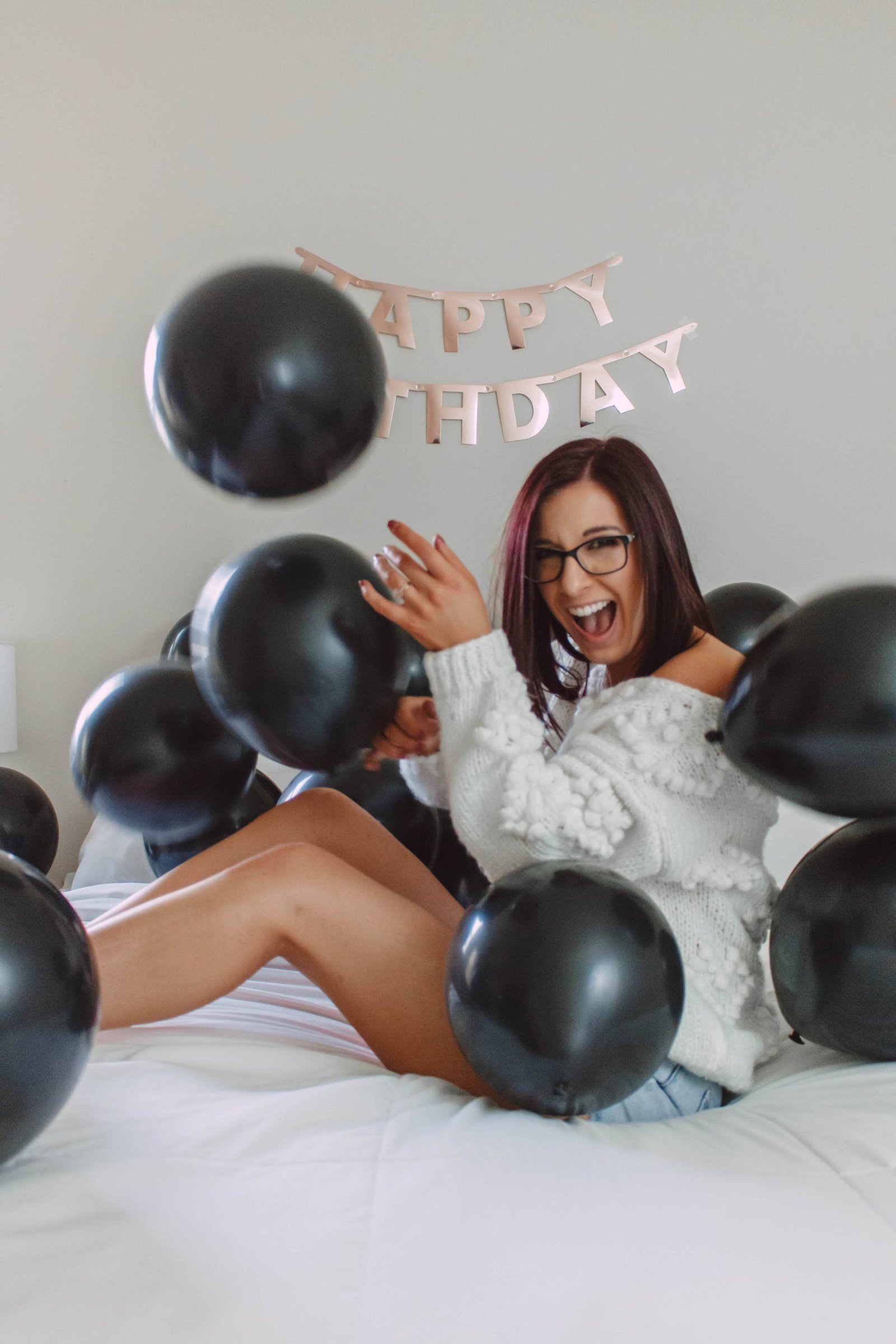 Cheers to 25 years.
My 25th birthday was on February 28th and I can honestly say I'm shocked I made it this far. Life has included some intense ups and downs. Being able to tell people I'm happily married and running a full-time, self-made business is something I'm immensely proud of. Celebrating with my family and friends this past week was phenomenal. I felt so loved. Truly, I'm just excited to keep living this incredible life and working towards achieving my goals and dreams.
Originally, I didn't want to share a "basic" birthday post that included 25 of whatever topic I chose. However, after chatting with some of my Instagram followers, my husband, and my mom – it seemed like writing up that style of post was actually what most people wanted to read! Now that I've sat down to curate it, I'm actually looking forward to sharing these fun facts with all of you!
---
Outfit Details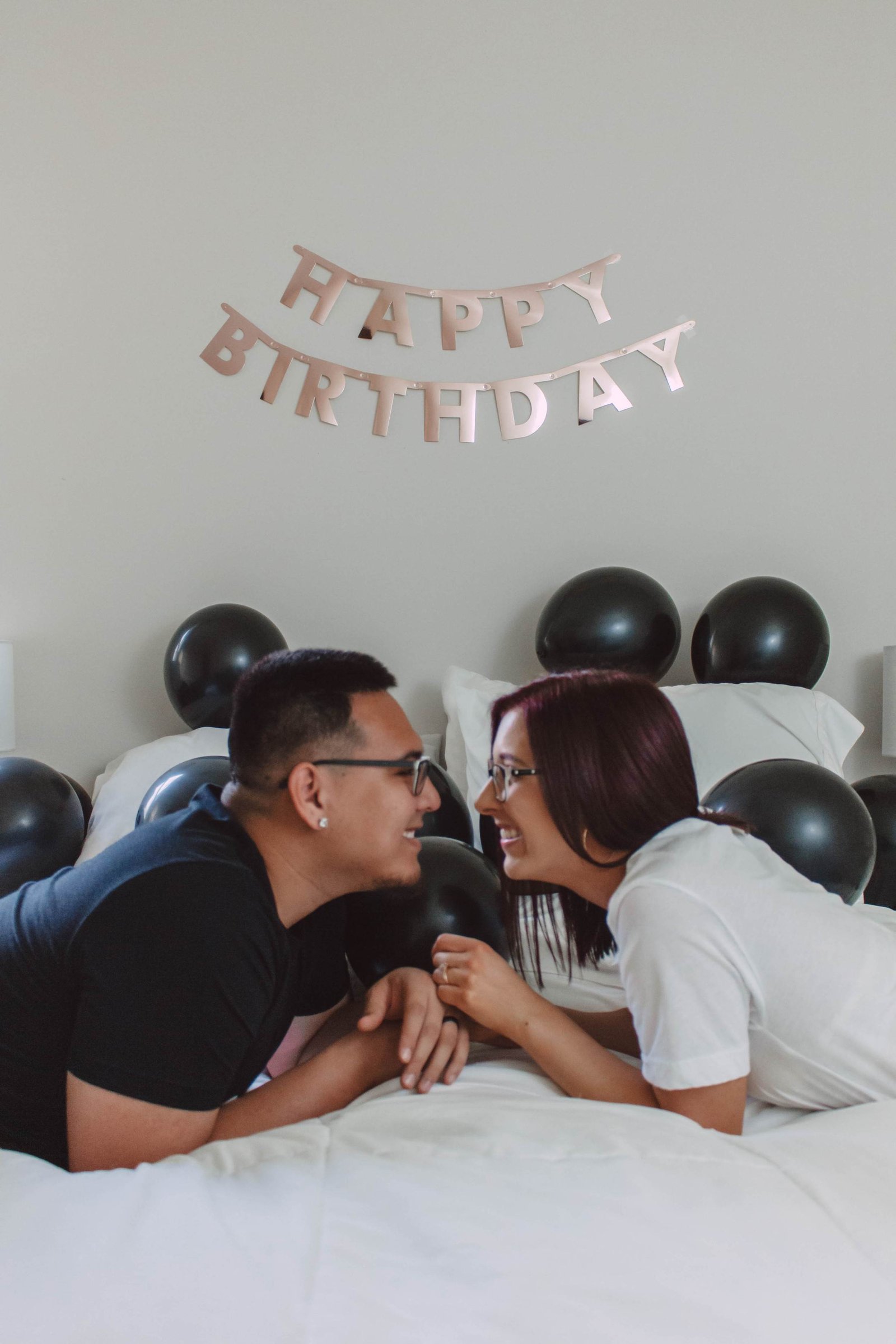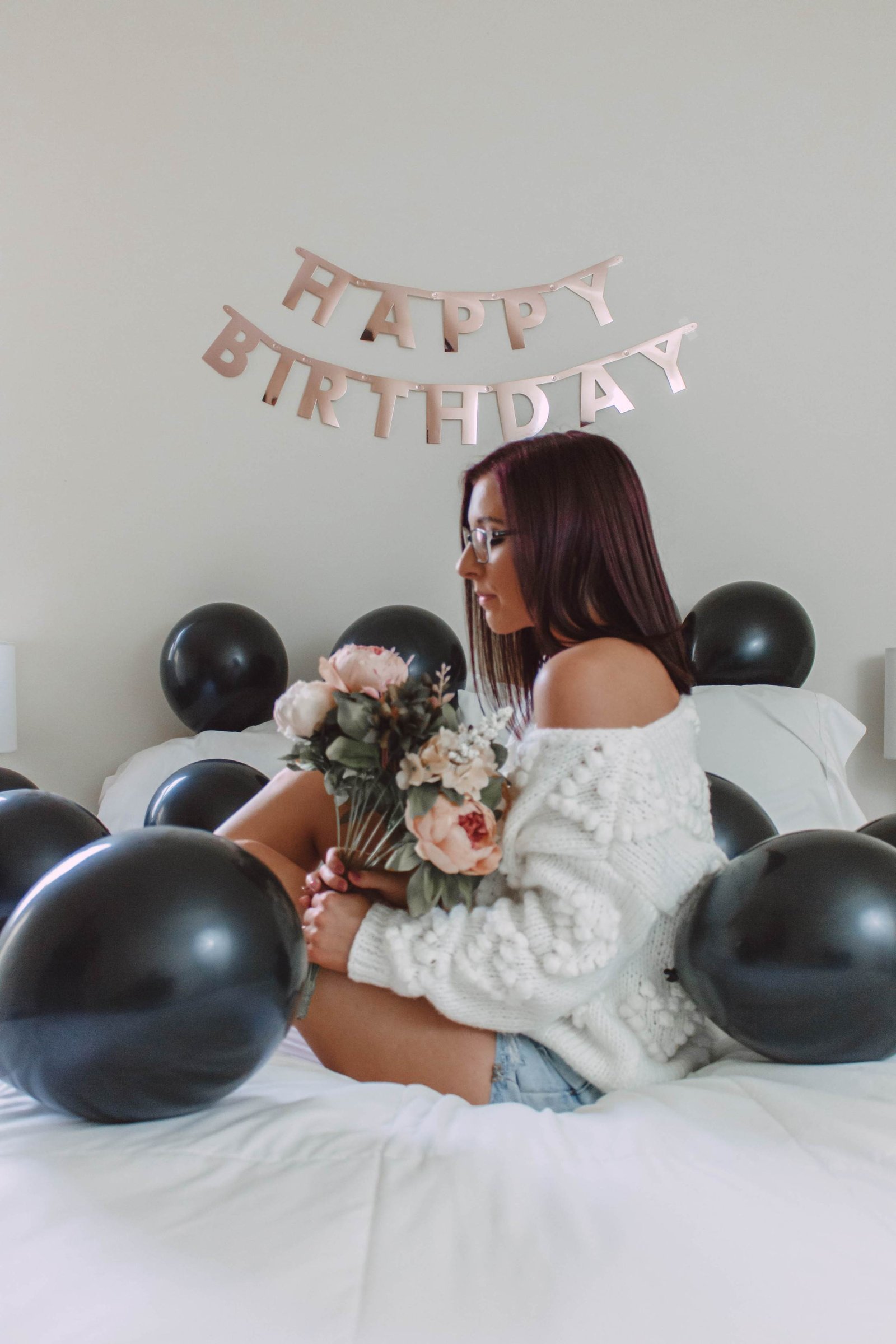 25 Things You May Not Know About Me
If it weren't for Stacy London and Clinton Kelly of "What Not to Wear," I don't think I would love fashion as much as I do. I would "binge-watch" this show (before binge-watching was even a thing) as a kid, and soak in every bit of info – desperate to then give the same advice to my friends and family (whether they wanted to hear it or not).
Long before I even understood what blogging was, I ran a YouTube channel. In high school, that was definitely not a cool thing to do, but there I was, doing makeup tutorials in front of my closet door, and filming weird tag videos for all the interwebs to watch.
I had a serious interest in photography back in middle school. I remember my mom buying me digital camera after digital camera (because, let's face it – they weren't exactly quality if they could fit in your back pocket). My grandfather cultivated that interest when he let me borrow his film camera for a photography class in high school. Then my parents purchased my first DSLR when I graduated – and I still use that camera to this day for my blog and my photography side-hustle.
When I was sixteen, my parents took me to Disney World for the first time. On Christmas Eve, I auditioned for the American Idol Experience and actually made it to the finals! This inspired me to audition for the actual show when the bus tour came through to Richmond. I never made it past the first round, but it was such a cool experience!
I've always had an interest in the arts. So naturally, I took six years of musical theatre and three years of ballroom dancing. To this day, I geek out whenever someone mentions Broadway shows I want to see or songs I used to sing.
My parents only had two children. Me, and my sister who is twelve-and-a-half years older than I am! They married young and had her right away, but I came years later as a rainbow baby. There may be a giant age gap, but we've always been the best of friends.
I'm such a little bookworm, that my dream job growing up was a librarian. That is, until I realized that you don't actually get to just sit around and read on the job.
Some may call it geeky, but I'd much prefer to watch/read literally any superhero, fantasy, action, etc. movie or book than something romantic or chick-flick. I'll have a hearty debate with you over the best Marvel movie or Harry Potter book.
Before I ever had any interest in a career in fashion, I wanted to be a makeup artist. I had even researched the best schools in the US, and had full intention to move to Chicago after my senior year of high school. I still love makeup (and playing with different looks) and jump at any opportunity to doll someone up for events!
Tattoos will always hold more appeal than piercings. I tried the piercing thing in high school, but it wasn't for me. Now I have three tattoos – and my next twenty planned. My tattoos are all significant. The first was done at age eighteen, and it's in my mom's exact handwriting on my right shoulder. It reads, "If you're a bird. I'm a bird." from The Notebook. My second piece is placed on my right ankle, and it's a butterfly sketched by someone who had an enormous impact on my life. It really symbolizes my independence and decision to experience freedom. Lastly, on my left hipbone, I have the NEDA logo entwined with the heart that Demi Lovato always used to place above the "i" in her signature. This marks my battle with depression and an eating disorder. They're all so incredibly meaningful to me.
Cats are the only pets I've ever had. I love all animals, but my family just always had cats around. As much as the idea of a dog sounds fun – they're so much work and much more dependent on humans. Cats are almost entirely self-sufficient, and my cat (while super chubby and kinda sassy) is like the easiest pet to have around.
Richmond is my forever home. I was born and raised here, and while I may not live in this city for the rest of my life, there will never be another place that holds such a special place in my heart.
I will forever be a Disney kid. I'm not talking about animated movies here. I'm talking about Hannah Montana, That's So Raven, and Suite Life of Zack & Cody. I'm talking Jonas Brothers (HECK YEAH #sucker), High School Musical, and afternoons spent calling in requests to RadioDisney. It was a lifestyle, okay?
I've never been a sports person. I tried my hand at a few activities as a kid, and didn't enjoy them. I went to my friends' games, and tried to watch events on TV, but always lost interest. Until I met my husband. For him, ball is life. I joke, but really, he loves basketball like crazy – and now I do as well. I follow NBA news and teams almost as closely as he does (and even keep the app on my phone). Nothing is better than a night in, watching the Golden State Warriors and eating buffalo wings with my man.
On that note, I also used to dislike spicy foods with a passion. Brandon slowly got me interested in buffalo wings (which I can easily say are my favorite food now), and you'll see me grab Sriracha, Tabasco, or Cholula to put on most of my meals. Never thought I'd say it, but I love spice!
I'm a Hufflepuff through and through. After years of ridicule for only having seen the Harry Potter movies (gosh, how dare I call myself a Potterhead??) I finally read all of the books, and to say I'm obsessed would be a major understatement. In fact, my birthday party was entirely Harry Potter-themed (full blog post coming soon). I already knew so much about the story and franchise, but now I'm way more invested than I ever believed was possible. Also, yes, I did take the original Pottermore quiz, so my Hufflepuff assessment is 100% accurate.
I'm a spoonie. That means, I have a chronic illness. It's called "gastroparesis" and it's a gastrointestinal disease that prohibits my food from digesting properly and within a decent timeframe. I found out from a stomach emptying study five years ago, but the symptoms have been there for my entire life. This is 99% of the reason why I created my blog – so I could maintain a job from my bed and create my own hours to cater to my illness.
Before She Saw Style, there was Drunk on Vogue. Yep, that was my original blogging and social media handle. However, after using that name for almost four years on social media, and a year on my website, Vogue publications threatened a lawsuit. Yikes. Apparently they believe the word is copyrighted (excuse me – Madonna?) and I was too small and too broke to fight it. So, I changed my name. But it's alright because She Saw Style has become so much of my online identity, and I love it!
I'm on a first-name basis with my favorite performing artist, MAX. You may know him from his hit single, "Lights Down Low," but I knew him when he was just opening for Victoria Justice at theme parks and making YouTube videos with a ukulele. I met him for the first time in 2012, and again in 2017 – and he remembered me! That night, I received a DM on Twitter. Max was asking me to be part of his street team! It's been so cool to befriend someone I've admired for so long!
Surprise! I was homeschooled. Yep, I broke the "stigma" and I'm not super sheltered or introverted. I loved being homeschooled, and my parents did a wonderful job of teaching me. I went to co-ops in high school and received my education from teachers there, and in my senior year, I took college classes. I'm really grateful for the one-on-one style that helped me learn so much.
I have extra ankle bones in both feet. Sounds weird, but I barely notice them anymore. As a child, I had to get a cast on my right leg to immobilize it due to pain. My sister has them too, but she ended up getting hers removed! Thankfully the immobilization helped me, and I don't experience much – if any – pain anymore.
My allergy list is a mile long. I'm not talking about your typical dairy, nuts, or gluten allergies, but I'm talking about apples, oats, avocados, turkey, white potatoes, onions, and more. It's really challenging to work around those, especially with a digestive disease. I'm grateful for a really patient husband who caters to my incredibly odd diet.
Brandon and I have documented nearly our entirely relationship in the form of photostrips. Yeah that's right, those cheesy photobooths at the mall and movie theater? We love them. The first one we ever took was on our second date. We ran out of time picking the filter, and when it printed out, the boarder read, "marriage is a wonderful journey". No pressure! But now we can attest to that statement. Marriage is a wonderful journey.
I will always choose salty over sweet. I basically have zero sweet tooth, and rarely crave candy or chocolate.
Blogging is the best career choice I ever made, even though I've had over ten jobs in my twenty-five years. It has more ups and downs than I ever imagined, and I've wanted to give up a dozen times. But it's also made me feel happier and more fulfilled than anything I've ever done. It encompasses all of my passions, and I believe God gave me these gifts for a reason!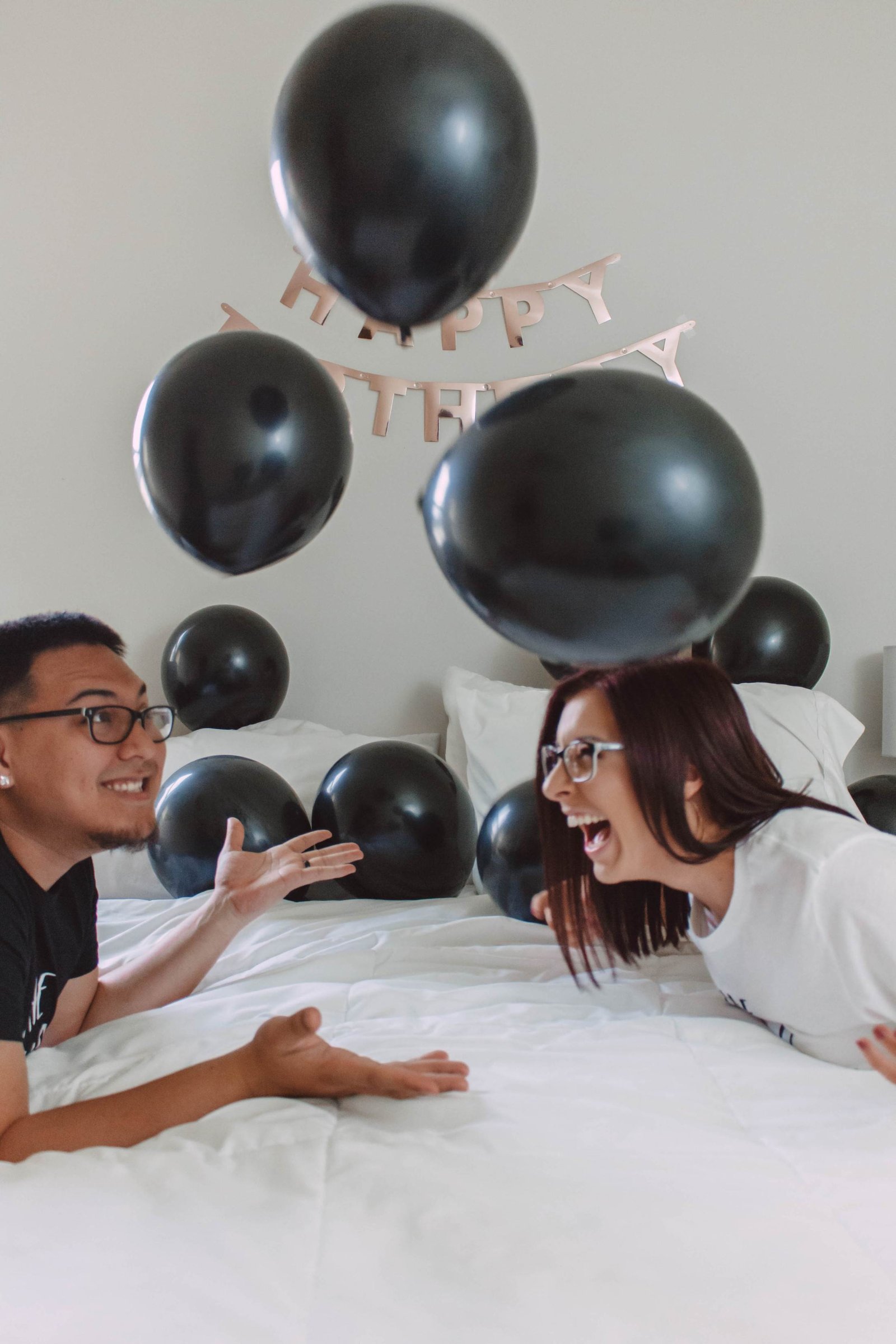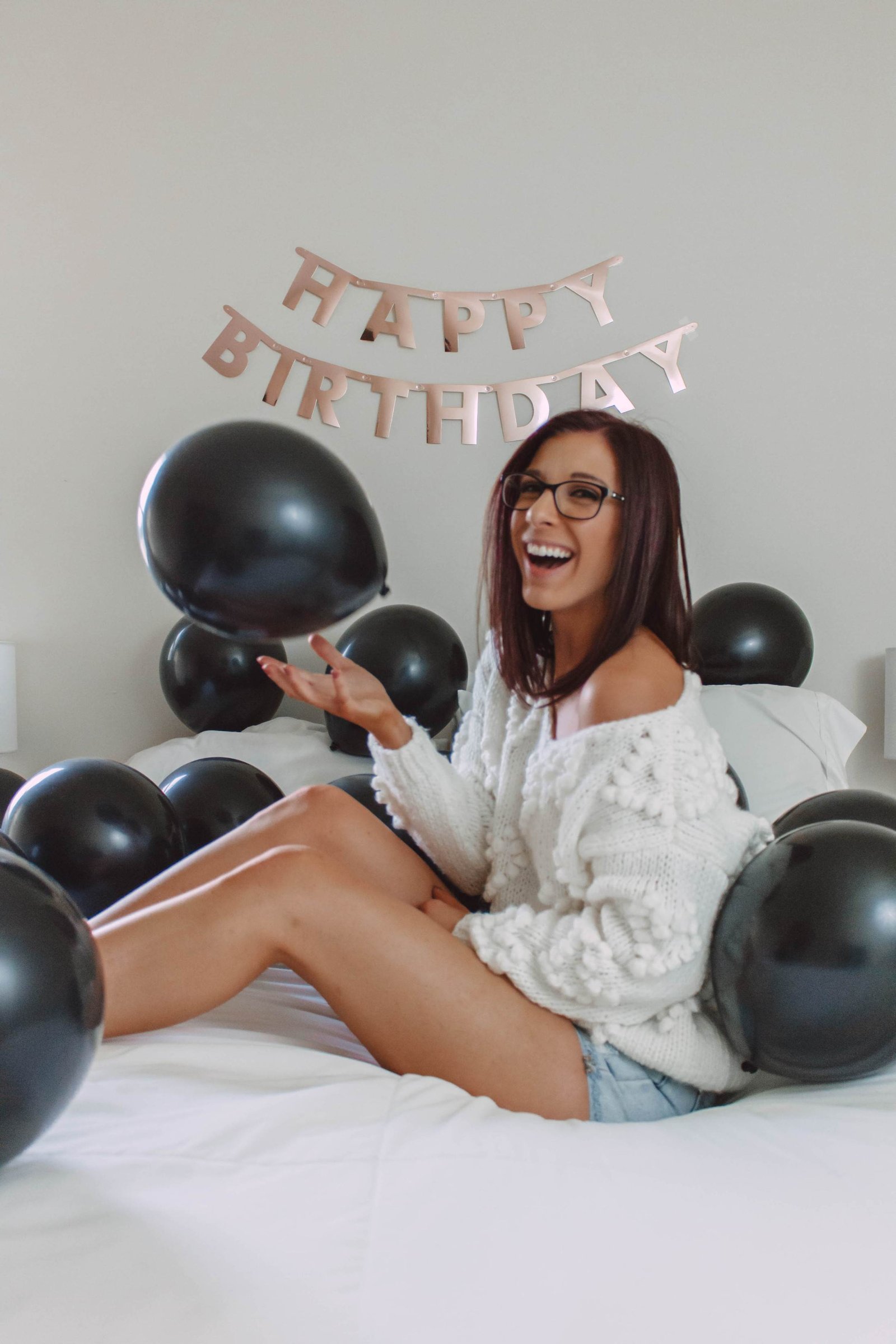 Thank you for celebrating my 25th birthday with me!