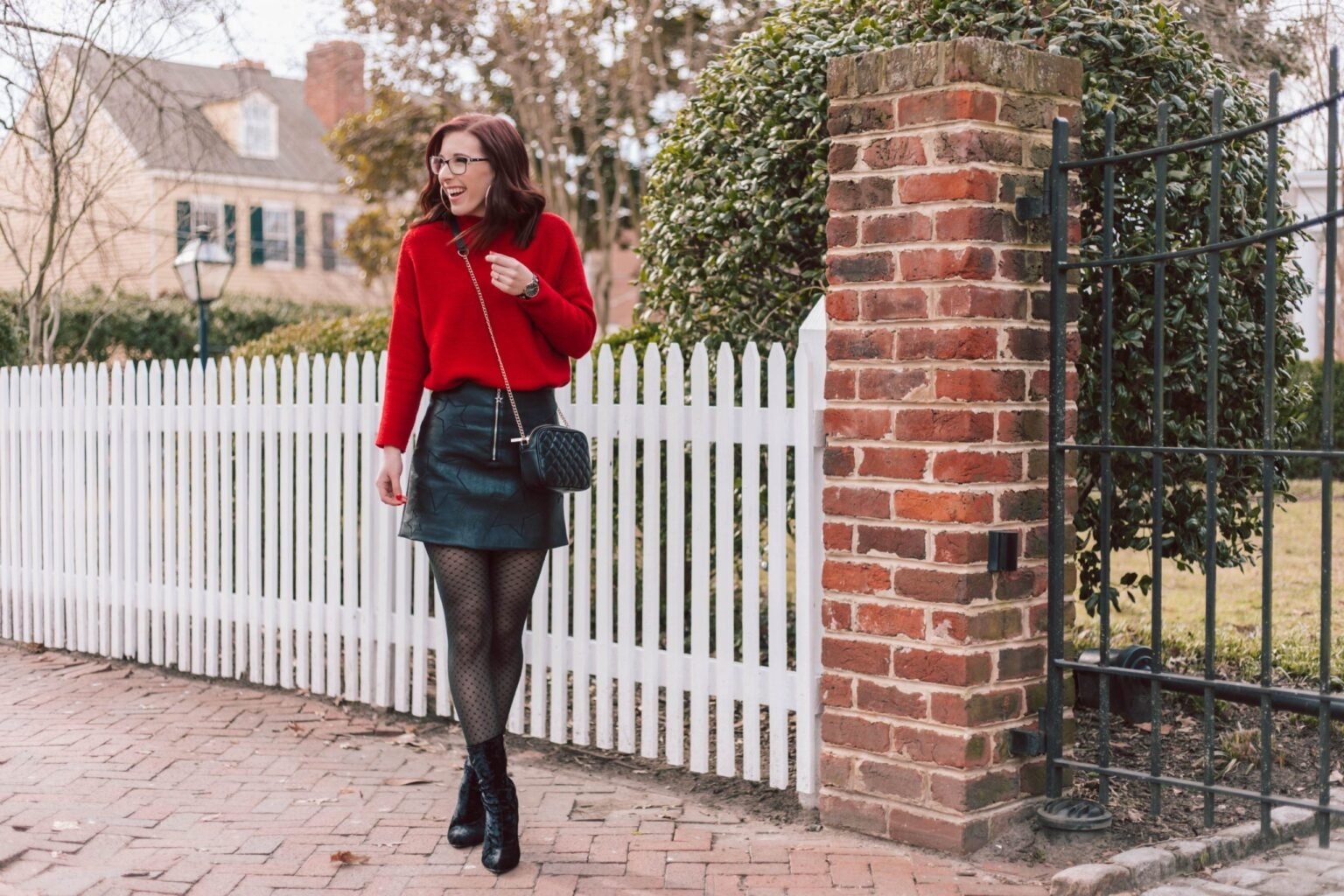 It's easy enough to rock a chunky sweater with jeans and sneakers, but dressing it up is another story. Here's an easy way to do it.
Let me be 100% honest with you right now: this outfit was a super last minute, pulled-together look, right before I rushed out the door. I had a spontaneous photoshoot for a campaign that was due the next day, and I needed a flirty look since it all revolved around Valentine's Day. However, I ended up loving the outfit so much, we took pictures of it all put together after the campaign so I could share it with you. This chunky sweater has been on major repeat lately (and you all loved when I posted it the first time), so I felt like it was a neat opportunity to share how versatile it is. And when I say it's been on repeat, I mean it's hard for me to not wear it every day. It's one of those "no one saw me yesterday, so I can get away with it today" kinda pieces. I also own it in tan, but there's something about red that just gets me.
Needless to say, this outfit is perfect for a date night, drinks with friends, or just because you're feeling sassy – which I obviously was on this shoot day. I've had the star-print faux leather mini for a couple of years, but decided to spice it up with a mixed print in the form of these tights. Then I added some crushed velvet sock booties, my go-to quilted crossbody bag, and ta-da! Quite a winner of a look, if I do say so myself. The sweater is super oversized, so I tucked it into the tights beneath my skirt to smooth out the edges, but you could also tuck the hem up under your bra to create the same illusion.
---
Outfit Details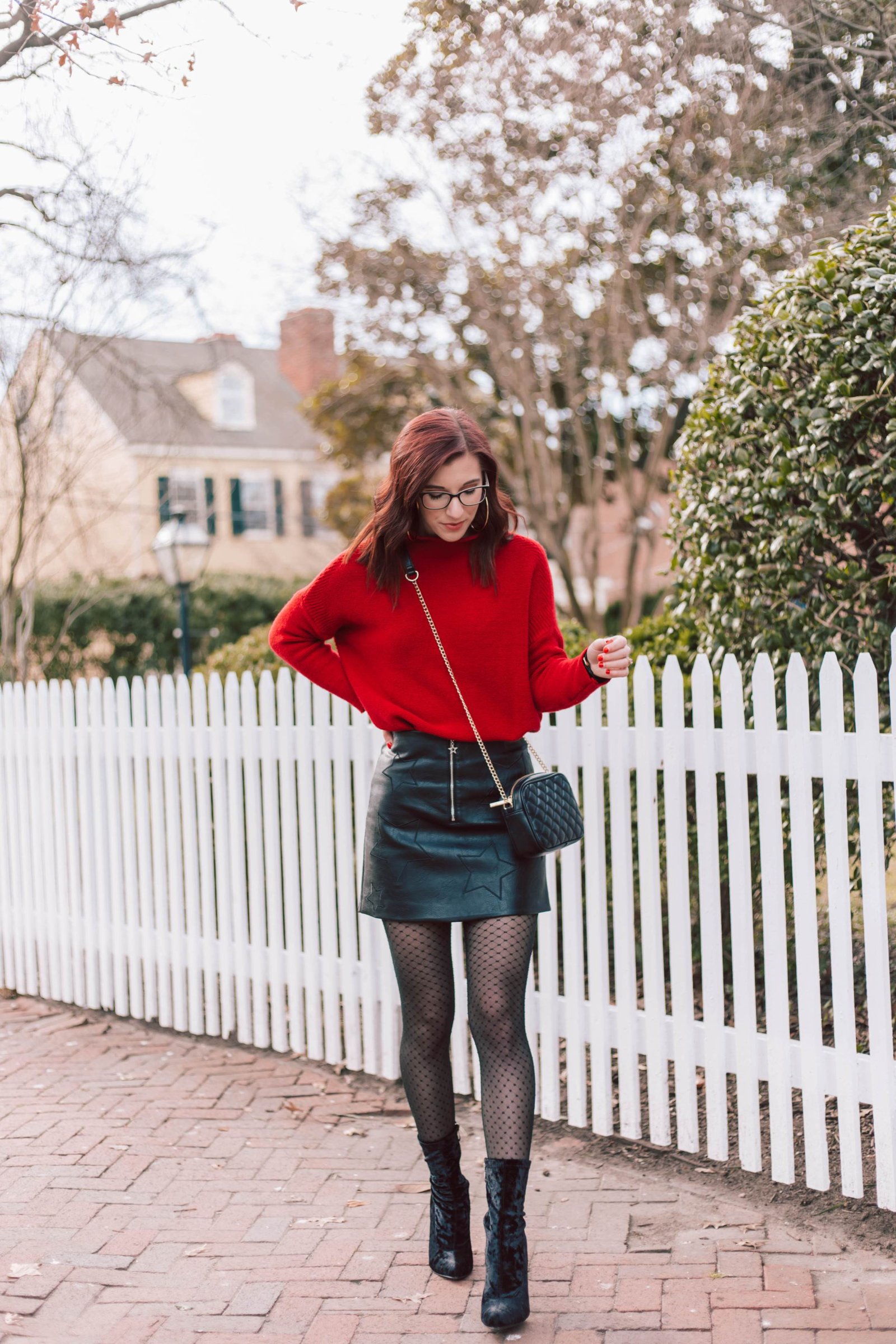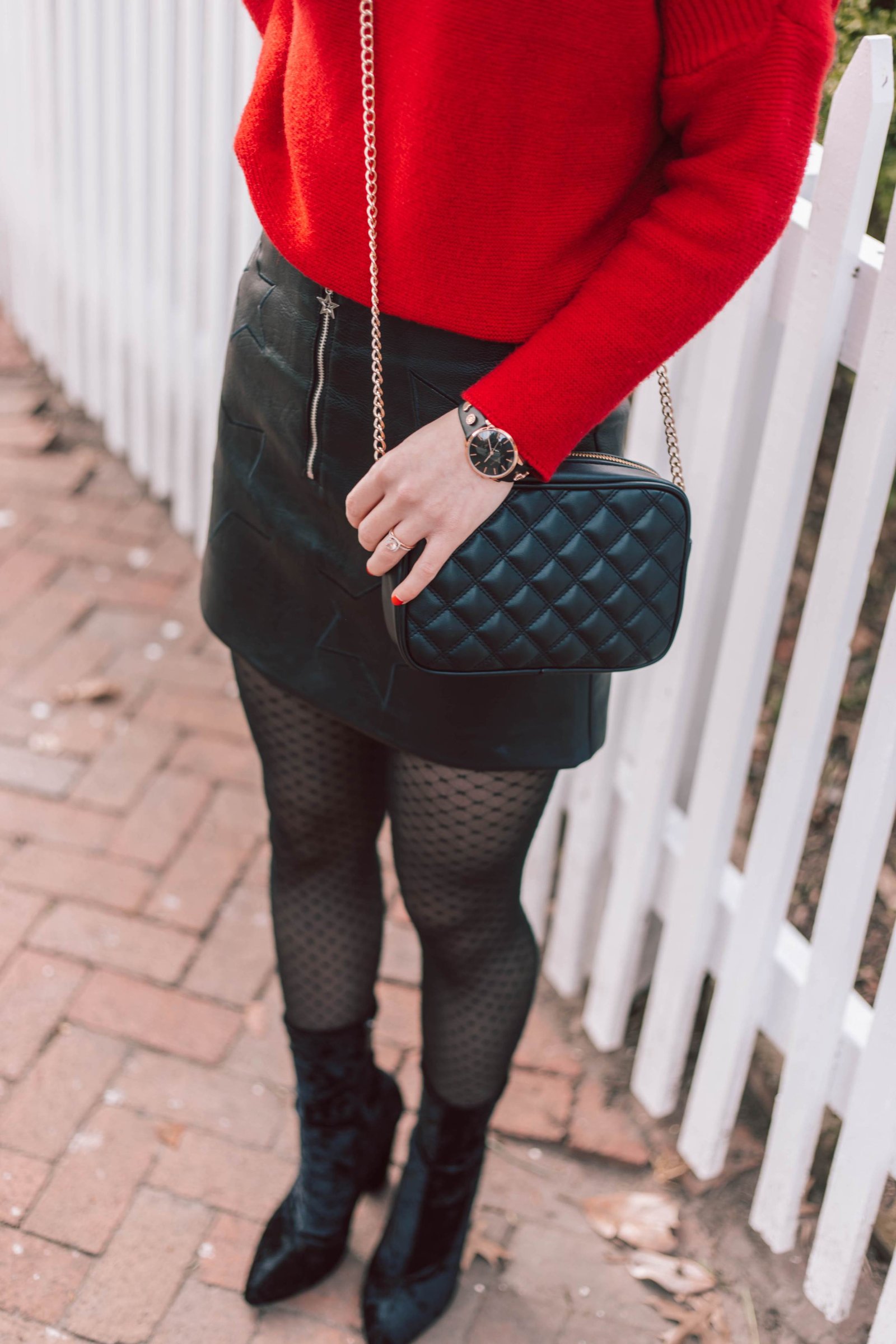 Majorly exciting details regarding the accessories I paired with this chunky sweater, comin' right at ya!
I've been wearing these booties for a couple of years now and they're definitely my most reached-for pair. They've got a relatively high heel, so they're not always the best for long periods of standing (learned that the hard way by wearing them to a standing concert and my toes were aching) BUT they are fantastic for just regular days of walking around or going to events. I wear them with tights, with boyfriend jeans, and with literally everything else. And they had originally sold out before the first time I shared them on my blog. However, I found them – in multiple colors, mind you – and they're in stock for only $30! Like, ya'll don't understand how excited I am because I get compliments on these boots nonstop, and I really want you to be able to wear them too!
In addition, my tights are majorly affordable at $12, and they're the most talked-about pair of hosiery I own. Seriously, I get endless sweet comments about them on Instagram, so you know they're the bees knees.  They stay on my waist, and don't sag between my legs. They're also really comfortable and I can wear them for hours at a time without feeling suffocated! The sizing is a little funky on these, so make sure you read the product details. I wear a size 1/2 for reference and I'm 5'6″ and normally a size 24 on the bottom!
These are the perfect items to pair with my favorite chunky red sweater!
---
related posts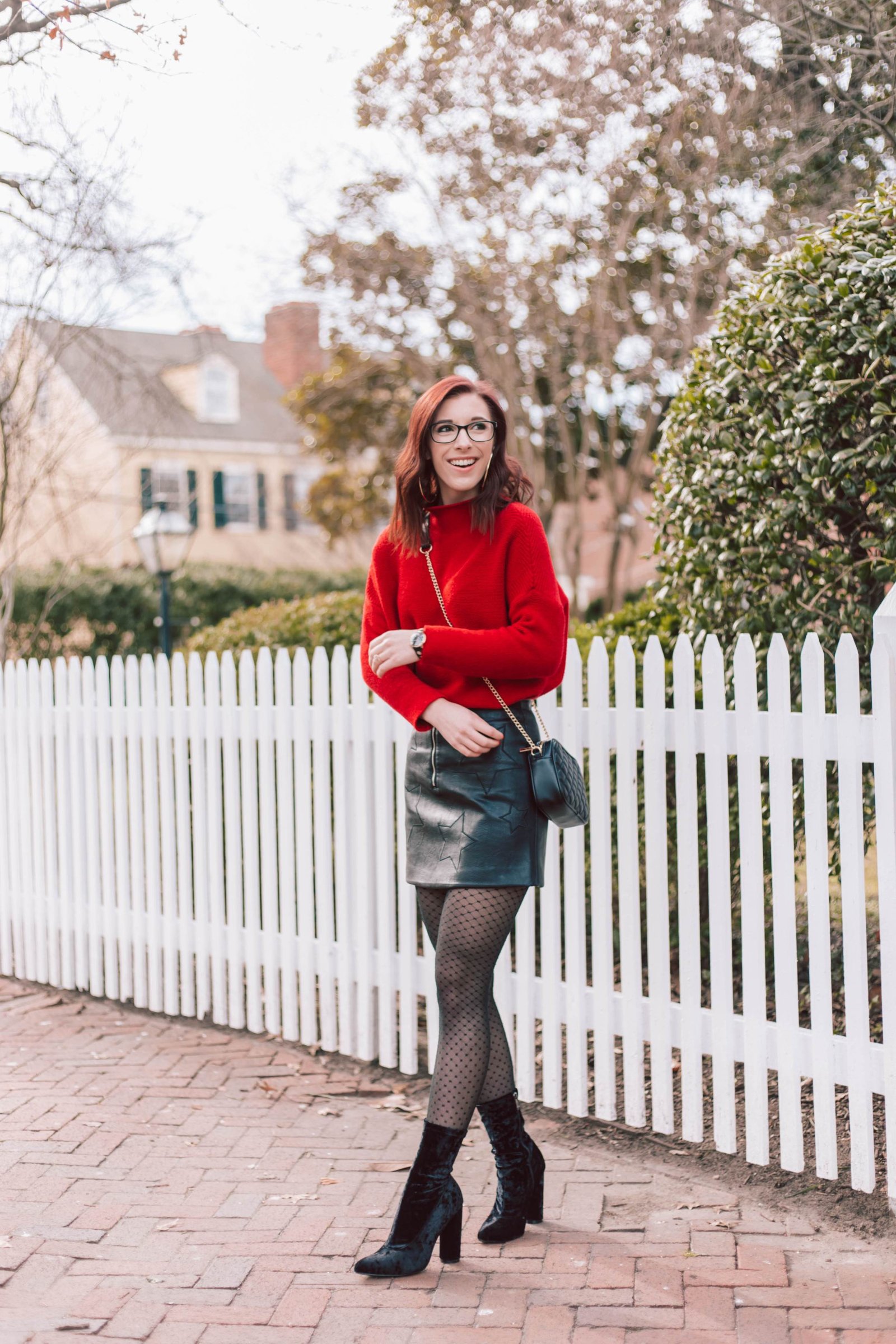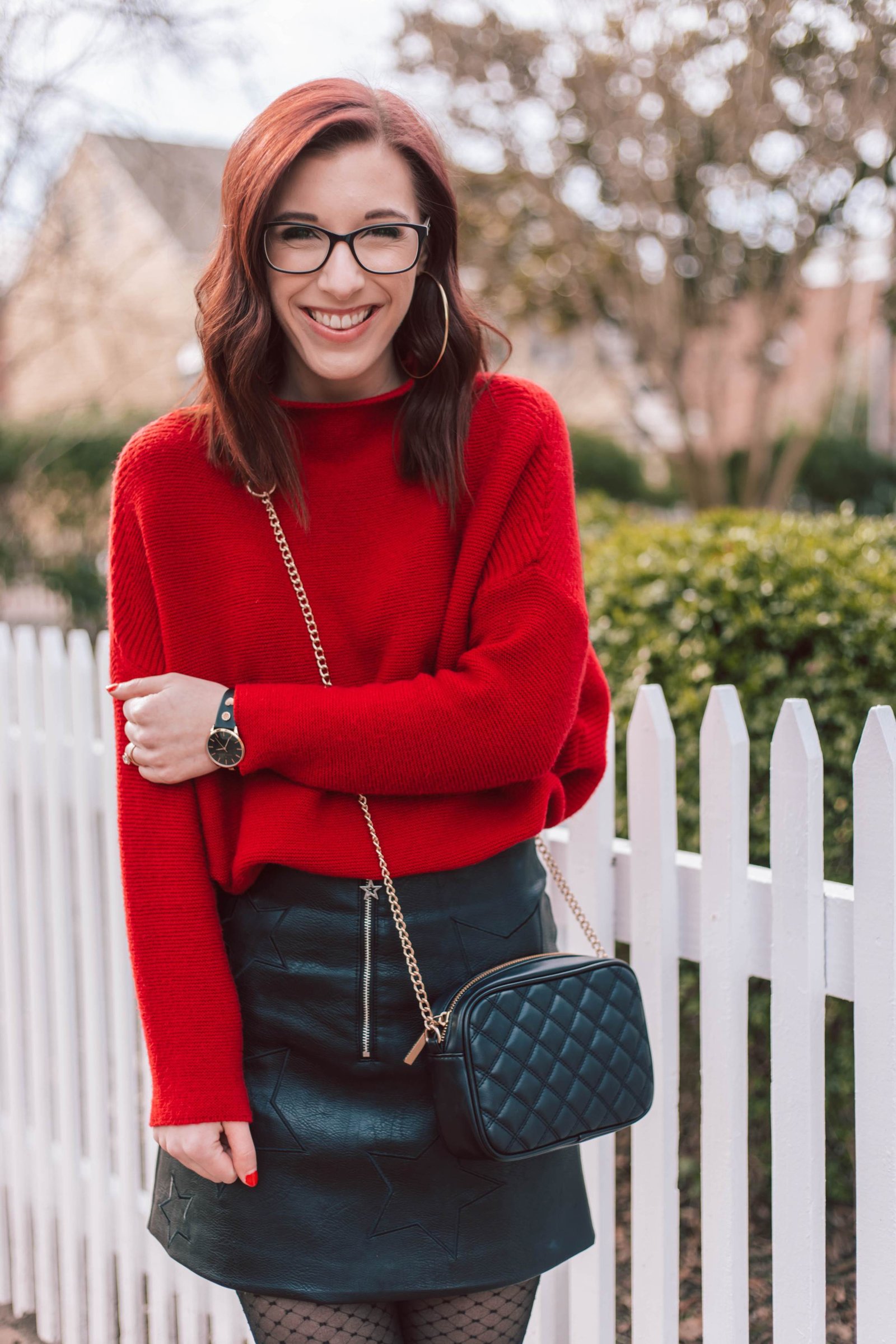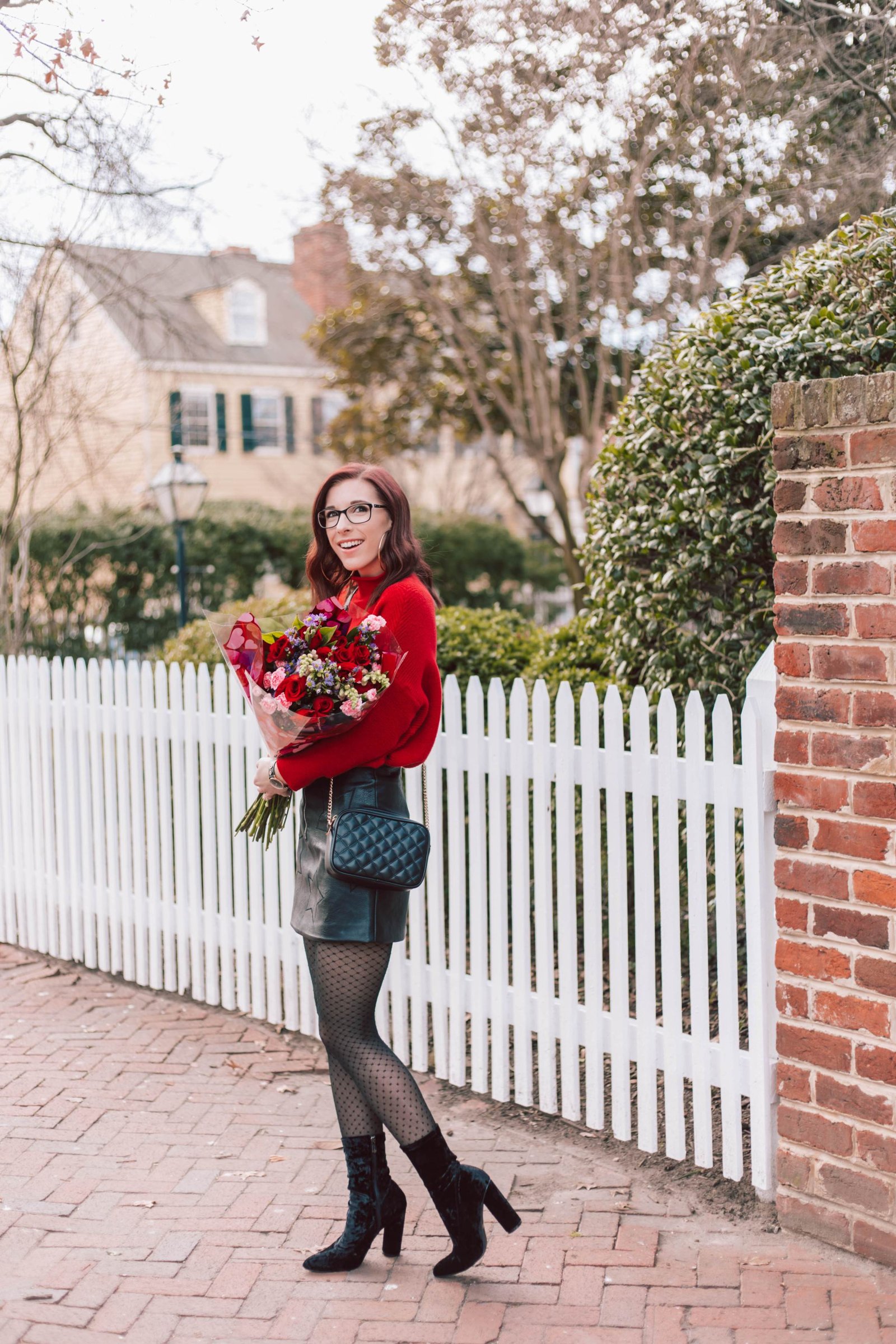 How would you dress up a chunky sweater like this one?