A huge thank-you to NetGalley and the publisher for this advanced reader copy of Yours Truly by Abby Jimenez.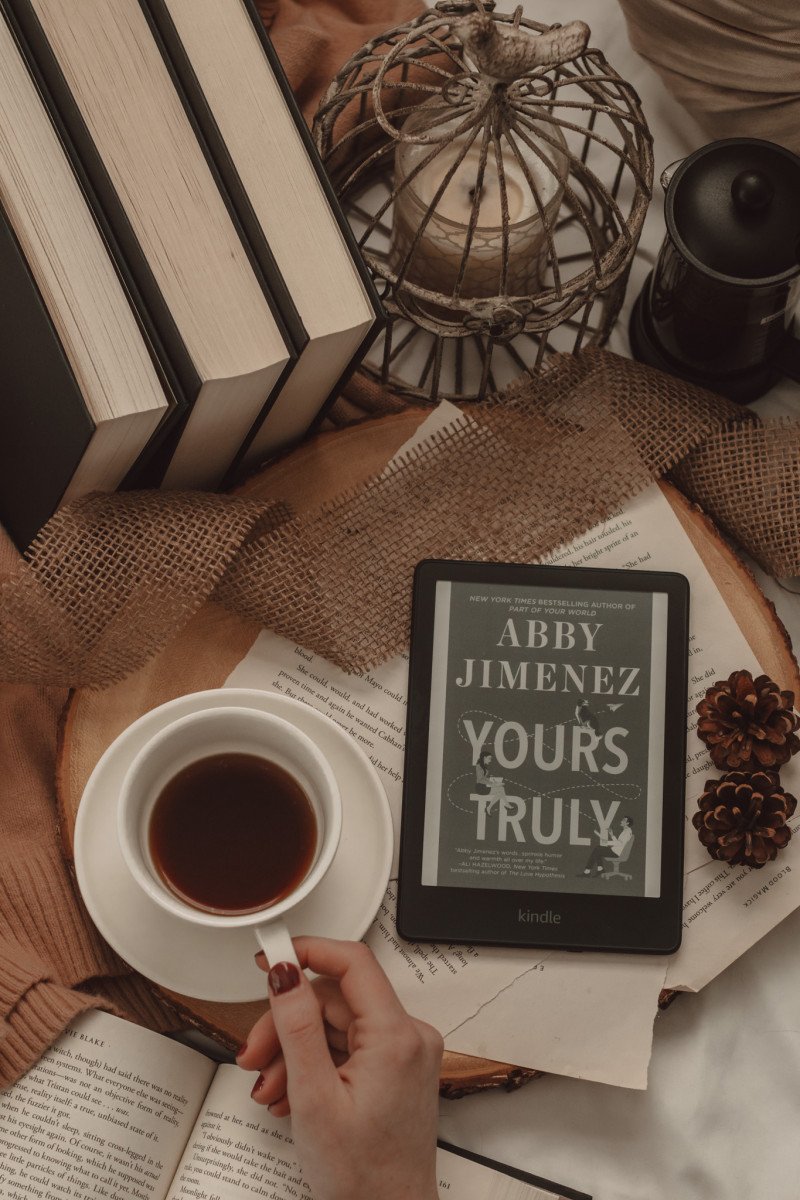 Yours Truly by Abby Jimenez is a stand-out fake dating romance novel. Since this is one of my very favorite tropes, it was a blast to read and review the newest book from one of my favorite authors.
I'm quite a picky romance reader. A lot of the most popular tropes aren't my cup of tea and I sometimes get frustrated by the lack of substance and depth. However, the books that Abby Jimenez writes are always the perfect blend of sweet and meaningful. Every time I read one of her books, I feel valued and understood, and no matter how much I may cry while reading (which is often quite a lot) I walk away from it with lightness in my heart.
Her previous two releases, Life's Too Short and Part of Your World, are some of my favorite romance books of all time. I knew without a shadow of a doubt that I would absolutely love Yours Truly — and I was right. This book is everything I wanted in a romance novel. It was so relatable, sincere, and precious.
Keep on reading to see my spoiler-free review of Yours Truly and make sure to pick up your copy!
---
LOOKING FOR MORE BOOK REVIEWS?
My honest review of Yours Truly by Abby Jimenez.
Synopsis:
ER doctor Brianna Ortiz has had it up to here with men. She just finalized a divorce from her cheating husband, and the new guy at work has been nicknamed Dr. Death for losing seven patients on his first day. Yet when she tries to console him about it, his abrupt rudeness totally takes her aback. With a brother who desperately needs a kidney transplant, Bri has enough to worry about without work drama on top of it. Then she gets the sweetest letter from Dr. Death—er, Dr. Jacob Maddox—himself, and suddenly everything becomes clearer.
Bri does the only thing she can think of. She writes him back. And he writes her. And soon Jacob's little notes are the highlight of her day. Both are shocked when it turns out Jacob is a donor match for Bri's brother's transplant. Willing to do anything to express her gratitude at his sacrifice, Bri agrees to go as Jacob's date to his brother's wedding. They're not dating for real, of course. But Jacob's boisterous family doesn't know that. And when they get the wrong impression, there's nothing to do but go along with the charade…
Content Warnings: (major) Injury/injury detail, Panic attacks/disorders, Mental illness, Infidelity, and Sexual content, (moderate) Medical content, Cursing, Vomit, and Miscarriage | Author's content warnings: Chronic kidney disease, divorced main character whose ex husband cheated, depression, clinical anxiety, and mention of pregnancy loss and suicide.
Alright, it's official. Abby Jimenez must have some kind of romance-writer magic in her. There's no other way to explain how she manages to write this kind of perfection time and again. I'm completely in awe–for the fifth time, mind you. Every single one of her books is filled to the brim with a level of heartfelt substance that you just won't find anywhere else. Unsurprisingly, Yours Truly completely blew me away.
Let's start with the fact that the book opens with a note from the author that includes content warnings and directs readers to her book's webpage where you can learn more. This is huge for me as a sensitive reader. I felt like I was going into the story with my eyes wide open, prepared for the topics covered, rather than blindsided by something that may have negatively affected me. Each and every challenging element was handled with a kind of delicacy and grace that put me at ease.
Abby has never shied away from difficult material. She dives head-first into the stickiest parts of relationships, the grittiest mental health struggles, the struggles faced by those with chronic or terminal illnesses, and so much more. Each time I read one of her novels, I feel like I learn something new about myself and my personal battles–or I learn about matters that others around me have faced. It gives me a fresh perspective and I'm so thankful for that.
Yours Truly was no different. ER doctor Brianna (Bri) Ortiz is about to have her divorce finalized after learning her husband cheated on her with a friend for several years. She's also trying to take care of her younger brother, Benny, who desperately needs a kidney transplant and can't find a donor match no matter what they try. She's fed up with men and life and wants to throw herself into a higher position at the hospital she's worked at for years. Then along comes Dr. Jacob Maddox, a new doctor who manages to get on her bad side more times than he should in the first few days on the job. When he writes her a letter (an actual paper and pen letter) to apologize and explain how his social anxiety really gets in the way, things begin to shift.
The story goes quickly from heavy frustration to fake dating to lust to… a heck of a lot of confusion. I don't mean the story itself is confusing, so much as the characters are confused. The internal monologues begin to drive them both a bit mad. It's intense and emotional and so, so well written. I can honestly say that it made me tear up on more than one occasion. I had trouble putting the book down because I was desperate to know what would happen next. It surprised me with how unpredictable it was at times. Normally, I feel like I know how a romance novel is going to play out, but Yours Truly was a fresh take.
In the acknowledgments, Abby credits the help of so many healthcare professionals who helped her navigate both the physical and mental aspects of the book. You can really tell how much their insight benefitted the story because it was almost painfully relatable at times. I'm really thankful that she also had sensitivity readers. These seemingly small things make for a winning novel.
There's not a doubt in my mind that this will be a book I read time and again. It was an immediate favorite–you can tell by how often I was highlighting my eARC! This is definitely a book you'll want to pick up right away. It's going to blow you away.
---
purchase the book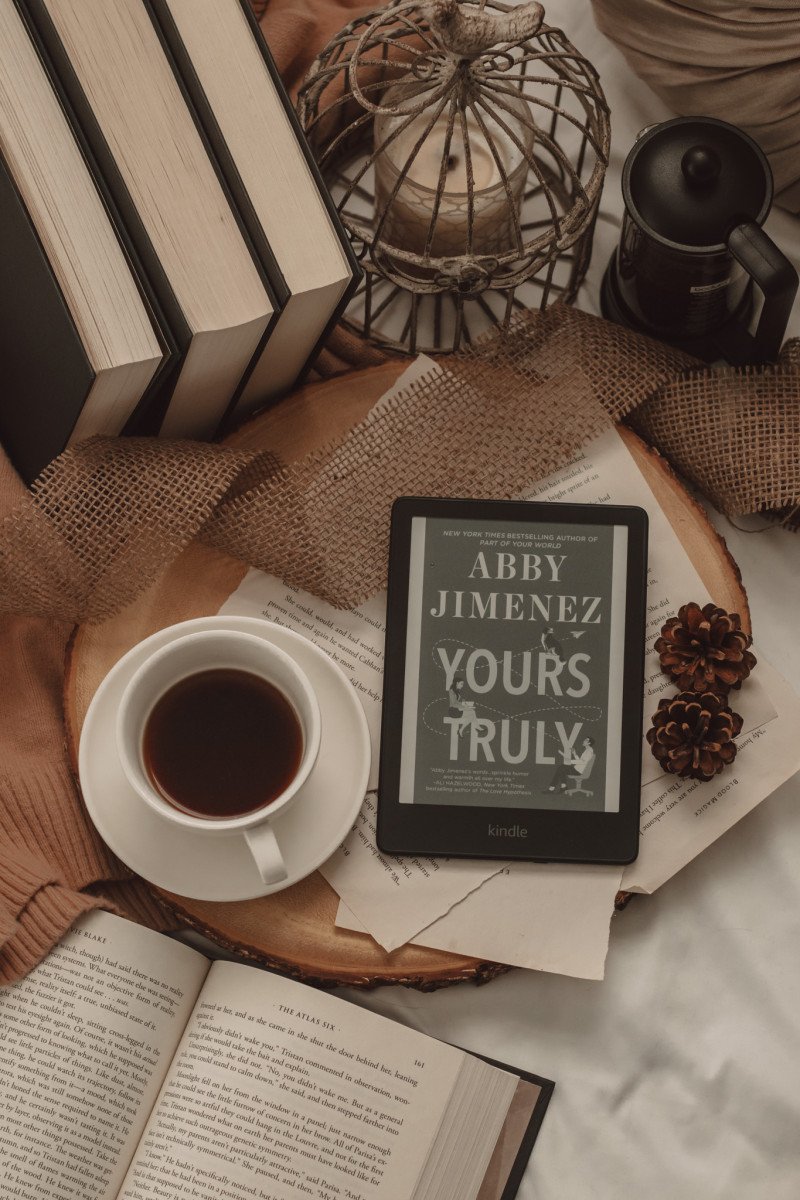 Will you be reading Yours Truly?
---
pin for later