The Seven Husbands of Evelyn Hugo is a melodramatic and salacious tale filled with Old Hollywood glamour and twist you'll never see coming.
I listened to the audiobook for Daisy Jones & The Six in 2020 and was absolutely blown away. Not only has that novel taken the spot of my favorite audiobook ever, but it was also a brilliant story (review can be found here). I knew I wanted to listen to The Seven Husbands of Evelyn Hugo to compare and contrast the author's work along with the audiobook quality.
This was such an easy read because it was really dramatic and entertaining. Almost like… listening to a movie? The day that I took down all of my Christmas decorations, I had this blasting through my speakers to keep me company. Let me tell you, I didn't even realize how much time had passed when everything was in boxes and put away. I was thoroughly enjoying myself!
Let me tell you just why this book is so grand.
---
related posts
Book Review: The Midnight Library // Book Review: Early Departures // Book Review: Into the Heartless Wood
Below you can find my full and honest review. [TW: suicide, substance abuse, drug use, infidelity, abusive relationships]
"It's always been fascinating to me how things can be simultaneously true and false, how people can be good and bad all in one, how someone can love you in a way that is beautifully selfless while serving themselves ruthlessly."

the seven husbands of evelyn hugo
"Aging and reclusive Hollywood movie icon Evelyn Hugo is finally ready to tell the truth about her glamorous and scandalous life. When she chooses unknown magazine reporter Monique Grant for the job, no one in the journalism community is more astounded than Monique herself. Why her? Why now? Monique is not exactly on top of the world. Her husband, David, has left her, and her career has stagnated. Regardless of why Evelyn has chosen her to write her biography, Monique is determined to use this opportunity to jumpstart her career. Summoned to Evelyn's Upper East Side apartment, Monique listens as Evelyn unfurls her story: from making her way to Los Angeles in the 1950s to her decision to leave show business in the late 80s, and, of course, the seven husbands along the way. As Evelyn's life unfolds—revealing a ruthless ambition, an unexpected friendship, and a great forbidden love—Monique begins to feel a very a real connection to the actress. But as Evelyn's story catches up with the present, it becomes clear that her life intersects with Monique's own in tragic and irreversible ways." (Goodreads Synopsis)
This story was incredible. From the second I began listening until the last few lines in the book, I was on the edge of my seat. Reid clearly knows how to write a furiously intoxicating leading lady. Although, I can't be sure I'd even give the title of "lady" to Evelyn Hugo. She was monstrous in so many ways, but she admits to that early on, without any regrets. Or so it seems.
I found myself totally baffled as to why she hired nobody-journalist, Monique, to write her whole life into a really entertaining – though potentially unflattering – memoir. We learn some terrible secrets about Evelyn in the last few chapters of the book. Secrets that had me literally gasping with shock and turning to anybody to scream, "THAT PLOT TWIST!" This is when we learn how unabashedly ballsy Evelyn truly was and what she thinks of herself in her later years. Do we learn who her true love was? Yes, yes we do – but it's not who you might think.
Was this book better than Daisy Jones? That was the question I was asked many times upon finishing it. I can't be certain of the answer. It held similar elements of drama, lust, spite, and betrayal. It was definitely different enough to be on its own plane of existence, however. I have given them both five-star ratings. If you're curious which is better, I'd just say to read them yourself, but don't be surprised if you feel the same way as I do: that they're equally INCREDIBLE but also very different from each other. Oh – and they'll make your head spin.
Side note about the narration: it didn't have a full cast as Daisy Jones did, but it didn't need one. There weren't nearly as many POVs to follow, so I think it was well done, though not quite as epic of a performance.
---
shop the post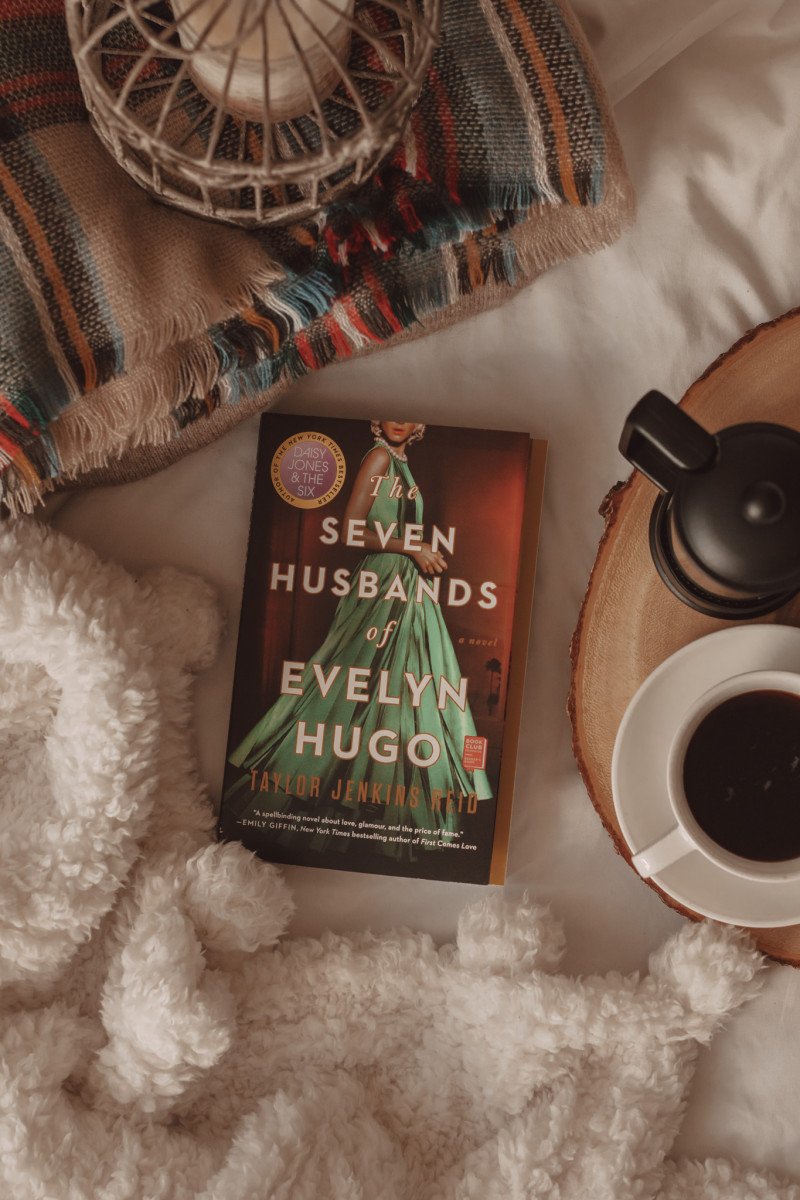 ---
pin for later