After swearing that leopard print wasn't for me, I've watched it somehow take over my wardrobe. How did that happen, you might ask? It just took trying it.
Several months ago, when leopard print resurfaced as a popular print, I was 100% certain I would never wear it. Then, I tried out a pair of shoes with the pattern, just for kicks. I liked them as an accent, but I swore it wouldn't go any further. Next came the pleated midi skirt for the holiday season. That was the real kicker. I wore that skirt to a winter concert and couldn't get over how great it was. So, naturally, when I saw this leopard bodycon skirt, I decided to buy it and never look back. Leopard print is definitely for me.
Here's why that fun story about succumbing to the leopard print trend is so important: you never know how much you'll love something until you just try it. As humans, we tend to push away trends and sometimes even give them a bad rap, without even giving them the benefit of the doubt. I used to do this all the time with music, books, and movies. Now, I'm trying my very hardest not to do it with style. After my experience with leopard print, I'm nearly tempted to test dad sneakers and belt bags, just for the heck of it. The worst thing that can come from trying something is just disliking it. Then you know never to try it again – but you can't know that without attempting it first.
---
Outfit Details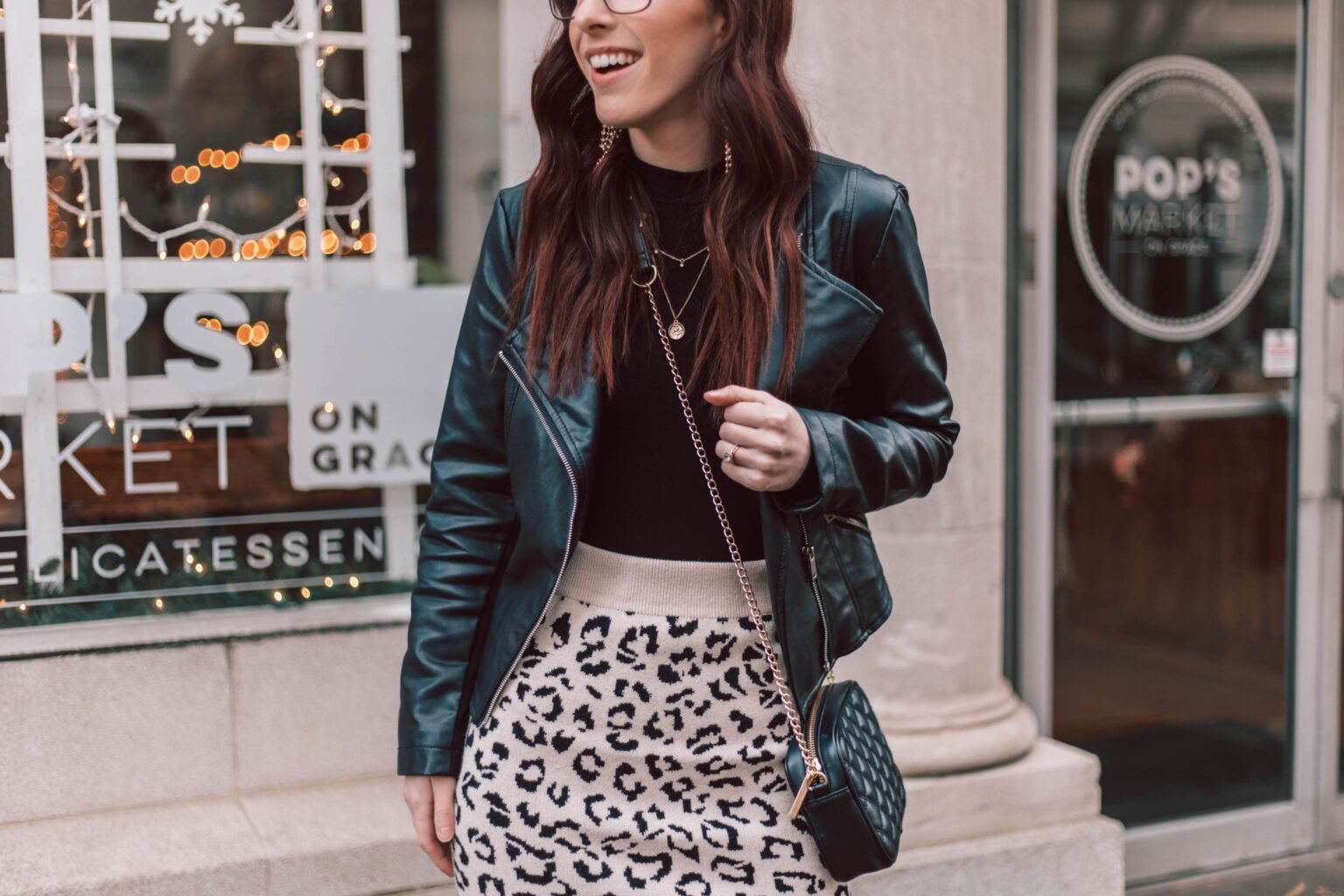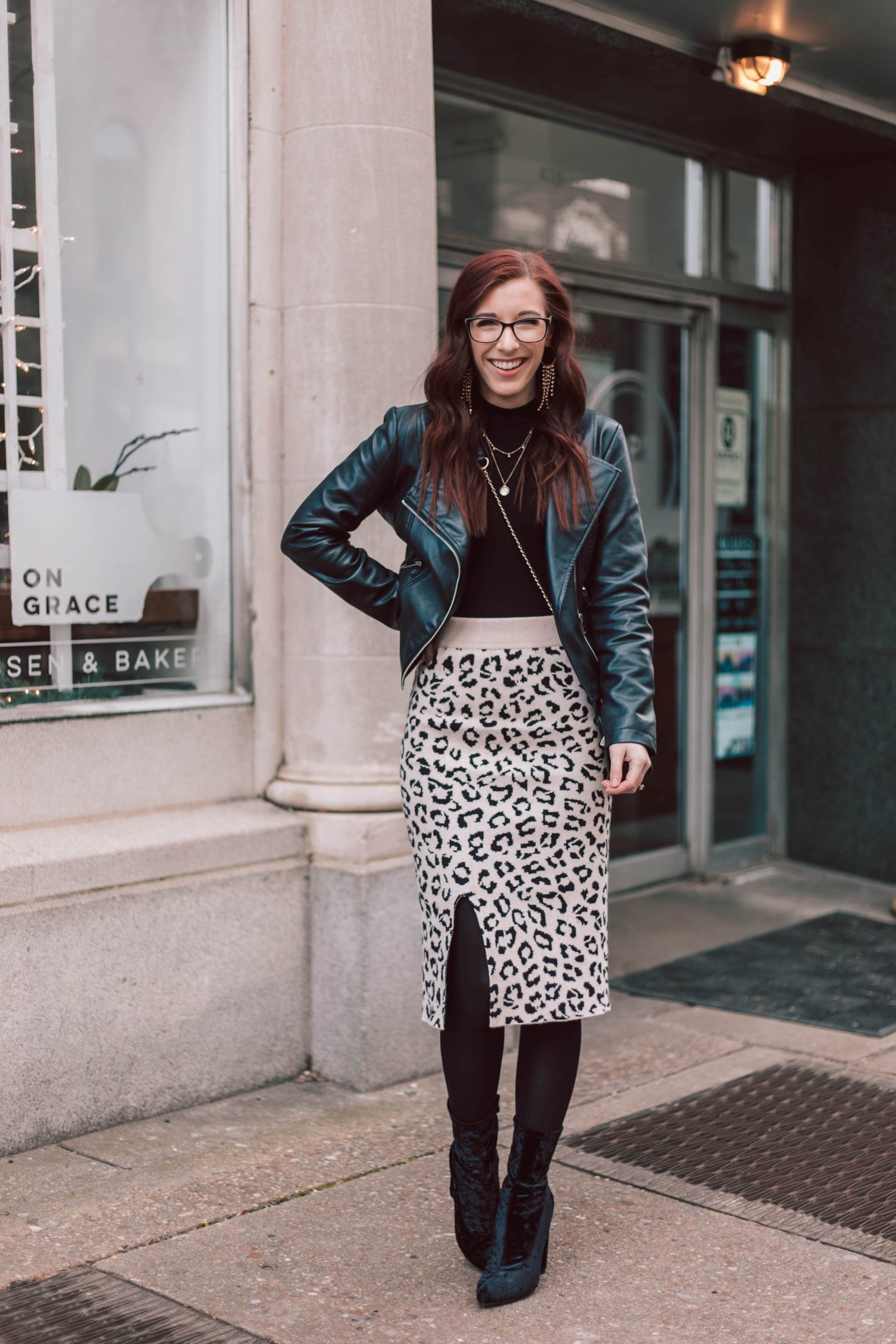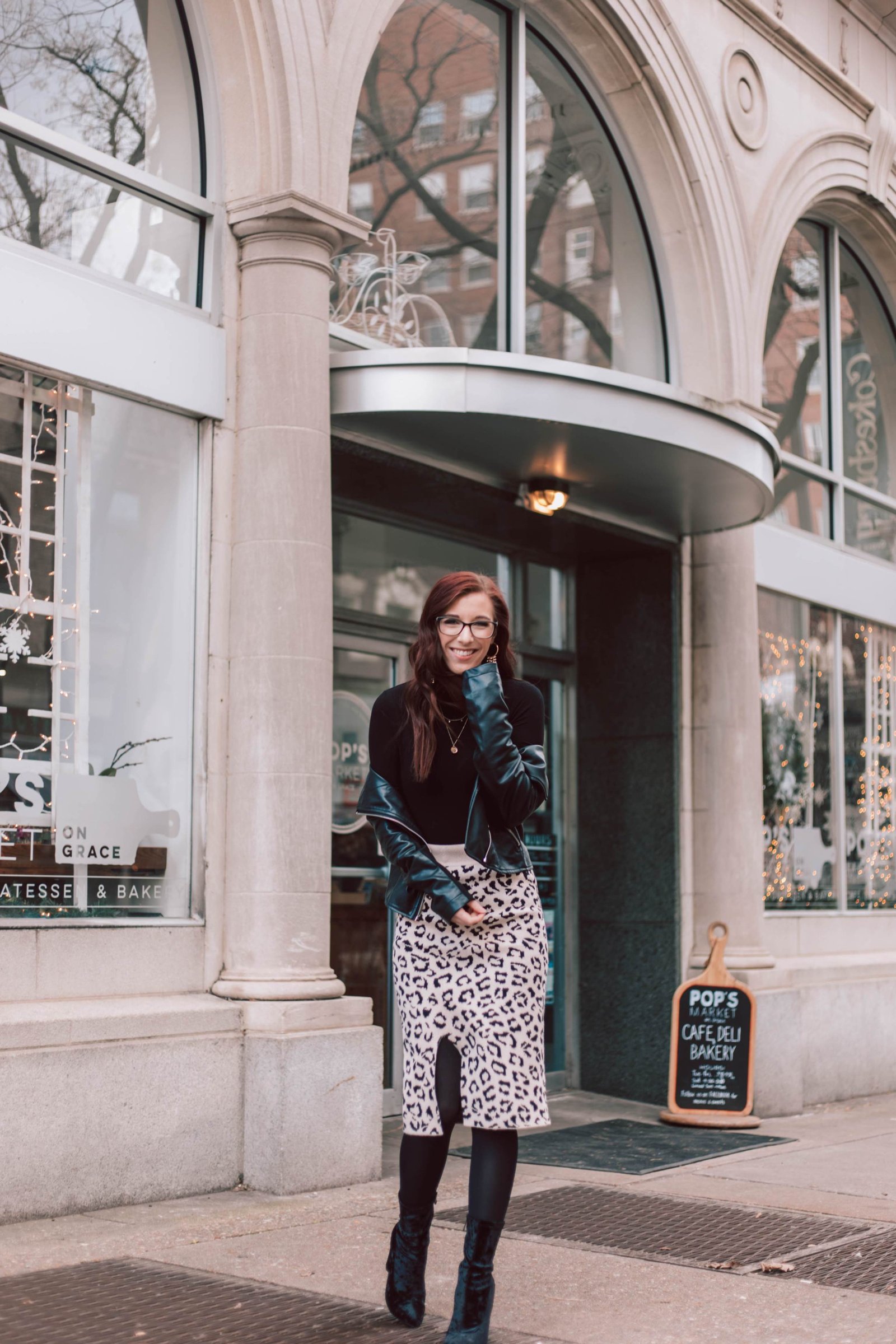 All that being said, here's how I'm now styling one of my new favorite prints.
This leopard print bodycon is basically like wearing a blanket as a skirt. The material is thick and snug, hugging all the right curves. The length is modest, with a sassy slit that looks great with – or without – tights. For the winter, I've found that bodysuits are the perfect partner with skirts, so I chose this mock-neck, long sleeve one to wear with my skirt. Layered over it is a classic, faux leather jacket. Honestly, I don't know what my closet would be without several pleather jackets. They're the best option to wear with basically every outfit on the planet.
I wore this exact outfit to the New Year's Eve party my husband and I went to, and knew I couldn't get away with not wearing something sparkly. Therefore, I chose my chandelier earrings and a layered rhinestone necklace. So as not to go overboard, I opted for a small, quilted crossbody bag and velvet sock booties. Let me just say, this outfit is definitely significant other-approved. Brandon loved this look from head-to-toe, and so did I. It's incredibly comfortable, totally bad@$$, and appropriate for a slew of occasions.
---
Related Posts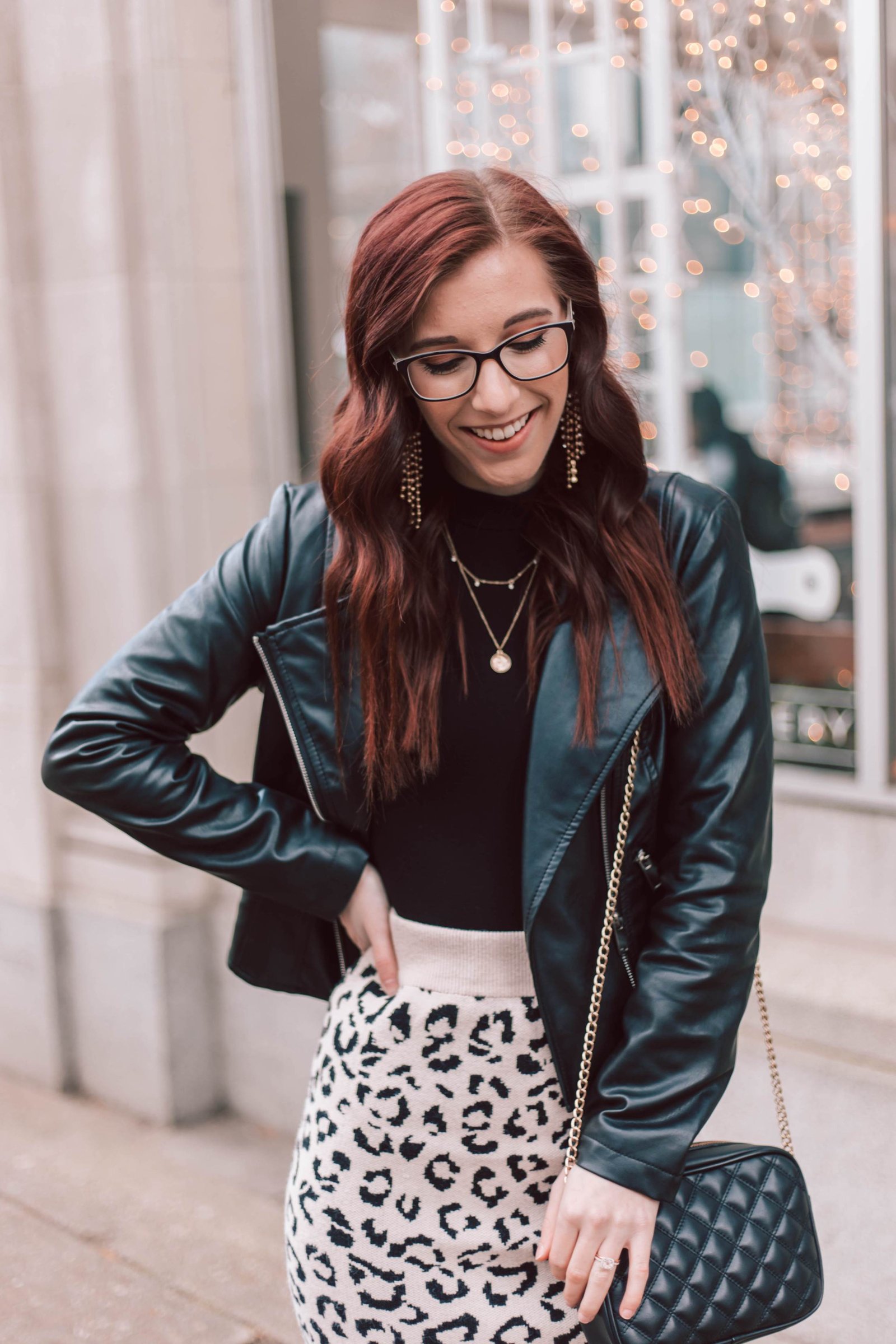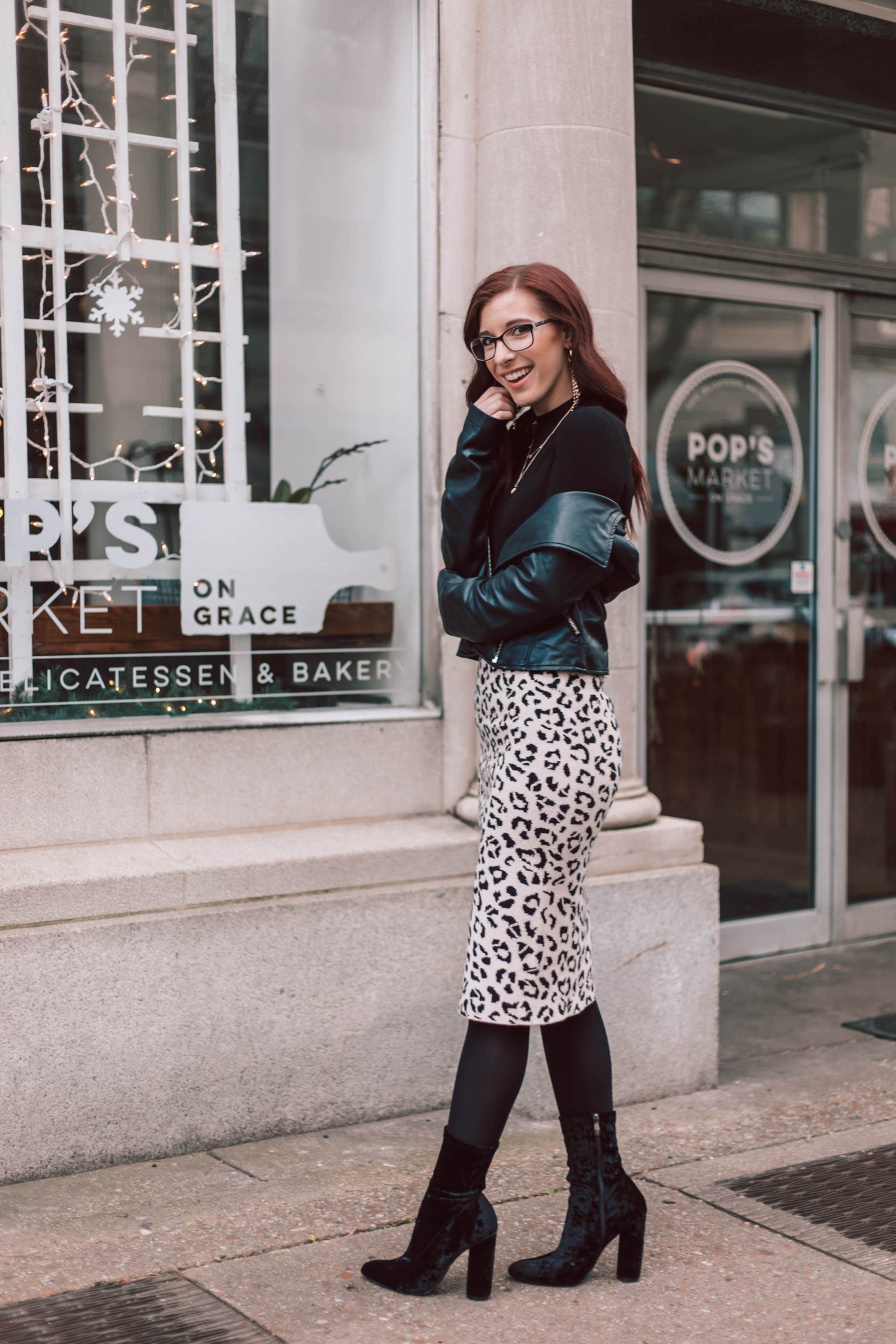 Where would you wear this leopard print bodycon skirt?