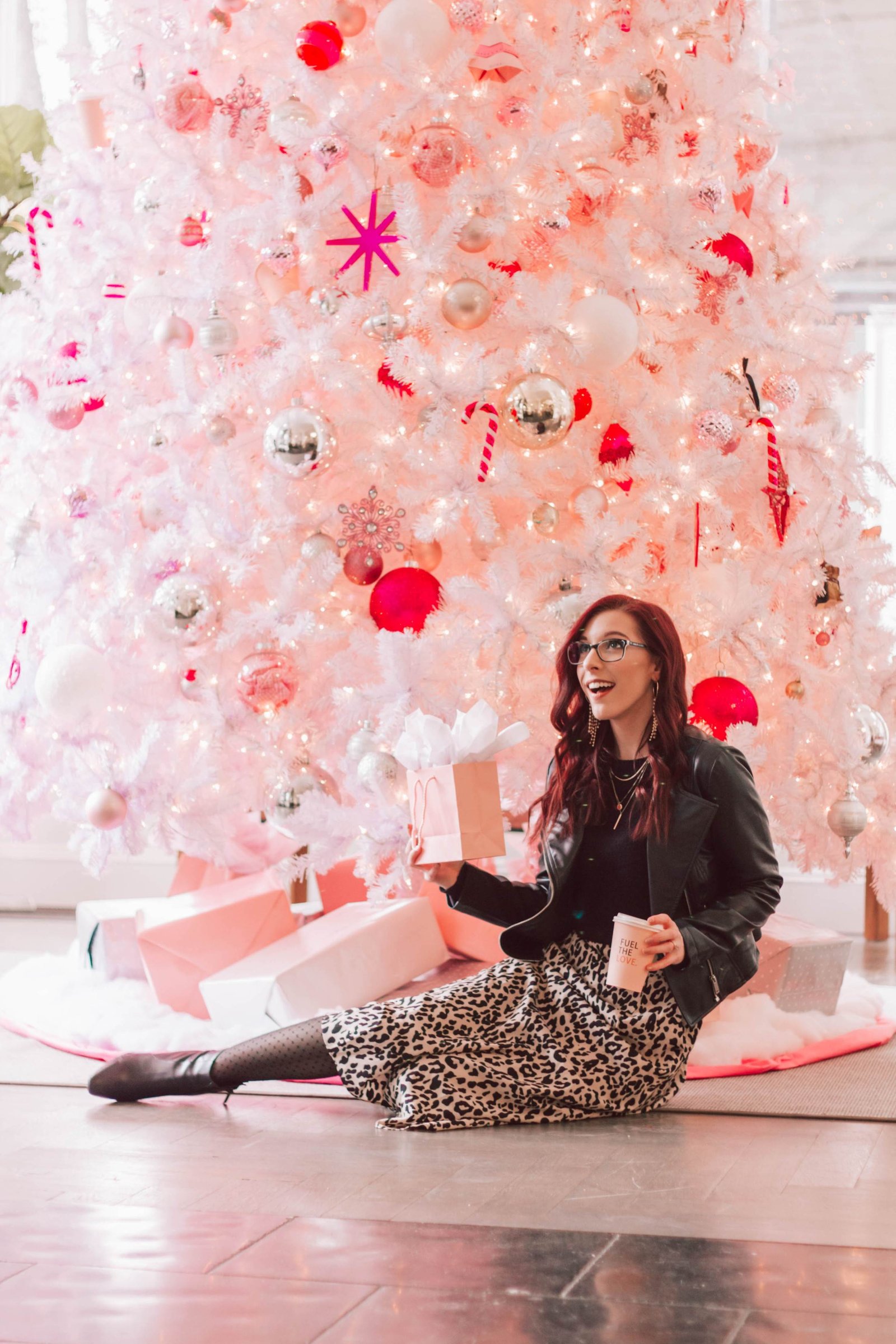 Who says you have to stick with red and green for the holiday season? I'm switching things up and incorporating leopard print for Christmas!
Each year, I make it a goal to wear something that's outside of my comfort zone at least once per season. For the winter, that meant jumping on the leopard print midi skirt train and finding a way to style it that best suited me. I found that I was incredibly confident in this outfit, and ended up receiving so many compliments that I knew I had to share it with you! I'm not typically one to wander too far from tradition, but I do find that wearing solely red and green during the holiday season can get quite boring. That being said, spicing things up with a fierce leopard print and faux leather jacket definitely made me realize that straying from the "ordinary" can often end up being the best option!
I'll be honest, when these skirts started to resurface at the beginning of autumn, I wasn't a fan. Leopard print seemed too noisy and overstated for my personal taste. However, after seeing them worn with everything from graphic tees and sneakers to lace bodysuits and heels, I started to wonder if I could pull them off as well. This trend may not be for everyone, but if the comfy, elastic waist, silky material, and endless styling options don't sway you – let it be known that this skirt has pockets. BOOM.
Outfit Details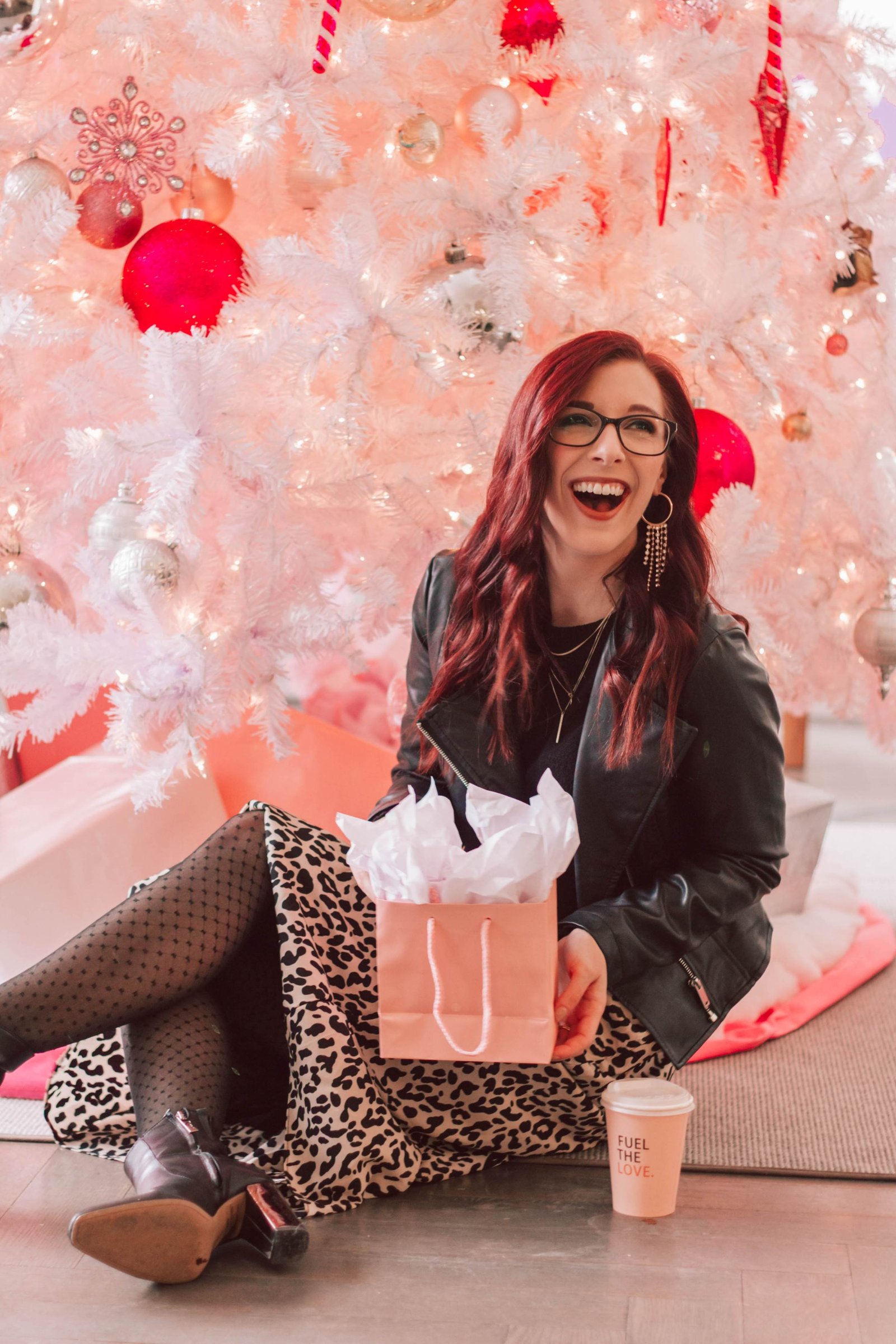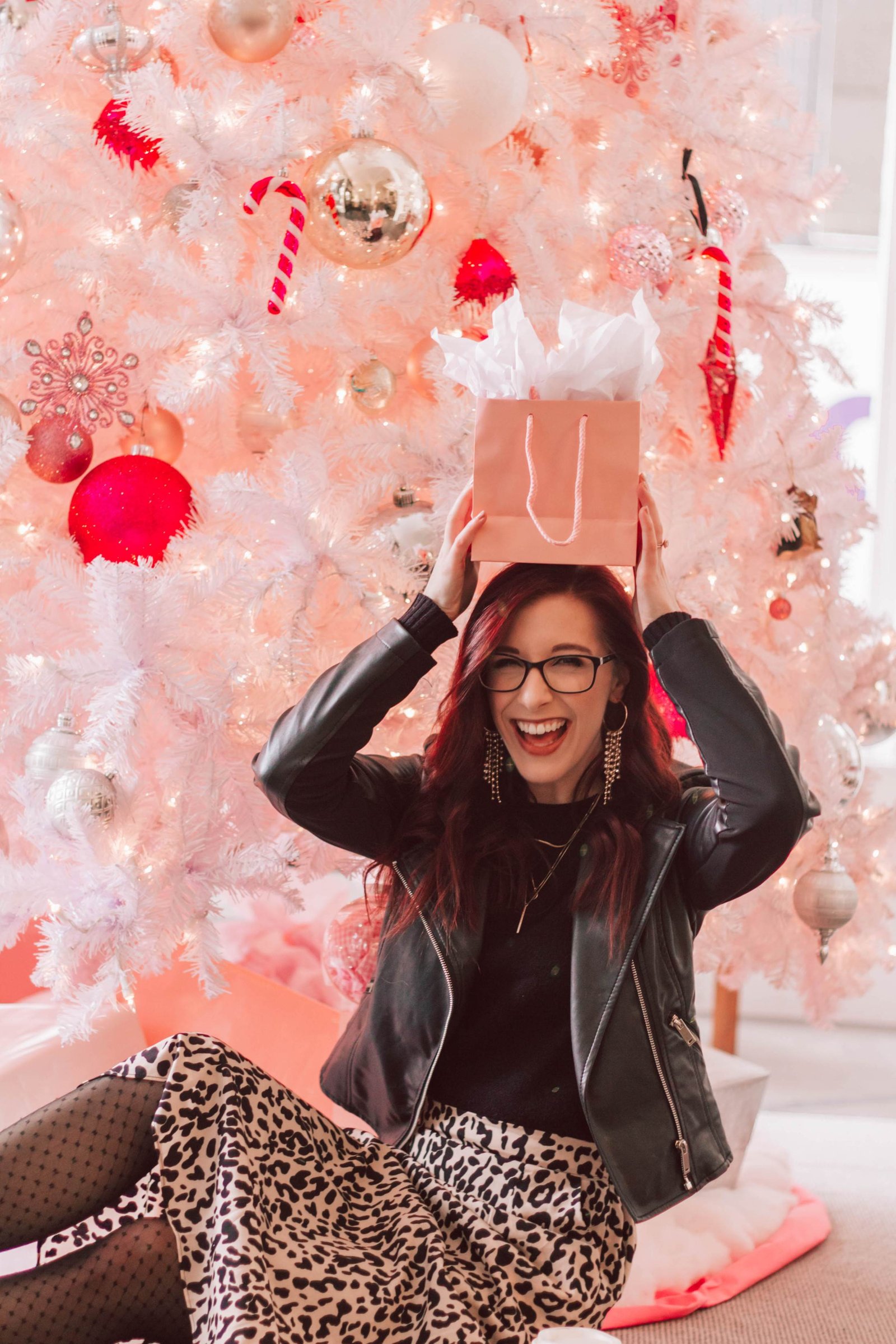 Not only can this outfit be worn for Christmas, but it'll last you through New Year's and beyond!
I know for a fact that I'll be lining up these items again for a date night with my husband, and I may just bring them out again in February for my birthday. For now, I'm rocking around the very pink Christmas tree, trying to get all my last minute shopping and wrapping done.
I styled my leopard print skirt with matching black and gold accessories. From my favorite leather booties to my chandelier earrings and even these really fun printed tights. Pattern mixing is definitely not my strong suit, but I thought these stockings looked especially cute with the animal pattern, and they added a bit of a sultry-yet-classy appeal. And of course, I couldn't get my holiday errands done without a cup of coffee from Quirk! (Have you noticed a theme here? I shoot photos at Quirk every Christmas! Think I'm kidding? Here are the posts from last year and the year before!)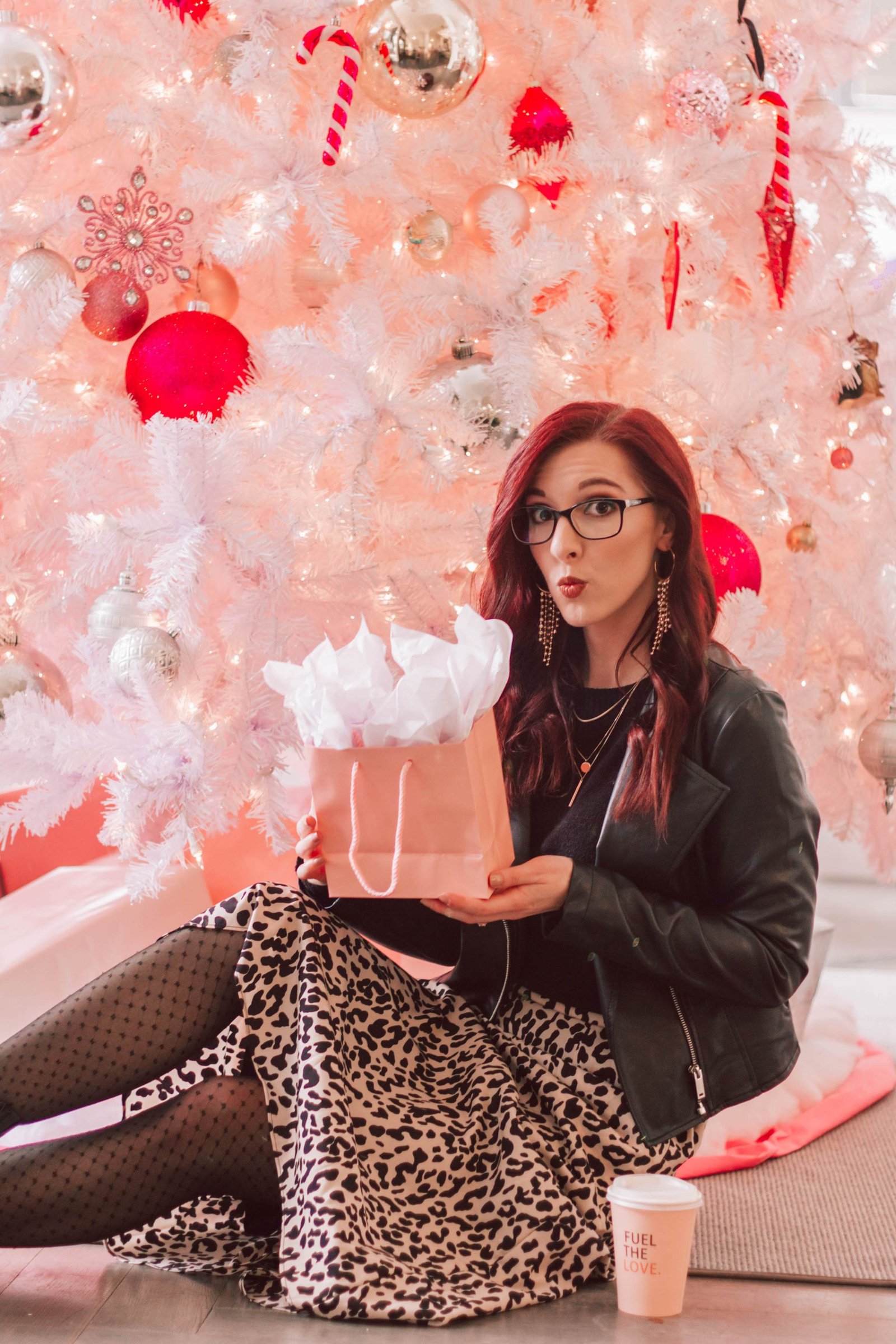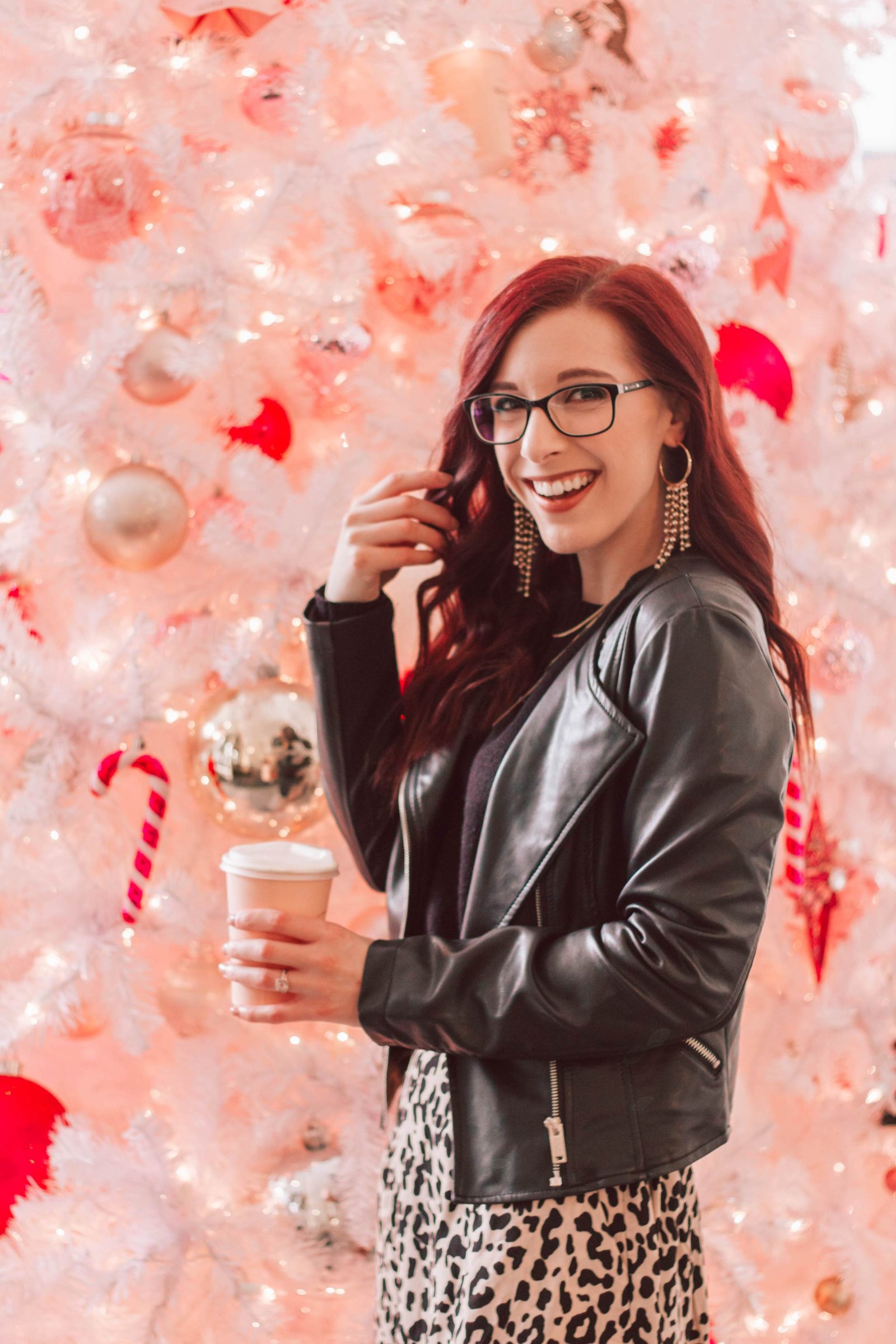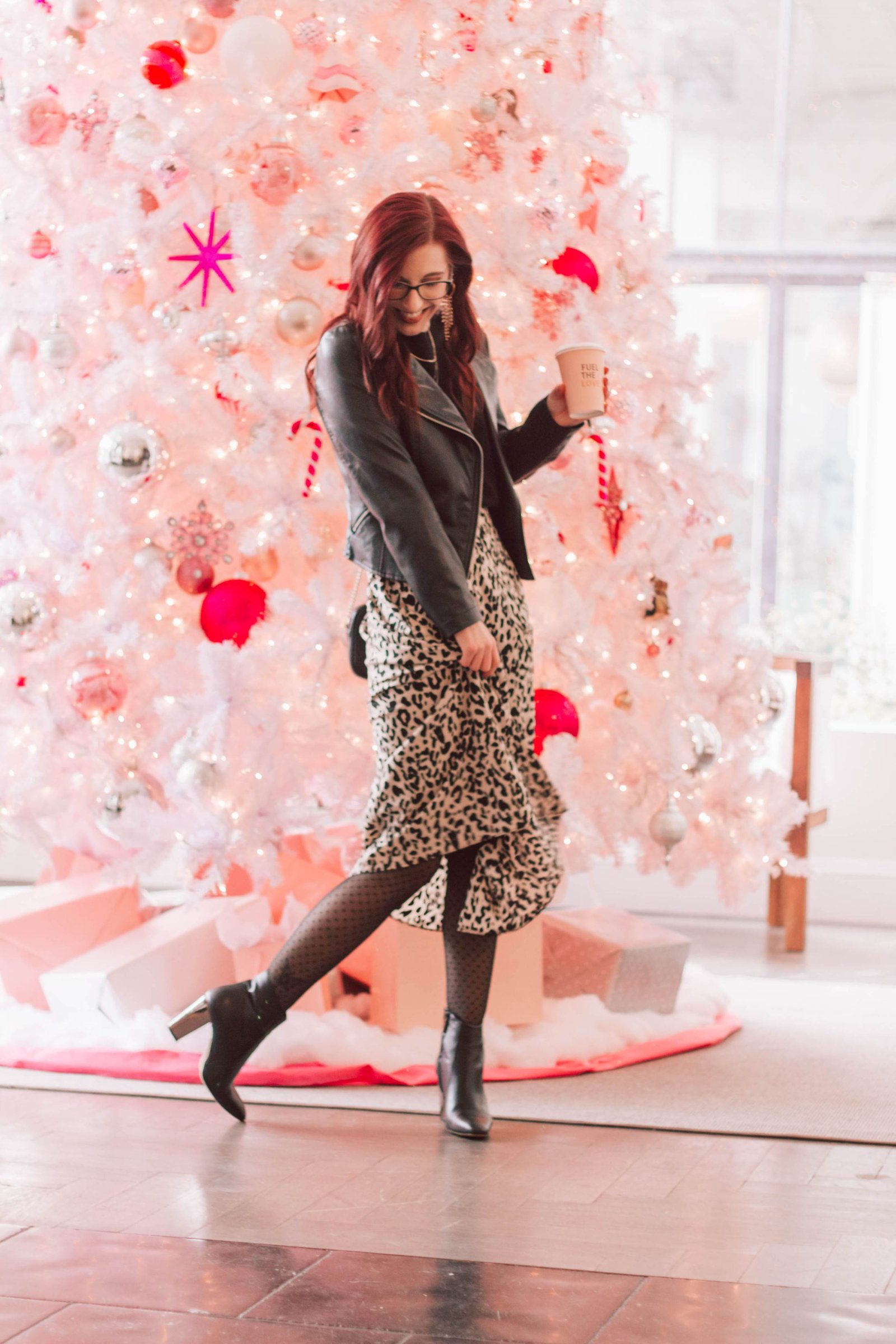 How do you stray from the ordinary during the holiday season?