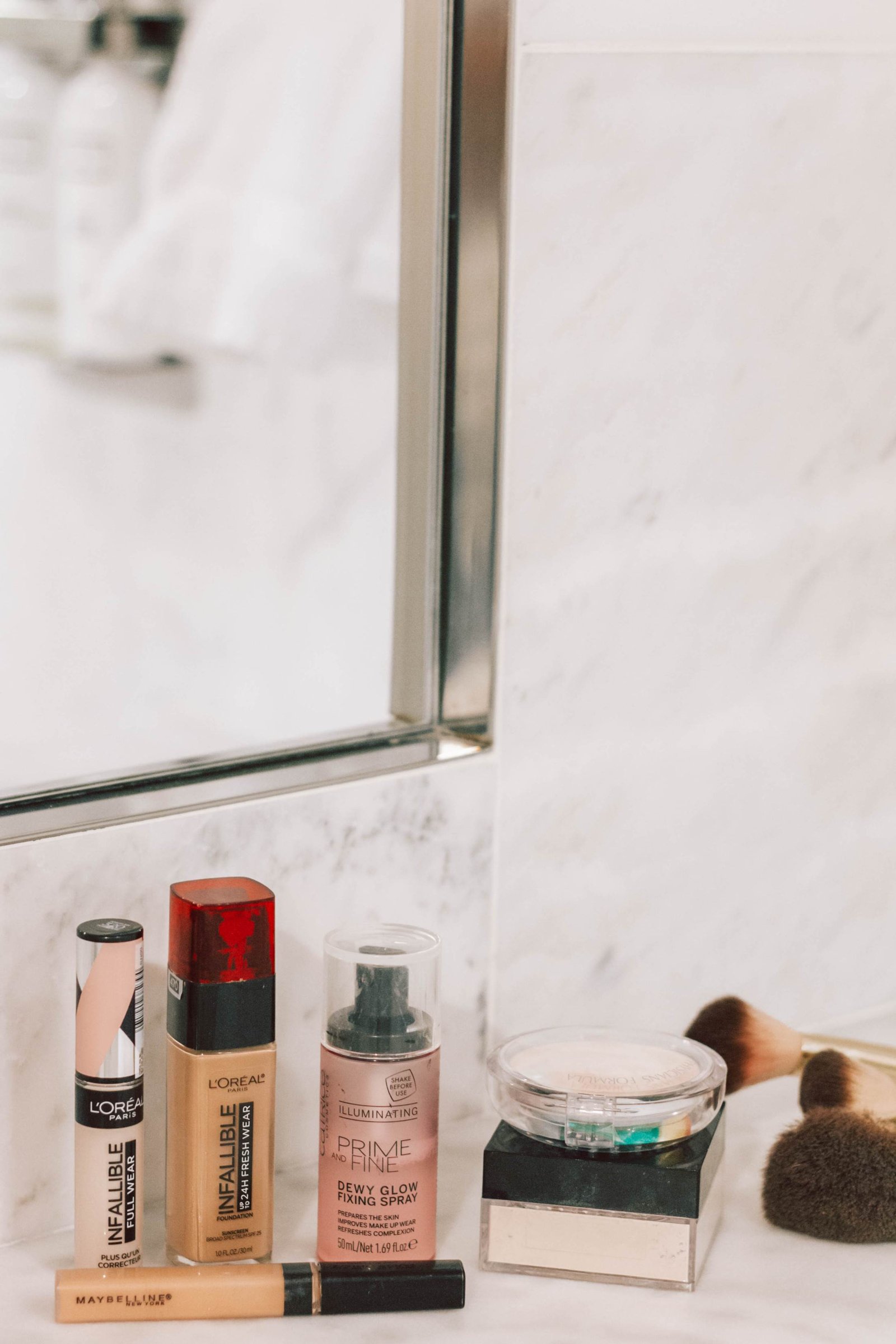 Did you know that it's possible to get full-coverage makeup and it be affordable and look good all day long?
A couple of weeks ago, I posted a photo and video on Instagram stories. The photo was of my face, wearing zero makeup, and all of my acne in full force. The video was of my face, with full-coverage makeup, and barely any sign of the acne that I'd previously displayed. (Click here if you want to see) Battling a digestive disease means simultaneously battling horrible acne and skin issues due to my gut being totally out of wack. Unfortunately, troublesome skin is something it seems I may face for the rest of my life, in one way or another. Right now it's acne and hyperpigmentation – but who knows what it might be in the future.
I'm incredibly grateful for cosmetics, and I do wear a full-face of makeup every day, unless I'm home by myself. I don't like showing my natural skin because of the tricky skin. However, I know I'm not alone in dealing with skin that isn't always my best friend. I received several DM's after posting the transformation, with questions on how I achieved that coverage. I want to provide a little insight into how I do that during the summertime, because it's something I've gotten pretty dang good at, and I want to pass the knowledge along.
Keep in mind that this routine is full-coverage and long-lasting for combination skin. This is specific to the summer, but it is not waterproof. You don't want to wear these products to the pool if you plan to take a dip. I haven't mastered that kind of makeup yet, but I'm still experimenting!
Here are the products I use for my full-coverage makeup routine. They make my skin appear "flawless," despite my acne.
Prep
Skincare is incredibly important. Just because I have acne-prone skin doesn't mean I just say "screw it" and stop caring. I have a daytime and nighttime routine, but let's focus on the daytime products, because they're what I would put on prior to makeup. This includes my cleanser, redness-reducing spray, under-eye brightening, and moisturizer linked in order below.

Base
Here's where the coverage comes in. I start with primer (either the UD one if I'm feeling dry, or the poreless putty if I'm feeling oily). Then, I use two concealers – one below my foundation and one above it + under my eyes, a full-coverage foundation, and two powders – one for my face and one under my eyes. I've linked them in order below.

Color
You'd be surprised how much it helps to add that highlighter, bronzer, and blush. Color and definition to your face make your skin appear less dull, and draws the eye to something other than just the imperfections. I apply in the order linked below.

Eyes
Just like the cheek color, adding to the eyes can make a huge difference. This is where I like to focus the most because I really like my eyes, so I want the attention to be on them, rather than my splotchy or textured skin. I switch up my palettes day-to-day, but I've linked the few I use most often, along with eyeliner, and mascaras. I also included my brow product. They're in order of application below.

Finish
Last, but definitely not least, is the setting spray. If you follow me on Instagram, you'll know that I rave about this particular setting spray all the time. It's just really that good! In fact, the last time I made an order, I bought three just so I'd never be out of one! It sets down the makeup, gives you the perfect glow, and in my opinion – it helps the makeup last much longer than most others! I've linked it below.

---
Related Posts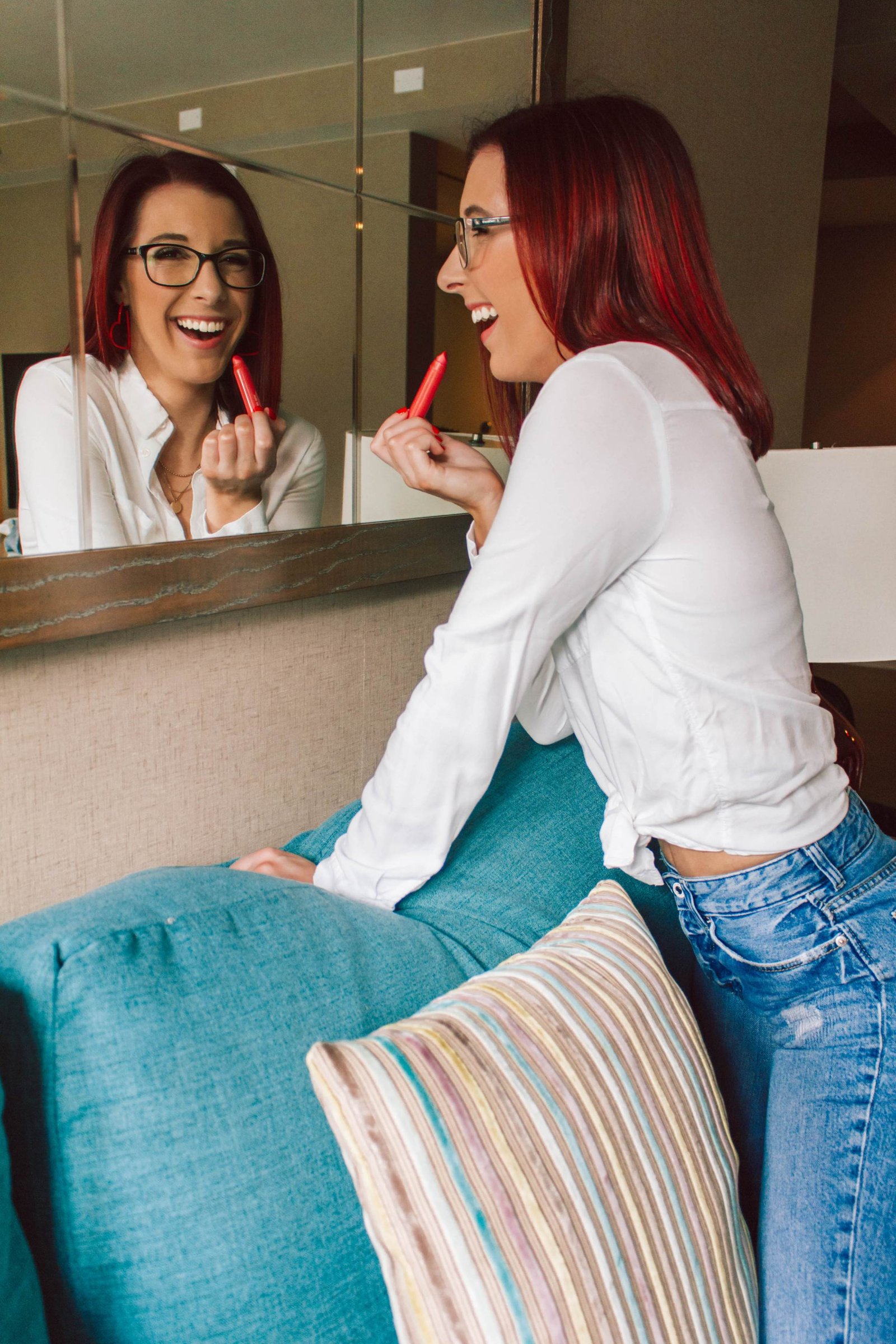 If you prefer a full-coverage makeup look, which products do you use?