A huge thank-you to Forever review copy of The Summer Cottage by Annie Rains.
In the midst of what turned out to be an entirely too-hectic summer, I needed a cozy getaway and The Summer Cottage provided just that.
Last winter, I picked up Christmas on Mistletoe Lane by Annie Rains and thoroughly enjoyed the lighthearted storytelling and seriously cozy atmosphere that the book created. I was completely unaware that this particular title was part of a series, called Sweetwater Springs, but I had no trouble understanding it without the context of the other books. It definitely made me want to pick up more of the author's work.
When Forever sent a copy of The Summer Cottage my way, I was thrilled. It's the first book in a spin-off series, titled Somerset Lake and it featured the exact same feel-good vibes. I was thrilled that it shared the same coziness as the Christmas book even though this story takes place in the middle of summer.
While it wasn't the most riveting, in-depth, or profound romance novel I've ever read, I wholeheartedly enjoyed it and definitely recommend it to all ages!
---
Looking for more book reviews?
My honest review of The Summer Cottage by Annie Rains.
Synopsis:
This summer, they'll learn that home is where the heart is.
Somerset Lake is the perfect place for Trisha Langly and her son to start over. As the new manager for the Somerset Cottages, Trisha is instantly charmed by the property's elderly residents and her firecracker of a new boss, Vi Fletcher. But Trisha is less enchanted by Vi's protective grandson Jake. No matter how tempting she finds the handsome lawyer, Trisha knows that if Jake discovers the truth about her past, she'll lose the new life she's worked so hard to build.
Jake Fletcher left Somerset Lake after a tragic loss, but he's returning for the summer to care for his beloved grandmother, hoping Vi will sell the run-down cottages and finally slow down. There's just one problem: Trisha, Vi's new employee. She's smart, beautiful, and kind, but Jake's job is to protect his grandmother's interests, and his gut is telling him Trisha's hiding something that could jeopardize Vi's future. However, as they spend summer days renovating the property and bonding over their love for the town, Jake realizes that Trisha is a risk worth taking–if only she can trust him with her secrets . . . and her heart.
My Rating: ★★★☆☆
Content Warnings: (more severe) Medical trauma and Death, and (moderate) Spousal/parental imprisonment
The Summer Cottage was as sweet as sugar.
If you enjoy:
– small-town romances
– secret/concealed pasts
– adorable kids and dogs
– precious elderly characters that encourage the protagonists
– the "save the business from the evil family member" trope
You'll absolutely love this book.
It was just what I needed in the midst of a chaotic summer. I felt as though I'd packed up and escaped to Somerset Lake. Cottages named after flowers and a hilarious neighbor who still believes he's part of a nudist colony? I was giggling and grinning from the very beginning.
When I read the synopsis, I really thought it was going to be an enemies-to-lovers romance, but instead, I found it to be a sweet, slow burn (with a pretty hefty side of frustrating "just get together already"). Trisha doesn't want to reveal her past and Jake is still healing from the death of his high school girlfriend. It made for a few annoying miscommunication moments, but it was overall cute and a little bit cheesy.
I really loved the small-town vibes. The secondary characters didn't feel out of place, but instead, they were necessary to the plot – helping Trisha settle in after some traumatic events that transpired in her last hometown, Sweetwater Springs (where a great deal of Annie Rains books take place).
It took a little while for anything to really happen aside from some inner monologues and flirting, but I definitely enjoyed the way the story progressed. There wasn't anything too deep or moving, but I didn't need it. When I set down the book at the end, I thought, "I'd like to visit Somerset Lake again." So, needless to say, I'll definitely be reading more of the books in this spin-off series.
---
purchase the book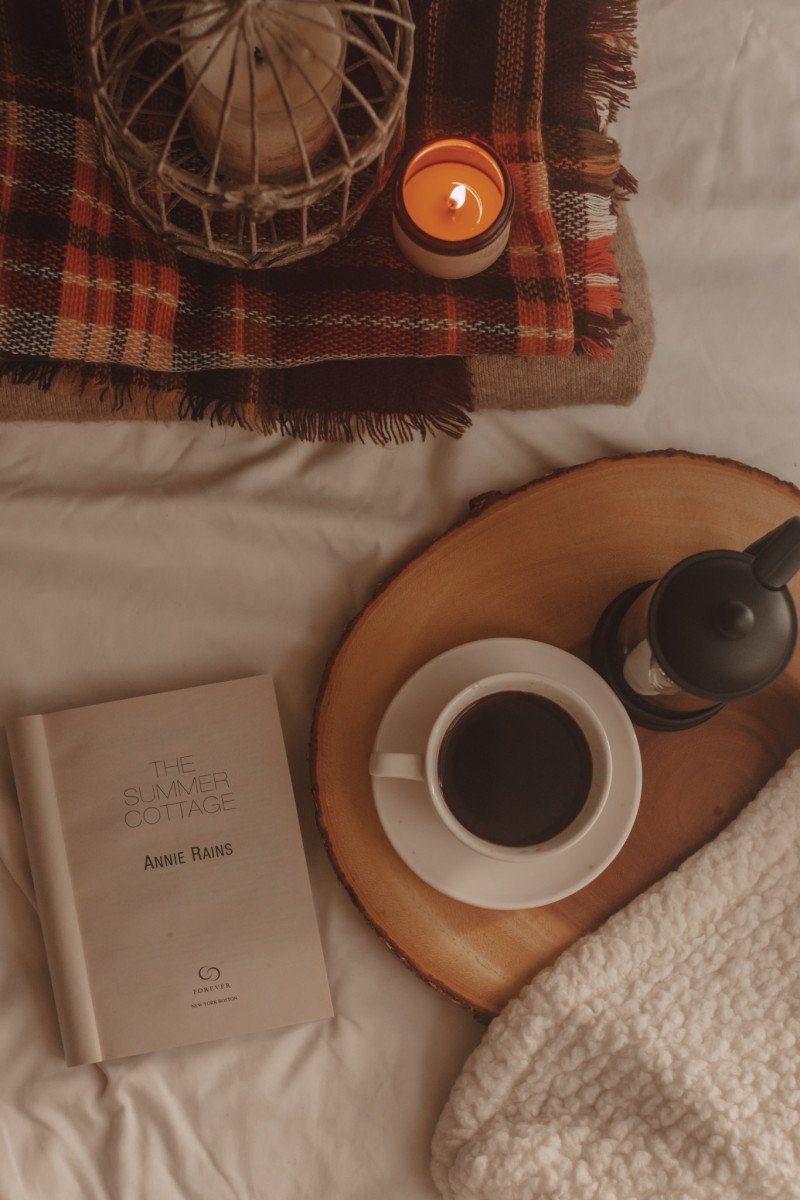 Will you be reading The Summer Cottage?
---
pin for later