I'll be honest, cooking and I don't exactly mesh. I'm no pro chef, but I do have a handful of recipes I swear by!
Ever since I got married, I've found myself in the kitchen more often. Partially because my husband loves cooking – and loves watching cooking videos with me – and partially because I just want to hone my skills (if I even have any skills to hone)! It's given me time to test some new recipes, and discover what I enjoy making.
I thrive behind the bar, with a shaker in hand – or when I'm combining flour, sugar, and butter to create something sweet – but there's also a few easy dinner recipes I love (emphasis on easy). If you're like me, and cooking is not your forte (or you just crave a delicious drink or dessert), you'll love the following dishes!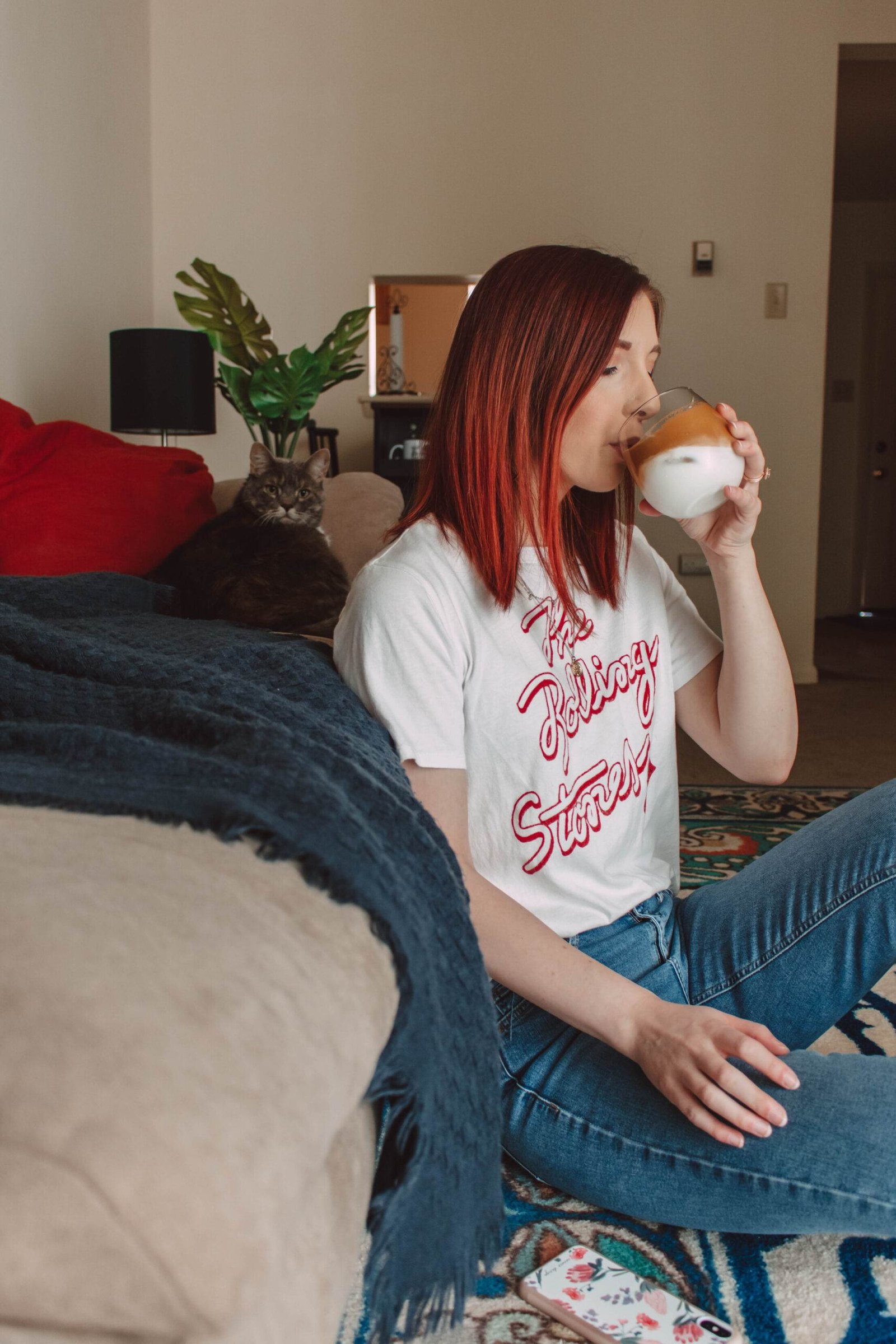 15 Recipes You'll Be Dying to Make on Repeat
You'll find a few fantastic dinner recipes, some delicious desserts and breakfasts, as well as a handful of my favorite beverages!
I don't know about you, but #TacoTuesday is even more brag-worthy when you've made the tacos yourself! We tested out this recipe a few months back and it was so good that we're still talking about it. I didn't add onions or use avocado oil because of allergies, and we didn't have naval oranges on-hand, but it was still incredible! My mouth is watering just thinking about this dish.
Alright, so I definitely switched up the ingredients for this recipe, because I just wasn't craving that many veggies (and again, my onion allergy is coming in strong). However, this soup got my husband's seal of approval, and that takes a lot because he's not a soup or tomato kinda guy! This is a comfort meal for sure.
This is definitely one of the most made meals in our home! In fact, we're working on leftovers from this dish as I type this up. I've kind of created my own version of the recipe, because I double the amount and completely change up the ingredients. Instead of linguine, I use rotini pasta. Rather than chili paste, crushed garlic, and garlic powder, I use 1/2 cup Huy Fong Chili Garlic Sauce and 2 tbsp minced garlic. I also eliminate the onions (are you tired of this yet? Me too – sigh).
We've had some good times with this meal – and some not-so-great times. Basically, my husband and I highly suggest chicken thighs or tenderloins instead of chicken breast or drumsticks. The meat is much more juicy and easy to break apart this way! I also recommend marinating in a combination of sriracha, honey, and minced garlic overnight before placing it in the slow cooker. Serve over fried rice or with fresh-steamed broccoli!
This might not seem like a full meal, but it'll fill you up for sure – and it's a good source of vitamins and protein! It's also great to bring to parties, because it's a Crock-Pot dip, so it's easy to heat up, tote around, and enjoy with a group.
I never realized how much I loved brussels sprouts until I made this on a whim for a family gathering over the holidays a few years back. Since then, it has become highly-requested and very well-loved! I've even made it for a few parties and it's always devoured in a matter of minutes. The sweetness of the maple, mixed with the saltiness of the bacon, and the bite of the sprouts makes a divine combination. It's also painfully easy to make!
---
I would'n't be a basic white girl if I didn't crave pumpkin bread at the beginning of autumn. However, I'm writing this article in mid-May, and I still wouldn't mind sinking my teeth into this delicious breakfast bread. Light a cinnamon candle, put on some jazz music, and get baking. I guarantee you will love it with a little cream cheese or butter on top. Plus, it makes your home smell phenomenal!
My husband got a cast iron skillet for Christmas, and since then, we've been experimenting tons of recipes – from steaks and hamburgers to cinnamon roll cake! Let's just say, this particular treat disappeared in the blink of an eye. It's delicious for breakfast, or serve it with ice cream on top for a divine dessert!
I realize the recipe is actually for chocolate chip shortbread cookies, and they're dipped in chocolate. However, when my sister sent me this recipe, Brandon and I began thinking up all the mix-ins, and his request was butterscotch chips! We loved them so much that we even shared them with our neighbors, and they shared them with their neighbors, and let's just say – they're a hit! So whether you want to stick with the original chocolate recipe, or change it up, you'll enjoy some really good shortbread!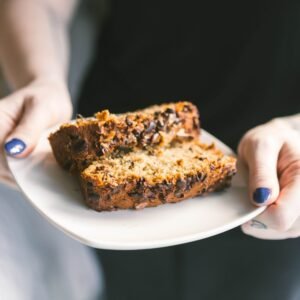 Print Recipe
Chocolate Chip Walnut Banana Bread
Ingredients
1/2 cup butter softened
1 cup sugar
2 eggs
2 overly ripe bananas mashed
2 cups flour
1 tsp baking powder
1/2 tsp baking soda
1/2 tsp salt
3/4 cup semisweet chocolate chips
1/2 cup chopped walnuts
Instructions
Cream butter with sugar until blended.

Add eggs, one at a time, beating after each addition.

Mix in mashed banana.

Add flour, baking powder, baking soda, and salt.

Stir in chocolate chips and walnuts.

Spoon into a well-greased 9×5 in loaf pan.

Bake in preheated 350 degree oven 60-70 minutes or until a toothpick inserted in center comes out clean.

Cool for 10 minutes, and enjoy!
My mom has been making this delicious beverage for as long as I can remember, and when I got married, she passed on the recipe so I could continue making it for myself and Brandon. It's excellent as-is, or you can add in a shot of Irish cream for an even more comforting drink.
A couple years back, I went to a trade show in my city and discovered Keep It Simple Syrup. I bought the spearmint-infused simple syrup, thinking I might experiment with it once or twice and then forget about it. I've purchased countless bottles since then, because it helps me make my favorite cocktail: a mojito! No more mint muddling required!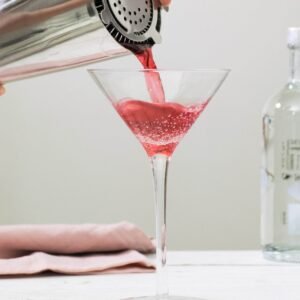 Print Recipe
Watermelon Vodka Spritz
Ingredients
4 oz Simply Watermelon Juice Drink
2 oz vodka
1 oz lime juice
6 oz Bubly Watermelon Sparkling Water
cubed watermelon
crushed ice
Instructions
Pour vodka, watermelon juice, and lime juice in a shaker with crushed ice.

Shake until thoroughly mixed and cold.

Place cubed watermelon in a 16oz glass.

Pour watermelon sparkling water over cubed watermelon.

Pour vodka mixture over sparkling water and watermelon and enjoy!
Okay, so this probably isn't new to you, since the internet is obsessed with it, but if you haven't heard of it yet, Dalgona coffee is a beverage made by whipping instant coffee and hot water with sugar and pouring it over milk. Of course, there are tons of other mix-in options, but I put together a simple TikTok video to share how I made it. Try it for yourself and see what all the hype is about. It's pretty darn delicious.
I received a bottle of Chambord for Christmas and had absolutely no idea what to do with it. Out of sheer curiosity, I decided to check the brand's website to gain inspiration, and found this recipe. We made it on New Year's Eve, and let me just say, that celebration was fabulous!
---
Related Posts
Which of these recipes will you be trying out next?
---
Pin for Later