What do you wear when you're as bored with your wardrobe as you are with the season? Pairing beautiful basics promises a foolproof winter outfit!
Let me take a moment to be brutally honest with you. As much as I've always liked winter (and honestly, I do), at a certain point – usually around the middle of January – I start to become bored with my closet. There's only so many combinations of sweater + pants + coat + boots I can wear before it seems as though I've run out of options. However, I believe that so much of my struggle stemmed from the colors and patterns I was trying to make work together. While I love a vibrant green sweater or a pair of gingham pants, they're not always the most conducive when trying to mix and match to create unique outfits each day.
This year, I took on the task of stocking up on basics, in mostly neutral colors. Lots of black, white, brown, and gray started making their way into my closet. This is super unusual for me, because I've always been one to love wearing lots of color. It was a tricky transition, and I "cracked" when I began adding more red hues. Then I realized that I didn't need to smack my own wrist for wanting pops of color every once in a while. I just found a way to incorporate those brighter tones so I was left with only easily-matched pieces.
---
Outfit Details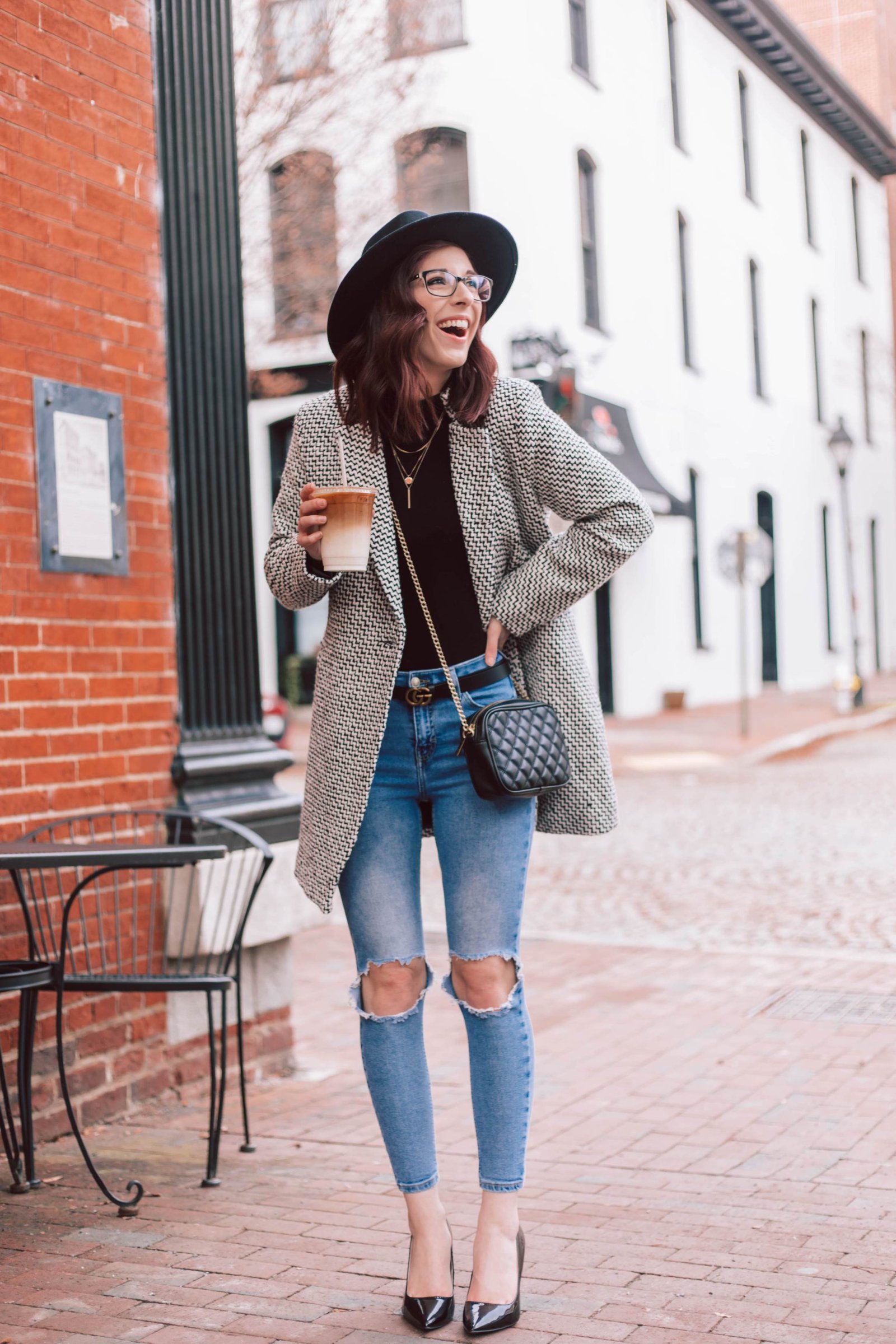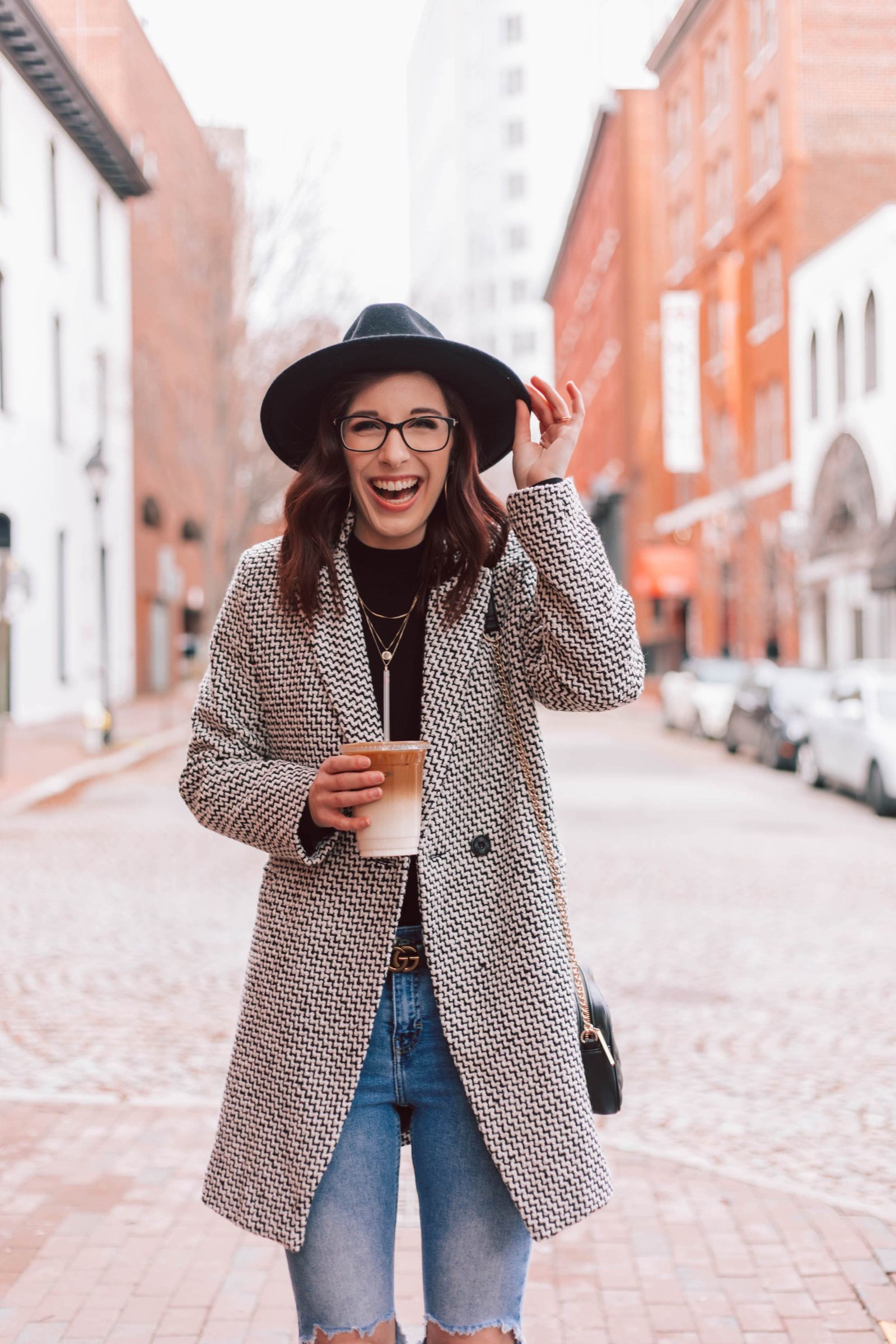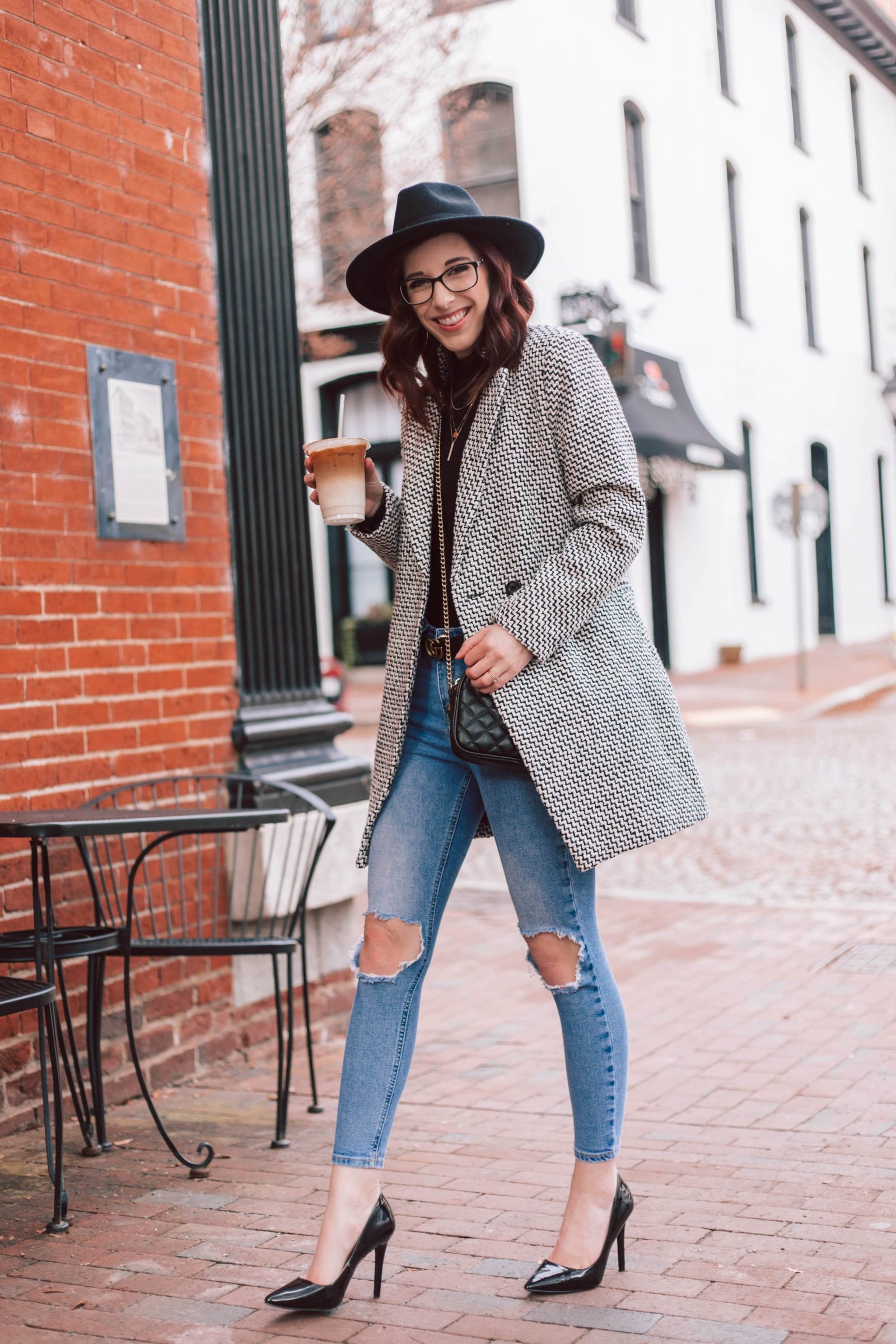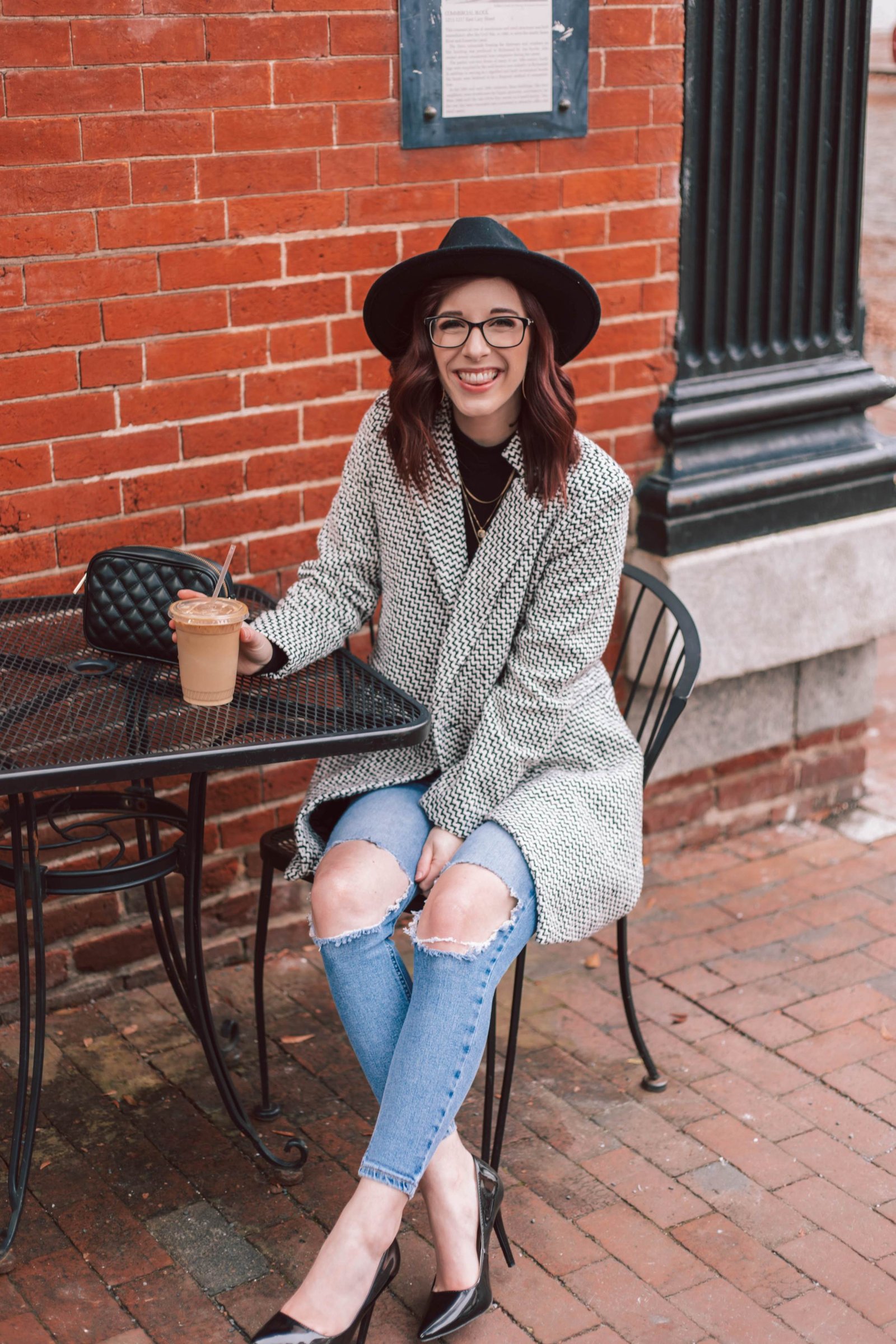 This chic, street-style look makes me feel like a million bucks.
In fact, I'd go so far as to say this particular ensemble is a 100% foolproof winter outfit. I started with my favorite pair of denim, then added a mock-neck bodysuit. Those two items alone create a dynamite duo that's incredibly flattering and can be styled numerous ways. Then I got to layering and accessorizing. A combo of gold and black jewelry, belt, hat, bag, and shoes all matched together, but weren't overpowering. The final touch? My new favorite winter coat. I knew I'd love this coat the moment I saw it on the Chicwish website. What I didn't know was that it would be not only stylish, but incredibly warm! The lining is quilted, and the day these photos were shot was a windy, chilly one. I was so thankful to have this particular outerwear with me! It's currently $88 and in stock from sizes XS-XL (fits true to size, and I'm a XS for reference).
I felt so confident in this outfit, and that confidence was only boosted when I walked into a local café and the barista told me that I looked super stylish. Such a compliment! It made me grateful that I had invested in those beautiful, basic pieces that make my wardrobe so much easier to rifle through. No more debating over which product to pair with which. I'm wondering if I need to take this skill into the spring and summer!
---
Related Posts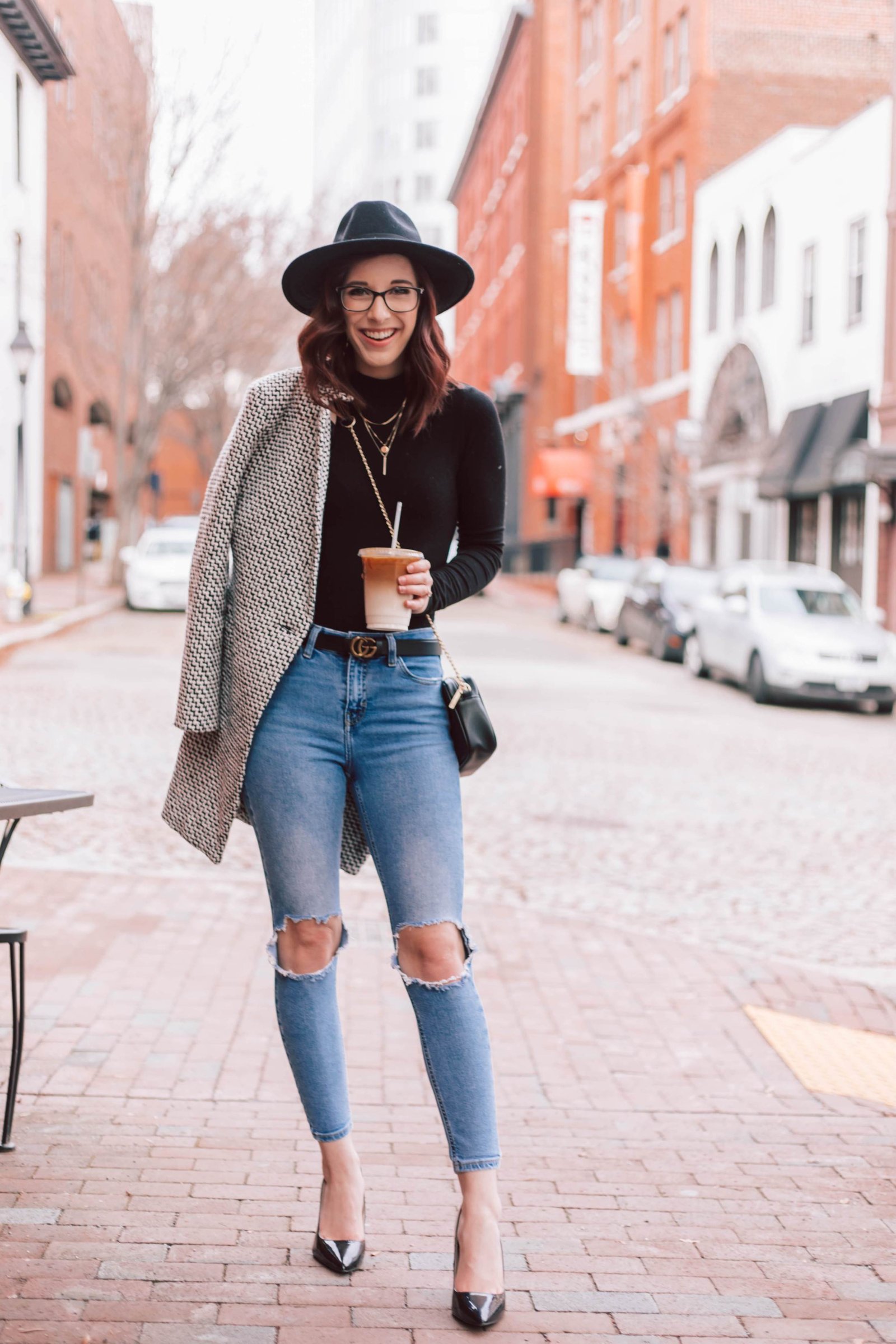 What do you wear when you're beginning to get bored of your winter wardrobe?