A huge thank-you to Flatiron Books for this review copy of Waking Romeo by Kathryn Barker.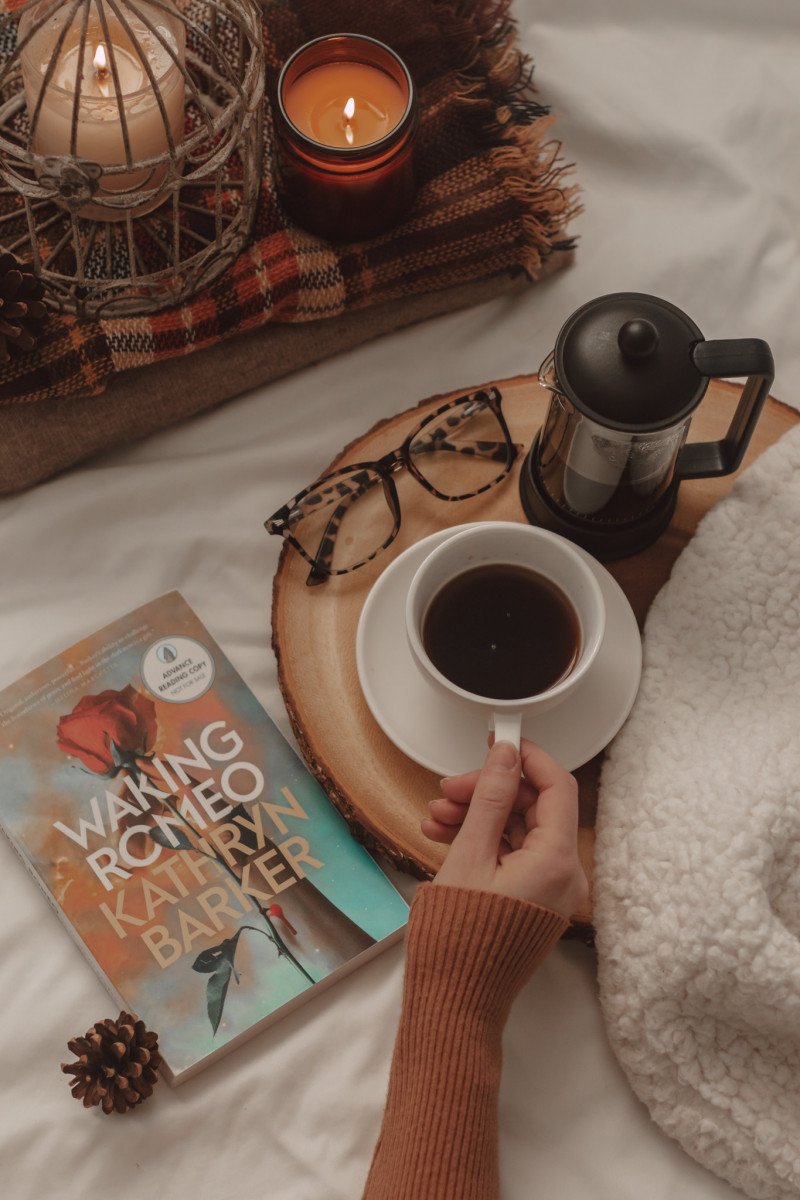 I had no clue what I was getting into when I agreed to readWaking Romeo, a sci-fi retelling of Romeo and Juliet.
In December of 2021, I received an email from Flatiron Books, asking if I'd like to read Waking Romeo by Kathryn Barker. I hadn't heard anything about the book or the author, but the concept sounded intriguing and yes, the cover was beautiful. I agreed and didn't really think much about it again – until the book arrived sometime in mid-January. The cover was even more stunning in person and I kept pushing it higher and higher up my TBR each time I saw it sitting on my shelf. Until, finally, I picked it up at the end of March.
I had read the synopsis and even thought I knew what I was getting into, but truthfully, I wasn't prepared in the slightest for this whirlwind adventure! This book has to be the most fascinating retelling I've ever read. That's high praise, you gotta understand, as someone who adores series like The Lunar Chronicles and gorgeous fairytale mash-ups like Echo North. But there was just something so incredibly unique and fresh about Waking Romeo that had me on the edge of my seat!
As I'm writing this post, it's been about a week since I finished the book and I'm still thinking about it. That's got to mean something, right? Keep on reading to see my full, spoiler-free review and find out just why this novel stood out to me.
---
LOOKING FOR MORE BOOK REVIEWS?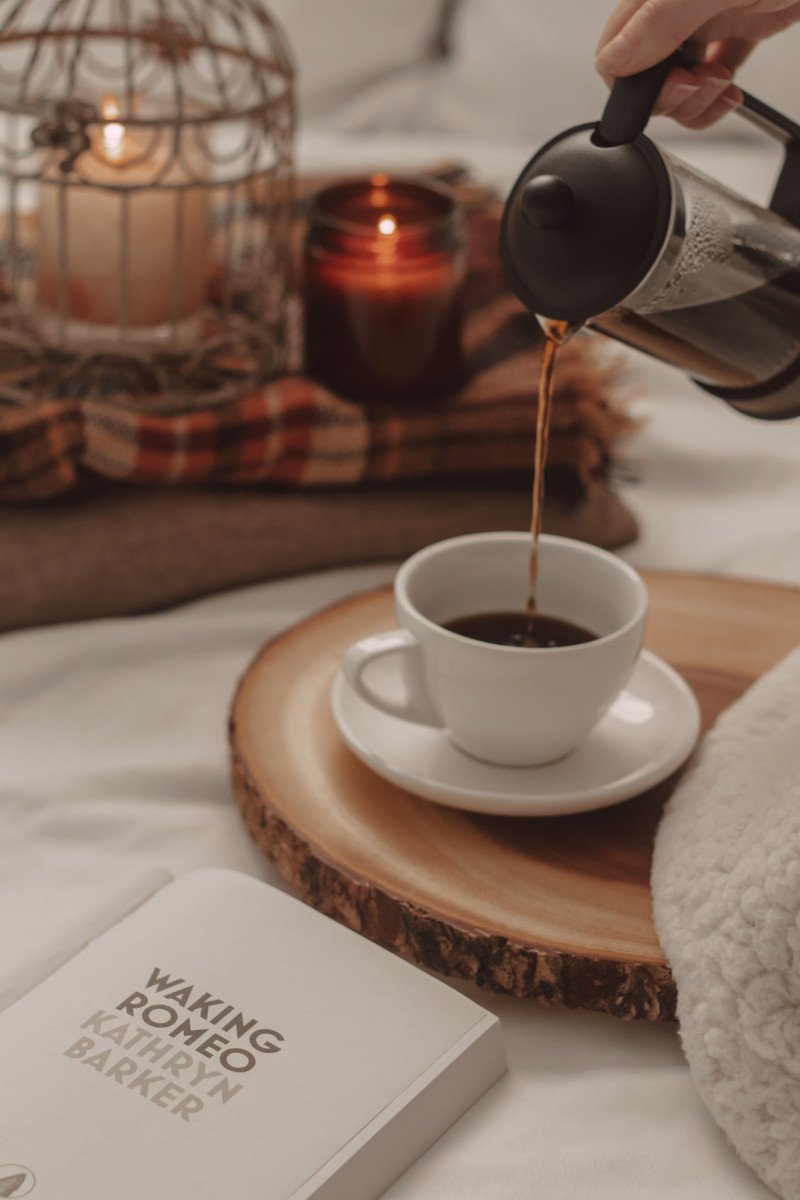 My honest review of Waking Romeo by Kathryn Barker.
Synopsis:
YEAR: 2083
LOCATION: LONDON
MISSION: WAKE ROMEO
It's the end of the world. Literally. Time travel is possible, but only forwards. And only a handful of families choose to remain in the 'now', living off the scraps that were left behind.
Among these are eighteen-year-old Juliet and the love of her life, Romeo. But things are far from rosy for Jules. Romeo is in a coma and she's estranged from her friends and family, dealing with the very real fallout of their wild romance.
Then a handsome time traveller, Ellis, arrives with an important mission that makes Jules question everything she knows about life and love.
Can Jules wake Romeo and rewrite her future?
Content Warnings: (major) Body horror, Bullying, Gaslighting, Body shaming, [[Suicide, and Suicide attempt – because it's a Romeo and Juliet retelling]], (moderate) Injury/injury detail, Murder, Racism, Drug abuse, and Gun violence
This book was nothing like I expected, in the best way possible! Go ahead and read the synopsis. You'll get a gist, but you definitely won't get the full picture.
I'll admit that I wasn't anticipating fireworks of any sort while reading this. I thought I might enjoy it, but I figured it would be a 3-star read. 4, if I got lucky! However, after a somewhat slow and confusing start (it picks up right in the middle of mayhem and takes a bit for you to adjust to your surroundings and understand the characters), the fast pace and nonstop action kept me so hooked that I really had a hard time putting the book down. I genuinely had one evening where I couldn't keep my eyes open, I was so tired, but I was only 100 pages from the end and everything in me was screaming to just keep reading! Yes, it was that intriguing.
Trying to give a nutshell explanation for this plot gets a little tricky. However, if I had to do it, this is basically what I'd say:
The year is 2083 and the world is coming to an end. Time travel is real and it has screwed everything up. Jules (Juliet) didn't die when she was supposed to, and Romeo is in a coma. Then, out of nowhere, a guy named Ellis shows up from the LITERAL end of the world (a few years later – he traveled back in time) and says they need to wake Romeo because the fate of the world is dependent upon it. This Ellis guy happens to be Heathcliff Ellis, on who Emily Bronte based her novel, "Wuthering Heights". So yes, it's a mash-up of classic characters in an almost apocalyptic world.
Does that sound complicated? Probably terribly so. But it's the best I can muster. Needless to say, if you're looking for something really interesting, with lots of great action, fantastic character development, a wonderfully diverse cast, and with a nod to classics (without actually being a classic), you'll want to pick this up!
This book had me shaking my head over and over again, trying to sort out the time travel pieces. It's definitely a "thinker" of a story, and it will leave you wanting to pick it right back up again after you've finished it. That's certainly how I'm feeling right about now!
---
purchase the book

Have I convinced you to add Waking Romeo to your reading list?
---
pin for later