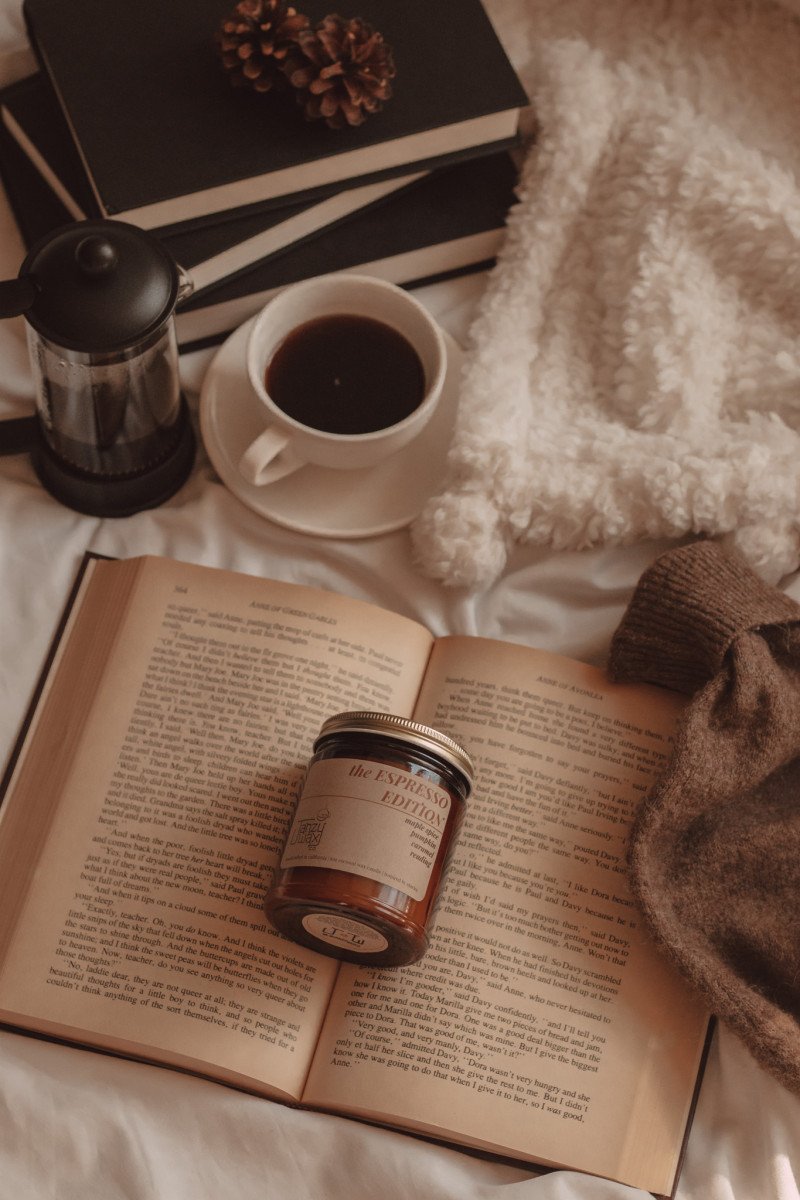 Over the past year, I've been asked numerous times for my bookstagram tips. In this post, I'll be divulging all my secrets.
Blogging has been my full-time job since 2015 and in the last few years, I took on the job as a social media manager for several local businesses. Between the two, I've learned my fair share about Instagram and what it takes to succeed. Now, I don't claim to be any kind of expert, but I've gone through a lot of trial and error and done ridiculous amounts of research, so hopefully, my word will count for something.
Over the last few years, I've had an engagement rate of anywhere between 15-40% on my bookstagram page, which has grown to just over 9000 followers in 2 years. I'm stating these numbers to say that it doesn't take a crazy large following for an Instagram account to perform well. Keep reading to find out what I've learned and what you can do to master bookstagram as well!
---
related posts
Before we get into the bookstagram tips, I want to talk a little more about engagement rates.
What does "engagement rate" actually mean? Your Instagram engagement rate is determined by your average number of likes + average number of comments ÷ your follower count x 100. Example: if you have an average of 1700 likes and add it to an average of 60 comments then divide it by a follower count of 5675 and multiply it by 100, you'll see that you have an engagement rate of ≈31%. This can get a bit tricky, so one of my favorite tools to use in order to keep updated with my engagement rate is the Phlanx engagement calculator.
Why is an engagement rate important, you might ask? Not only does this help you determine how engaged your followers are, but if you're interested in working on brand partnerships, most companies will be curious if you will actually hold any sway over your audience and they'll request these numbers. An engagement rate is more important than a follower count. Say it with me. An engagement rate is more important than a follower count. It won't matter one iota if you have a million followers when your engagement is at .02%. It just won't.
Instagram is a tricky beast. Finding a balance between catering to their algorithm and creating content that you're passionate about is key.
Want to know a secret? Instagram loves new accounts. It is much easier to grow your platform if you are brand new to the app than it is to try and maintain growth after 6 years, 4 username changes, and a massive collection of ghost (inactive) followers. I am speaking from personal experience here! Listen up! The previous blogging account that I ran had originally been my personal account, which I set up shortly after Instagram first launched (I changed my handle twice). Then, I changed the username when I began posting OOTDs and launched my blog. A year after that, I changed my blog name, so therefore my IG handle changed yet again. It took two years for me to reach 10k followers with the old algorithm. Want to know what happened next? I plateaued. Oh, sure, I'd jump up to 15k, then down to 12k, then up to 13.5k, etc. but around 2 years ago, I got to 13k and it just stopped growing. I was old news. My hashtags had no reach and my engagement rate was at 2%. It was infuriating. I stopped enjoying Instagram – until I created my bookstagram account, which I vowed to treat differently. Here's where my tips come into play.
Never stop engaging. Don't just post and ghost. Take 15-30 minutes before and after posting a photo to comment, respond to comments, and share to your stories. Don't rely on your homepage. Go through your following list and interact with the people who aren't showing up on your usual scroll. Click on the hashtags you've used and interact with other recent posts under those tags. Switching up hashtags is a great way to find new feeds and be seen by new eyes as well. Stay on-topic, do some research (find photos you love that are similar to what you're posting and see which hashtags they use), and include between 15-30 large and small-reach hashtags in your caption.
Only follow pages you really love – and please, for the love of authenticity, do NOT follow to unfollow. This should be a no-brainer, but it's something I see far too often. Follow new accounts, yes, but if you're only looking for a follow back, you're missing the point of the app to begin with. Use it to connect. Genuine relationships will be formed if you remain genuine yourself.
Regularly clean out your followers. Every morning, I go through my follower list and remove accounts that look spammy. Not sure how to recognize these ghost accounts? They'll often have no profile picture, a ridiculous amount of numbers in their username (ex: instahandle12398563723), or they're following a TON of people without having any followers back, etc. If you're regularly cleaning out these accounts from your follower list, it'll make it easier to have organic growth and engagement!
Read captions and write good ones too. Read captions before you comment. If you see a book you love in the photo, but the caption is about a family member in the hospital, you will come off as insensitive if you comment something about the book without acknowledging the emotions in the caption. On the other side of things, create captions that are engaging and unique! Ask your questions at the very beginning of the caption – and if possible, add another one at the end. Stay relevant to what your photo is about (I get so confused when the photo is of one book and the caption is about another). Try not to be repetitive. Sometimes I find myself getting worn out typing what book I'm reading into the comment section again and again when that's the only question everyone is asking.
Looking for caption ideas that aren't "what are you currently reading?" I've got you. Download my list of over 75 creative captions here!
Be present. Post to your stories daily, if you can. Most people don't really care what you post, as long as you post something. Start the day by showing your face or using a poll to get them interested. Use templates (make sure to tag the creators), share your friends' posts, show the behind-the-scenes of taking photos, give them sneak peeks into your life. Have fun with them! Maintain a regular feed-posting schedule (I post Tuesday, Thursday, and Sunday) and let people know if you're going to be inactive for an extended period of time! If I see someone hasn't posted in 2 months, they have no story highlight or bio info saying they're on hiatus, and no in-feed alert, I usually unfollow, assuming that they've decided to step away from Instagram. Keep your followers as informed as possible!
Pick a theme, any theme. This is one that eluded me for years when it came to my previous blogging page. I didn't know what I wanted my theme to be, so my colors constantly changed, I was always switching my presets, and things got really messy. With my bookstagram, I knew before I even started that I wanted to batch shoot my photos once or twice a month, I had a preset ready to go, and I picked my props so I could remain consistent. My feed has varied slightly from when I started, but if you scroll through, you'll see that it's pretty much remained the same. It helps to create a brand for your name. When people see one of my photos, they can usually tell it's mine even if my name isn't on it.
In the long run, it's your page, so do with it what you'd like. This sounds like I'm countering everything I just said, but hear me out. It's great to poll your audience and find out if they want a lighter or darker feed, reels or photos, long captions or short – and yes, you should listen to what they have to say. You can even try what they prefer. But if you're not happy with the content you're producing, at the end of the day, this is not going to be an account you'll want to keep up with and your followers will notice your lack of enthusiasm as well. When you're passionate about what you're posting, passion will be returned to you! I like my warm feed and I like a mix of long and short captions… so this is what I'll be sticking with, thanks very much!
What have you learned from being on Instagram?
---
pin for later