A huge thank-you to NetGalley and Penguin Books for this e-arc of The Comfort Book by Matt Haig.
If there is only one book you pre-order or purchase after reading the reviews on my blog, please let it be The Comfort Book.
When I saw Matt Haig tweet about his upcoming novel, The Comfort Book, I immediately raced to the NetGalley website to see if an ARC (advanced reader copy) was available to request. It was available, I requested it with fingers crossed, and then proceeded to squeal with delight when I received an acceptance email less than thirty minutes later. I began reading it that very night.
This was a book I knew I had to get my hands on. The Midnight Library was life-changing and I had this inkling The Comfort Book would fall into the same category. I wasn't wrong.
---
related posts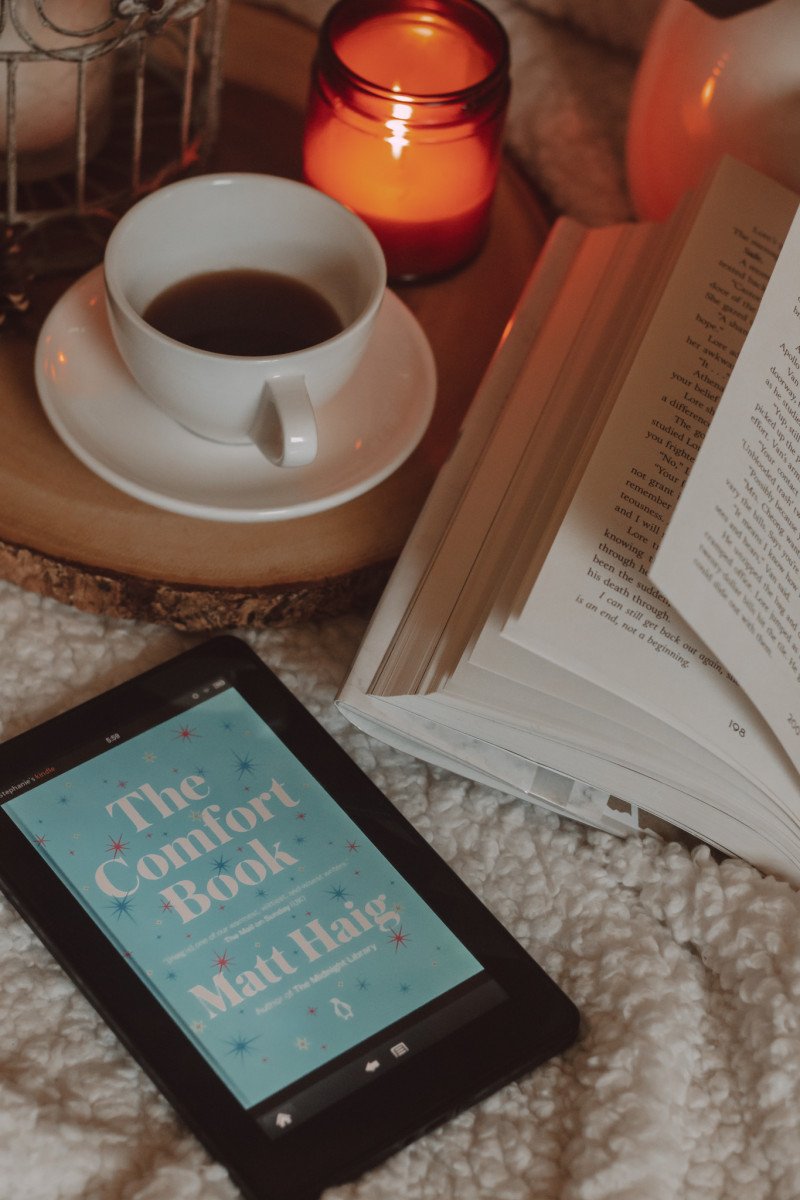 My honest review of The Comfort Book by Matt Haig.
Synopsis:
A manual of reflections for an increasingly stressful world
Nothing is stronger than a small hope that doesn't give up.
The Comfort Book is a collection of little islands of hope, a gathering of consolations and stories that give us new ways of seeing ourselves and the world.
Matt Haig's mix of philosophy, memoir and self-reflection builds on the wisdom of philosophers and survivors through the ages, from Marcus Aurelius to Nellie Bly, from Emily Dickinson to James Baldwin.
This is the book to pick up when you need the wisdom of a friend or the comfort of a hug, or just want to celebrate the messy miracle of being alive.
"When times are hard, we need a deep kind of comfort. Something elemental. A solid support. A rock to hold on to. The kind we already have inside us. But which we sometimes need a bit of help to see."

The Comfort Book
My Rating: ★★★★★
Content Warnings: mentions of mental illness, panic attacks/disorder, suicidal thoughts
In just 272 pages, The Comfort Book became the most profound book I have ever read in my life. In fact, I don't think that another book will ever top the way this one made me feel. It was exactly what it claimed to be with its very simple and straightforward title: a comfort.
I started reading with the expectation that I would thoroughly enjoy the beautiful writing style that wormed its way into my heart when I picked up The Midnight Library, the novel that I stated was "devastatingly life-changing" upon completion. However, I'm not the biggest non-fiction reader. So, what I didn't expect was for The Comfort Book to become so monumentally important to me in the span of 48 hours. In fact, when I read the final few pages and turned off my Kindle for the night, I had no clue how to write this review. Because, truly, how does one articulate their thoughts about a book that very well altered their perspective on life forever? I just want to scream from the rooftops that every person needs to read this book!!!
Sometimes, I'm under the impression that Matt Haig has met me. Not only met me, but set up camp in my brain to take notes for his books. Then I remember that we have walked through so many of the same challenges: depression, anxiety, panic attacks, suicidal thoughts, etc. So while he hasn't taken up residency in my mind, he has experienced first-hand the same thoughts and feelings that I have over the years, and he's used what he's learned to write books that will help so many people for years to come.
"Our mind might make prisons, but it also gives us keys."

The Comfort Book
I've already mentioned that this is a relatively short book, and that's something I appreciated about it (though I would've loved it just as fiercely had it been a thousand pages long). It's meant to be digested however one prefers, whether that's in large doses (which would be easy, since it's hard to put down when you feel like you're being filled to the brim with encouragement) or in small ones, reading a phrase or two at a time. There are even segments with listicles that made me smile – and then proceed to Google all of the songs, movies, etc. that were mentioned.
You'll want to have a few copies of The Comfort Book on-hand. That's because you'll need at least one that you feel comfortable writing in, highlighting, and tabbing. If we're being really honest, I could've highlighted the entire book. That's how incredible it was. What I did as I read, was mark certain passages that really spoke to where I was, mentally and emotionally. I have annotations in my ebook that say things like "this was written just for me" and "this is breathtaking, so you need to read it again and again."
As you read this book, be prepared to feel exuberant joy and a desire to actively search for and recognize passion and love in life. Additionally, keep a box of tissues nearby because you absolutely will cry as you process the plethora of emotions The Comfort Book brings to the surface. I must say it again: every person needs to read this book!!!
"What we say aloud can never quite capture what we feel inside, but that is almost the point. Words don't capture, they release."

The Comfort Book
---
purchase the book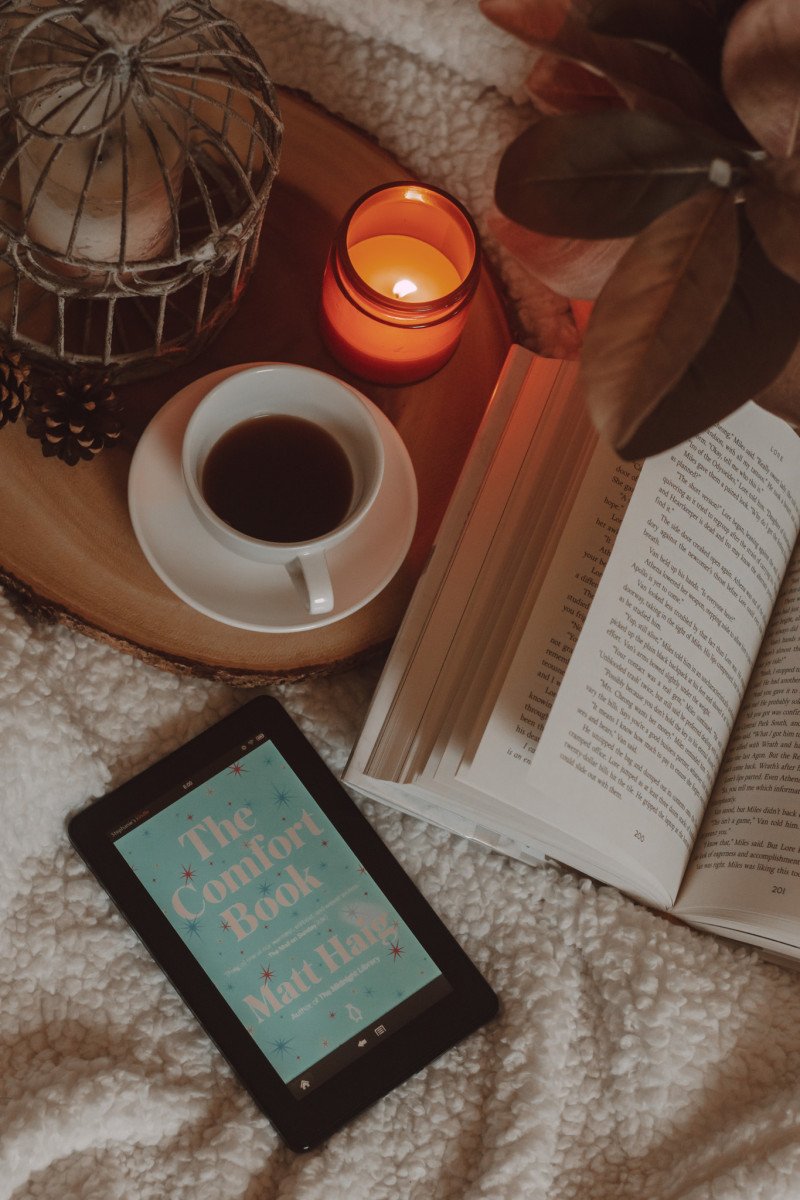 Will you be reading The Comfort Book?
---
pin for later