A huge thank-you to NetGalley and the publisher for this e-arc of The Christmas Village (Somerset Lake #2) by Annie Rains.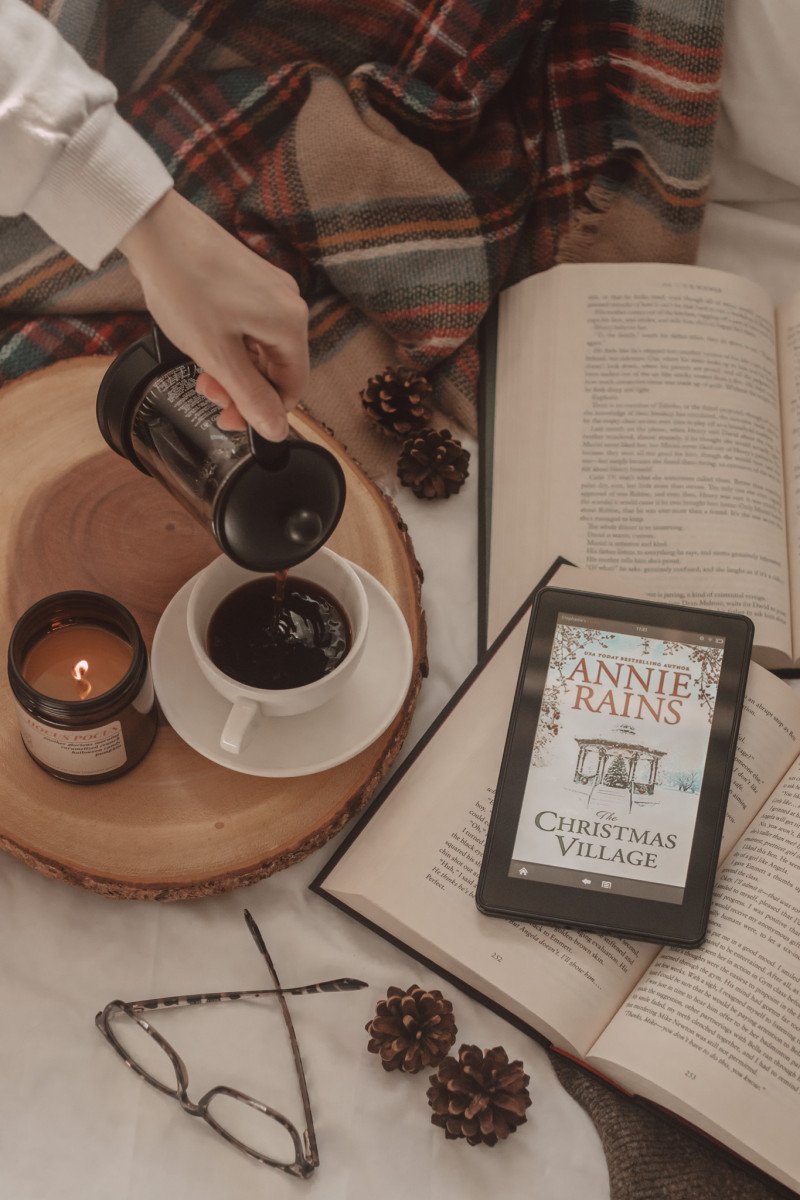 The Christmas Village is the perfect book to kick-start your holiday reading!
In 2020 and 2021, I gobbled up so many Christmas books and enjoyed every second of seasonal cheer. Now, I'm excited to introduce you to another book that you'll want to add to your holiday reading list. It was so much fun to dive into The Christmas Village. I sat and read by the light of my Christmas tree and let me tell you, it doesn't get much cozier than that!
If you enjoy small towns, second chance romance, and holly jolly goodness, you will absolutely love The Christmas Village. It's the sequel to The Summer Cottage, which I read and enjoyed thoroughly. But there's no need to read that book first (unless you really want to get familiar with the town). It can definitely be read on its own and you won't be missing a thing!
This might not be a long book, but every page is filled to the brim with copious amounts of good vibes and Christmas cheer!
---
looking for more book reviews?
My honest review of The Christmas Village by Annie Rains.
Synopsis:
USA Today bestselling author Annie Rains returns to Somerset Lake, North Carolina, with a heartwarming Christmas story about a midwife and her ex-fiance who face high stakes when they must team up to compete in the neighborhood house decorating contest, in this trade paperback that will help get readers in the holiday spirit.
Once upon a Christmas, she gave him her heart. This year, he'll have to win it back again . . .
When Lucy Hannigan returned to her childhood home in Somerset Lake, one of the first things she did was join the local book club. And thank goodness, because now that Lucy's first Christmas without her mother is bearing down upon her, she can use all the help and support she can get. Especially when she has to take in a tenant and the only person interested is Miles Bruno, her ex-fiance.
Lucy's friends keep teasing her about the way Miles is trying to make up for his mistakes but forgiving and forgetting isn't coming easily to Lucy. With bills piling up and her mother's finances in disarray, however, Lucy isn't in any position to say no.
As the small town prepares for the holidays and competition heats up in the Merriest Lawn decorating contest, Lucy can't help feeling like a Scrooge. Her mom loved the holidays and won the contest each year, but as much as Lucy would like to carry on the tradition, she isn't sure she has it in her to deck the halls this holiday.
Yet when Miles shows up with tons of tinsel, dozens of decorations, and lots and lots of lights, Lucy begins to wonder if maybe the spirit of the season will finally mend her broken heart.

Content Warnings: (major) grief, (moderate) death of a parent
What do you get when you combine sweet small-town vibes with second-chance romance and Christmas cheer? You get The Christmas Village!
I had the privilege of reading The Summar Cottage (Somerset Lake #1) over the summer of 2021 and I instantly fell in love with the atmosphere and characters. There's a certain charm to these books that I just can't get enough of and I was thrilled to find out that the next story would be set during the holiday season!
Call it intuition, but I just had an inkling that this book would be about Lucy. Maybe it had something to do with the fact that she lives on Christmas Lane. Okay, that's exactly what it had to do with! Lucy was an instant favorite when I read the previous book, so I was thrilled to find out if she would get her happily-ever-after in this festive tale.
These characters are so dang likable it's ridiculous! I can't help but root for them as they stumble awkwardly through romantic encounters and deal with daily hardships. The book starts out with an intrusion in Lucy's home (that winds up more humorous than anything else) but sets off a chain of events that would be tough for anyone to handle. From debt collectors to property vandalization to questioning the choices made by deceased family members. Thankfully, Lucy has Miles to lean on – or does she?
Miles is another likable character, but liking him comes with a few hiccups. I held a bit of a grudge against him from the get-go, knowing how he once treated Lucy. I felt like I was waiting for the other shoe to drop with his character the entire time I was reading. Sometimes he seemed a little too good to be true (and I think Lucy felt the same way) and sometimes he wound up saying the wrong thing (that made my distrust extend even further). But his good intentions are appreciated – and I love that he's not afraid to have Christmas spirit!
This book would make an excellent movie, I think! It felt like a cheezy Christmas flick but had just enough depth and heart to it to make it stand out in the crowd. Sometimes holiday romances fall really flat for me, but this one didn't at all! In fact, I can definitely see myself reading it again next year.
If you're looking for something lighthearted and jovial with great emotional balance for this holiday season, you will definitely want to pick up The Christmas Village.
---
purchase the book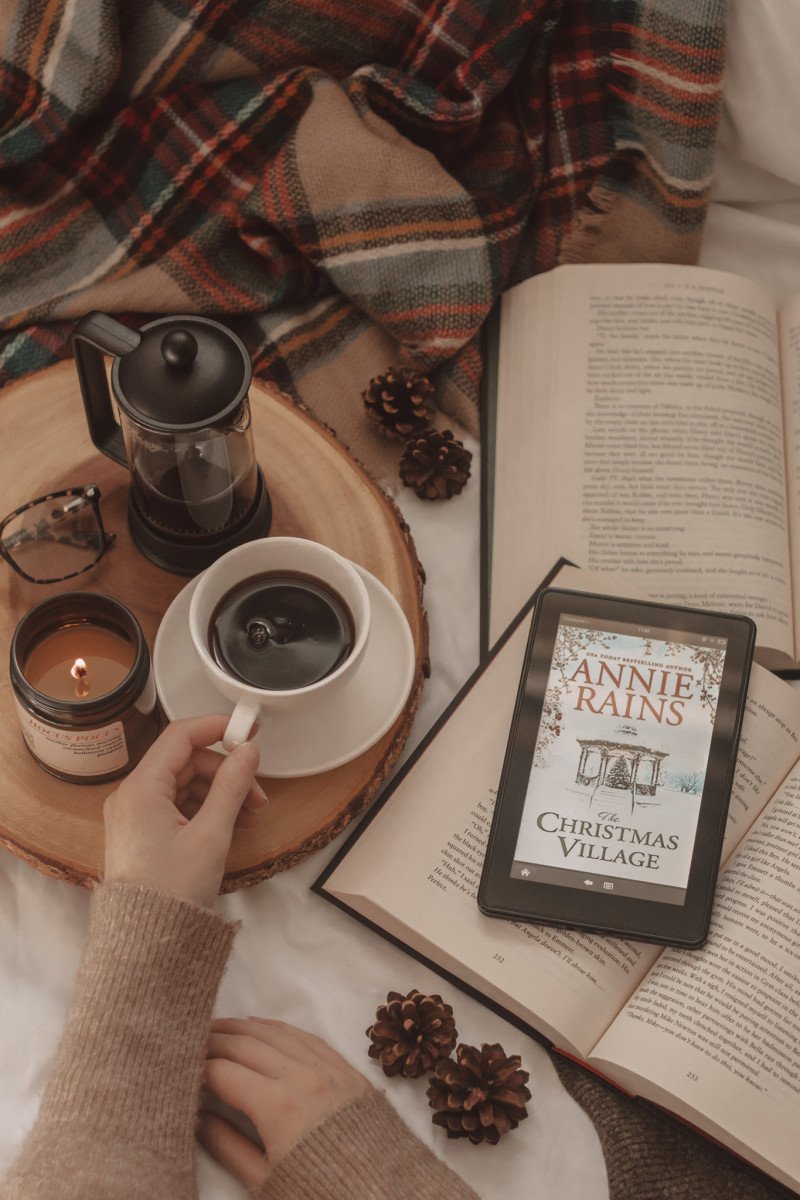 Will you be reading The Christmas Village?
---
pin for later