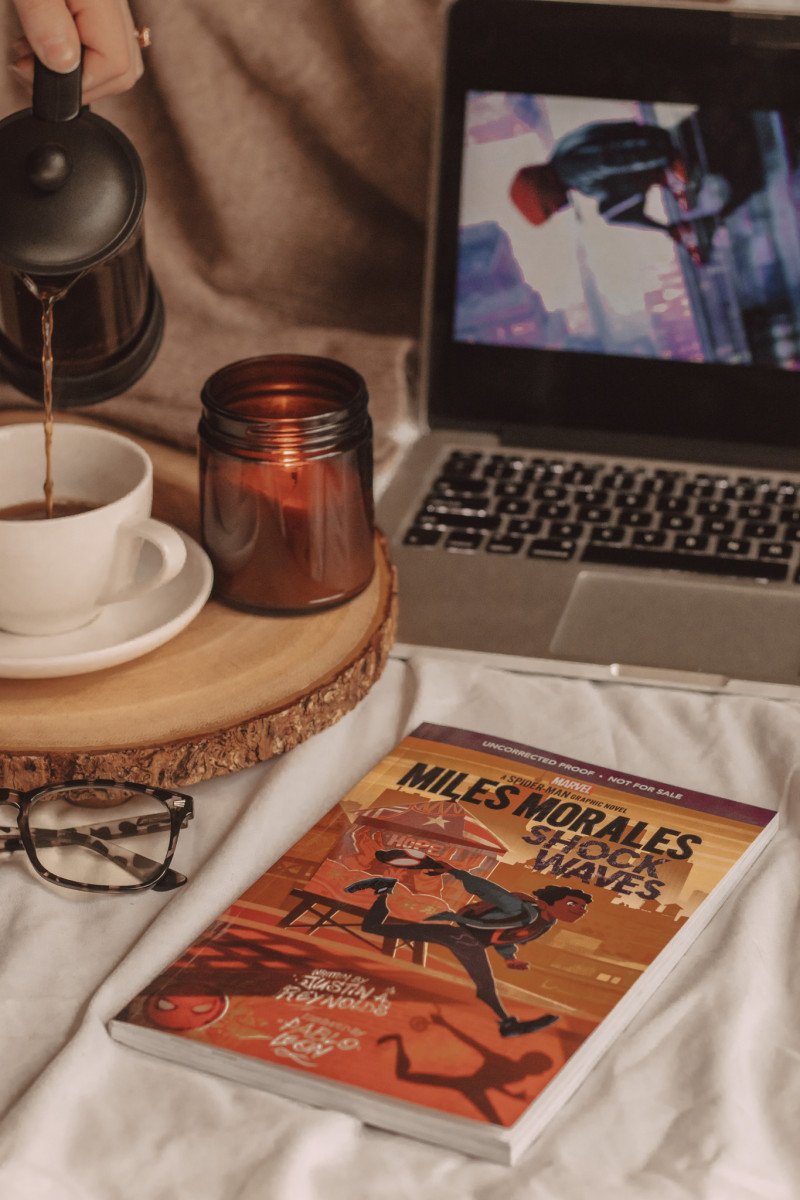 Miles Morales: Shock Waves by Justin A. Reynolds is a fantastic middle-grade graphic novel that every Spider-Man fan will enjoy!
Anyone who has been following my blog for a long period of time knows I'm a huge Marvel nerd. I love my superheroes and the MCU (Marvel Cinematic Universe) is really special to me. While I didn't grow up reading comic books, I've found myself more interested in them as an adult, especially since getting into the movies. It's a great way to learn more about the characters and discover all the "secrets of the universe" before they end up on the big screen or a streaming service.
A few years ago, when Spider-Man: Into the Spider-Verse came out, I fell in love with the character of Miles Morales. For someone so young, he's got a ton of humor and wit (without being overly goofy) and there's so much to learn from him as well! I'm not exaggerating when I tell you that I screeched after learning that one of my favorite authors, Justin A. Reynolds, was writing a graphic novel for this character! I knew I had to get my hands on it as soon as humanly possible and it was a truly thrilling moment when I opened my emails to see that the publisher agreed to send me an advanced copy to review. Talk about a dream come true!
All my fellow Marvel and/or Miles Morales fans should definitely pre-order this book or pick it up when it's released in June. But let me tell you exactly why…
---
related posts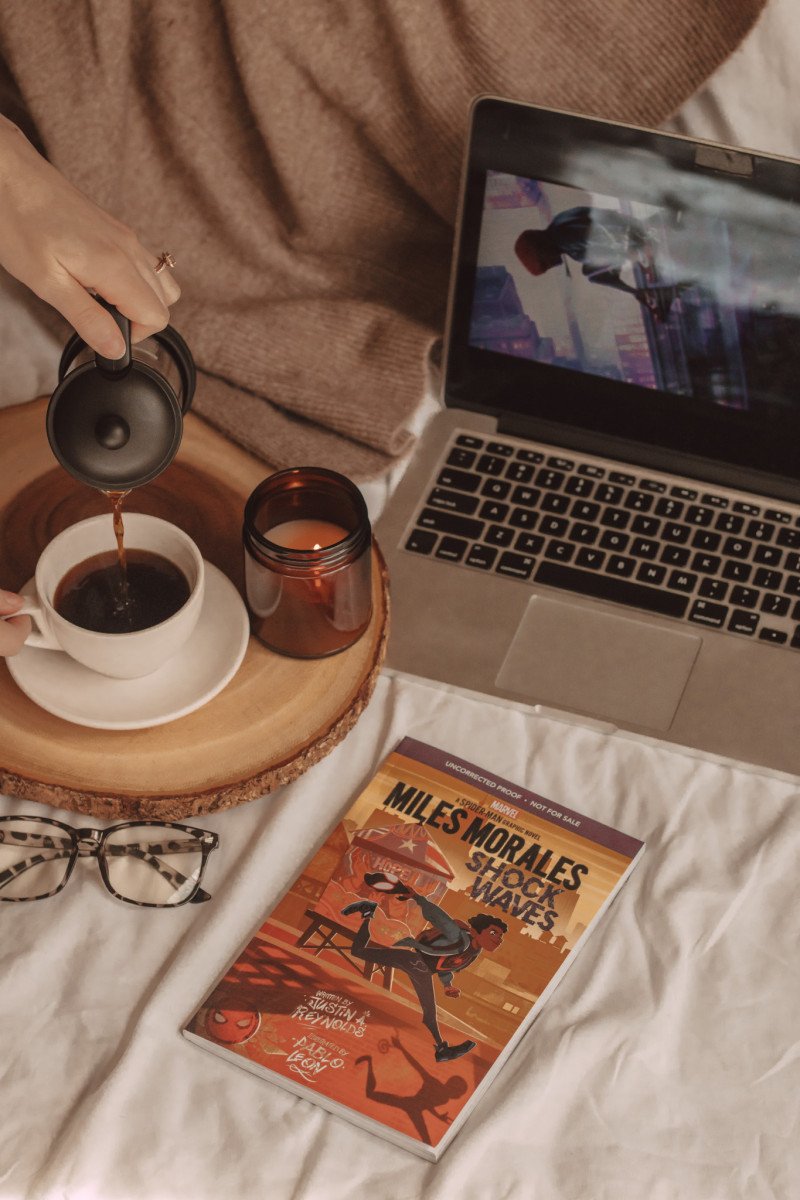 Why You Should Read Miles Morales: Shock Waves
Massive thank you to Scholastic for the advanced review copy of Miles Morales: Shock Waves by Justin A. Reynolds
"Miles Morales is a normal school kid who happens to juggle school at Brooklyn Visions Academy while swinging through the streets of Brooklyn as Spider-Man. After a disastrous earthquake strikes his mother's birthplace of Puerto Rico, Miles springs into action to help set up a fundraiser for the devastated island. But when a new student's father goes missing, Miles begins to make connections between the disappearance and a giant corporation sponsoring Miles' fundraiser. Who is behind the disappearance, and how does that relate to Spider-Man?" (Goodreads Synopsis)
Below you can find my full and honest review of Miles Morales: Shock Waves by Justin A. Reynolds.
This graphic novel combined so many of my favorites into one: Justin A. Reynolds (an incredible author whose work never ceases to make me laugh and cry simultaneously), Marvel (the universe that has brought me so much joy for much of my life), and Miles Morales (his story was only introduced to me a few years back, but now I can't get enough)!
I chose to dedicate an entire afternoon to Miles Morales, so I grabbed my favorite Marvel t-shirt and coffee mug, queued up Spider-Man: Into the Spider-Verse, and sat down with Miles Morales: Shock Waves. I was in the Miles Morales ZONE, that's for sure.
Within the first few pages, I was laughing out loud at the witty blurbs of conversation and thoughts tumbling around in Miles' mind. I could hear them as if he were in the room with me and it immersed me into the story so fully that I barely even noticed the movie (which, by the way, is one of my favorites of all time) playing loudly on the television. It took very little time to get into the action and I spent the next two hours trying to figure out what might happen next!
This graphic novel may be geared towards middle-grade, but I found it compelling, heartwarming, and wonderfully-written. It didn't stray from what I already knew of Miles: his fantastic humor, love for his family, dedication to saving Brooklyn (and the world, duh), and desire to cultivate his skills as Spider-Man.
Miles Morales: Shock Waves also brought into play a very real discussion about how challenging it can be to balance your personal life with your work/schooling, while also finding time to educate yourself and help those who are struggling around the world. There were some great little nuggets of wisdom shared in here that I found myself pondering for quite some time.
Do yourself a favor and pick this up when it comes out! You're in for some grand adventures, deep belly laughs, and lots of inspiration!
---
pre-order the graphic novel (release date June 1, 2021)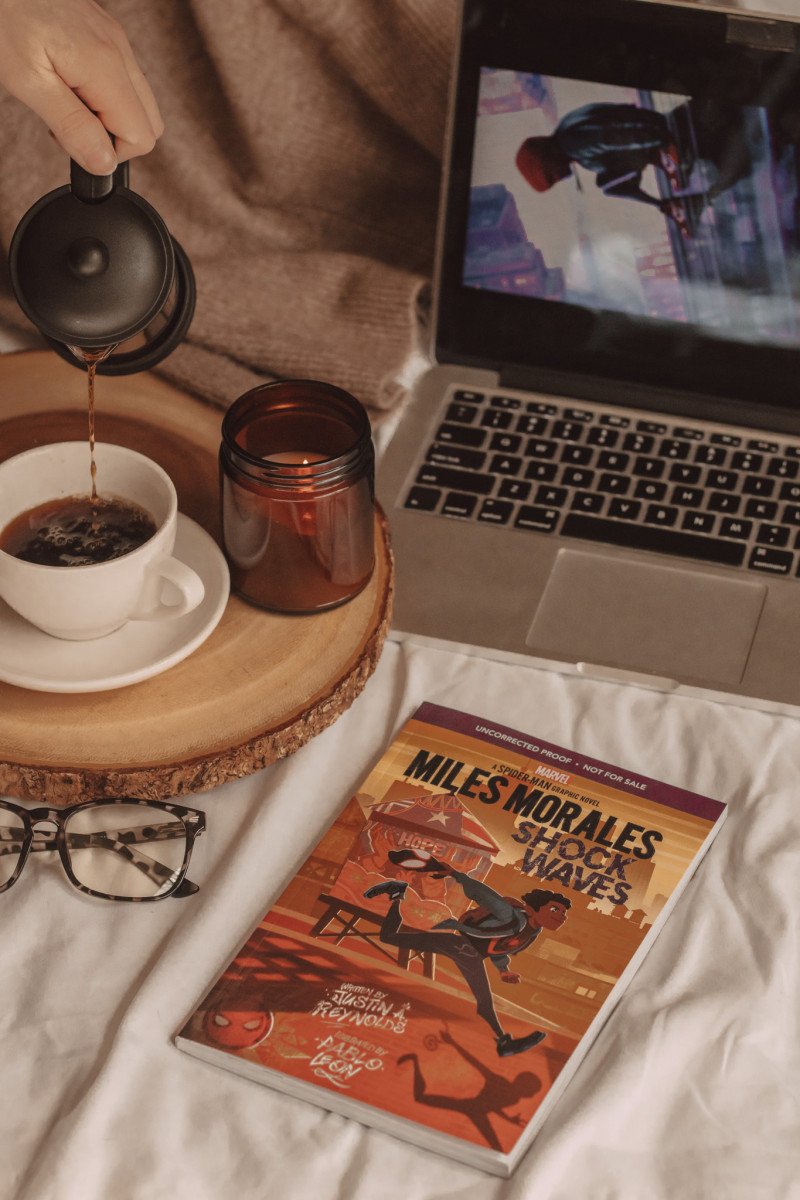 Are you a Marvel fan? Will you be reading Miles Morales: Shock Waves when it comes out in June?
---
pin for later