A huge thank-you to NetGalley and the publisher for this advanced reader copy of Kiss Her Once for Me by Alison Cochrun.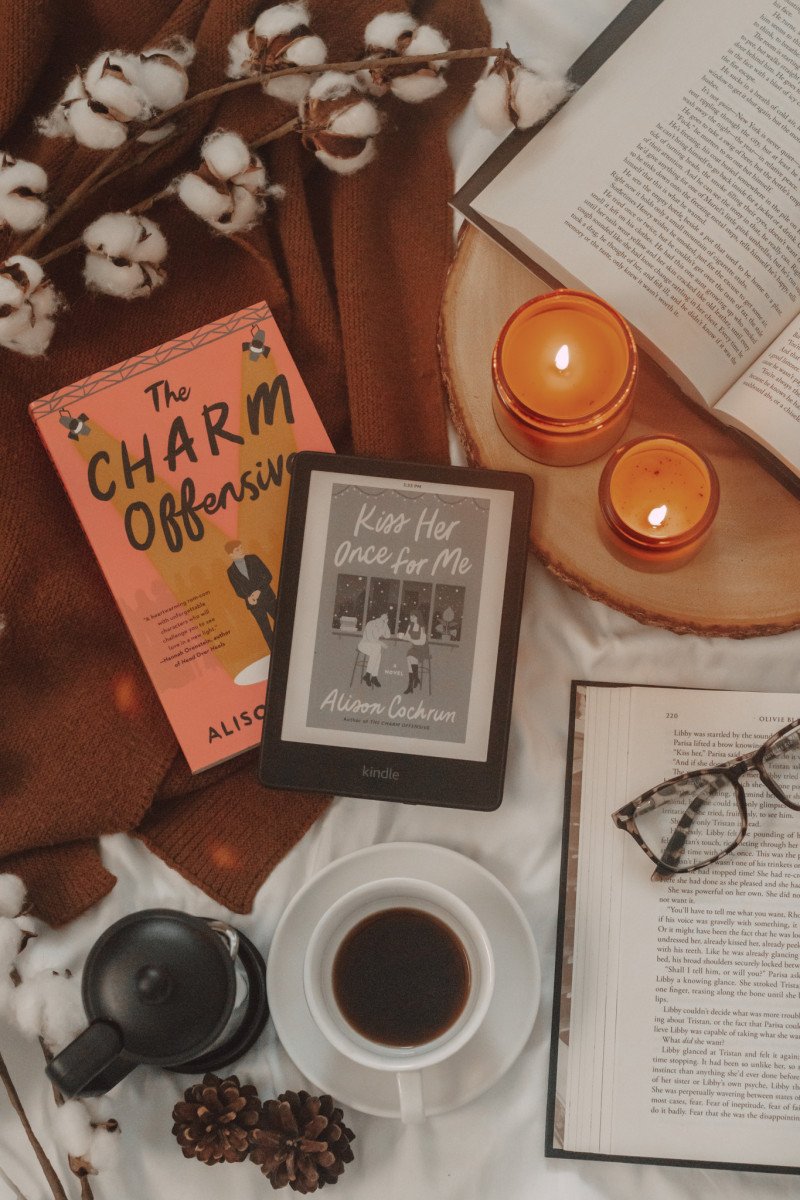 Around here, it's never too early to get into the holiday spirit! I'm thrilled to share my review of Kiss Her Once for Me, the queer romance that's sure to make you feel warm inside this winter.
I'm already getting a head start on my Christmas reading list, and you should too! Last year, I made a plan to only read holiday books during December, but by the time I got around to requesting my library books, I was too late – and I wound up missing out on so many great titles that had a waiting time of 20+ weeks! Needless to say, I started putting my most-anticipated holiday reads on hold in October this year.
Every year around the holidays, my family watches While You Were Sleeping. It's been a tradition for longer than I've been alive and I find myself counting down the days until our next watch before the credits even start to roll. When I found out that Kiss Her Once for Me was a lesbian reimagining of my favorite "Christmas" romcom of all time, I knew I was going to love it – and I wasn't wrong. This book is beyond cute and gave me all the warm fuzzies even as I read it in the middle of the summer. I guess I was just participating in "Christmas in July" without realizing it.
Don't make my mistake and wait too long to get your hands on this winter romance. Kiss Her Once for Me released on November 1, 2022, and you won't want to miss it!
---
LOOKING FOR MORE BOOK REVIEWS?
My honest review of Kiss Her Once for Me by Alison Cochrun.
Synopsis:
The author of the "swoon-worthy debut" (Harper's Bazaar) The Charm Offensive returns with a festive romantic comedy about a woman who fakes an engagement with her landlord…only to fall for his sister.
One year ago, recent Portland transplant Ellie Oliver had her dream job in animation and a Christmas Eve meet-cute with a woman at a bookstore that led her to fall in love over the course of a single night. But after a betrayal the next morning and the loss of her job soon after, she finds herself adrift, alone, and desperate for money.
Finding work at a local coffee shop, she's just getting through the days—until Andrew, the shop's landlord, proposes a shocking, drunken plan: a marriage of convenience that will give him his recent inheritance and alleviate Ellie's financial woes and isolation. They make a plan to spend the holidays together at his family cabin to keep up the ruse. But when Andrew introduces his new fiancée to his sister, Ellie is shocked to discover it's Jack—the mysterious woman she fell for over the course of one magical Christmas Eve the year before. Now, Ellie must choose between the safety of a fake relationship and the risk of something real.
Perfect for fans of Written in the Stars and One Day in December, Kiss Her Once for Me is the queer holiday rom-com that you'll want to cozy up with next to the fire.
Content Warnings: (major) Sexism, Abandonment, and Sexual content, (moderate) Misogyny, Toxic friendship, and Toxic relationship, (minor) Alcohol, Drug use, and Infidelity
During Pride Month in 2022, I picked up The Charm Offensive and absolutely fell in love. It quickly became one of my favorite reads of the year and before I was even halfway finished with it, I searched up Alison Cochrun on The StoryGraph and every social platform to see what she had already written and what she was writing next.
You can imagine my joy upon discovering that Kiss Her Once for Me would be released during the winter of the same year! I added it to my TBR and requested it on NetGalley without even reading the plot (something I rarely do… but I just had this gut instinct about Alison's writing and knew I would love it no matter what it was about). My happy dance was more like a happy rave when I got the approval email!
Now, a little bit of backstory time. I grew up on While You Were Sleeping. Every single year for as long as I can remember (it came out the year after I was born… so TRULY as long as I can remember), this movie marked the start of the holiday season. If it wasn't watched on the day we put up our tree, it was at least watched during the holidays.
My dad, mom, sister, and I would curl up with spiced mocha, popcorn, peppermint bark, and molasses cookies to spend the next hour and forty-three minutes quoting every line, humming every bar of the soundtrack, and laughing at every joke (even though we already knew the punchline). Not a year has gone by that this movie hasn't been watched and loved thoroughly… even my husband was brought into the tradition while we were still dating! It's my ultimate comfort movie and I love the story with all of my heart.
Okay, so… picture this: Stephanie opens up Kiss Her Once for Me and reads the opening lines of the note for the reader and it starts out by talking about the author's love for While You Were Sleeping and how that played into the writing of this book. I mean, come on, it's like fate! My jaw just about hit the floor in both shock and excitement. I already knew I was going to love the book, but now I was convinced I was going to be full-on obsessed. I wasn't wrong. I couldn't put this one down!
This book gave me everything I wanted from it and more. I'm talking sapphic love story cuteness (complete with – as the author called her – "lesbian Bill Pullman"), hilarious holiday hijinks, adorable all-knowing grannies, and the most heartwarming found family I've read about in ages. I truly never wanted it to end. I was going through a truly challenging time in my life and this book brought so much comfort and warmth. I know that I'll be picking it up again and again over the years just to bring that "hug in a book" feeling.
It takes place during the holidays, but I wouldn't call it a "Christmas book." It's more overall wintery and just happens to have Christmas-y moments in it. It also made me interested in webcomics. So much so that I immediately began the Heartstopper series on Webtoon after finishing it (which is another comfort read now, so thanks for that nudge, Kiss Her Once for Me).
Kiss Her Once for Me is swoony, a little spicy, sweet, and SAPPHIC. It's absolute perfection and definitely the book you need to pick up this winter if you want a little comfort and cuteness in your life!
---
purchase the book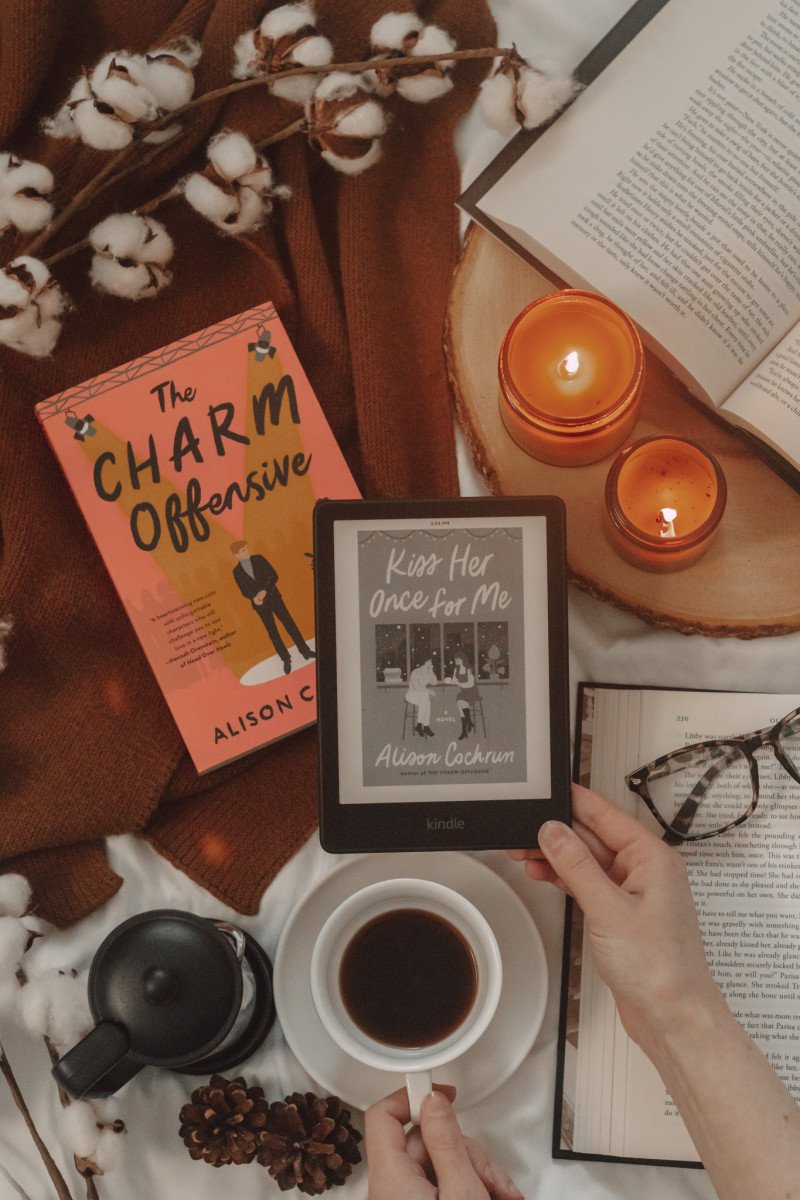 Will you be reading Kiss Her Once for Me?
---
pin for later