A huge thank-you to Books Forward and the publisher for this review copy of Hello, Rest of My Life by Rick Lenz.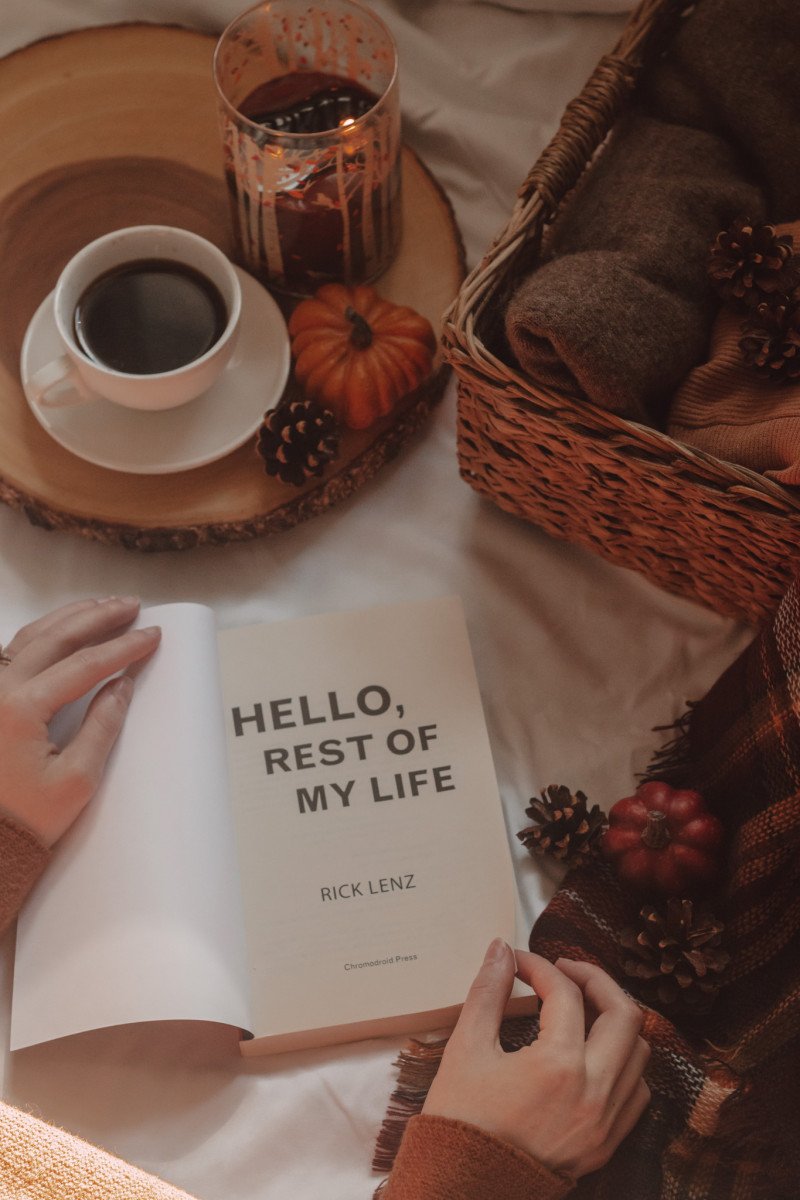 What do you get when you mix time travel with a talking dog, a sexy witch, and a love story? You get Hello, Rest of My Life.
A few months back, I received an email from one of the publicists at Books Forward. They asked me if I wanted to read and review a copy of Hello, Rest of My Life. I wasn't familiar with the author, (though I now know that he has an incredible history with Broadway, television, and film) and I hadn't heard anything about the title, but what hooked me was how the book was summarized.
"The Midnight Library" meets "You Again" in a timeless tale of romance, regret, and the choices we make–and would make again, given the chance. Now, doesn't that sound fantastic? As someone who loves The Midnight Library with all her heart, I just knew I had to get my hands on this title!
After a really hectic few months, I finally got the chance to sit down with this novel and now I'm sharing my thoughts with you.
---
Looking for more book reviews?
My honest review of Hello, Rest of My Life by Rick Lenz.
Synopsis:
A TIMELESS LOVE STORY
When Danny Maytree, an ambitious young 1970s film actor, met Samantha on a blind date and fell in love, he decided he no longer cared about Tinseltown stardom. He still acted sometimes, but he became a writer too.
Now married and in their seventies, they find a dog whose faded tag has the name "Tali" and a Beverly Hills phone prefix from fifty years earlier.
Writing a time travel novel in 2021, Danny gets a call from a mysterious, velvet-voiced acting agent. He has a meeting tomorrow in Beverly Hills. Tali, in one of their singular "conversations," questions Danny's motives.
Now, Danny is in Beverly Hills-not at the meeting, but in the elegant home where he lived in 1974, forty-seven years ago. He is twenty-seven again, bewildered, but with a second chance at his Hollywood dream.
He doesn't want it, because Sam is not in this world.
Unhappy in his new "now," he realizes his journey back to "Kansas" hinges on the magic of film. A sharkish agent helps him navigate Hollywood's rocky shoals. A worldly-wise teen and a New Age fortune-teller offer spiritual advice. And a sexy wicked witch throws a monkey wrench in his path.
"What I forgot, or hadn't learned yet, was that there are no periods in life, no endings—happy or otherwise—just commas; lots of commas, with the occasional semi-colon. You only get one period in life and most of us don't look forward to it, let alone think of it as a cause for celebration."

Hello, Rest of my life
My Rating: ★★☆☆☆
Content Warnings: (major) death of parent, domestic abuse, drug use/abuse, (moderate) sexism, (minor) car accident, fire/fire injury, infidelity, murder, police brutality
Following my reading of Hello, Rest of My Life, I had a lot of feelings. This book is really unique, I'll give it that, and it had a lot going for it. It wasn't my favorite but I do want to highlight some of the good parts about it and what made it stand out "from the crowd," so to speak.
It's a great story for thinkers. If you really enjoy philosophy or existential pondering, you might find yourself absolutely enamored with Lenz's writing style. It was a struggle for me, however, to wade through all of the meandering inner monologues of the primary character. The way they were written also gave me pause, because I was never sure of what was reality and what was happening in his head.
Let me touch on that a bit as well. This book is written by Rick Lenz, a former actor and screenwriter in his 70's who lives in LA with the love of his life and writes novels. The book is written about Danny Maytree, a former actor and screenwriter in his 70's who lives in LA with the love of his life and writes novels. The book Danny is currently writing is about – you guessed it – a former actor and screenwriter in his 70's who lives in LA with the love of his life (and time travels). This inception of stories took me for a ride because I couldn't tell when Danny was actually living his own adventures of when he was referencing his book (since it's all the same story).
I do love a bizarre rollercoaster of a story, so this kept me interested from beginning to end. If you enjoy stories-within-stories and whimsical narration (think The Starless Sea or The Raven Boys) you might enjoy this. I wouldn't say it is anything like The Midnight Library, though it is marketed as such. While that book made me stop and appreciate my life and surroundings, this one never really had me pausing to be grateful. Not to say that there weren't sweet moments! The way Danny feels about his wife is truly precious and something of great importance.
There is a lot of confusion throughout this book as to what's actually happening and who is who. I didn't reach the end and think, "it all makes sense now." There was a lack of completion to me and I still have a lot of questions – but maybe it's meant to be that way. Keep the reader guessing and they'll come back for more!
Overall, while it won't be making my favorites list, I can say it was a thoroughly enjoyable (albeit perplexing) book that I believe so many readers would love and appreciate!
---
purchase the book

Will you be reading Hello, Rest of My Life?
---
pin for later