A huge thank-you to NetGalley and the publisher for this e-arc of Four Aunties and a Wedding (Aunties #2) by Jesse Q Sutanto.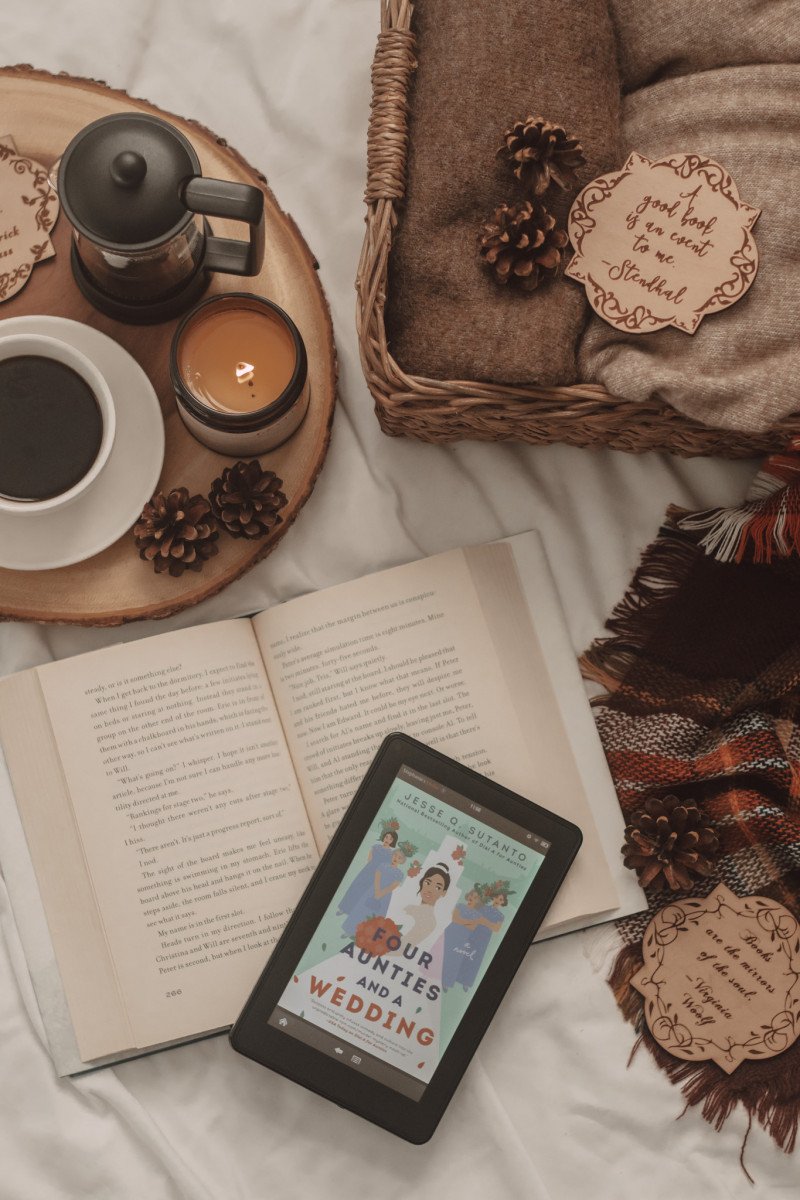 Dial A for Aunties made its way onto my list of favorite reads in 2021. So did the sequel, Four Aunties and a Wedding impress me just as much?
Books that make my belly ache from laughter are some of my favorites. In fact, any kind of book that elicits a lot of emotion – whether that's joy, sorrow, or anything in between – is a winner. I picked up Dial A for Aunties on a whim because I had seen a few of my favorite book reviewers give it some high praise. It made me laugh so hard I nearly peed myself a couple of times and when I was thinking back over the books I read during the year, it kept wiggling its way to the front of my mind.
When I found out that the author, Jesse Q Sutanto, was writing a sequel, I immediately headed to NetGalley to request an advanced copy. When I was approved, I squealed with delight and instantly planned for it to be my first read of 2022. Talk about a great way to kick off my reading year!
In this article, I'll detail what I loved the most about the book, how it compared to its predecessor, and if anything fell flat for me as I made my way through the story. This book will be released on March 29, 2022.
---
LOOKING FOR MORE BOOK REVIEWS?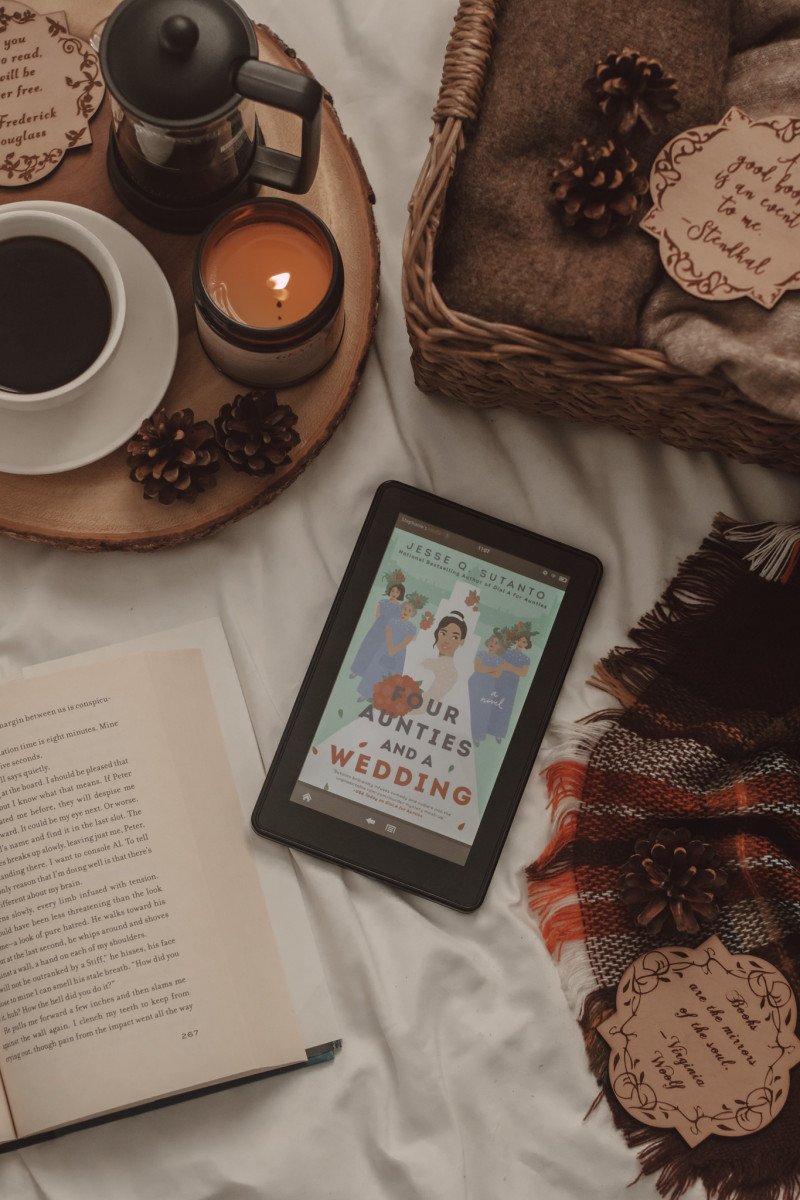 My honest review of Four Aunties and a Wedding by Jesse Q Sutanto.
Synopsis:
The aunties are back, fiercer than ever and ready to handle any catastrophe–even the mafia–in this delightful and hilarious sequel by Jesse Q. Sutanto, author of Dial A for Aunties.
Meddy Chan has been to countless weddings, but she never imagined how her own would turn out. Now the day has arrived, and she can't wait to marry her college sweetheart, Nathan. Instead of having Ma and the aunts cater to her wedding, Meddy wants them to enjoy the day as guests. As a compromise, they find the perfect wedding vendors: a Chinese-Indonesian family-run company just like theirs. Meddy is hesitant at first, but she hits it off right away with the wedding photographer, Staphanie, who reminds Meddy of herself, down to the unfortunately misspelled name.
Meddy realizes that is where their similarities end, however, when she overhears Staphanie talking about taking out a target. Horrified, Meddy can't believe Staphanie and her family aren't just like her own, they are The Family–actual mafia, and they're using Meddy's wedding as a chance to conduct shady business. Her aunties and mother won't let Meddy's wedding ceremony become a murder scene–over their dead bodies–and will do whatever it takes to save her special day, even if it means taking on the mafia.

Content Warnings: (major) bullying, murder, torture, and drug use, (moderate) bullying, cultural appropriation, and racism
There's a particular quote in this book that pretty much sums up exactly how I felt while reading:
Half of me is crooning awww, and the other half is tearing its hair out and going, "THIS IS A DISASTER!"
Four Aunties and a Wedding was such a fun-filled sequel to Dial A for Aunties. Similar to the first novel, it wasn't heavy in the slightest – despite dealing with things like murder and the mafia. These stories may be loaded with disaster from beginning to end, but this chaos won't have you on the edge of your seat so much as falling out of your seat with laughter.
With each page that I turned, there was something new to crack up about. The "misspelled" and "celebrity" names in the first book were too funny, but there were even more in this one to cause hilarious confusion. Of course, there were also the aunties and their outrageous antics. If you thought that covering up a murder was a big production to pull off, you should see them try and hold their own against the mafia! It felt like a perfect mix of crazy schemes and hysterical dialogue. There were moments as I was reading that I would highlight a phrase and just annotate it with "HAHAHA" because I literally couldn't hold in my laughter!
The only thing that didn't seem quite right to me was how Meddy reacted. In the first book, she hid everything from Nathan, but later on, realized it was actually more helpful to involve him. The fact that she was so determined to keep everything to herself in this book bugged me! It felt like she hadn't learned anything from the "first time around," and I believe that despite all of the hullabaloo, she had enough wits about her to share with her soon-to-be/new husband if something chaotic was going on – especially on their wedding day.
Since these books aren't filled with weighty topics so much as goofy schemes, it's nice when there are moments of tenderness and depth. Meddy really struggles to appreciate her family when they're acting absolutely bonkers – especially in front of Nathan's posh parents – but she also realizes that they're willing to do absolutely anything for her. So, the way that she talks herself down when she wants to criticize them is really heartfelt and sweet. I loved seeing her love for her nutty aunties seep through as she navigates the challenges in this book.
While I found most of the plot points pretty predictable, there was at least one moment that made my jaw drop, and that was intensely satisfying. I can't say this book held my attention quite like the first (there are very few books that do – Dial A for Aunties was something uniquely special), but for a sequel, it certainly didn't disappoint!
---
purchase the book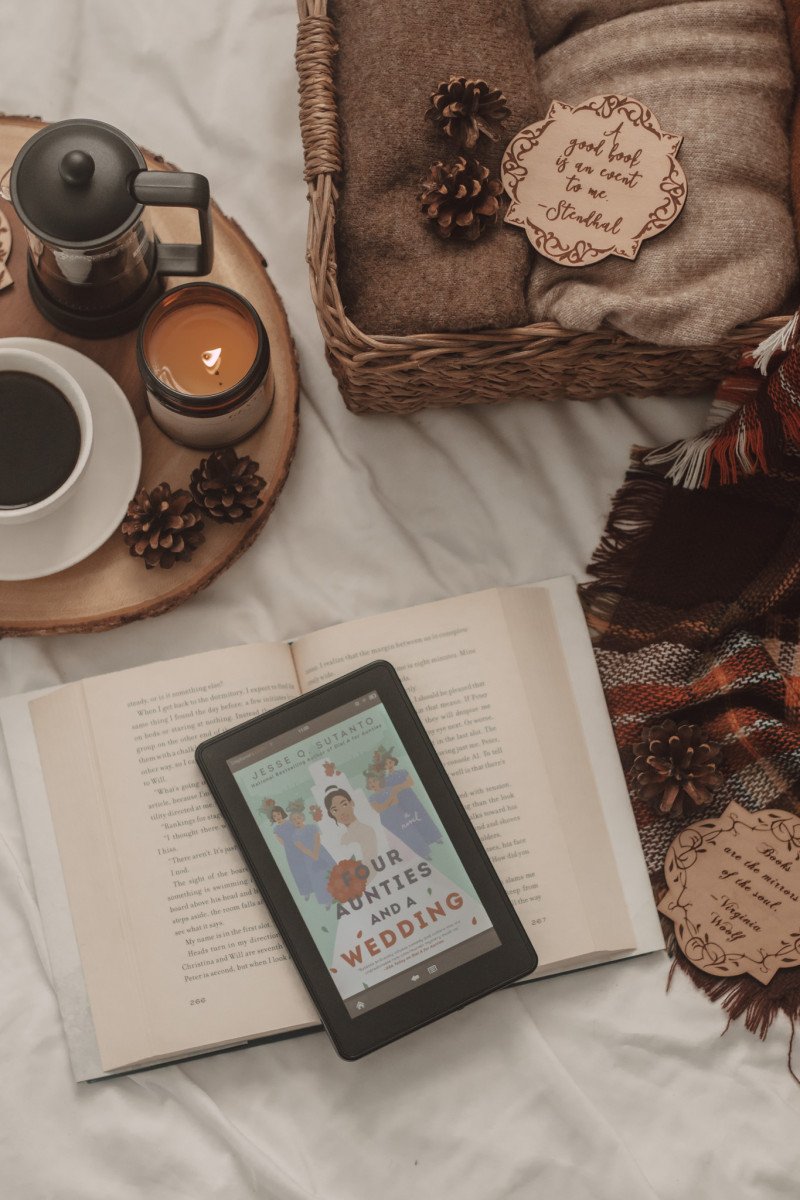 Will you be reading Four Aunties and a Wedding?
---
pin for later