A huge thank-you to NetGalley and the publisher for this advanced reader copy of Change of Plans by Dylan Newton.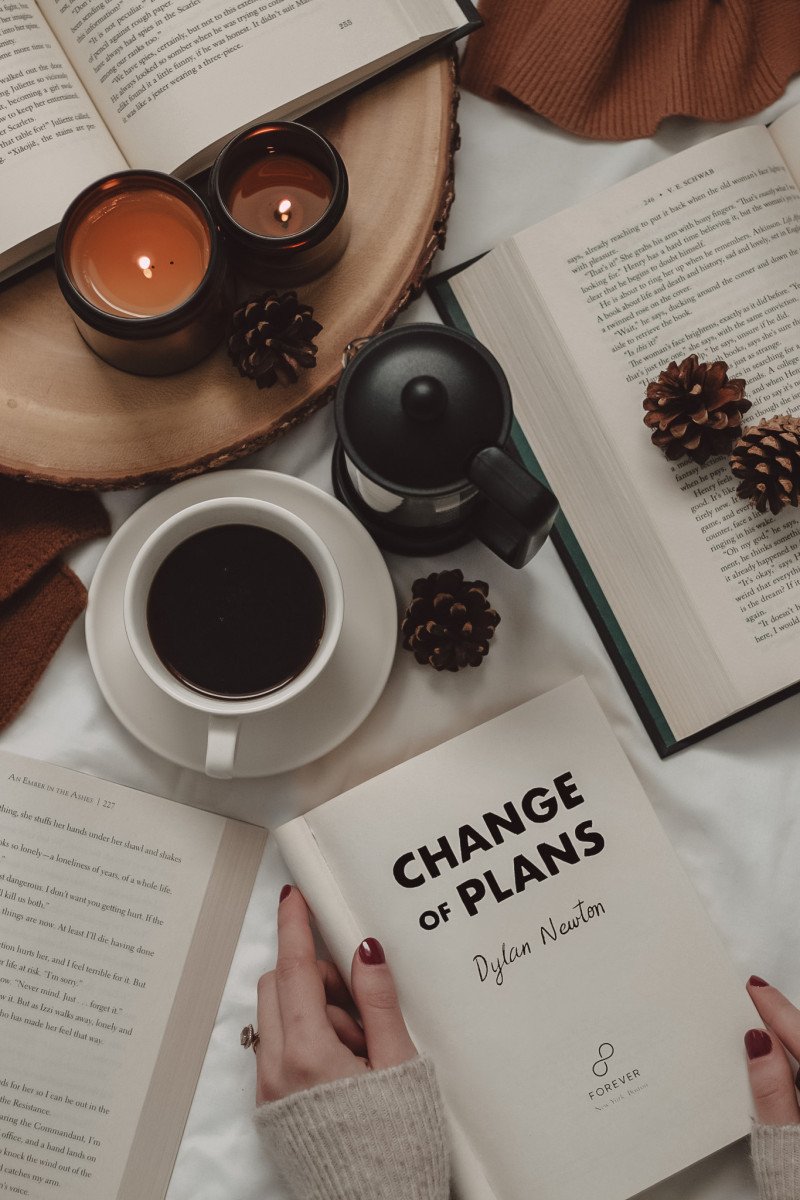 I've been greatly looking forward to reading Change of Plans, the third book in Dylan Newton's sweet romance series. But did it live up to my expectations?
A few years ago, I completely fell in love with How Sweet It Is by Dylan Newton. The following summer, I was lucky enough to receive an early review copy of the sequel, All Fired Up, which I also thoroughly enjoyed. You can imagine my excitement when the publisher approved me for an ARC of the third book, Change of Plans. After attending a virtual event with the author last summer, I was especially excited to read this book and learn more about Ryker, a character I had come to really like in the other two books.
If I'm being perfectly honest, the single parent romance trope isn't always my favorite. However, in this book, it got a really sweet and unique twist! If you're looking for a refreshing take on this trope, some sassy banter, and some of the cutest "secondary" characters (in the form of three tricky kids and an emotional support dog), you'll want to read Change of Plans.
Change of Plans hits shelves on August 1, 2023. Make sure to read How Sweet It Is and All Fired Up, and then pre-order or pick up your copy of this third book when it comes out!
---
LOOKING FOR MORE BOOK REVIEWS?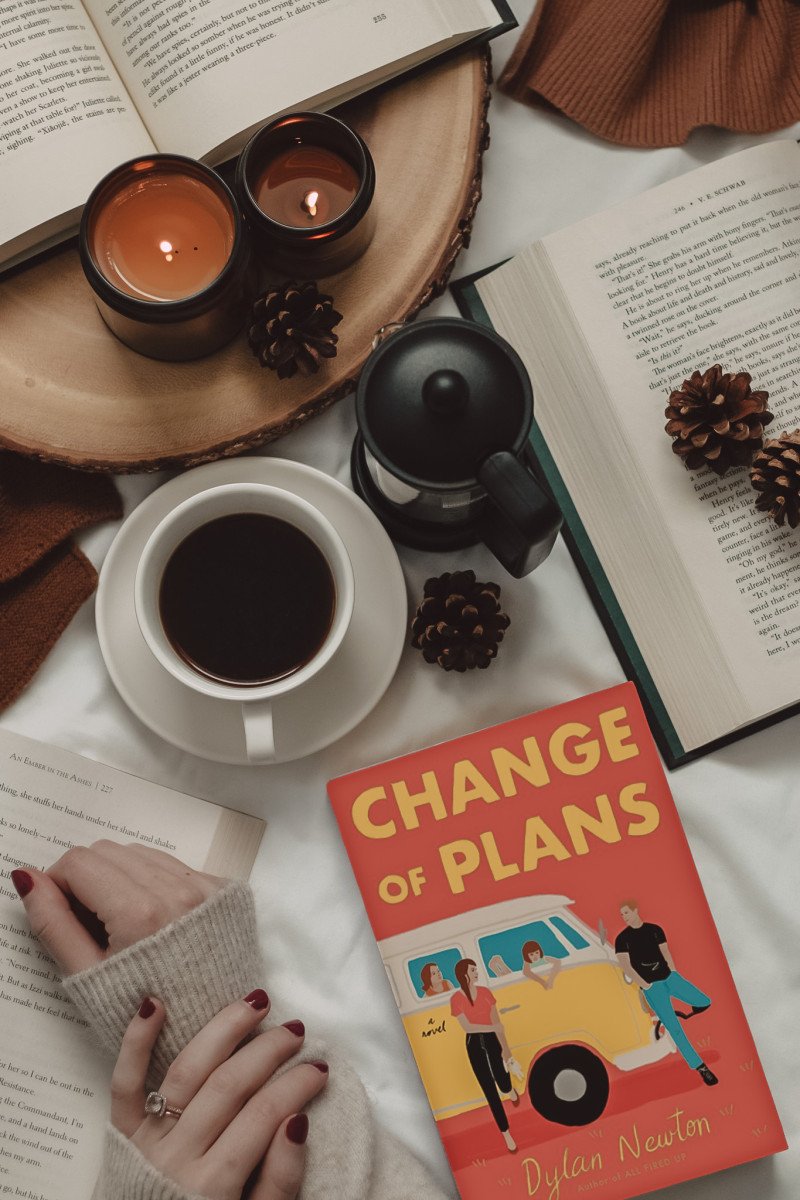 My honest review of Change of Plans by Dylan Newton.
Synopsis:
A hometown hero comes to the rescue of a struggling chef unexpectedly caring for three little girls who may end up saving him too, in this romantic comedy that perfectly balances depth, charm, and all the feels.
When disaster strikes and chef Bryce Weatherford is given guardianship of her three young nieces, her life goes from cooking with fire…to controlling a dumpster fire. Five‑year‑old Addison refuses to remove her fairy wings, eight‑year‑old Cecily won't bathe, and tween June is majoring in belligerence. With all this chaos, Bryce jettisons hope for a life outside of managing her family and her new job.
It's been years since Ryker Matthews had his below‑the‑knee amputation, yet the phantom pain for his lost limb and Marine career haunts him. To cope, he focuses on his vehicle restoration business. He knows he's lucky to be alive. Yet, "lucky" feels more like "cursed" to his lonely heart.
When Ryker literally sweeps Bryce off her feet in the grocery store's baby aisle, they both feel sparks. But falling in love would be one more curveball neither is ready to deal with… or is it exactly the change of plans they need?

Content Warnings: (major) Grief, War, Injury/Injury detail, Sexual content, and Vomit, (moderate) Cursing, Car accident, Death, and Death of parent, (minor) Sexism and Transphobia
Ever since How Sweet It Is, I've been looking forward to Ryker's story. I wanted to know what it would be like for the middle brother to find love against all the odds. This book was so cute while also handling some very challenging topics like PTSD, grief after the death of a loved one, and parenting.
I read it the week leading up to Mother's Day, which felt like the perfect time, as it gave such a wonderful depiction of how the term "mother" can be applied in so many unique ways (including mother-like creatures).
There were a few things throughout the story that didn't sit quite right with me, such as the crass jokes between Ryker and his brothers and Ryker and Bryce. Where they could've been funny or banter-y, instead they felt crude and sometimes even leaned towards feeling sexist or transphobic. I understand where the heart of the jokes were coming from, but they missed the mark a bit.
What I did love was the kindness shown by Bryce towards Ryker when he didn't know how to open up with her about his past and the trauma he was still battling on a daily basis. There was such grace and love and it was a really precious thing to see.
I also loved the way the characters from the past two books rallied behind Bryce amidst all of her struggles while "mothering" her three nieces. They say it takes a village to raise children and this book did a great job showing what that camaraderie can look like and how it can positively affect not only the children but the parental figures as well. I especially loved seeing Kate and Imani step in and help in so many ways.
The miscommunication trope was very strong in this book, which was a little bit of a turn-off, especially with the way Bryce goes about handling things (aka jumping to truly wild conclusions). However, I did feel as though the resolution was well done. The end of the book wrapped up everything really nicely and tied it up with a pretty bow (and lots of PattyCakes cupcakes).
Overall, I can't see it being a book I'd eagerly pick up again – unlike the first two, which I absolutely adored – but I did enjoy it and recommend it to those who are looking for something relatively lighthearted, with equal parts emotional depth and goofy encounters. It's a good summertime read.
---
purchase the book

Will you be reading Change of Plans?
---
pin for later