A huge thank-you to NetGalley and the publisher for this advanced reader copy of All Fired Up by Dylan Newton.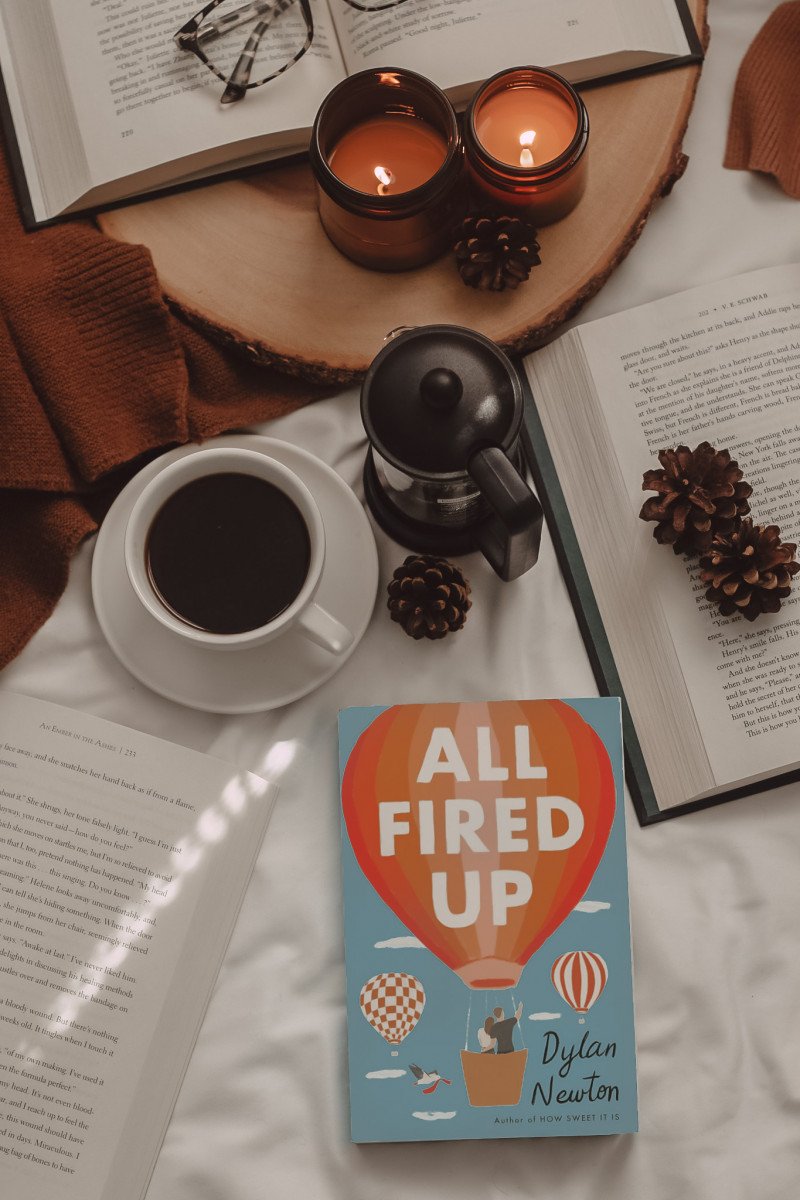 All Fired Up is the perfect combo of second-chance romance, the guy falls first, and a whole lot of adorable opposites attract vibes!
Last year, I was introduced to Dylan Newton's writing when I received a fun goodie box from Forever (an imprint of Grand Central Publishing) that included How Sweet It Is. This book quickly became one of my favorite contemporary romances and I found myself raving about it all autumn long! I even shared a review of it here on my blog. The cast was so lovable and I was super excited when I reached the end of the book and it mentioned that some of my favorite supporting characters would be getting their own story next!
Naturally, the moment that All Fired Up was added to NetGalley, I put in my request, and you can imagine my delight when I was approved to read this book early! It was quickly bumped up to my priority TBR and I took my time just savoring the story over the course of a week. This is longer than it typically takes for me to read a book, but I really was just enjoying my time with the characters rather than flying through it. I don't think my smile ever left my face as I read! It was just so freaking cute. I even got the chance to chat with the author a little bit about how much I loved it, which was so much fun!
This adorable companion novel was released on May 17, 2022, and is definitely one you'll want to add to your TBR. Keep reading to find out just why I loved it so much.
---
LOOKING FOR MORE BOOK REVIEWS?
My honest review of All Fired Up by Dylan Newton.
Synopsis:
After one wild night together, two complete opposites plan to stay firmly in the friend zone, but life has other plans in this delightful romantic comedy, perfect for fans of Emily Henry and Abby Jimenez.
As a successful book publicist, Imani Lewis works night and day to promote her authors. It's her dream job, but she's become a total workaholic. So when her grandmother invites her to stay for the summer as she recovers from surgery, Imani happily agrees. But being back in the same small town as her one-night stand may not be quite the relaxing break she envisioned…
Zander Matthews wakes up every day determined to enjoy the present because he knows from his time in the Marines that tomorrow isn't guaranteed. But he's never gotten over the beautiful woman who blew through town a year ago, then disappeared. And he doesn't want to be hurt again. So they agree to a deal: he'll help Imani fix up her grandmother's house as long as they stay firmly in the friend zone.
Whether it's repairing tiles in his ceramics studio, dodging nosy neighbors, or soothing the most obnoxious parrot ever, Zander never fails to make Imani laugh. And soon their friendly banter is turning ever flirtier. But since Imani's stay is temporary and Zander can't be tied to anything beyond the most tenuous plans, will she be able to handle it when things get all fired up?
Content Warnings: (major) Fire/Fire injury, Panic attacks/disorders, Pregnancy, Sexual content, Death of parent, and Injury/injury detail, (moderate) Blood and Grief, (minor) War.
I'm still getting little tingles of excitement when I think about how much I love Zander and Imani and this absolutely adorable book!
When these two characters were introduced in How Sweet It Is, I immediately found myself feeling desperate to know what their story would look like. Their flirty banter was too cute and I just had this feeling that they could become total couple goals! I'm proud to announce that I was absolutely right.
Imani reminded me so much of myself that it was slightly uncomfortable at times. She's a list-maker, rule-follower, and planner – ready to tackle anything that comes her way, as long as it's in her schedule. Zander is the opposite of her in just about everything. He's impulsive, a bit reckless, and prefers a good adventure to the idea of stability. They are the epitome of "opposites attract!"
One of the things that stood out to me in this book was just how much character development there was, and it wasn't just Imani or just Zander, but it really took both of them working on themselves and learning how to overcome their setbacks to lead better lives – together and as individuals. This showed what it's really like to be dedicated to having a healthy relationship because without sacrifice and the willingness to learn, you'll get nowhere. But if you're willing to put in the effort to work on yourself, it will only lead to a better partnership.
I absolutely love a dual POV when it comes to romance books because it's so much fun to see what actually leads the characters to one another. Zander's POV was probably my favorite because he's totally smitten with Imani from the get-go, but he has to take a step back and allow her to take the reins. His inward struggle to avoid coming on too strong is really precious and yet, he's willing to do anything it takes to make sure she knows he's there for her.
I was incredibly happy that Drake and Kate were such a huge part of this book! I absolutely loved How Sweet It Is and was so thrilled to find out what their life looked like and how it played into Zander and Imani's story. There were also a few new faces to join the old ones, like Imani's hilariously adorable Gigi and her very crass parrot (who made me laugh out loud more than once). While reading, it's hard to separate this town and cast from reality because they truly just feel like an extension of my own life. They're so lovable!
Oh, OH, and how can I forget the HOT AIR BALLOON! Oh.My.Gosh. This entire plot point from beginning to end was absolutely fantastic. Charming, creative, educational, terrifying, adventurous, and SPICY would be just a few words I could use to describe the chain of events in those couple of chapters. That alone makes it all worth reading (if I hadn't already convinced you).
Okay, it's obvious I could rave about All Fired Up all day long so I'll end here, but seriously, you won't want to miss this one!
---
purchase the book

Will you be reading All Fired Up?
---
pin for later