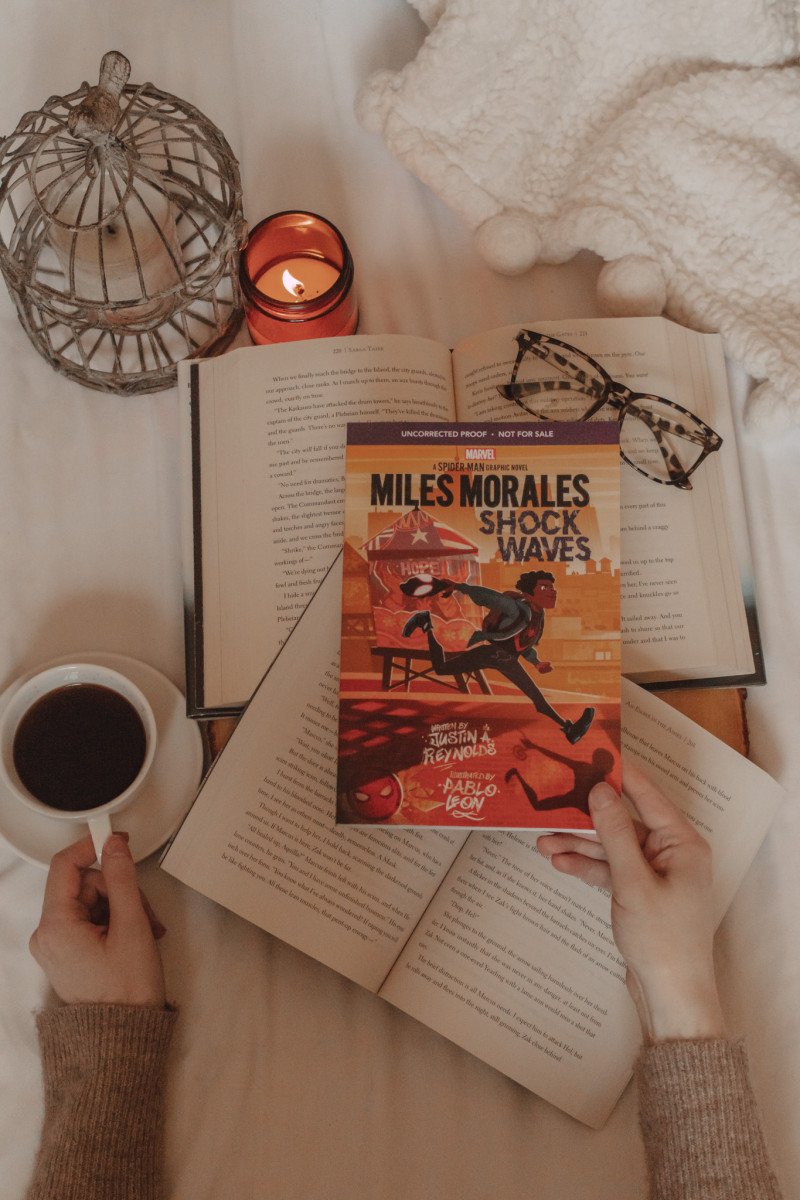 Justin A. Reynolds has become one of my favorite authors over the past couple of years. I was thrilled when he agreed to this interview about his newest book, Miles Morales: Shock Waves.
At the beginning of 2020, I picked up Opposite of Always and really fell in love with Justin's style of writing. I couldn't get enough of the way he seamlessly blended together humor and emotion, making it feel like I had known the characters my whole life. Later in the year, I read Early Departures, which quickly became one of my favorite books of all time. Justin's books are the only ones that can make my ribs hurt from laughing and my eyes burn from crying within the span of one paragraph!
When he announced that he was writing a Miles Morales graphic novel for Marvel in 2021, I about screeched with excitement. I couldn't believe my luck when I got the opportunity to read and review the book prior to publishing. Shortly following that, I reached out to Justin and asked if he'd be willing to chat with me about this book. It brought so much joy into my life and I know it will do the same for everyone who reads it!
---
Related Posts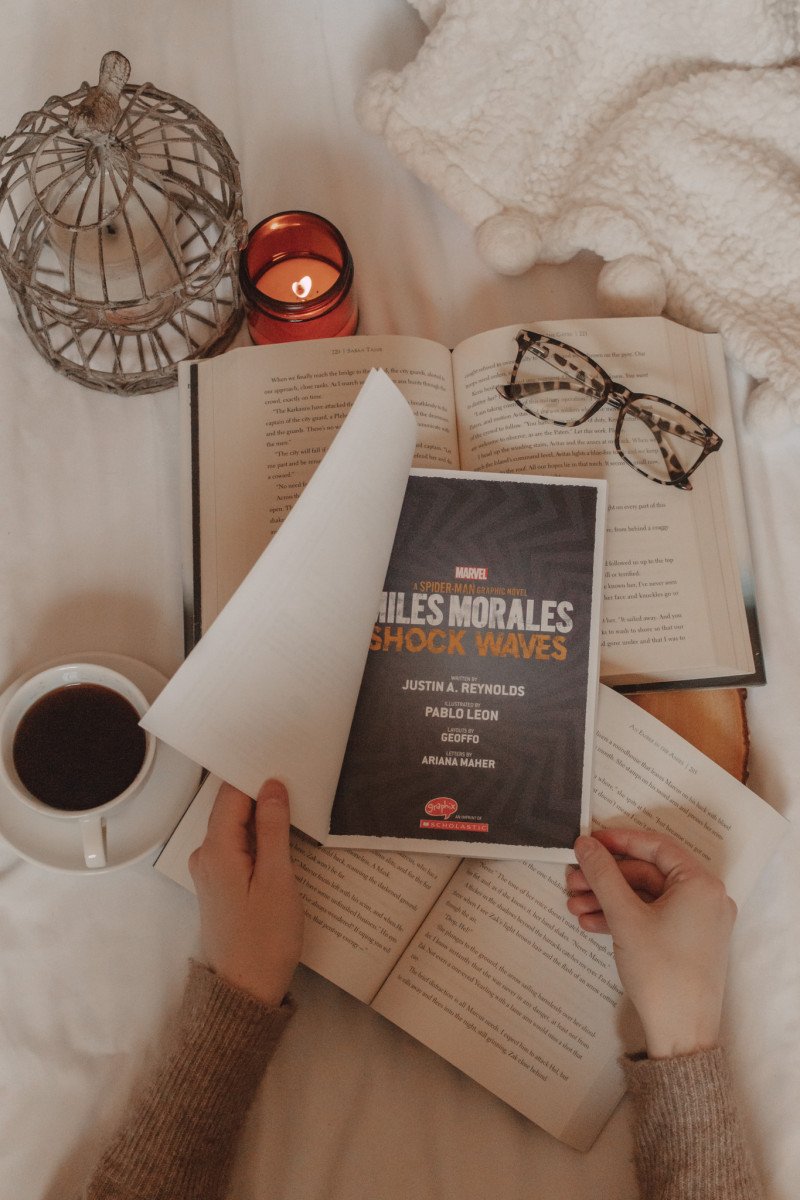 Get to know Justin A. Reynolds and a little more about Miles Morales: Shock Waves.
Did you grow up reading comic books and graphic novels? If so, what were some of your favorites?
Justin: Yes, as a kid I loved comic books. They were arguably my favorite medium. I was especially into Spider-Man, so the fact that I got to write a Spider-Man comic is kinda unreal. Also, because I'm a sucker for rom-coms, I was into Archie and the gang, too.
I know you're a big Marvel fan already. Did you feel like that made it easier for you to jump into this project? Or did it add more pressure?
Justin: Great question! Yes, I am a huge Marvel fan. I think it was a little of both, to be honest. It made it easier in the sense that I knew what I was getting into–I felt qualified, on a technical level, to execute a Marvel comic. I know Spider-Man. I definitely know Miles Morales. But of course, when you get to work on your dream project, there are a lot of nerves involved, too, haha. Mainly because you want to do the story justice. You want to get it right.
Miles is a super relatable character (minus the web-slinging, obviously). Do you see any similarities between him and yourself?
Justin: I think Miles is so very relatable and I do recognize parts of myself in him. He's a superhero, yes, but at the end of the day he's a fairly normal kid trying to juggle a normal life between his family and friends, his school work, and his passion for art. As a fellow creative, I definitely understand how difficult it is to strike a good work-life balance; I'm not sure that's something you necessarily get better at with age, either, haha. And of course, he's witty, which I like to think I am, too. You know, as long as witty also means kinda corny 😀
Was there anything you did to get into the right mindset for this project… like watching Spider-Man movies or reading more comics?
Justin: I re-read all the Miles comics, for sure. I've seen Into the Spider-Verse a gazillon and one times, so even though it wasn't necessary to watch it again, I did. I love that movie so much and between that and a decade (I can't believe it's been that long, wow) of awesome comic history, I had a great Spider-Man legacy to build upon.
What were some of the biggest differences between writing this graphic novel and writing your other books?
Justin: The word count, for sure! My books are kinda long and graphic novels are kinda…not. But I think it was an awesome exercise in precision and economy. I actually was very conscious of that with my second novel, Early Departures. It's purposely sparser than my debut novel. For Shock Waves, I really enjoyed learning how to convey the same emotional and dynamic energy you get with a novel into this smaller package; it was an awesome challenge!
Would you like to continue Miles's story in the future, if given the chance?
Justin: Of course! I'm a big Miles fan and obviously that's in large part due to the amazing writers who have penned Miles's stories up until now–so to join that list is incredible in itself! There are definitely more Miles stories in my head, though, and it would be great to keep this thing going. Regardless, I know Miles will always be in excellent storytelling hands and that's exciting.
And just for fun: If you could have any superpower, what would it be?
Justin: Teleportation, hands down. Think how much time I'd save on my commute to the office, haha. Plus, I could hop all around the world in the course of one day; can you imagine being able to eat any global cuisine of your choice directly from the source? Ohmigod, the caloric intake! 😀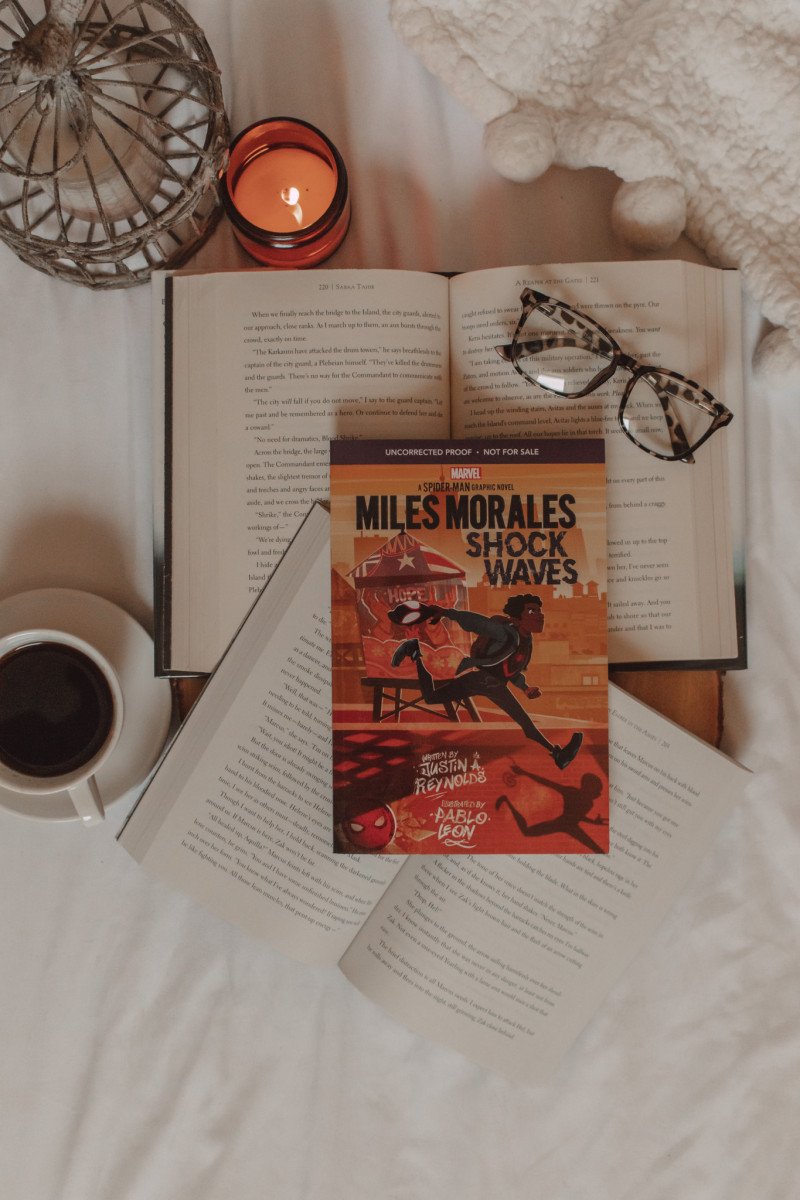 An enormous thank-you to Justin for agreeing to this interview! Make sure to pick up your copy of Miles Morales: Shock Waves today.
---
pin for later