The Invisible Life of Addie LaRue made me rethink everything I thought I knew.
Last summer, I was drawn to the Shades of Magic trilogy by V.E. Schwab. It was mentioned a lot on bookstagram and it had been a while since a fantasy series really captured my attention. It took only one of the three books for me to fall in love with the worlds she'd created and now I definitely consider myself part of that fandom. I quickly discovered that Schwab was a favorite author because even after reading the Villains duology (which is not my typical book genre), I was insanely impressed with her writing style and ability to create characters that were so complex and incredible.
This was about the same time that The Invisible Life of Addie LaRue began taking the world by storm. I knew I wanted to read it as soon as possible, so I put a hold on it at the library. I was somewhere around 60 out of 70 holds and by January, the number hadn't decreased much. I knew it would be a while before I got a chance to dive into this story. Then I received the kindest package from my bookstagram bestie with a copy of the book inside! I couldn't believe her generosity and naturally, I put down everything else I was reading and began to see what the hype was all about.
I experienced a wide range of emotions while going through this book. Let me tell you all about it.
---
related posts
Book Review: The Seven Husbands of Evelyn Hugo // Book Review: The Midnight Library // Book Review: Early Departures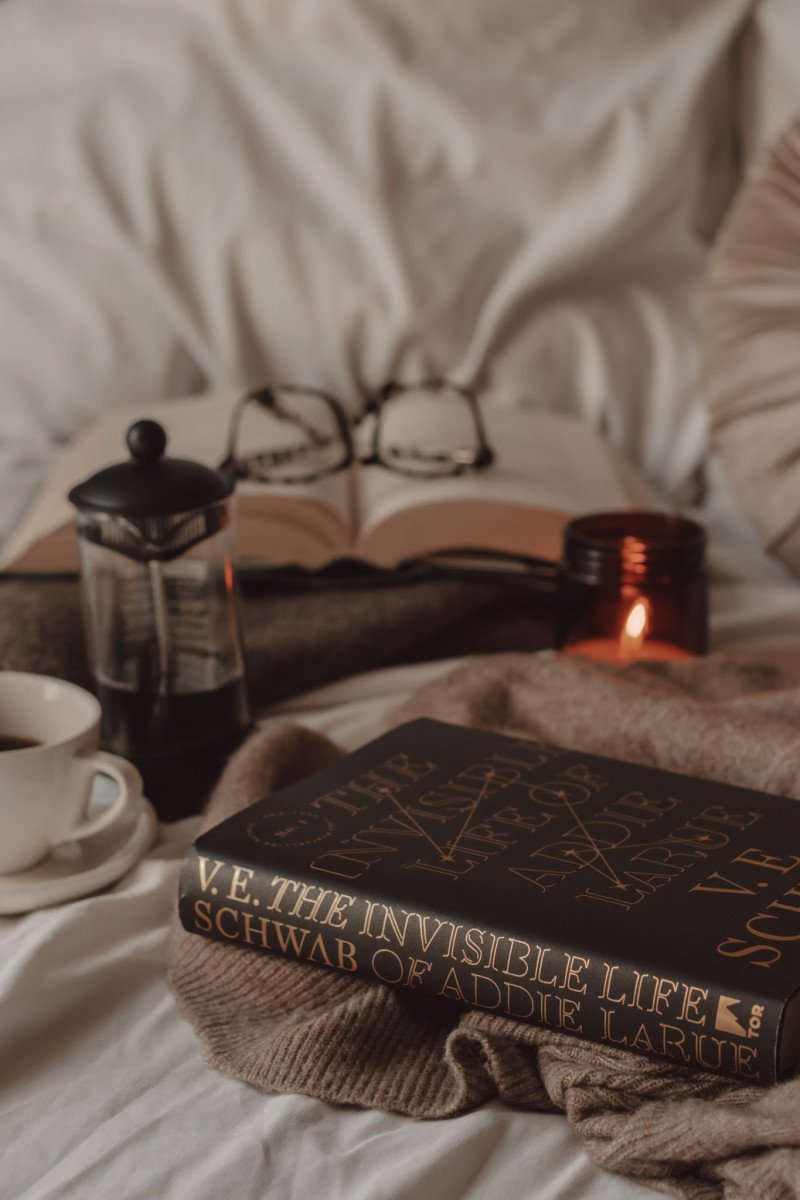 Below you can find my full and honest review.
"'Do you know how you live three hundred years?' she says.

And when he asks how, she smiles. 'The same way you live one. A second at a time.'"

the invisible Life of Addie LaRue
"A Life No One Will Remember. A Story You Will Never Forget.
France, 1714: in a moment of desperation, a young woman makes a Faustian bargain to live forever and is cursed to be forgotten by everyone she meets.
Thus begins the extraordinary life of Addie LaRue, and a dazzling adventure that will play out across centuries and continents, across history and art, as a young woman learns how far she will go to leave her mark on the world.
But everything changes when, after nearly 300 years, Addie stumbles across a young man in a hidden bookstore and he remembers her name." (Goodreads Synopsis)
A little over halfway through reading The Invisible Life of Addie LaRue, a friend asked me if I got the hype surrounding it or if I was feeling underwhelmed. I began to explain that while I was certainly not underwhelmed, I hadn't discovered the elements that created the hype. As I was talking through the plot, I began to realize more and more that I had, in fact, already discovered those elements without even becoming aware of them. They were slowly sinking in and making an impact and I hadn't noticed until I stated them aloud. But isn't that what a truly good book should do? Sometimes the impact hits like a train – a really good quote or moment that just stands out above the rest – but other times it just seeps in like a steady IV drip of profound knowledge.
What I loved most about this book wasn't the beautiful story (though yes, it was hauntingly beautiful), but it was the way it made me FEEL. It was a book of emotions in the form of words. It carried you to new places and made you experience everything Addie, Henry (and even Luc) did as they experienced them. You felt their pain, their joy, and when they were the most emotionally vulnerable, you felt stripped down to your rawest self as well.
Though moments of it were slightly predictable, I didn't mind. They were written in such a way that while I saw them coming, I also wanted that outcome (and not because the outcome was always "perfect" or "good" but because it was REAL). Yes, this book may have been written about a girl who lived to be 300 years old, trapped in the body of a 23-year-old, but it was still relatable in many ways I wasn't expecting.
I don't annotate books. I just can't make myself take a pen to a book, however, I can see myself wanting to reread this and learn from it (and yes, maybe even annotate) time and again because there's so much to gain from it. It is one of the most profound books I've ever read. Leave it to Schwab to create another pure masterpiece.
[TW: suicidal thoughts, toxic relationships, drug use, anxiety and depression, untimely deaths]
---
shop the post

---
pin for later