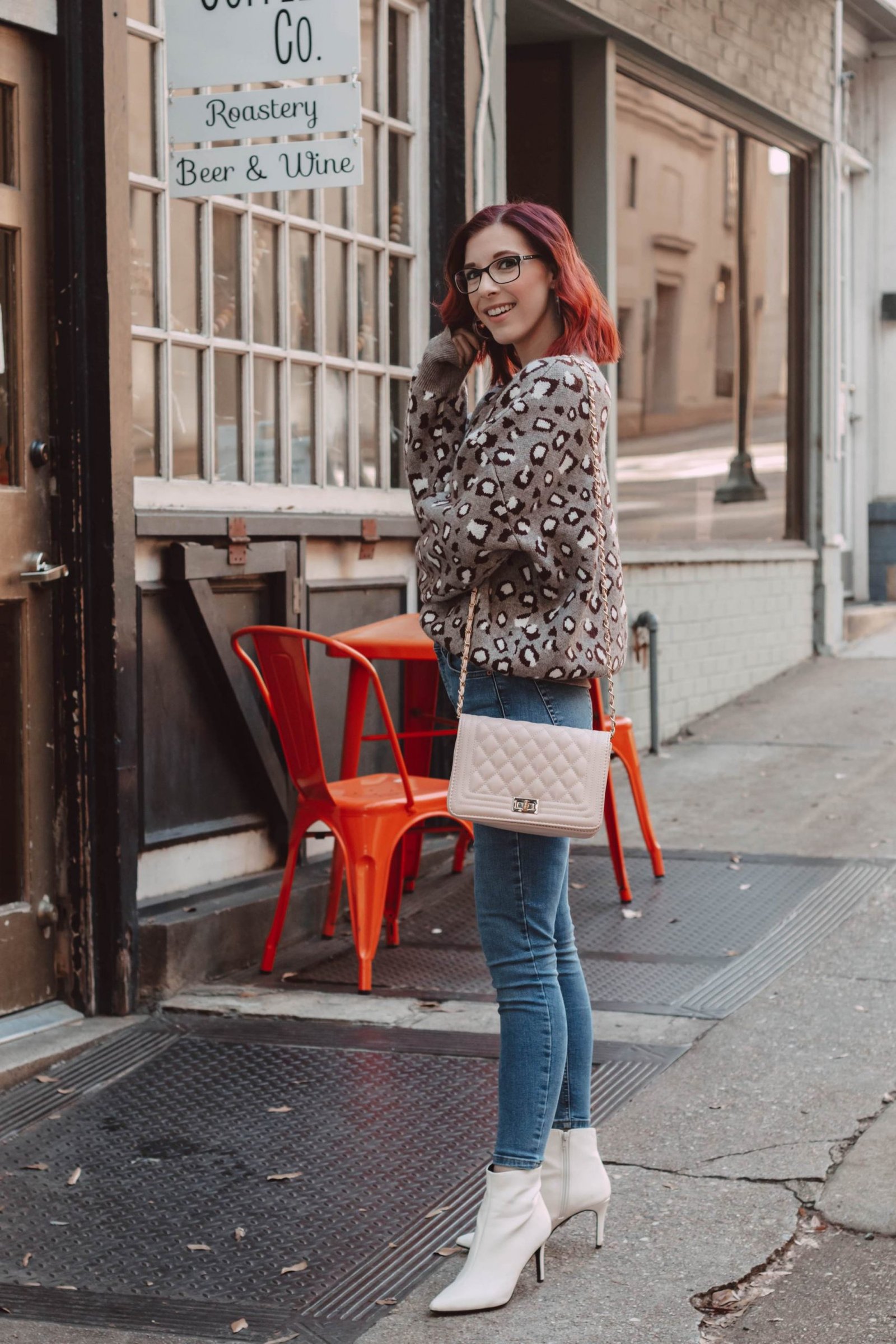 When it comes to a leopard print outfit – or any animal print, for that matter – you want to keep it simple and stylish. Let me provide some inspiration!
Ooh la la, here we are friends – the first fashion post of the new year! I went with tradition, and captured these photos in front of Sefton Coffee Co. just as I have for the previous two years. This was the first time I did it purposefully, however! I'm starting to really enjoy creating "series" of photos in the same spot or pose over the years. It's a fun way to document the passage of time and the evolution of my style and editing process. I shared a carousel of photos on Instagram, showcasing the 2018, 2019, and 2020 version of these pictures, and it was really entertaining to read the comments!
After all the really elegant ensembles of the holiday season, I wanted to share something that's much more casual and trendy. Leopard print has been popular for ages, but it seems to have exceeded its five minutes of fame, and continues to be a massive hit. When it made its way back onto the scene a few years back as a hot-ticket print, I was uneasy. Typically, the boldest pattern I reach for is a simple stripe or glen plaid. I found little ways to incorporate leopard with a pair of shoes, a phone case, and other small accessories, until I was more comfortable with it. For this leopard print sweater to be the focal point of the outfit shows that I've come quite a long way!
---
outfit details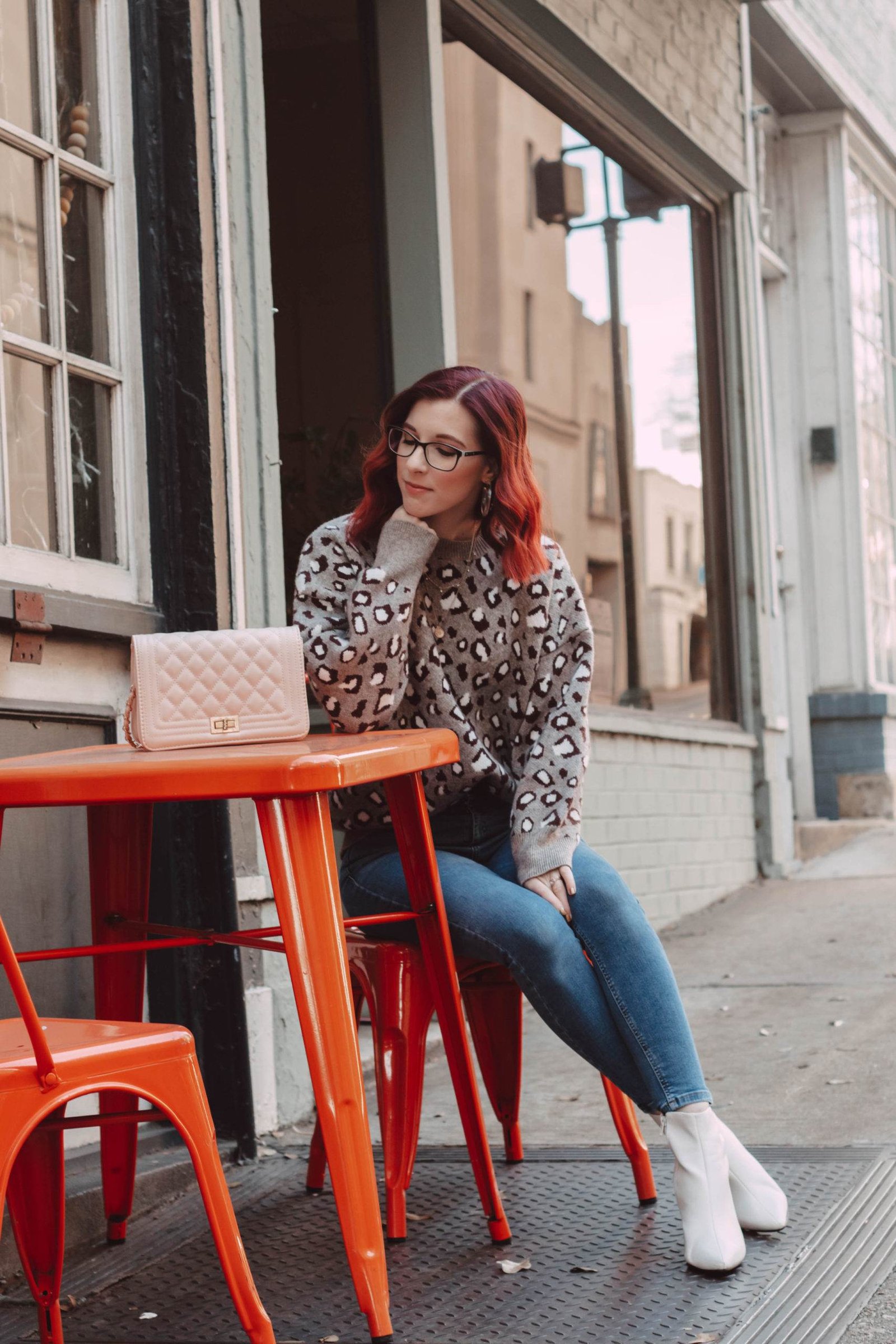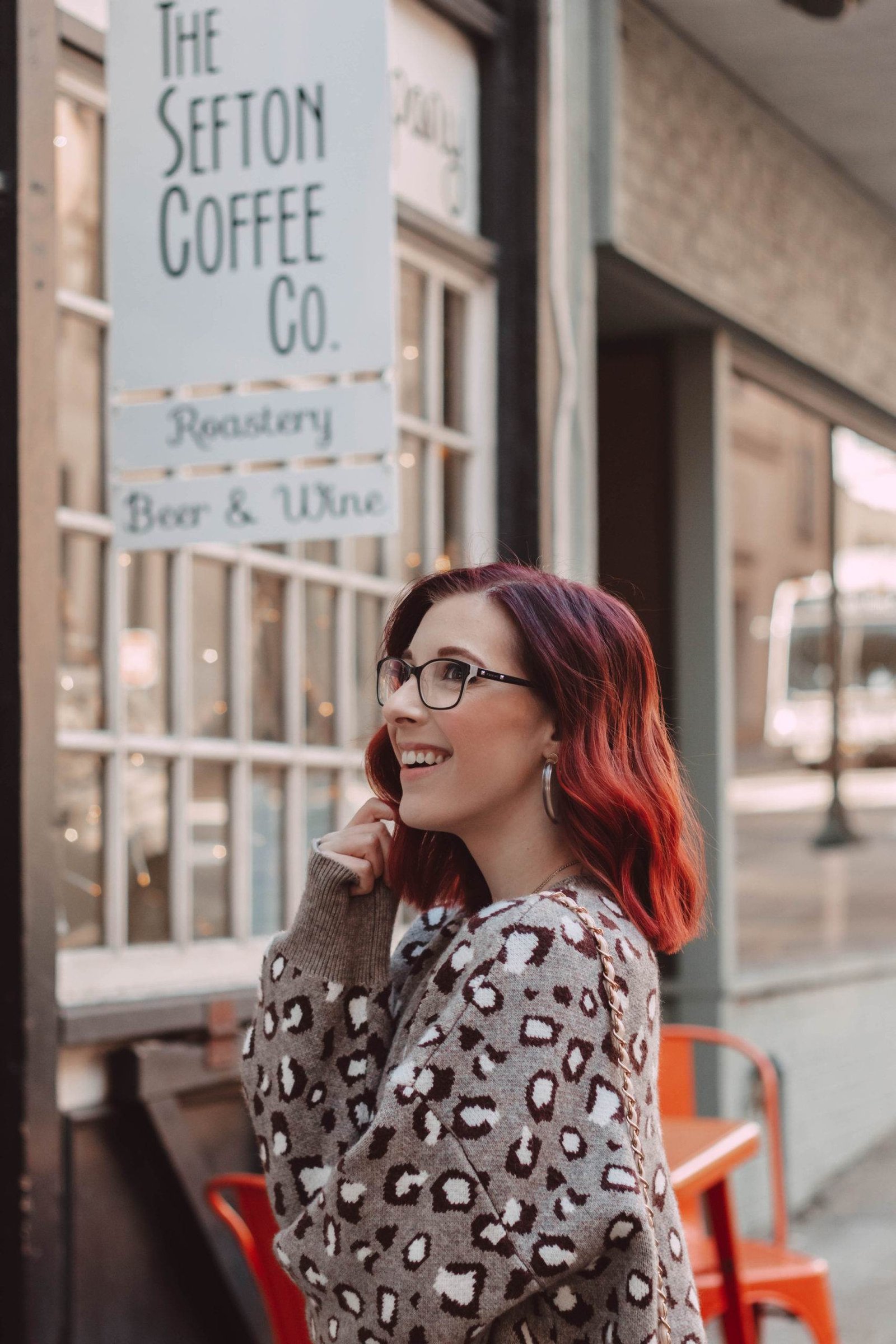 This leopard print outfit was easier to put together than singing my "ABC's."
I couldn't resist this oversized, chunky leopard sweater when I saw it on the Chicwish website. I'm a sucker for boyfriend-fit anything, so naturally, this piece had my name written all over it. The print was more of an afterthought. I knew it was the kind of sweater that could easily be worn with skinnies and sneakers (or booties, in this case) or layered over a skirt with heels. My friend, Allison, styled it flawlessly in a more dressed-up way that would be perfect for a winter concert, a date night, or even to the office. This post that she wrote confirmed how badly I needed this sweater!
I've recently gotten into the habit of wearing certain gifted items of clothing for an extended period of time before posting about them. This way, I can give you a well-rounded review of the piece, since I've gotten plenty of wear out of it already and know how it really fits and feels. This sweater is a dream. I've washed it multiple times and it hasn't warped, pilled, or frayed in any way. As I've mentioned, it is oversized, so the S-M that I'm wearing could easily work on someone more petite than myself, and also someone with more curves. It's thick and cuddly and very warm – AKA, it's perfect for the winter! I truly can't count how many times I've worn it already, because it's quickly become one of my favorites and most reached-for in my closet. If I love it this much, I know you will too!
---
Related Posts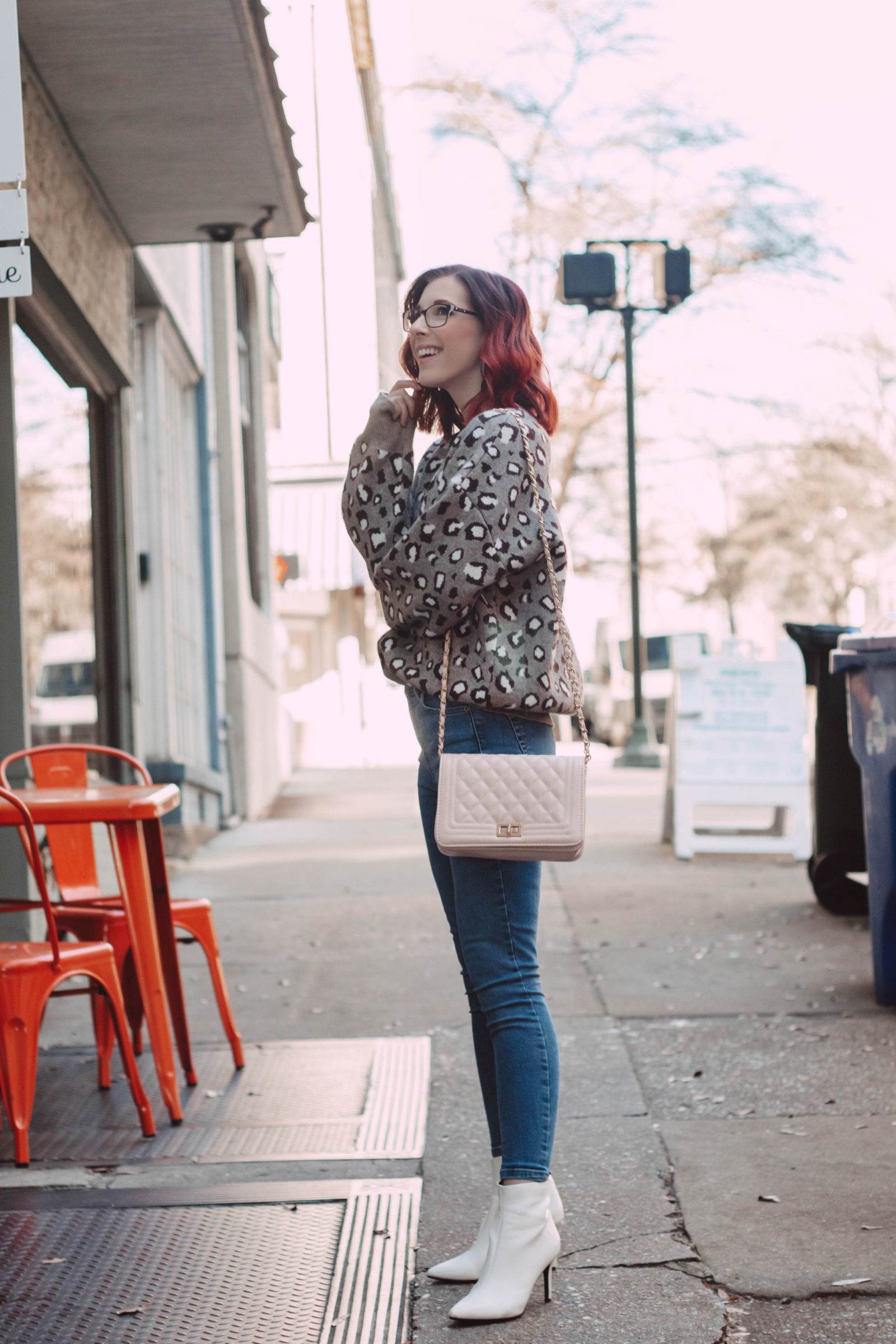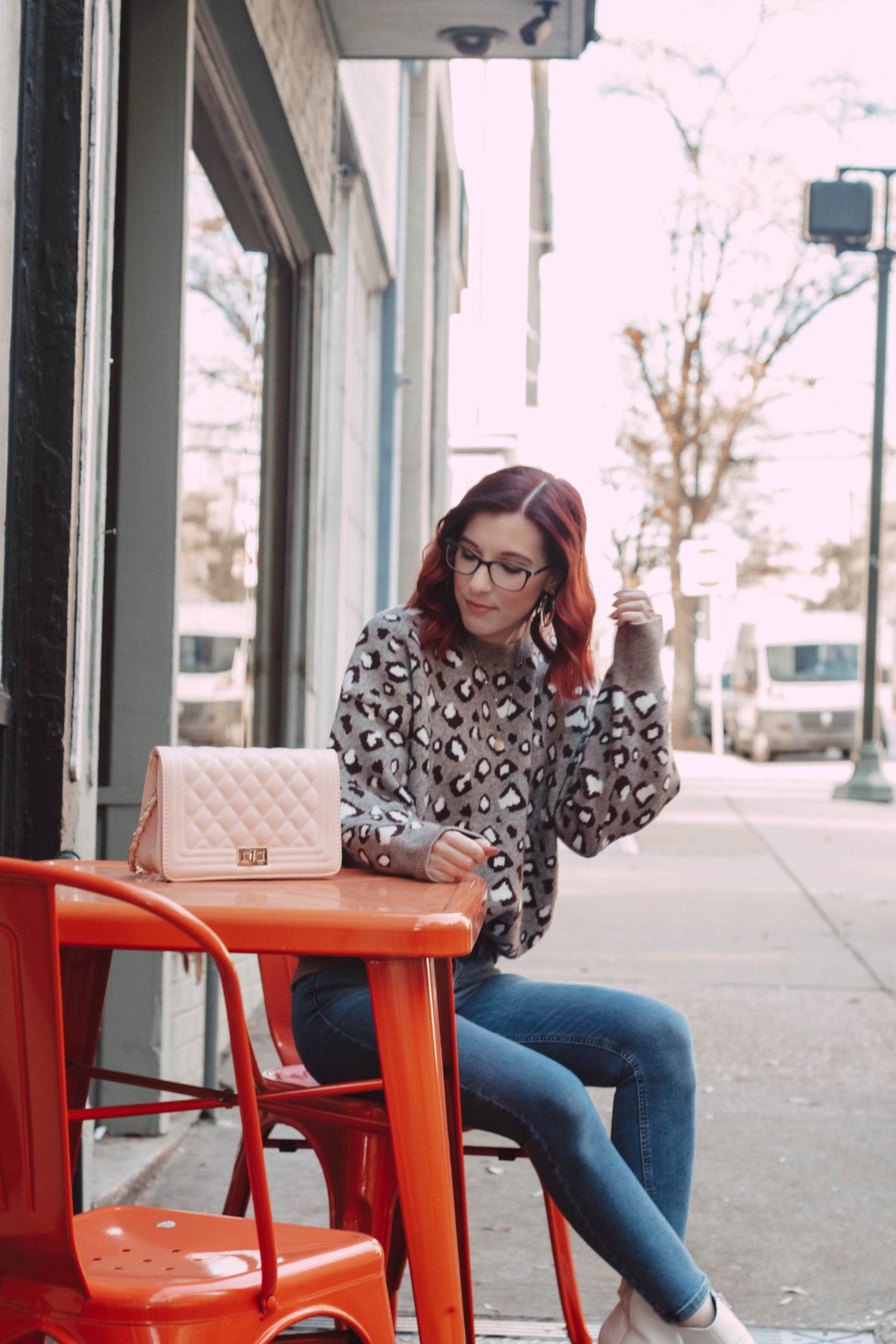 Have you found a fun way to incorporate leopard print into your wardrobe?