The Lucky Escape was the contemporary romance that I didn't know I needed – and now I can't get enough.
Have you started planning your summer reading list yet? I know, I know it's not even technically spring, but I've got the perfect beach or poolside novel for you to check out!
Last year, I fell in love with Laura Jane Williams' writing when I listened to the audiobook of Our Stop. It was cute and lighthearted and best of all, it made me laugh! I was thrilled when NetGalley approved me for an advanced reader copy of her latest title, The Lucky Escape. This book will be released on June 10, 2021, and I can't wait for everyone to get their hands on it.
I couldn't put this book down! I found myself distracted while I was working because all I wanted to do was get back to reading. If I'm honest, I can probably count on one hand the number of times this has happened. So, needless to say, it was great! But I bet you'd like to know a little more about it, so keep scrolling to check out why I thought The Lucky Escape was so spectacular (and why you need to read it too)!
---
related posts
Book Review: The Seven Husbands of Evelyn Hugo // 30 Books With Strong Female Leads // Book Review: The Invisible Life of Addie LaRue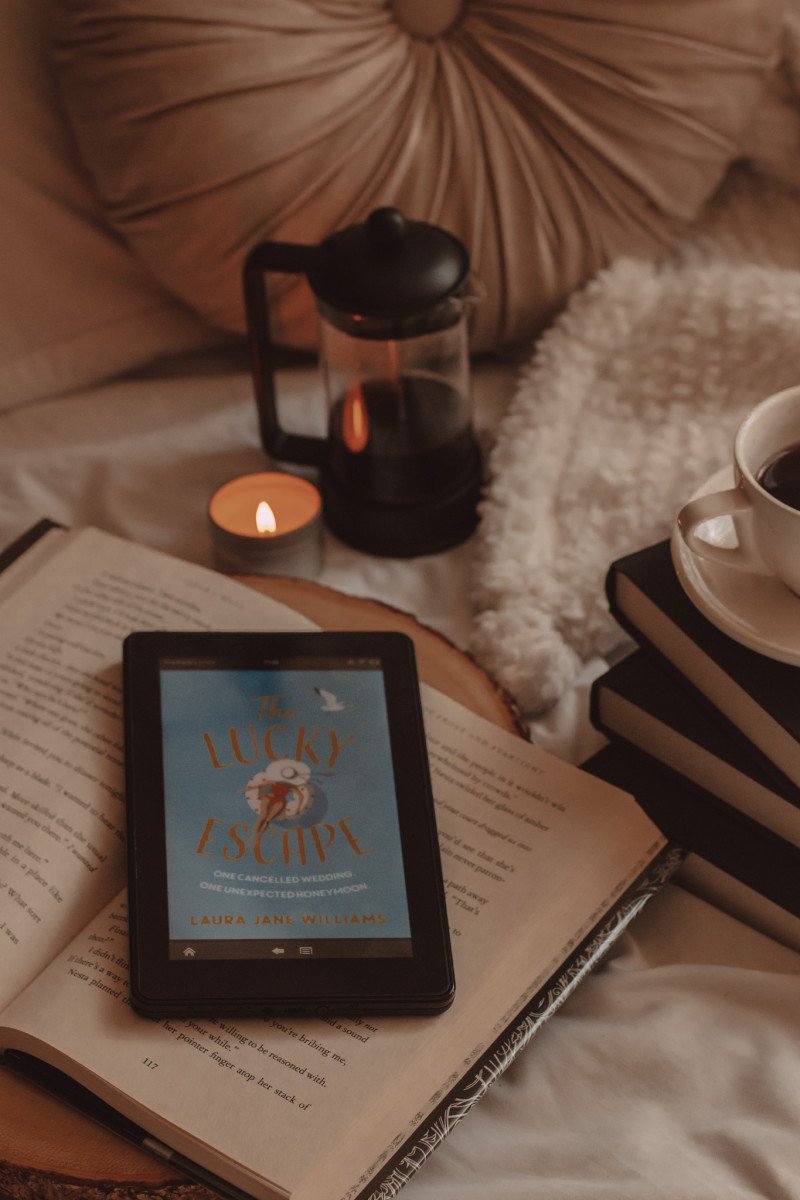 Why You Should Read The Lucky Escape
If you could just put yourself at the centre of your own world for one second you'd see how much you deserve to be there.

The Lucky Escape
A huge thank-you to NetGalley and Avon Books UK for this e-arc of The Lucky Escape by Laura Jane Williams.
"ONE CANCELLED WEDDING
When the day finally comes for Annie to marry Alexander, the last thing she expects is to be left standing at the altar. She was so sure he was Mr Right. Now, she has no idea how she could have got it so wrong.
ONE UNEXPECTED ENCOUNTER
After a chance meeting with Paddy, an old friend who reminds her of who she used to be, Annie takes a vow of her own: she'll say yes to every opportunity that comes her way from now on.
ONE SPARE TICKET FOR THE HONEYMOON
Could a spontaneous trip with Paddy be the way to mend Annie's heart? She's about to find out as she embarks on her honeymoon – with a man who's not her husband…" (Goodreads Synopsis)
Below you can find my full and honest review of The Lucky Escape by Laura Jane Williams.
Over the years, I've developed a love-hate relationship with contemporary romance. On the one hand, it's nice to have something light and fluffy to read when you need a mood-booster. On the other hand, I tend to feel frustrated that most of these books lack substance or originality. I've begun to pick up the genre with the assumption that I'll be somewhat disappointed or left wanting more.
So naturally, you can understand my excitement over the fact that The Lucky Escape had the perfect blend of everything a good rom-com should possess. Some chapters caused me to bubble over with deep belly-laughs. Others incited inspiration (note: I was very thankful that I read a digital copy of this novel because I do not like marking my physical books and this way, I was able to highlight to my heart's content). A few times, I even shed tears. I found myself quickly becoming wrapped up in Annie's story and loving every second of it!
There was less predictability in this plot than I originally expected, which I loved. I kept having moments where I would begin to cringe, thinking I knew what would come next, only to be pleasantly surprised!
I appreciated that The Lucky Escape focused a lot on the importance of friendships and sibling relationships. There was as much – if not more – emphasis on this as there was on the romance element. The sweet nicknames Annie and Freddie had for each other warmed my heart and I loved the serious support system that the Core Four provided.
If you find me sitting in a corner, writing sonnets for Patrick, don't be surprised. This cinnamon roll of a man has to be one of my favorite love interests of all time. Truthfully, I could spend forever telling you about how phenomenal he is – and he's not even an unrealistic "dream guy" sort of character. He has depth and soul and a seriously inspirational perspective on life.
This book is currently living rent-free in my mind. Every time I put it down to do my work or run errands, etc., I immediately missed it and wanted to pick it back up again to continue reading. It took virtually no time at all to make it on my list of favorite contemporary romance novels! I will certainly be reading it again and again.
---
pre-order the book (release date: June 10, 2021)

Will you be reading The Lucky Escape when it's released in June?
---
pin for later