A huge thank-you to Grand Central Publishing for this review copy of The Glorious Guinness Girls by Emily Hourican.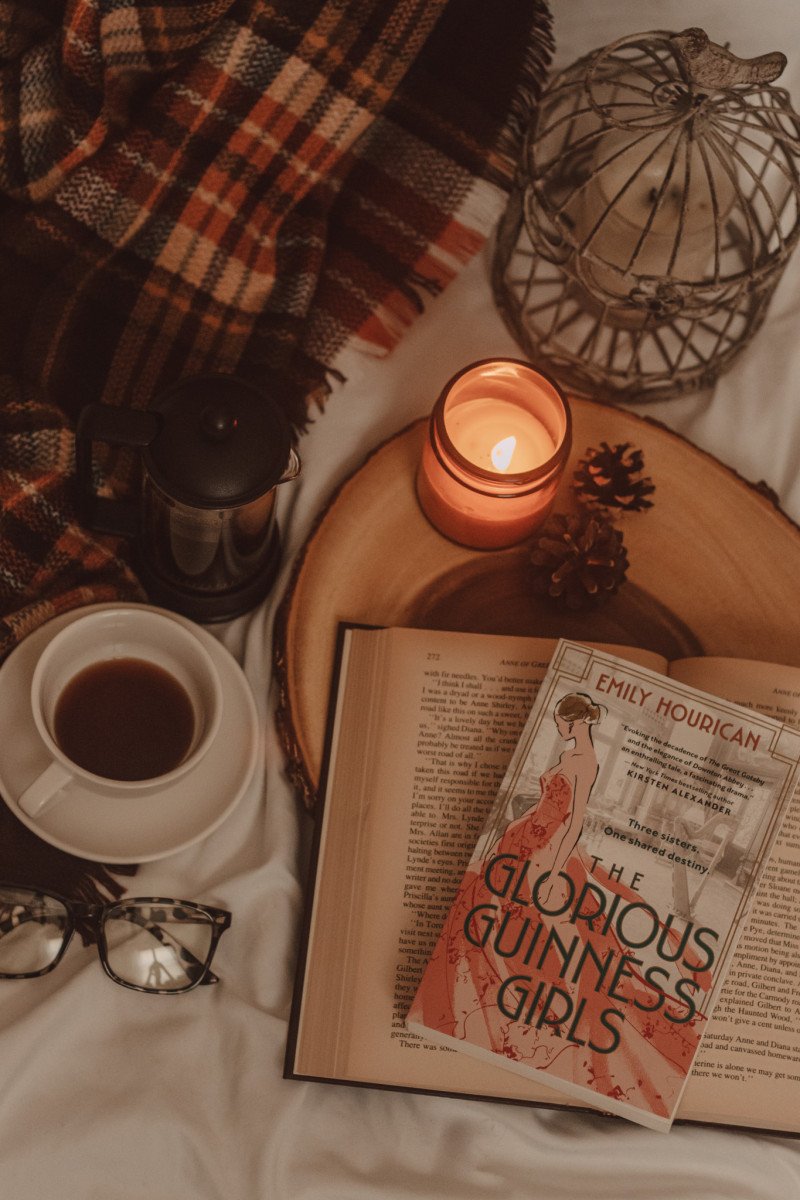 Described as The Great Gatsby meets Downton Abbey, The Glorious Guinness Girls already had big shoes to fill. But did it meet my high expectations?
It's time for some truth-spilling. My interest in this book was 100% because of the cover and title. I didn't read the synopsis until a later date and when I did, I was still interested. I've been trying to dip my toes back into historical fiction for quite some time and this really seemed like the perfect fit.
I can't say it was everything I hope for and more, but I can say that it was quite informative about the 1920's in Ireland and England and gave great insight on both the upper class drama and lower class struggles from the perspective of someone who spent their life straddling both.
Let me share my thoughts on The Glorious Guinness Girls with you!
---
related posts
My honest review of The Glorious Guinness Girls by Emily Hourican.
Synopsis:
From London to Ireland during the 1920s, this glorious, gripping, and richly textured story takes us to the heart of the remarkable real-life story of the Guinness Girls—perfect for fans of Downton Abbey and Julian Fellowes' Belgravia.
Descendants of the founder of the Guinness beer empire, they were the toast of 1920s high society, darlings of the press, with not a care in the world. But Felicity knows better. Sent to live with them as a child because her mother could no longer care for her, she grows up as the sisters' companion. Both an outsider and a part of the family, she witnesses the complex lives upstairs and downstairs, sees the compromises and sacrifices beneath the glamorous surface. Then, at a party one summer's evening, something happens that sends shock waves through the entire household.
Inspired by a remarkable true story and fascinating real events, The Glorious Guinness Girls is an unforgettable novel about the haves and have-nots, one that will make you ask if where you find yourself is where you truly belong.
There were three, and they dazzled. Blue eyes and blonde hair. The same but not the same. They had each other's face but with small variations so that looking at all of them together was to see a single treasure hoard split three ways. A store of rubies here, sapphires there, spun gold that together added up to three faces, three stares that were not curious or kindly but almost a dare.

The Glorious Guinness Girls
My Rating: ★★☆☆☆
Content Warnings: alcoholism, drug use and abuse, addiction, death, infidelity, incest, mental illness
I think it is of utmost importance to share in advance that I am not the biggest fan of historical fiction. While it is a genre that I greatly enjoyed in my younger years, I find it hard to indulge in or escape to as an adult. The further back we go into history, the less excited I become. In addition to that, I know very little of the politics and history of other countries aside from America. This is something that I realize is a fault of my own making, but it does play into my feelings about The Glorious Guinness Girls.
This book has a really fascinating concept: touching on the glamour and intrigue surrounding the lives of the three daughters of Ernest Guinness – founder of the malt beverage empire. However, while I believed that would be a large part of the story, it really didn't come into play much at all. In fact, it seemed as though the Guinness that we may know now had very little to do with the Glorious Guinness Girls. Yes, they had the name and the money, but the company itself was virtually unimportant to them.
The book was narrated from the perspective of Felicity, taken in as a companion for the three girls at a young age. She was raised with them but set apart from them due to her status. There were brief chapters from Felicity's perspective as an older woman in the late 1970's, but the majority of the story takes place throughout the 1920's.
I found it a bit challenging to understand the point of the novel since, in the beginning, we were made very aware of the difference between Felicity and the Guinness girls, and Felicity kept mentioning this over and over again (bringing up how her mother advised her to find herself). She also kept referring to an unnamed "him" (who wasn't actually named until the last few pages of the book) and her brother Hughie (who seemed to be a bigger part of the plot than he actually was).
It appeared as though there would be a lot of learning taking place… and that's where I got lost. Because when I reached the end of the book, it ended very abruptly. It didn't seem as though Felicity had learned much at all and there were several plot holes – or I suppose, open-ended plot points. This could be due to the nature of the novel and the fact that it was about real historical figures, so the author didn't feel as though they could wrap things up without providing inaccurate information. For me, however, it just felt as though I was being told several stories about several people that all "ended"… but not really. As though they were open to interpretation.
All in all, I felt as though the story moved quite sluggishly, and when things got interesting, that particular plot-line ended super quickly, heading back into politics and history that I didn't understand and weren't made particularly clear. When I began to like a character, they disappeared without explanation or something terrible happened without any kind of redemption. And when I felt like I was reaching a conclusion of some sort, it changed direction and navigated to something confusing again. I never felt fully satisfied. I didn't learn much (aside from the Guinness family being pretty terrible people) and I was bored – always hoping that things would pick up.
If you're a massive fan of historical fiction and love reading super informative books that don't have much actual story, this is a good pick. If you're new to historical fiction, this is definitely not the novel to pick up.
---
purchase the book

Have you read The Glorious Guinness Girls?
---
pin for later