A huge thank-you to NetGalley and the publisher for this advanced reader copy of For the Throne (The Wilderwood #2) by Hannah Whitten.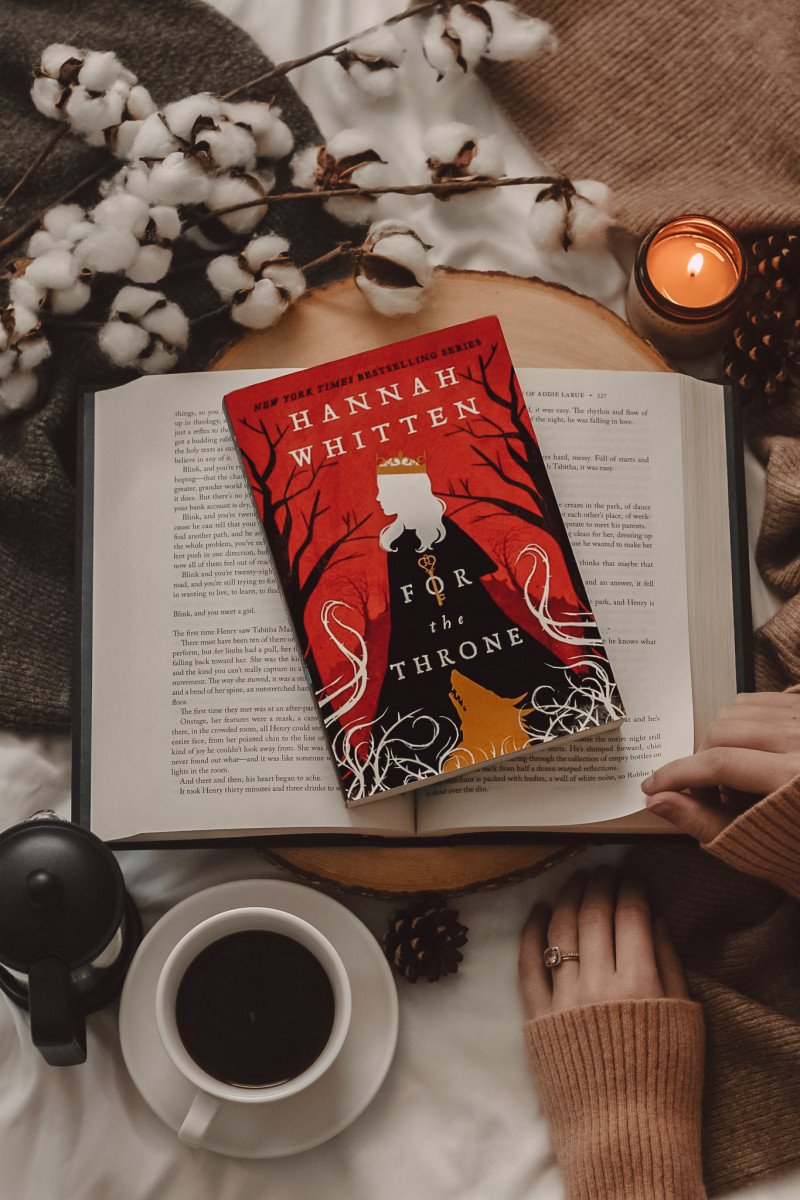 I've been anxiously anticipating For the Throne by Hannah Whitten and now I'm thrilled to share my thoughts on this beautiful sequel!
I had barely finished For the Wolf when I added the sequel to my TBR… and I didn't even know the title yet! Needless to say, this book was high on my priority reading list for 2022, and despite being someone who won't purchase a book until I've read it, I preordered For the Throne the minute Hannah announced it was available to buy! It was clearly not a want, but a need.
When NetGalley made the book available for request, I acted like my computer would blow up if I didn't click fast enough. Then I waited. And waited. And waited some more. I truly just believed I hadn't been approved until about two weeks before the book's release when I received an acceptance email! Let it be known that I dropped my planned TBR like it was on fire in order to read this.
One thing I can say for certain is that I do not regret preordering this in the slightest. Sometimes sequels are a bit of a letdown. However, when it comes to For the Throne, that's not the case at all. I loved every second of it and if you keep reading, you'll see why! This title hits shelves on June 7, 2022. Make sure to pick up your own copy!
---
LOOKING FOR MORE BOOK REVIEWS?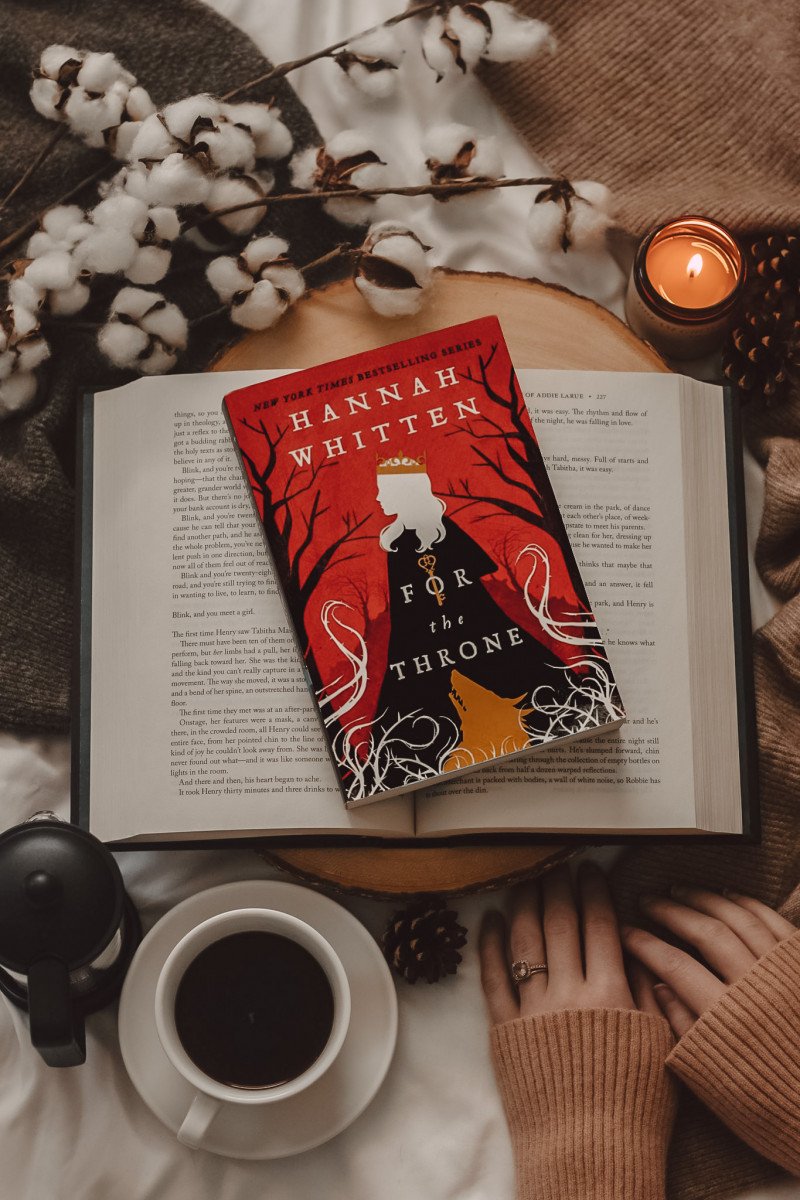 My honest review of For the Throne by Hannah Whitten.
Synopsis:
The First Daughter is for the Throne
The Second Daughter is for the Wolf…
Red and the Wolf have finally contained the threat of the Old Kings but at a steep cost. Red's beloved sister Neve, the First Daughter is lost in the Shadowlands, an inverted kingdom where the vicious gods of legend have been trapped for centuries and the Old Kings have slowly been gaining control. But Neve has an ally–though it's one she'd rather never have to speak to again–the rogue king Solmir.
Solmir wants to bring an end to the Shadowlands and he believes helping Neve may be the key to its destruction. But to do that, they will both have to journey across a dangerous landscape in order to find a mysterious Heart Tree, and finally to claim the gods' dark, twisted powers for themselves.
Content Warnings: (major) Blood, Death, Violence, Torture, Gore, and Murder, (moderate) Sexual Content
You know a book is going to be good when the dedication makes you tear up. I almost feel like I can breathe a sigh of relief now that I know what has come to pass in The Wilderwood.
It feels like a millennium has passed since I finished For the Wolf, one of my favorite reads of 2021, and I've been so anxious to find out what happens next in the lives of Neve, Red, Eammon, and the rest of the gang. I've been anticipating this sequel so much that when I was approved for the ARC, I didn't even think to do a reread of the first book before diving right into this the second I received it. I had forgotten way more than I expected! Oops. I truly thought that my memory would be perfect and I'd recall everything that transpired at the beginning of the story. So much for that.
Due to the nature of the first book's ending, this one picked up right where the last left off. If my memory had served me better, this wouldn't have been an issue whatsoever. Sadly, because I was struggling to remember the more complex details, I had a tough time getting into the opening chapters. I just couldn't fully grasp the importance of some of the themes. This is entirely my own fault and does not take away from the utter masterpiece this book is. But, it does help me to state that this duology is best when binged!
The further I read, the more that I was able to recall character names, events that occurred, and why certain plot points were important. This helped me to really immerse myself in the story once I was about 15% of the way in and from there, it was smooth sailing. The chapters are relatively long, which is typically not my favorite, but because of the nature of the story, I was never bored or impatient to reach the end. Each moment held such weight and there were so many intricacies within the magic system that absolutely fascinated me.
I really have to applaud Hannah's ingenuity when it comes to the magic system for these books. I've never in my life read a book where someone could be wolf, wood, and (in)human – and while I've seen my fair share of fantasy novels with shadow magic, the way that Neve and Solmir control it was unlike anything I've witnessed before. It makes this duology stand out among the other fantasies. I found myself on the edge of my seat multiple times, waiting to see what might happen next, thinking that I had something figured out, and then being pleasantly surprised when it didn't go the way I expected!
And my anticipation went beyond the magic. These characters are phenomenal. I think that anyone can relate with at least someone in these books. While Neve wasn't someone who I related with as much (I found myself much more drawn to Red), I still understood the darker parts of her and some of the challenges she faced. Just like Red, she's a really powerful character, so there's certainly no lack of "strong female leads" in these books, and I love every second of it. Their strength doesn't just lie in their ability to battle or wield magic, but also in their heart and the choices they make to sacrifice for their loved ones.
The ending. Oh. My. Gosh.
Okay, that's not all I have to say, but it could be. The final moments had my heart racing! I think I even began to sweat a little bit. So much happened and I was beyond surprised with how the story wrapped up – in the best way possible. No spoilers here, I'm just going to say that you'll love it.
I can officially say, without a doubt, that Hannah is now one of my auto-read/buy authors. I'm hooked. I was hooked after For the Wolf, but now that I've read For the Throne, there's not even a drop of doubt in my mind that she's a favorite. I love the dark, gritty nature of these books and how they're so beautifully woven with romance, heart, and depth. I can't wait for whatever comes next (and I want a spin-off about Arick – please and thanks).
---
purchase the book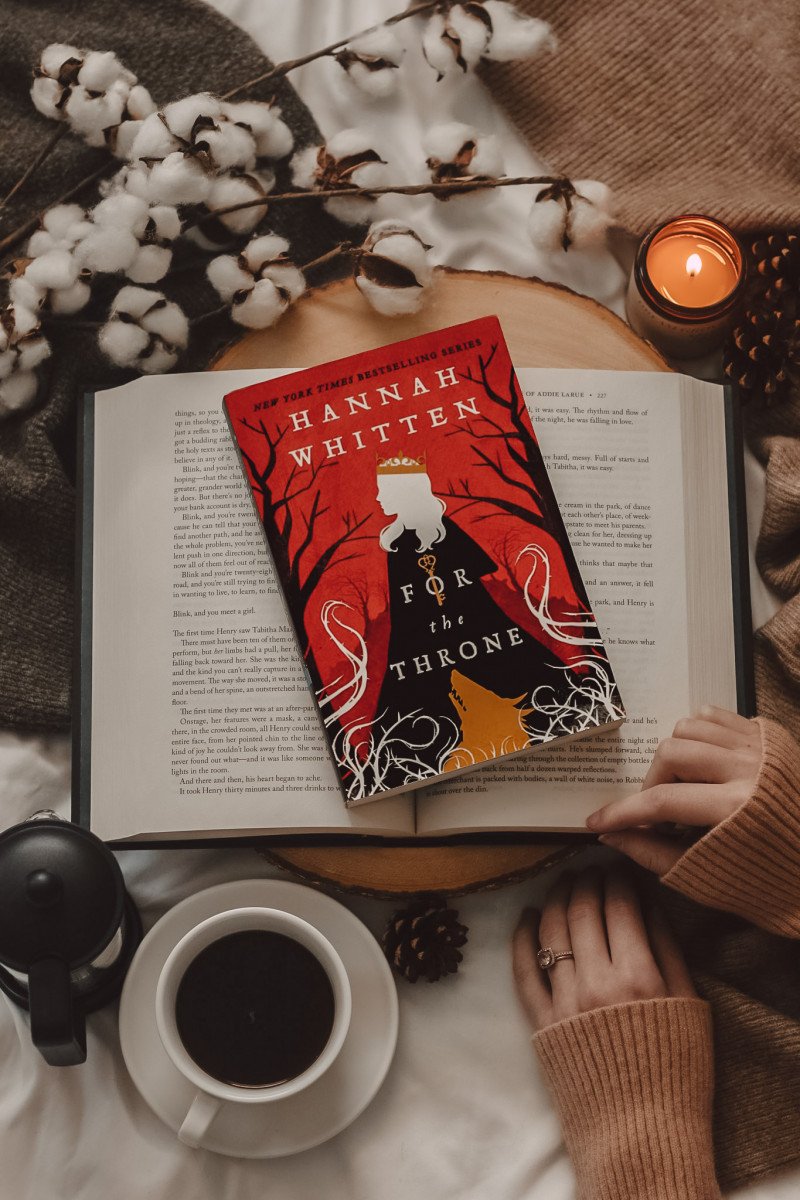 Will you be reading For the Throne?
---
pin for later