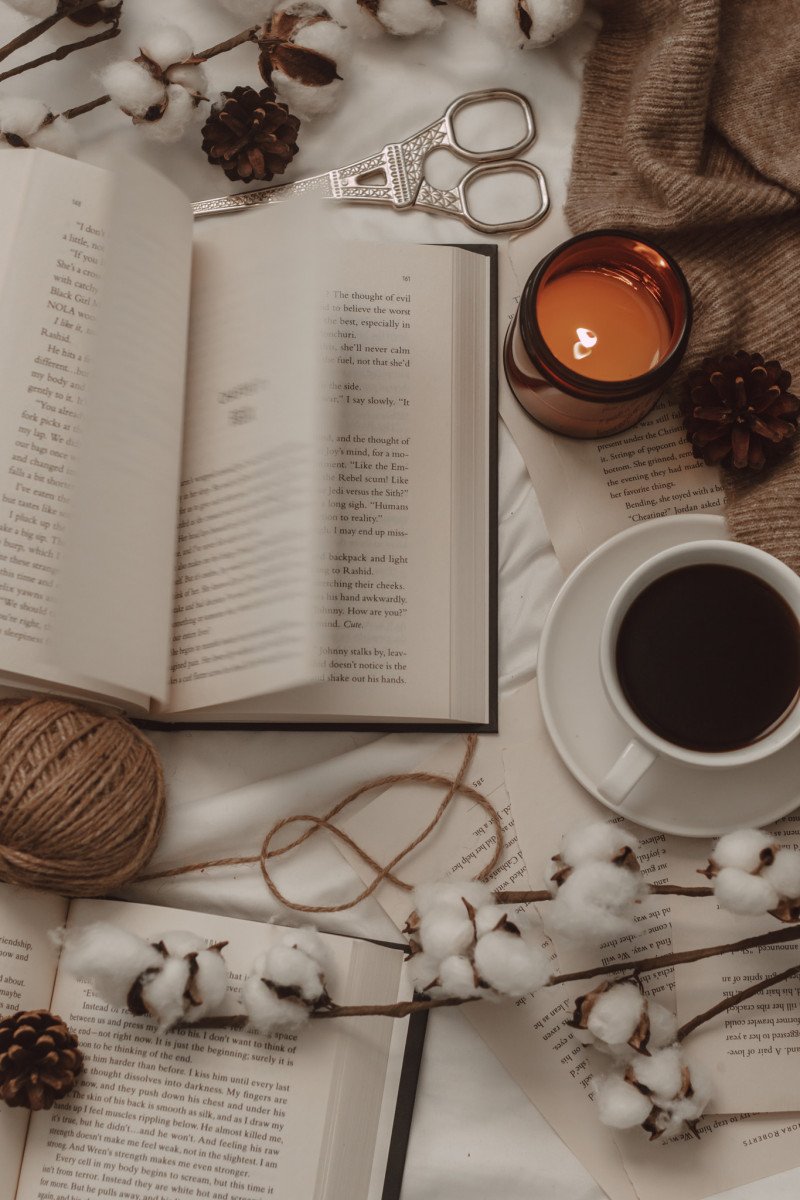 And just like that, we've reached the halfway point of the year. Have I managed to reach my 2022 mid-year reading goals? Let's find out.
In the last few years, I've read more than I ever have before (aside from when I was a kid and had no "real life" obligations). I was under the impression that I would never reach that level of bookworm again, but this year is already winding up to be just as phenomenal as when I was a kid! I challenged myself with 120 books this year and, at the six-month mark, have already read 106.
As I'm writing this post, I have my StoryGraph account up and it's so fun to see all of the line graphs and pie charts that show what my reading year has been like so far (one of the many reasons to utilize The StoryGraph rather than Goodreads). The 106 books equate to 40,566 pages, I've primarily read young adult fantasy and contemporary romance (no shock there), and I've given 27 five-star ratings. What a fun reading year it's been so far!
I've been blown away by the number of ARCs I've had the privilege to read, the amazing stories I've devoured, and honestly, I just can't wait to see what the second half of the year will bring! Keep reading to find out how I'm doing with my planned TBR and what each month has looked like.
---
related posts
My TBR for 2022 was filled with lots of great sequels and several titles from my auto-buy authors. Here's how I'm faring with my original list:
This Savage Song (Monsters of Verity #1) by V.E. Schwab – I've made it my personal goal to complete Schwab's backlist and this duology was a top priority. I enjoyed the first book but didn't love the second. However, I think that if I had read the sequel rather than listen to it, I would've liked it more.
One True Loves by Taylor Jenkins Reid – TJR never seems to fail me. This is another author whose backlist was a necessity for me. I really liked this book and can't wait to dive into some of her other older titles.
Jade City (The Green Bone Saga #1) by Fonda Lee – Haven't gotten to this one yet, but I'm sure it won't be long until I do!
The Poppy War (The Poppy War) by R.F. Kuang – The more I see about this book on TikTok, the less I want to read it. I'm sure it's phenomenal, but I'm also not prepared for the emotional scarring???
We Hunt the Flame (Sands of Arawiya #1) by Hafsah Faizal – This duology was so cool! I really, really loved the first book. The sequel was a bit of a letdown and I found myself comparing it to a lot of other fantasies. However, overall, it was a pretty interesting story and I did find a new favorite character while reading!
Sorcery of Thorns by Margaret Rogerson – Haven't gotten to this one yet, but I'm thinking autumn will be a good time for it!
When the Sky Fell on Splendor by Emily Henry – So, as much as I adore Emily Henry's romances, this sci-fi book missed the mark for me. The audiobook made me cringe so hard. I do plan to give it another chance in the future, but it wasn't my favorite.
Call Down the Hawk (The Dreamer Trilogy #1) by Maggie Stiefvater – After reading The Raven Cycle last year, I was determined to dive into this spin-off to learn more about the characters (namely Ronan Lynch). I wound up loving the first two books in this trilogy and I'm counting down the days until the release of Graywaren. Who knew I'd enjoy these so much?
The Atlas Six (The Atlas #1) by Olivie Blake – Talk about a seriously unique book. I've never read anything like it. While it started out pretty slow, by the midway point, I was hooked. When I reached the end, I knew I had discovered a new favorite. It didn't take long for me to purchase my own copy which has a place of honor next to some of my other favorites.
Where Dreams Descend (Kingdom of Cards #1) by Janella Angeles – This duology was no plot, just vibes. That worked for the first book but not so much for the conclusion. I was so confused when I closed the final pages of the sequel that I just sat at my desk in a daze. I've thought about it long and hard and still don't know what happened. But that first book was gorgeous!
The Inheritance Games (The Inheritance Games #1) by Jennifer Lynn Barnes – THIS SERIES. Oh man. I had a feeling I would like these books but I had no clue how much I'd really love them. I'm so anxious for the release of The Final Gambit that it's a bit unreal. These are so good.
Gild (The Plated Prisoner #1) by Raven Kennedy – I keep staring at this one and not adding it to my monthly TBR. I'm still not 100% sure I'll even wind up reading it, but we'll see!
The Heart Principle (The Kiss Quotient #3) by Helen Hoang – Talk about a book that made me sob. Helen always knows how to pull my heartstrings and she did it yet again with The Heart Principle. I will never get tired of this beautiful series and all of the heartfelt moments.
Defy the Night (Defy the Night #1) by Brigid Kemmerer – I was really excited to pick up this book after all the hype surrounding it on bookstagram towards the end of 2021. However, as excited as I was, I was also nervous that it wouldn't live up to the hype. Thankfully, it did! This story was great!
Well Matched (Well Met #3) by Jen DeLuca – The continuation of this series has been so much fun to follow. I love each of the stories and this one was especially precious. It had some tropes that I'm not usually a fan of (like age-gap and single parent) but I wound up really liking it.
Gilded (Gilded #1) by Marissa Meyer – I own more Marissa Meyer books than any other author and I typically adore her retellings. However, this one fell a little flat for me. Maybe it was just because it was so much darker than what she normally writes? I'm still not sure, but it was a bit of a disappointment.
You've Reached Sam by Dustin Thao – Talk about one of the biggest letdowns of the year. Everyone and their mom mentioned how this book made them cry, so I was gearing up for a good sobfest and I never even felt a shred of emotion. Definitely not the book for me.
The Kindred by Alechia Dow – YES YES YES! Alechia does it again with her incredible sci-fi books. The Kindred deserves all the love in the world, truly. It was so unique, so meaningful, and so phenomenally inclusive. I loved every second of it.
When You Get the Chance by Emma Lord – Mamma Mia meets a Broadway-loving teenager? Ummm, sign me up! This was totally my kind of book and I saw so much of myself in the protagonist. It was a blast, just like everything else Emma Lord writes.
Gallant by V.E. Schwab – I was so thankful that this book lived up to the hype. It was a super quick read and definitely leaned more middle-grade, but I loved every second of it. A little spooky, a little whimsical, and a lot of emotion. So good.
One Italian Summer by Rebecca Serle – I loved this book so much that I read it twice – within the span of 2 months. First, I read the ARC and loved it. Then I pre-ordered the audiobook (narrated by Lauren Graham) and binge-listened to that. It's a gem of a story from beginning to end.
Four Aunties and a Wedding (Aunties #2) by Jesse Q Sutanto – This was the book that I read to kick off 2022! It was a really fun and hilarious sequel and I highly recommend it.
Part of Your World by Abby Jimenez – This is hands down, one of my top 5 of the year so far. Abby, you just wreck me with your words. I'm still a bit speechless after reading this book. I related so intensely to the different characters' stories and I appreciate the way the challenging topics were handled. I don't think I'll ever get over it.
Book Lovers by Emily Henry – This book tested my patience. Well, not the book itself, but the actual waiting for the book. I pre-ordered a signed copy the day Emily announced it, but there was a shipping delay with the indie that was selling the books and it took me twice as long to get my copy as it did for everyone else to get theirs from other retailers. BUT the wait was 100% worth it. This book didn't let me down in the slightest. So, so good.
Adult Assembly Required by Abbi Waxman – Okay, this was one of those situations where I went into the book thinking, "I'm going to love this," and I did – but I loved it way more than I anticipated. It was the perfect sigh of relief in the midst of a really challenging time in my life. I loved every second of it.
Wind Daughter (Echo North #2) by Joanna Ruth Meyer – EEK! I was so, so lucky to read an advanced copy of this book at the beginning of the year. It's a beautiful companion novel to Echo North and I found so much pleasure in seeing how some of my favorite characters were faring. It's the perfect summer fantasy.
For the Throne (The Wilderwood #2) by Hannah Whitten – Oh boy, this was a fantastic sequel and finale to The Wilderwood duology. I may have just finished reading this ARC, but the second that my pre-order arrives, you best believe I'll be reading it again!
Bloodmarked (Legendborn #2) by Tracy Deonn – Goodness knows I'll be on my library's waitlist to get my hands on a copy of this the second it arrives.
The Hookup Plan (The Boyfriend Project #3) by Farrah Rochon – I was simultaneously thrilled and saddened to read this book. Thrilled because I just adore this series. Saddened because it means it's the end of the series! However, I know whatever Farrah writes next will be absolutely fantastic!
The Ballad of Never After (Once Upon a Broken Heart #2) by Stephanie Garber – I already pre-ordered my Barnes and Noble special edition copy to match Once Upon a Broken Heart. I can't wait for September to arrive.
I'd like to think I'm doing better than okay at conquering my TBR for the year!
I've read 106 books so far, out of my goal of 120 for the year. Here's my month-by-month breakdown:
January – 20 books read: 8 physical copies, 6 ebooks, and 6 audiobooks. My favorites were Me (Moth), The Heart Principle, and The Guncle. It was also so much fun to read 2 ARCs this month.
February – 18 books read: 8 physical copies, 2 ebooks, and 8 audiobooks. My favorites were The Kindred, Wind Daughter, and Crave. I also thoroughly enjoyed my reread of Echo North.
March – 25 books read: 11 physical copies, 4 ebooks, and 11 audiobooks. My favorites were The Inheritance Games and Gallant. It was great rereading One Italian Summer (as an audiobook)!
April – 20 books read: 6 physical copies, 6 ebooks, and 8 audiobooks. My favorites were The Atlas Six, One Night With You, and The Wonderland Trials. It was quite the month for ARCs! I read 6 of them and enjoyed them all so much.
May – 17 books read: 3 physical copies, 7 ebooks, and 7 audiobooks. My favorites were Part of Your World, Weather Girl, and For the Throne. 3 of the titles I read this month were ARCs and they were all great.
June – 6 books read (so far… I'm writing this only a week into the month): 1 physical copy, 3 ebooks, and 2 audiobooks. So far, I can state that this might be my favorite month yet. It's filled with queer books, highly anticipated releases, and some great ARCs!
It's been quite a grand first half of the year. So many amazing books – and so many awesome ones left to read!
Have you been reaching your reading goals so far in 2022?